When I was a little girl, my parents and I spent most Sunday evenings at my Poppy's house. The four of us - Dad, Mom, Pop and I - would eat dinner and then settle in to watch Lawrence Welk and The Wonderful World of Disney together before Dad drove Mom and me home. On cold, dark winter nights, dinner was (more often than not) a piping bowl of Pop's homemade vegetable soup, served with as many Saltines as I could eat.
Pop was my maternal grandfather and I was his only granddaughter, so we had a pretty special relationship. Anyway, back then I was not much of a vegetable lover (I still hate cooked peas), and until I was about four, I would not eat more than a few token bites of Pop's soup, subsisting Sunday nights almost entirely on crackers and milk. But then Pop pulled a trick out of his sleeve – he started adding a can of Campbell's Alphabet Soup to his soup just for me, and those mushy little pasta letters changed everything.
I loved to hunt for the letters to spell my name, or the dog's name, or anything really. I'd collect letters on my spoon, read them to everyone, and then gobble them up in one bite. Spell a word, eat a bite. Spell another word, eat another bite. In the process, I completely forgot to be picky about what surrounded them, and before I knew it, I was eating Pop's soup like it was going out of style. To this day, I still include that silly little can of soup, and every overcooked letter on my spoon reminds me of my sweet Poppy.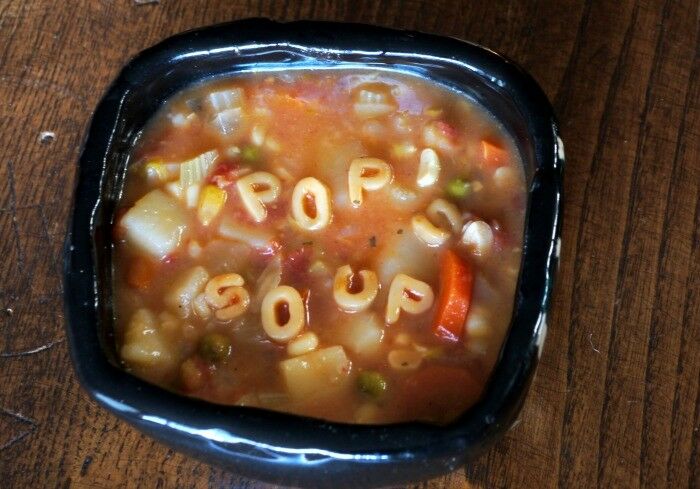 There aren't many pictures in this post: there doesn't need to be. There really is only one real step: put everything in a pot and let it simmer. Like most soups, this is much better the day after, so plan for leftovers. And serve with Saltines.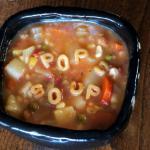 Pop's Vegetable Soup
Print Recipe
Pin Recipe
Ingredients
1

large Beef soup bone

(optional)

2

quarts

water

or 2 qts. vegetable stock if not using soup bone

2

bay leaves

1

Tbs

salt

3

stalks celery

chopped

4

medium carrots

sliced

1

medium turnip

pared and chopped

1

cup

chopped cabbage

1

cup

corn

½

cup

peas

1

large onion

chopped

4

medium potatoes

peeled & cubed

2 1-

lb.

cans cut tomatoes

I use Petite Cut with Onions & Garlic

⅓

cup

pearl barley

1

can Campbell's Alphabet Soup

Optional

Season with salt

pepper, basil, oregano and hot sauce as desired
Instructions
Place soup bone in a large Dutch oven and cover with water. Add bay leaves. Simmer 2 hours. Remove soup bone and give it to the dog! Let stock cool and skim fat. (For Vegetarian soup, and just use vegetable stock instead and skip ahead.)

Add all remaining ingredients except Campbell's Soup and simmer 2 more hours.* Adjust seasonings. Add Campbell's Soup if desired.


Notes
*You can also cook it in a slow cooker: Low for 8 hours, or High for 4 hours.
This soup is really better the next day when the flavors have had a chance to blend. Other vegetables can be added and amounts adjusted to suit your taste.
Freezes well.
This website provides approximate nutrition information for convenience and as a courtesy only. You are solely responsible for ensuring that any nutritional information provided is accurate, complete, and useful.