Strawberry Season is here! It's time to make Strawberry Freezer Jam!!!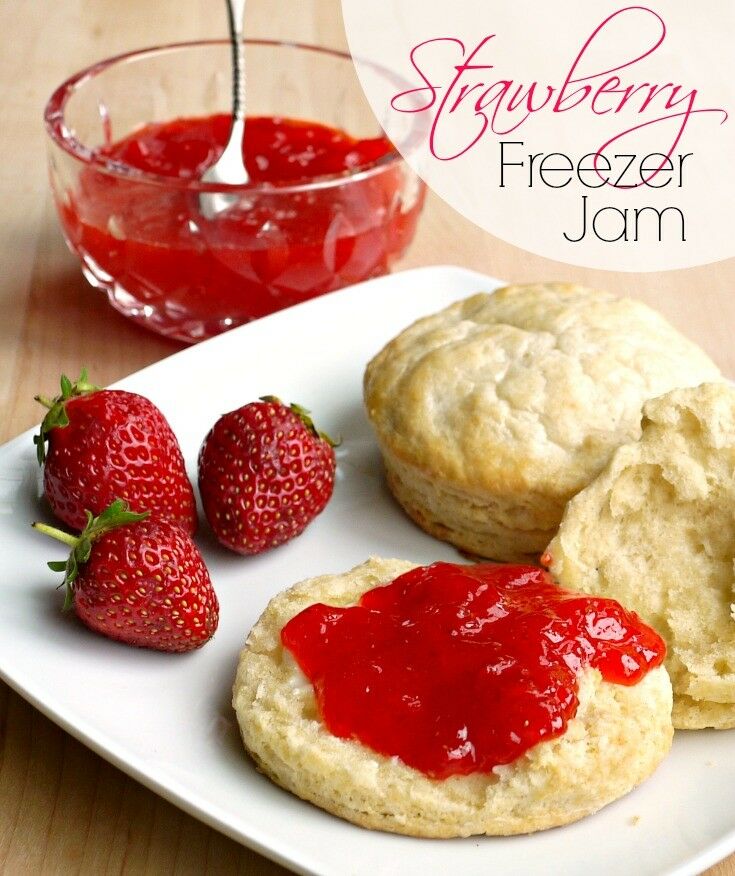 Strawberry freezer jam is one of the best, easiest (and tastiest!) ways to preserve the fresh taste of summer. If you make enough, it will last well into the wet, cold, dark days of winter, when a spoonful of freezer jam on a fresh buttermilk biscuit is like sinking your teeth into a bursting bite of strawberry bliss spread on a warm, pillowy wafer of sunshine.
Too much? Yeah, well, you know what I mean. Let's get to it.
IMPORTANT NOTE: This tutorial is written for use with MCP Regular Pectin. If you use any other kind of pectin, please consult the directions provided. The process is generally the same; however, the amounts may differ slightly.
That being said, I'm pretty sure that all the pectin companies use the same guy to write their directions, because as far as I'm concerned, they are all messed up. The directions have you measure things [sugar] really early without telling you that they will not be added at that time. They have you measure other things [lemon juice] out and never actually include any instructions about when to add it – you just have to figure it out for yourself. I've made a ton of strawberry freezer jam, and by now you'd think I'd have the process memorized, but every year, I still have to remind myself – "Put the sugar in last. Put the sugar in last. Put the sugar in last." Hopefully, this tutorial will set things right.
First, you need some strawberries. For one batch of Strawberry Freezer Jam, you need about four pints. (Or three very generous pints.)
STEP 1 – Mashed the berries
Clean and hull the berries, and then squish them up, a cup or so at a time, with a potato masher. You can process them in a blender or food processor if you prefer, but I like having actual strawberry pieces in my jam. Pulverizing them beyond recognition from the get-go makes for a too-smooth jam, in my opinion.
Measure out exactly 3 1/4 cups of mashed berries into a large bowl. (Later you will see I had to change bowls because I wasn't thinking when I started making this batch. You need a big bowl.)
Step 2 – Measure the sugar
Measure out exactly 4 1/2 cups of white sugar into a medium bowl, and then set it aside. Do not put the sugar into the berry mix yet. (It is good to measure it now though, because (a) it is ready when you need it, and (b) you can use the same measuring cup later for the corn syrup.)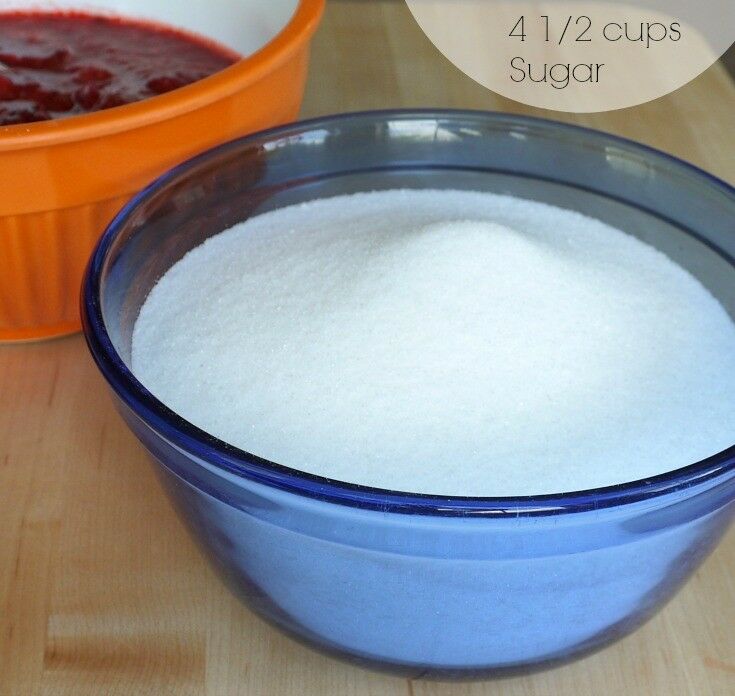 Step 3 – Mix the lemon juice into the berries
Measure out 1/4 cup lemon juice. The box directions say to use fresh, but this is one time when I do use the bottled stuff. It works just fine. Stir the lemon juice into the mashed strawberries.
Step 4 – Add the pectin
Next you need your pectin. (As I stated previously, this tutorial is written using MCP Regular Pectin. I have a lot of friends who swear by Sure-Jell (which I'm pretty certain is made by the same company that makes MCP). I also have a lot of friends who love the low-sugar pectin options. I may change in the future, but I'm an MCP girl right now.
Sprinkle the pectin on top of the strawberry lemon juice mixture and stir it in. I do this a little at a time to avoid having little pectin lumps in my jam mixture.
Step 6 – Stir the berry mixture
Stir the strawberry and pectin every five minutes or so, for 30 minutes total. Some people are very precise about this stirring. They set timers and get all fidgety if they are 30 seconds late. My jam is lucky if I stir it every 10 minutes. I usually use the time to clean up the kitchen: complete a task, stir the jam, complete another task, stir the strawberries again. Some chores take longer than others, so my timing is never every five minutes. Don't sweat it – my jam always turns out fine.
>Forehead slap!< It was right about this time that I realized my bowl was way too small and changed bowls.
Step 7 – Add the corn syrup
After 30 minutes have passed, give the strawberry mixture one last stir. Then measure out one cup of corn syrup.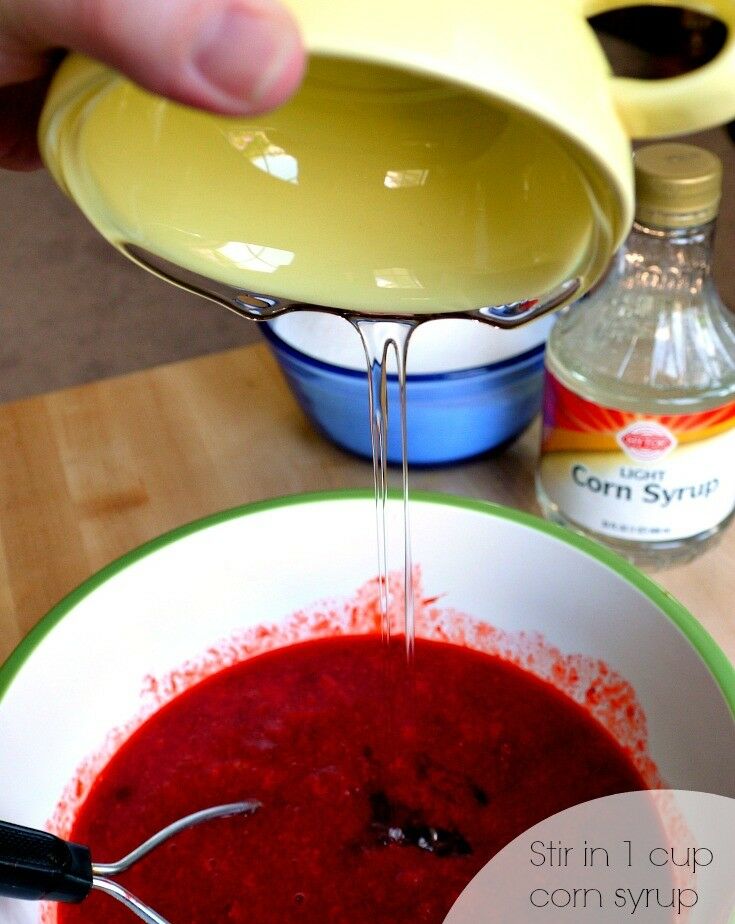 Pour the corn syrup into the strawberry mixture. Stir it in well. (Here is me, pouring corn syrup with on hand, taking pictures with the other. This is normal, right?)
Step 8 – Add the sugar
NOW. Now it is time to add the sugar. Pour it in slowly, stirring it in as you go, so that there are no sugar lumps in the mixture.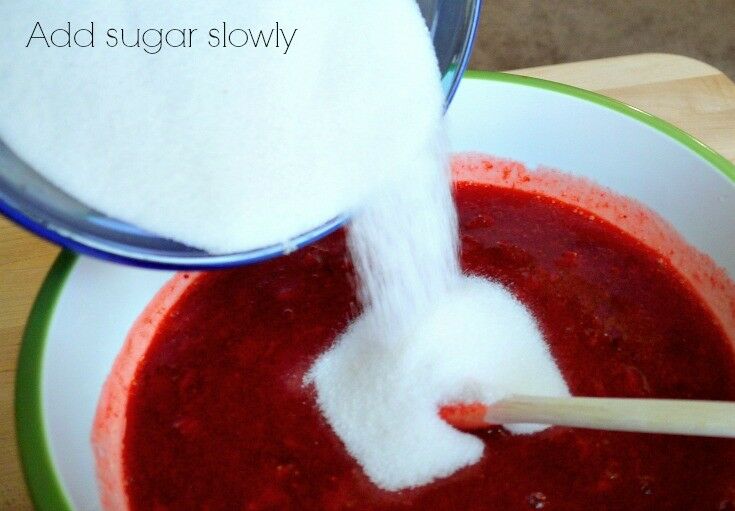 Stir constantly until the sugar is completely dissolved. This will take about five minutes.
By the time the sugar has completely dissolved, the jam will have thickened a little. Don't worry if it is still runny though – it takes about 24 hours to achieve optimum jamminess.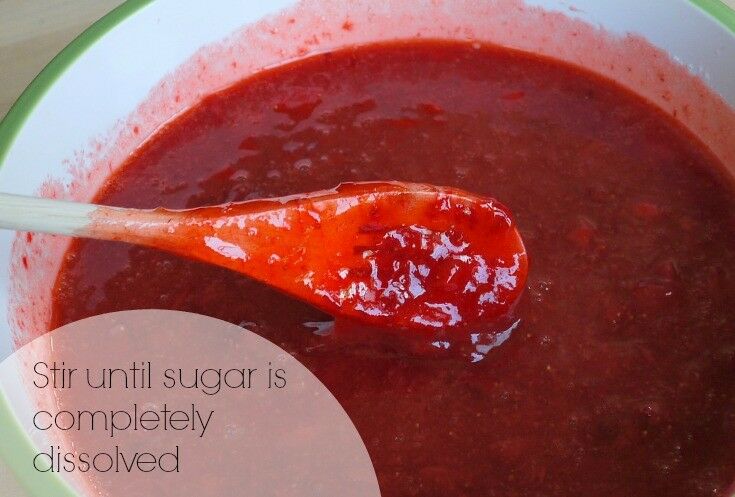 Step 9 – Finish up
Pour freezer jam into containers. Leave a quarter-inch or more of headroom in any sealed containers.
You can eat it right away, but if you are planning to freeze it for later, be sure to allow it to sit out on the counter for a day to let it to set up.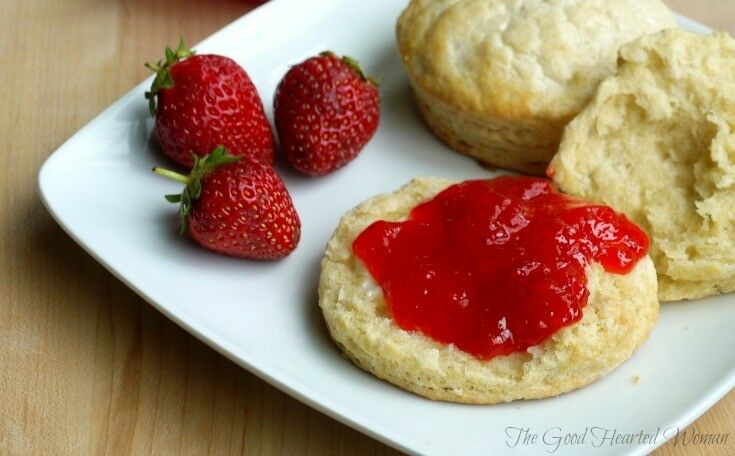 That's all there is to it. The whole process – start to finish – will take about 45 minutes. One batch makes about seven cups of Strawberry Freezer Jam.