Learn the recipe secrets to making classic Fried Green Tomatoes that are both tender and crisp; with all the traditional corn flavor, but without the grit!
This post may contain affiliate links, but don't worry - they won't bite.
With all my Southern roots, it's hard to believe that there was a time in my life when the only fried green tomatoes I knew of were the ones at the Whistle Stop Cafe.
Then late one summer shortly after Mr B and I got hitched, we went over to his Mom's for dinner, and she served up a plate of what looked like thick, green-tinged dollar-pancakes as part of a big family feast.
Mom's Fried Green Tomatoes are as simple as they come. Dipped in pancake batter and pan-fried to a golden brown, they were delicious in a way I never expected.
Ever since that first plate of fried green tomatoes years ago, I've made it a point to sample every fried green tomato I run across. My ultimate goal: to develop a batter recipe that results in fried tomatoes that are both tender and crisp; with the traditional corn flavor and crunchy bite, but without the grit.
The Secret Isn't in the Sauce (It's in the Breading)
Like Southern fried chicken, fried green tomatoes are traditionally breaded in three steps: a flour dredge, a wet dip, and a final dry breading coating.
What I learned, sampling fried green tomatoes over the years is, the breading makes or breaks the recipe.
Not enough seasoning and they fall flat; too much, and you lose that smooth green-tomato punch. Too much cornmeal and you're crunching driveway gravel; not enough and both flavor and crunch are sacrificed.
Lacking a living Southern granny, it probably took me a little more trial and error than it should have, but I finally cracked the code on the perfect crispy, crunchy, tender fried green tomato breading.
Recipe Secrets to Crispy, Grit-free Fried Green Tomatoes
Let's start with the obvious: cornmeal.
Cornmeal is a constant in nearly every Fried Green Tomato recipe you'll find. In the South, fine white cornmeal is most often used. However, it is difficult to find fine white cornmeal on store shelves here in the Pacific Northwest, so I usually use fine yellow cornmeal.
The other night when I was working on this recipe (yet again), I discovered I was out of fine yellow cornmeal. In the world we currently live in, I don't run to the store for just one or two items, so I made do and used masa harina instead.
(Stay with me on this.)
1. Sub in Masa Harina for Cornmeal (Really!)
Masa harina is the traditional flour used to make tortillas, tamales, and other Mexican dishes. (I used to think it was just very finely ground cornmeal, but I was way off there.)
I learned that masa harina is made from field corn, which is dried and treated with a mixture of lime and water, loosening the hulls and softening the corn. The soaked corn (i.e., hominy) is then washed and ground into a dough, called masa. In a final step, the masa is dried and powdered, and resulting powder is masa harina.
Recipes often warn against using masa harina in place of cornmeal, because the two products are made from different kinds of corn and produce different results. Generally, I follow this guidance, but I was in a pinch.
Goodbye Grit!
I was also curious to learn how the substitution of masa harina would affect the texture and the flavor of the fried green tomatoes. The texture of yellow cornmeal grit in fried green tomato batter is the one thing I don't like. Even finely ground yellow cornmeal results in a gravelly texture that I'm not so excited about.
Masa harina overcomes this issue – no more grit! After sampling the results of the final recipe multiple times, Mr B and I agree, like fine white cornmeal, masa harina lends a subtle corn flavor to the batter, while making for a smooth, pleasant mouthfeel.
Moreover, the masa harina seems to enhance the crisp-factor, even more so than does the fine white cornmeal.
It makes sense that masa harina, essentially pre-cooked corn flour, would contribute to the batter crispiness of fried foods. Interestingly, other two major breading components in this fried green tomato recipe – Wondra flour and Panko crumbs – are also both "pre-cooked."
2. Substitute Wondra for All-purpose Flour
As with the process for making masa harina, Wondra is finely ground flour that has been pre-cooked and dried. Ultra-light, Wondra is lower in protein and gluten than all-purpose flour, which all translates into a light and crispy crust for fried foods.
Often called instant flour, Wondra dissolves more quickly than all-purpose flour, and mixes into both hot and cold liquids easily. This makes it particularly useful for making smooth, creamy, lump-free sauces and gravies as well.
You can use all-purpose flour in place of the Wondra in this recipe, but your results may not be as crispy.
3. Use Panko Breadcrumbs
Panko crumbs are the third and final "pre-cooked" addition to the breading mix. The texture of panko makes it especially suited for fried food because it absorbs less oil than regular breadcrumbs, keeping food more crisp and crunchy.

How to Pick a Green Tomato
When making fried green tomatoes, you want to look for large, mature tomatoes that are still green, but would ripen if you put them on your windowsill for a week or two.
Immature tomatoes (i.e., those that would not ripen under any circumstances) can be tough and too acidic, at least for my tastes.
One way to tell a mature green tomato from an immature green tomato is by the seeds. If the seeds are flat and white, the tomato is not mature. If the seeds are full and look mature, the tomato is a perfect candidate for frying. Mature green tomatoes will result in the sweetest, most tender fried green tomatoes.
[If you need more direction in choosing your tomatoes, I found this video about how to pick a green tomato for frying quite helpful.]
Look for meaty tomatoes with very little jelly around the seeds, like those from Beefsteak or Heirloom varieties. Very juicy tomatoes (i.e., Romas, etc.) are not as well suited for frying.
When slicing green tomatoes for frying, you'll want them to be about a quarter of an inch thick. If you like your fried tomatoes more crispy, slice them just a little thinner. If you like them more meaty, slice them a little thicker.
Post Updated November 1 2020 (Originally published August 29, 2013)
Fried Green Tomatoes
Classic Fried Green Tomatoes that are both tender and crisp; with all the traditional corn flavor, but without the grit!
Print Recipe
Pin Recipe
Ingredients
4

large firm green tomatoes

about 1 pound after slicing

¼

cup

Canola Oil

for frying
Instructions
Slice green tomatoes ¼ inch thick.

If you prefer your fried green tomatoes super-crispy, slice them a little thinner.
Breading Tomatoes
Prepare three bowls (or pie plates) as follows:

Bowl 1: Mix Wondra, paprika, and garlic salt. Bowl 2: Whisk together eggs and buttermilk.Bowl 3: Mix Wondra, masa harina, panko crumbs, kosher salt, white pepper, and paprika.

Dip each tomato slice first into the flour mixture in Bowl 1, coating both sides.

Then dip into Bowl 2, and finally into bowl 3.

Gently shake off any excess breading mixture, and place the coated tomato on a plate.

Continue breading tomato slices until all are coated. Place on plate or cooling rack until all tomatoes have been breaded.

DO NOT Stack or overlap breaded tomatoes before your fry them.
Frying Tomatoes
Carefully prepare the area before you begin frying the battered tomatoes. Always make sure that the work surface you are frying on is stable.

Add oil to skillet until it is ⅛-¼ inch deep. Preheat oil in skillet to 340° [171°C].

For crisp frying, oil must maintain a temperature of 325-340F° [162°-171°C] throughout the cooking process.

I usually set the temperature of my electric skillet to 350F° [177°C] when it's heating up, and drop it down a few degrees to about 335° when the tomatoes are actively frying.

Using a fork, gently slide each breaded tomato into oil.

Fry the breaded tomatoes for about 3 minutes, or until golden brown on one side.

Using tongs or a fork, carefully flip and fry for another 3 minutes, or until dark golden brown.

Remove from hot oil and allow to cool on a wire rack.

Sprinkle with kosher salt to taste.
Notes
Paprika choice can dramatically influence the flavor of your tomatoes. I prefer using a mild smoked paprika. If you want a little more heat, use a hotter paprika.
Nutrition
Serving:
1
serving
|
Calories:
250
kcal
|
Carbohydrates:
30
g
|
Protein:
7
g
|
Fat:
13
g
|
Saturated Fat:
2
g
|
Cholesterol:
58
mg
|
Sodium:
682
mg
|
Potassium:
270
mg
|
Fiber:
3
g
|
Sugar:
5
g
|
Vitamin A:
922
IU
|
Vitamin C:
19
mg
|
Calcium:
75
mg
|
Iron:
2
mg
This website provides approximate nutrition information for convenience and as a courtesy only. You are solely responsible for ensuring that any nutritional information provided is accurate, complete, and useful.
Ways to Serve Fried Green Tomatoes
One of the extra great things about fried green tomatoes is that they are equally tasty and satisfying when they are hot, warm, or even cold out of the fridge at midnight.
We think the best way to serve up fried green tomatoes is warm, stacked on a heaping plate, accompanied by the dipping sauce of your choice. In the South, fried green tomatoes are often served with Comeback Sauce or a remoulade, but we've enjoyed them with everything from tzatziki to jalapeño jam.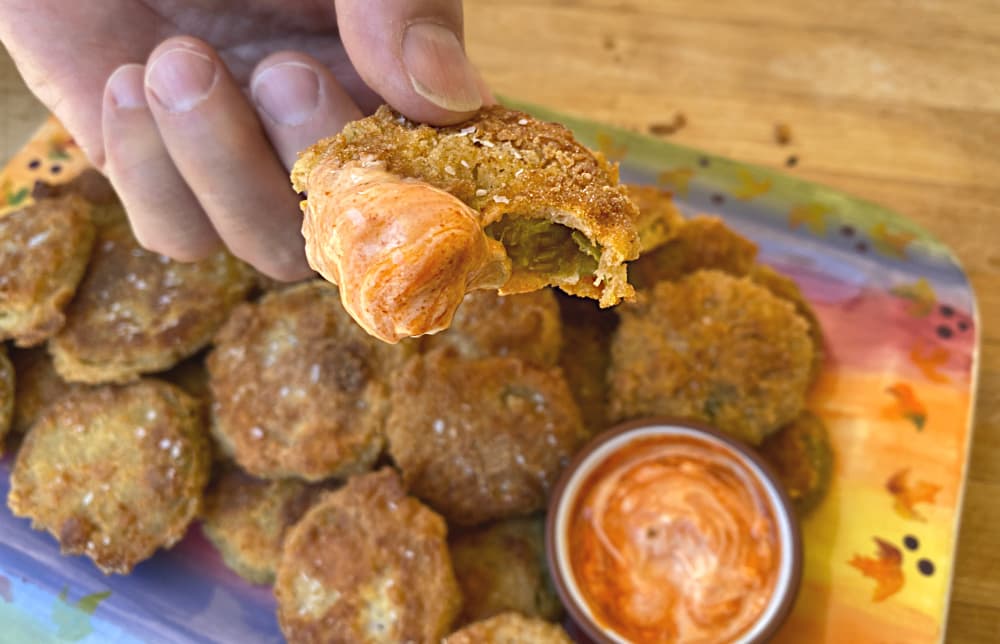 Fried green tomatoes make an excellent side dish for any meal; and especially those with Southern roots, so be sure to check out our Nashville Hot Chicken, or our Naked Kentucky Fried Chicken recipes.
Something Completely Different
A fews back, Mr. B and I stopped in at the Montana Rib & Chop House in Billings, Montana. When we opened the menu, right there between the Calamari and the Chicken Fingers were some crazy sounding Fried Green Tomatoes – with blue cheese, crab and a balsamic reduction.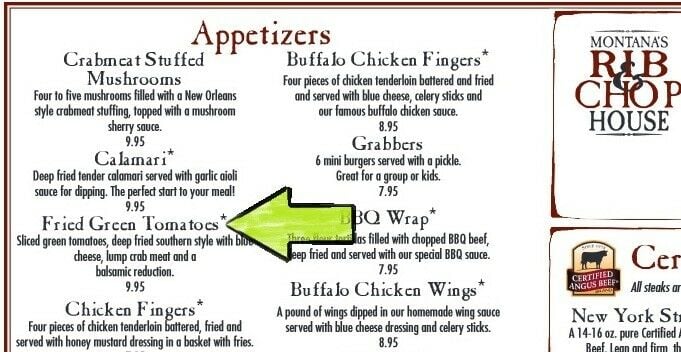 I know, I know – somewhere in the South, someone just died a little inside. (Mr B's Granny would roll over in her grave!) But I kid you not, the flavor combination is amazing!
Southern Surprise
Fried green tomatoes are as synonymous with Southern cooking as black-eyed peas and pecan pie, so it surprised me to learn that "fried green tomatoes are not a Southern dish, but originated in the Midwest and northeast, possibly linked to the cuisine of Jewish immigrants."
Crazy, huh?!? According to research done by food writer and culinary historian Robert F. Moss [Charleston, South Carolina], the earliest recipe found appear in the 1889 edition of "Aunt Babette's Cook Book". Moreover, Moss found eleven fried green tomato recipes published in newspapers between 1900 and 1919 - all in Midwestern and northern cities. None were published in Southern newspapers.
Electric Skillet versus Cast Iron
I've made fried green tomatoes multiple times in both my cast iron and electric skillet. While both work fine, I much prefer my electric skillet for this recipe, as it allows me to maintain a far more consistent temperature for heating the oil.
I suggest using a combination of canola and soybean oil (or straight canola oil) for frying.
Carefully prepare the area before you begin frying the battered tomatoes. Always make sure that the work surface you are frying on is stable.
When Frying, Consistent Oil Temperature is Key
The oil needs to maintain an optimal temperature of 325-340F°. I usually set the temperature of my electric skillet to 350F° when it's heating up, and drop it down a few degrees to 335° when the tomatoes are actively frying.
If the temperature of the oil rises above about 340°, the tomatoes will cook too quickly. When fried at the correct temperature, the tomatoes will come out golden brown, having absorbed very little oil.
If you don't have an electric skillet or a kitchen thermometer, the easiest and safest method of determining whether your oil is ready to fry is to stick the end of a wooden spoon in it.
If you see many bubbles form around the wood, the oil is ready for frying. If it is aggressively bubbling, reduce the heat and let it cool off a bit.
---
THANK YOU so much for being a faithful reader and supporter
of The Good Hearted Woman. • Be sure to PIN this post!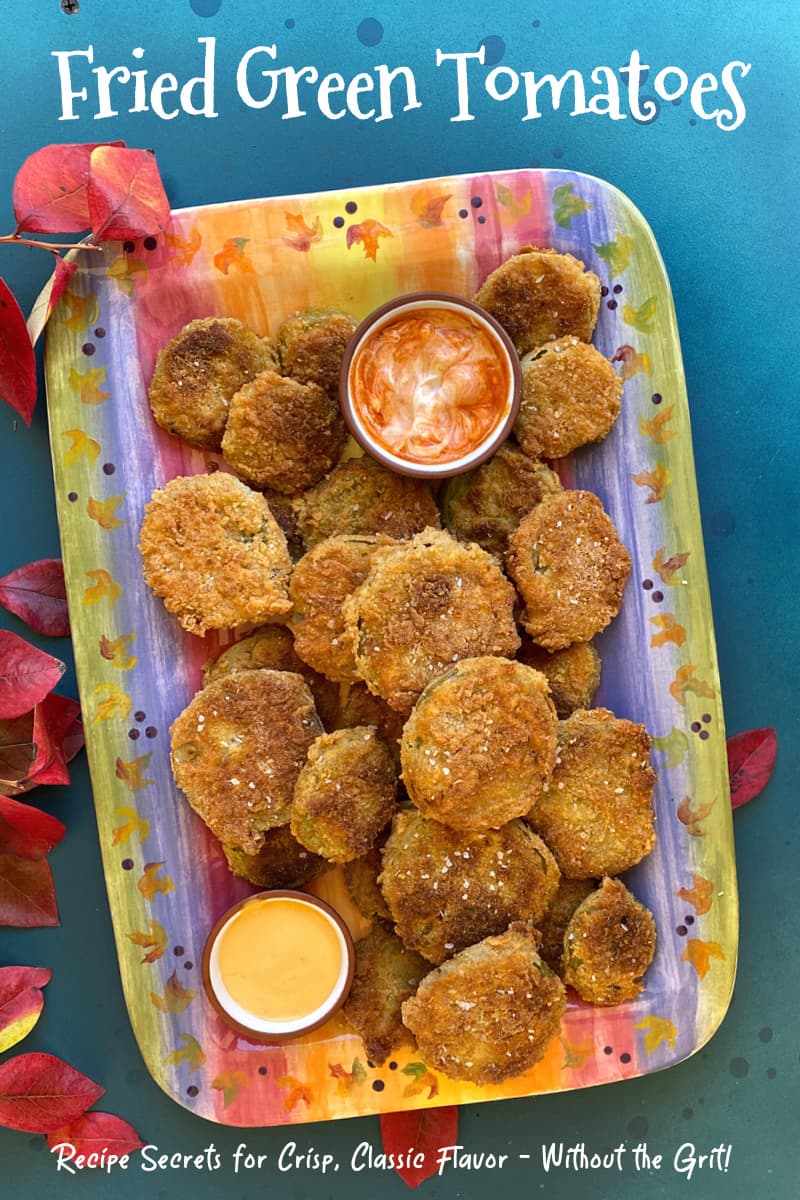 Disclosure: This post may contain affiliate links, including Amazon affiliate links, which means we may receive a commission if you click a link and purchase something that we have recommended. While clicking these links won't cost you any extra money, they do help keep this site up and running. As always, all opinions and images are my own. Please check out our disclosure policy for more details. Thank you for your support!