Baked in a crispy cornbread coating, Un-fried Green Tomatoes – with crab, bleu cheese, and a balsamic reduction – is a delicious, clean-eating take on a down-home tradition.
Until about a year ago, the only fried green tomatoes I was familiar with were the ones from Fanny Flagg's Whistle Stop.  But then late last summer, Mr. B and I went over to his Mama's for dinner and she served up a plate of the little green, batter dipped dollar-sized wonders as part of a big family feast.  And I loved them!  They were delicious in a way I never expected, and I was immediately hooked.  Since then, I've just been waiting for tomato season to roll around again so I could give them a try.  Then earlier this summer Mr. B and I stopped in at the Montana Rib & Chop House in Billings, Montana (home of the most ginormous baked potatoes I have ever seen!) and opened the menu to this:
Right between the Calamari and the Chicken Fingers – Fried Green Tomatoes… with blue cheese, crab and a balsamic reduction.  Whaaa??!!  That sounds amazing!!  We ordered it immediately and enjoyed it down to the last sticky-sweet drop of balsamic.  Between bites, Mr. B and I agreed that, "Oh yes! We are making these! We are sooo making these!"
I know, I know – somewhere in the south, someone just died a little inside.  ("Really?  Blue cheese?  Balsamic what?  Crab?  Granny would roll over in her grave.")  But I kid you not, the flavor combination was de-fricking-finger-licking-licious!
So here's my version: not his Mama's, to be sure, which will always be the one he thinks of when he hears the phrase 'fried green' anything.  But not completely Montana's either, as I have taken a somewhat liberal approach to both the general prep and the "frying" process and lightened up the blue cheese sauce a little.  So something a little cleaner, perhaps, and a tad healthier.  And still amazingly delicious.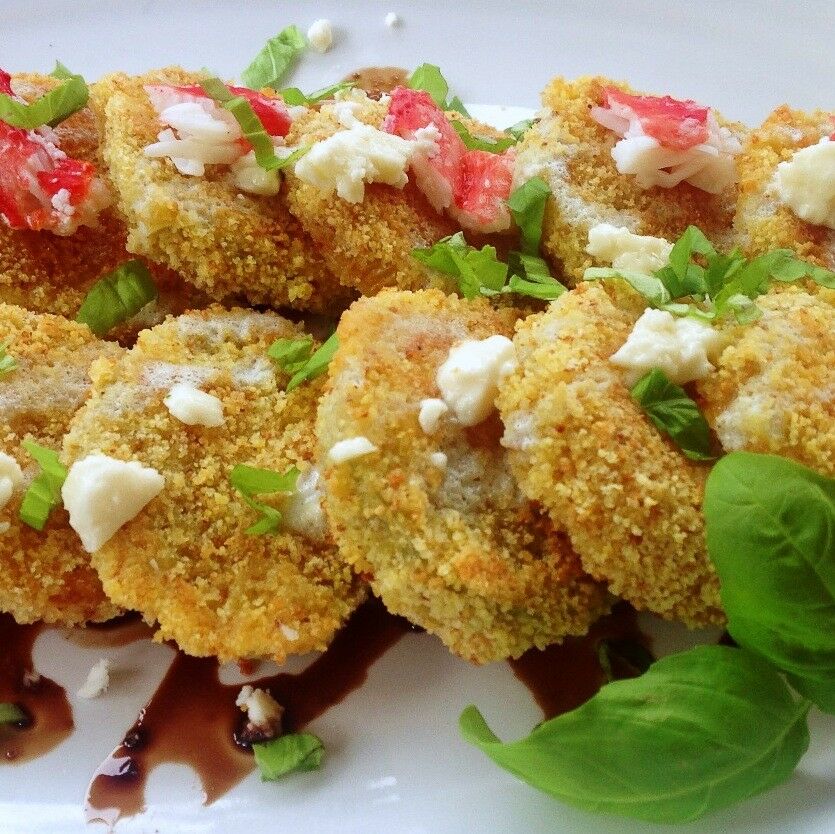 Fried Green Tomatoes
Print Recipe
Pin Recipe
Ingredients
Fried Green Tomatoes
4

large firm green tomatoes

1 1/2

cups

flour

1/2

teaspoon

Kosher salt

1/4

teaspoon

Old Bay seasoning

1

cup

plain yogurt

1

egg

1

cup

cornbread crumbs

or 1/2 cup cornmeal and 1/2 cup bread crumbs

Cooking Spray
Blue Cheese Sauce
2

oz

blue cheese

crumbled

1/2

cup

low fat plain yogurt

1

Tablespoon

lemon juice

Water
Balsamic Reduction
1

cup

of balsamic vinegar

1

Tablespoon

honey
Garnish:
About 1/8 lb crab meat

completely optional

1

teaspoon

chopped fresh basil

2

teaspoons

crumbled blue cheese
Instructions
Fried Green Tomatoes
Slice tomatoes 1/4 inch thick. In a flat-bottomed bowl, mix flour, salt, and Old Bay. In a second bowl, mix egg and yogurt. Place cornbread crumbs (or cornmeal and breadcrumbs) in a third bowl.

Coat tomatoes with the flour mixture, then the yogurt mixture, then the bread crumbs.

Place coated tomatoes on parchment covered cookie sheet and spray with cooking spray on both sides.

Bake in a 400 degree oven for about 6 minutes on one side then flip them over and bake for another 5 to 6 minutes.
Blue Cheese Sauce
Put blue cheese, yogurt, lemon juice and one tablespoon of water in blender cup and blend until smooth. (It's OK to add a little more water if you need to.) This can be made a day or so ahead of time.
Balsamic Reduction
In a small saucepan, bring balsamic vinegar and sugar to a boil. Reduce heat to low, and reduce vinegar slowly until it resembles a thick syrup. This will take about 20 minutes. Remove from heat. This can be made ahead of time.
To serve: Drizzle plate with balsamic reduction. Fan Fried Tomato slices over balsamic. Drizzle Blue Cheese Sauce over top. Garnish with crab meat (if desired) a little chopped basil, and a few blue cheese crumbles.
Notes
Inspired by the Fried Green Tomatoes at the Montana Steak & Chop House.
This website provides approximate nutrition information for convenience and as a courtesy only. You are solely responsible for ensuring that any nutritional information provided is accurate, complete, and useful.
Many thanks to Mama for introducing me to this wonderful southern delight, and to my BFF Cheryl for supplying me with some homegrown green tomatoes out of her garden (along with all the zucchini I could carry).