SUN BASKET organic meal kits deliver everything you need to cook easy, delicious, nutritious meals right to your front door. 

BONUS: SUN BASKET will give you all their recipes - no strings attached! 

Today, along with my review of Sun Basket's meal kit delivery service,  I'm sharing their recipe for these delicious, family-pleasing Quinoa Fritters. [Recipe at the bottom of post.]
This post may contain affiliate links, but don't worry - they won't bite.
Let's start with a little about Sun Basket. I have to admit that I'm kind of intrigued with the vast number of weekly or monthly food delivery services that have been popping up in the last couple of years. For a small fee, you can have everything from fancy European chocolates to curated vegan cuisine (and virtually everything in between) delivered to your door on a regular basis. In the past couple of months, I've been sifting through the chaos to discover the best of the bunch.
When I first learned about Sun Basket, there were a few things that really stood out:
Certified organic, non-GMO, sustainably sourced, seasonal ingredients from the country's top farms.
Grass-fed, antibiotic-free, pastured meats, and sustainable seafood from ranchers & fishermen with whom they have a direct relationship. (Read: trust)
Paleo, Gluten-free, and Vegetarian options.
Healthy, innovative, easy-to-prepare meals that require 30 minutes or less to prepare.
Environmentally responsible, 100% recyclable packaging.
With all those points on their side, we decided to give them a try, so we sat down to order our first box. (Click here to get your first three SUN BASKET meals for free.)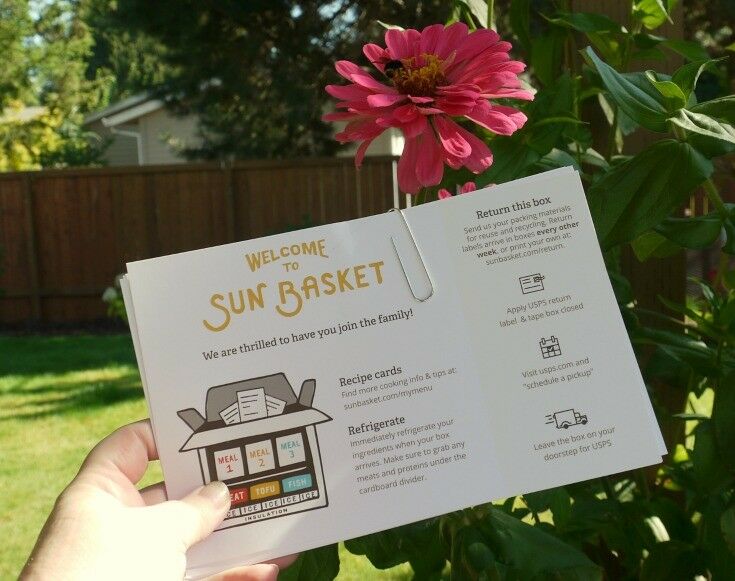 The online ordering process itself is very simple, but our household dynamics make it just a bit tricky. Until very recently, we had very a full house - including kids home from college for the summer and married kids landing for a few weeks.  And guess what? Everyone had a slightly different eating style!
Luckily, Sun Basket offers a variety of meal plans: Vegetarian, Rise & Shine, Paleo, Gluten-free, and Chef's Choice. Since everyone home at the time was OK with fish, we went with Chef's Choice, which means that you get to choose any three meals you want. We chose these three meals:
Roasted Salmon with Red Chermoula & Seared Endive
Quinoa Fritters with Arugula-Strawberry Salad
Shrimp Tacos Diablo with Pickled Cabbage & Lime

Our shipment arrived on time, as scheduled. I was very impressed with the packaging, which clearly reflects Sun Basket's commitment to the environment. The packaging is 100% recyclable, plus they offer free delivery and free return shipping so that they can reuse the materials. Boxes arrive with clear instructions on recycling, and the sauces came in awesome little reusable plastic containers with lids.

All of the ingredients arrived fresh and in premium shape, including tricky-to-ship items like strawberries and cilantro. Ingredients for each meal were clearly marked and packaged together in a brown paper bag, except the fish and shrimp, which were packed separately in the bottom of the box with additional ice packs.
Sun Basket follows best practices when it comes to preparing ingredients, and all allergens are clearly listed. Moreover, while they are not a completely gluten free facility, they take ingredient preparation very seriously. Each meal came with a beautifully photographed, detailed recipe card as well.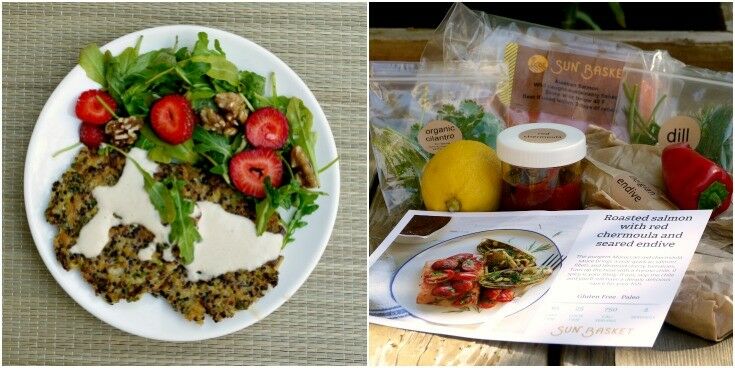 Each of the meals we ordered serves two. (Four-meal plans are also available.) However, as I mentioned earlier, we had a full house, so we decided to have a party and make all three meals at the same time.  Sounds like a great idea, right?!?
Let's just say, I do not recommend it. Things got a little confusing at times. I tried to keep things organized by arranging the ingredients for each meal on top of the bag that it came in.  (This part wasn't as easy as it looks.) Nevertheless, the meals were simple to prepare, and the directions were straight-forward. It definitely would have been easier it I hadn't been trying to take pictures and access the process at the same time I was preparing the food!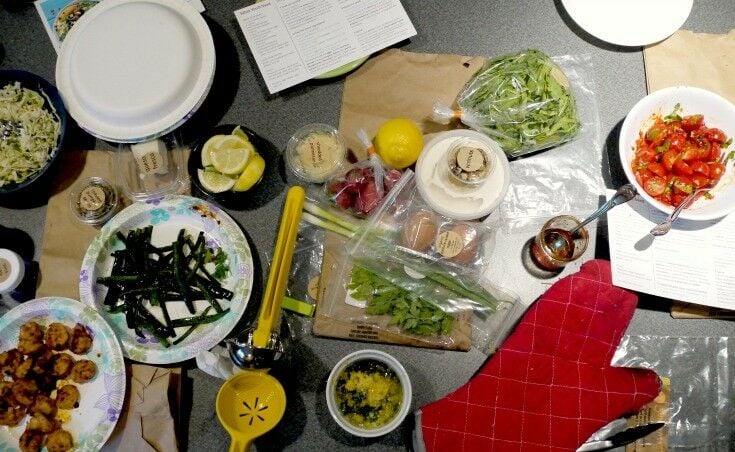 Our meals not only turned out deliciously, but they plated up beautifully. I referred to the photos on the recipe cards for plating, and everything looked as good as it tasted.
Each meal provided enough for two decent-sized portions, but in the future, I think I'll try to have a few extra sides to bulk up the meal for those with heartier appetites. Of the three meals we prepared, the Quinoa Fritters by far went the farthest.
Not only did they go a long way, but the Quinoa Fritters were without a doubt the biggest hit from our box as well – everyone in the family loved them! (Believe me, this is no small feat!) They were very flavorful, and had just the right amount of contrasting textures with the crunch of the fried quinoa and the smooth yogurt-tahini sauce. The arugula-strawberry salad paired with them very well too, although honestly, I think almost any light, slightly sweet salad would do the trick.
One of the things I appreciate most about Sun Basket's business model is that (unlike some other meal delivery programs that keep their recipes as secret as an Italian Nona's sauce recipe) they share all of their recipes online – free to anyone.  You can go online right now and browse through their menu. Then click on the highlighted name of any dish, and - Voilà - there's the recipe!
Note that if you order Quinoa Fritters from Sun Basket, the yogurt-tahini sauce comes premade; however, it is super easy to whip together at home. (My recipe follows.)
Quinoa Fritters with Arugula-Strawberry Salad
These simple cakes form a gorgeous, crisp crust when pan-seared.
Print Recipe
Pin Recipe
Servings:
2
generous servings
Ingredients
⅓

cup

rainbow quinoa

2

scallions

finely chopped

Handful of fresh flat-leaf parsley

stripped from stems & finely chopped

¼

pound

baby arugula

divided

1

lemon

2

pasture-raised organic eggs

2

tablespoons

Panko crumbs

2

tablespoons

shredded Parmesan

¼

pound

strawberries

hulled and sliced thin (¼")

2

tablespoons

walnuts

roughly chopped

Yogurt-tahini sauce

Recipe below
Instructions
Quinoa Fritters
Combine quinoa and ⅔ cup salted water in a small saucepan and bring to a boil. Reduce to a simmer, cover, and cook until the quinoa is tender and most of the liquid is absorbed, 15 to 18 minutes. Spread the quinoa out onto a sheet pan or plate. Prep the rest of the ingredients while the quinoa cools.

Finely chop ½ cup of the arugula, reserving the rest for the salad. Zest and juice the lemon, keeping the zest and juice separate.

Crack the eggs into a bowl, season generously with salt and pepper, and lightly beat.

In a medium bowl, combine eggs, scallions, parsley, chopped arugula, lemon zest, panko breadcrumbs, Parmesan, and cooled quinoa. Mix well to combine.

Shape into the mixture into 6 patties.*** Add 2 tablespoons of olive oil in a large skillet over medium heat. When hot, add the quinoa patties in batches and cook until golden brown and cooked through – 4-5 minutes per side. Transfer to a paper-towel-lined plate to drain.
Strawberry-Arugula Salad
Hull the strawberries and cut into ¼-inch-thick slices.

In a small bowl, combine the lemon juice and 1½ tablespoons olive oil. Season with salt and pepper.

Add the strawberries, walnuts, and remaining arugula and toss to coat. Season to taste.

Transfer the quinoa fritters to individual plates and top with some of the yogurt-tahini sauce. Serve with the salad and more sauce on the side.
Notes
*** I find that the easiest way to form the patties is by using a ⅓ cup measure. Just pack the quinoa mixture into the measuring cup and turn it out directly into the hot skillet. Flatten slightly with the back of a spatula and you're good to go.
This website provides approximate nutrition information for convenience and as a courtesy only. You are solely responsible for ensuring that any nutritional information provided is accurate, complete, and useful.
Yogurt-Tahini Sauce
Print Recipe
Pin Recipe
Ingredients
3

tablespoons

tahini

1

clove

garlic

minced

2

teaspoons

fresh lemon juice

2

teaspoons

maple syrup or honey

Kosher salt

to taste

Freshly ground pepper

to taste

Water

as needed
Instructions
In a small blender, mix together yogurt, tahini, garlic, lemon juice, maple syrup, salt and pepper until smooth. You may need to add a little water; just be sure not to make it too thin.
Notes
I like to add a little sweetener to my tahini sauce to offset the bitterness. (I have a high sensitivity to bitter.) Just omit the maple syrup if you prefer.
This website provides approximate nutrition information for convenience and as a courtesy only. You are solely responsible for ensuring that any nutritional information provided is accurate, complete, and useful.
BOTTOM LINE
Would we order from Sun Basket again? Absolutely! This service would be perfect for a working couple or small family, or anyone wanting to expand their cooking repertoire. You get reasonably priced gourmet meals, ordering is online is super easy, and you can skip a week or cancel at any time. Their demonstrated commitment to both the environment and quality customer service is a real selling point to us as well.
Ready to try Sun Basket out for yourself? Click this link and get your first 3 Meals Free from Sun Basket!  (If you win the giveaway, that'll be six free meals!!)
Disclosure: This post may contain affiliate links, which means we may receive a commission if you click a link and purchase something that we have recommended. While clicking these links won't cost you any extra money, they will help us keep this site up and running - and (relatively) ad-free!! Please check out our disclosure policy for more details. Thank you for your support!