California Quinoa Salad is bright, light, amazingly healthy combo served with a delicious tropical piña colada dressing.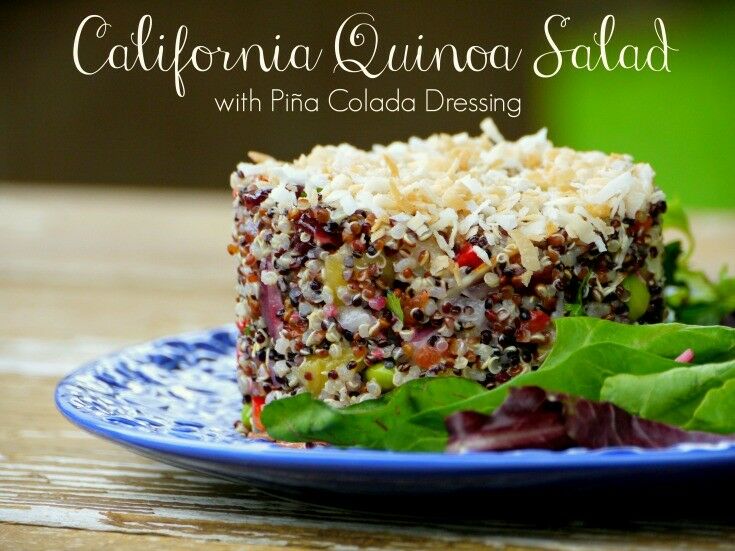 This post may contain affiliate links, but don't worry - they won't bite.
Finding a lunch spot that sources locally grown products and serves up fresh, healthy (and affordable) plates in Portland is usually no harder than walking around the next corner. In fact, when it comes to finding a great place to eat in our town, we are downright spoiled.
Idaho Falls, Idaho, on the other hand, is a town heavy with steak houses, chain restaurants (Chuck-o-rama, anyone?), and fast food drive-thrus.
Finding something locally sourced, unique, and delicious in Idaho Falls takes a little more work, and going vegetarian takes a whole 'nother level of dedication.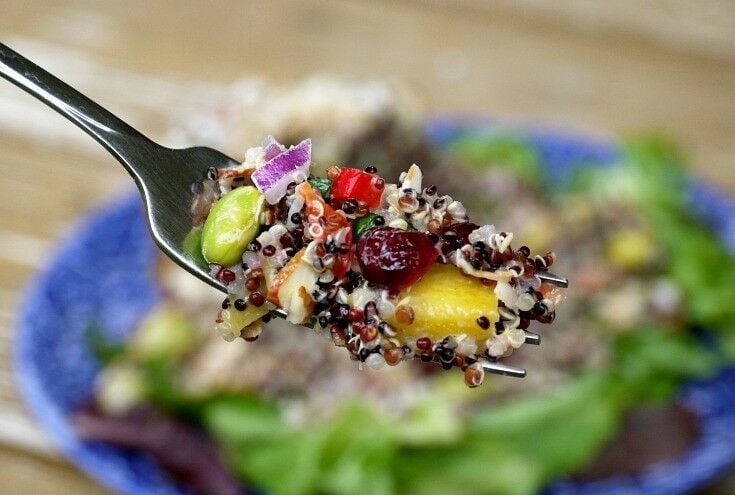 So imagine our delight (yes, delight!) when, while on a recent trip to the Potato State to see one of our daughters graduate from college, we Yelped our way into the bright, airy Arugula Deli, tucked modestly into the side of what looks to be an old brick school building on the north side of town.
The food was, in a word, Fresh. Wonderfully, deliciously fresh, in every sense of the word. We sipped on our lemon and cucumber infused waters while we perused the globally-inspired menu, which has options for all eating styles, from vegan to steak lover.
My lunch choice - the California Quinoa Salad - turned out to be our table favorite; a clean, light, grain-based salad full of interesting textures and bright flavors that filled me up and kept me going all day. (And it was a very long day, let me tell you.)
DID YOU KNOW? Quinoa is an ancient grain related to spinach, beets, and chard. Not only is quinoa considered a super-food, but it is also a complete protein: it contains all nine of the essential amino acids (the ones the body cannot produce on its own).
The element that put this salad over the top for me - and inspired me to practically run home to recreate it - was the amazing "secret recipe" piña colada dressing that was served along side.
I loved the salad dressing so much that I asked if I could get the recipe, to which our waitress laughed and told me that the chef was so cagey about its composition that he made it behind closed doors. The staff didn't even know what was in it.
Aha! A challenge!
Our waitress did offer to sell us a bottle of the dressing, which of course I accepted. I also took a few minutes to chat with the enigmatic chef himself. Marcel Gutierrez, who owns the Arugula Deli with his wife Mindy, is responsible for the deli's amazing menu.
Chef Marcel is an affable and engaging man who is passionate about his work. Were it not that we had places to go and things to do, I would have loved to have had time to visit with him more. As it was, we had commencement exercises to attend, and then the long drive back home to Oregon.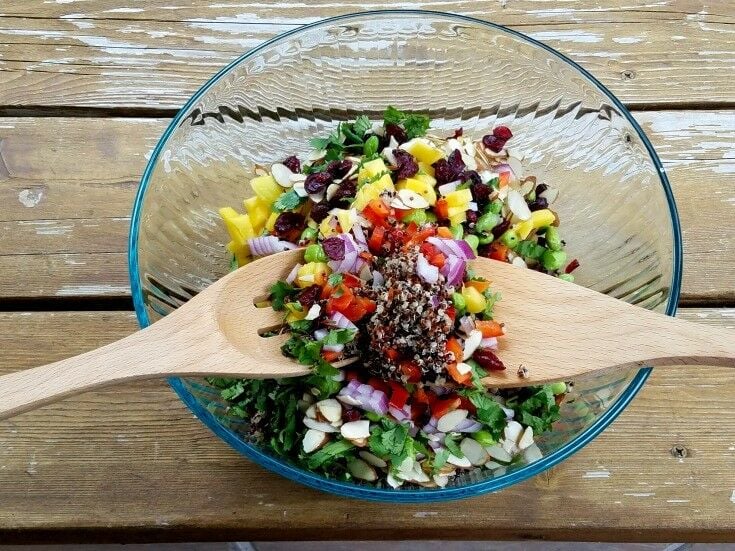 Once home, the salad itself was easy to make: I just had to take all the ingredients listed on the menu and throw them together in the right proportions. For my recipe, I chose to go with tri-colored quinoa instead of single-grain, mostly because I like the extra color, but also because I personally think it has a little more crunch. The trade-off is that the other ingredients don't visually stand out quite as much in the finished quinoa salad. If you make it at home, the choice is yours - any kind of quinoa will one will work.
California Quinoa Salad (with Piña Colada Dressing)
A bright, light, amazingly healthy quinoa salad served with a delicious tropical dressing.
Print Recipe
Pin Recipe
Ingredients
Quinoa Salad
4

cups

cooked quinoa

½

cup

chopped mango

½

cup

chopped red pepper

½

cup

shelled edamame

½

cup

chopped red onion

¼

cup

sliced almonds

¼

cup

Craisins

¼

cup

chopped cilantro

Juice of two limes

½

cup

sweetened coconut

toasted
Piña Colado Salad Dressing
¼

cup

sweetened condensed milk

2

tablespoons

pina colada mix

2

tablespoons

mayonnaise

2

tablespoons

pineapple juice

1

tablespoon

lime juice

Salt to taste
Instructions
Quinoa Salad
Combine all ingredients except toasted coconut.

Refrigerate until ready to serve.

Garnish with toasted coconut.

Drizzle with Piña Colada Dressing just before serving.

Serve with additional dressing on the side.
Piña Colada Dressing
Whisk together all ingredients.

Refrigerate until ready to serve.
Notes
Inspired by the Arugula Cafe, Idaho Falls, Idaho
Nutrition
Serving:
1
serving
|
Calories:
344
kcal
|
Carbohydrates:
50
g
|
Protein:
11
g
|
Fat:
12
g
|
Saturated Fat:
3
g
|
Cholesterol:
5
mg
|
Sodium:
83
mg
|
Potassium:
493
mg
|
Fiber:
7
g
|
Sugar:
19
g
|
Vitamin A:
617
IU
|
Vitamin C:
25
mg
|
Calcium:
94
mg
|
Iron:
3
mg
This website provides approximate nutrition information for convenience and as a courtesy only. You are solely responsible for ensuring that any nutritional information provided is accurate, complete, and useful.
The real challenge came in creating the dressing. I took a couple of wrong turns before I finally got it, and I want to send out a big thank you to our son-in-law Mason for his invaluable input.
I am nearly certain that the ingredient list for my condensed-milk-based dressing below is not even remotely close to Chef Marcel's recipe (which I believe is mayonnaise based), but the end result tastes spot on.
PRO TIP: Hollowed out lime halves are the perfect vessel for serving salad dressing!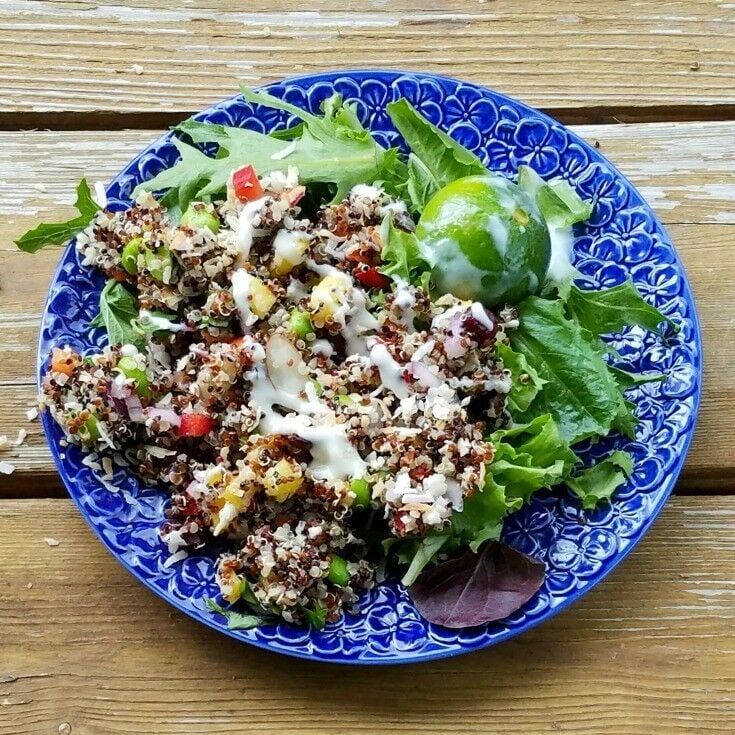 More Delicious Homemade Salad Dressings from GHW
Making your own salad dressing is fast, easy, economical; and best of all, you'll be able to identify and pronounce all the ingredients!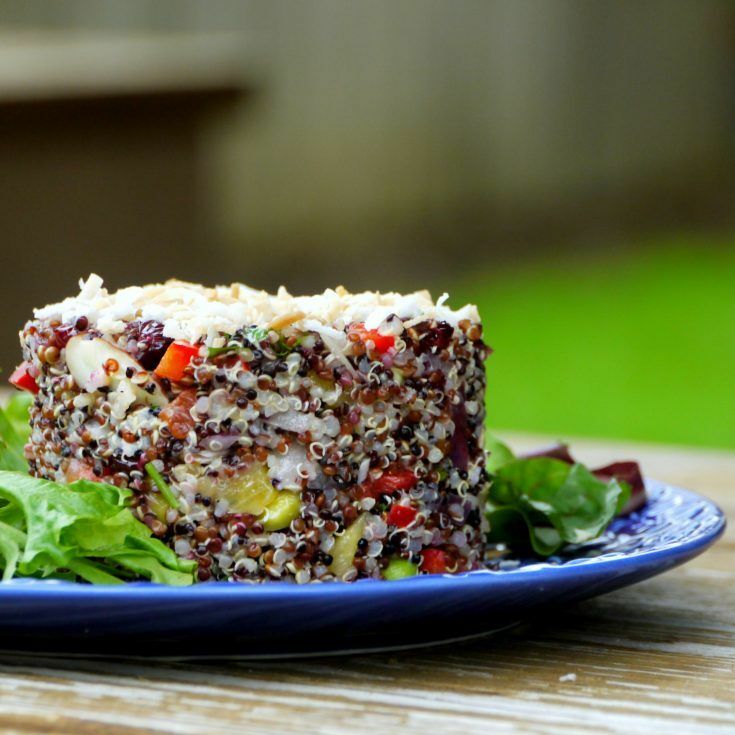 As you may have noticed, I totally copied Chef Marcel's presentation, too: it makes for a far more interesting plate than just throwing the salad on top of a bed of greens.
While you can buy all sorts of cool kitchen forms to create this effect, a clean tin can with both ends cut out works just as well.
The next time you are in Idaho Falls, I encourage you to stop by the Arugula Deli for a meal - and be sure to say hello to Chef Marcel for me!

THANK YOU so much for being a faithful reader and supporter
of The Good Hearted Woman. • Be sure to PIN this post!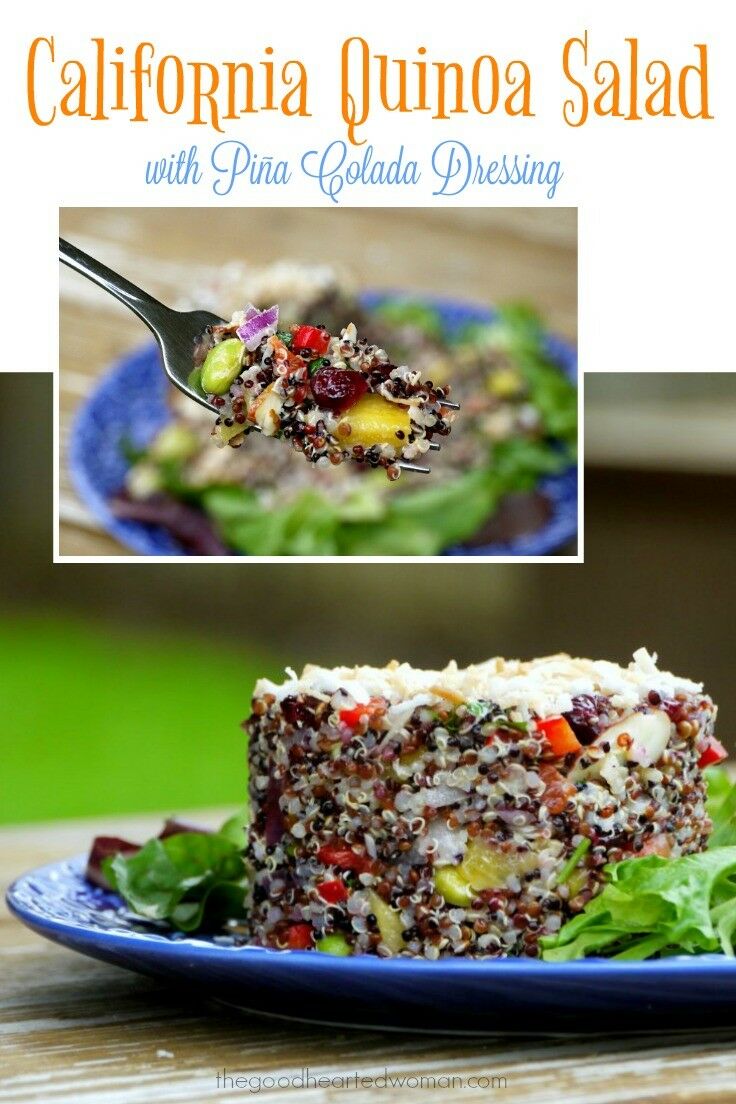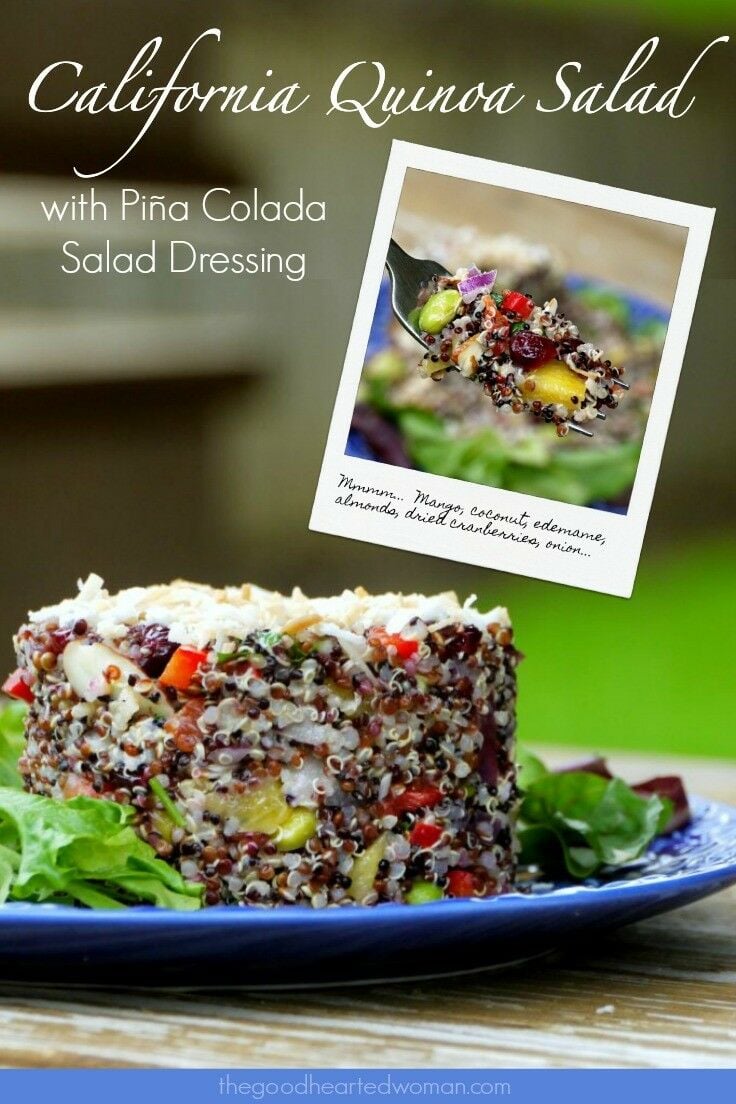 Disclosure: This post may contain affiliate links, including Amazon affiliate links, which means we may receive a commission if you click a link and purchase something that we have recommended. While clicking these links won't cost you any extra money, they do help keep this site up and running. As always, all opinions and images are my own. Please check out our disclosure policy for more details. Thank you for your support!