The RingSide Steakhouse has been helping Portlanders celebrate in style for more than 70 years now. (2014)
My parents were married in June 1949, just five years after RingSide in Portland served its first steak.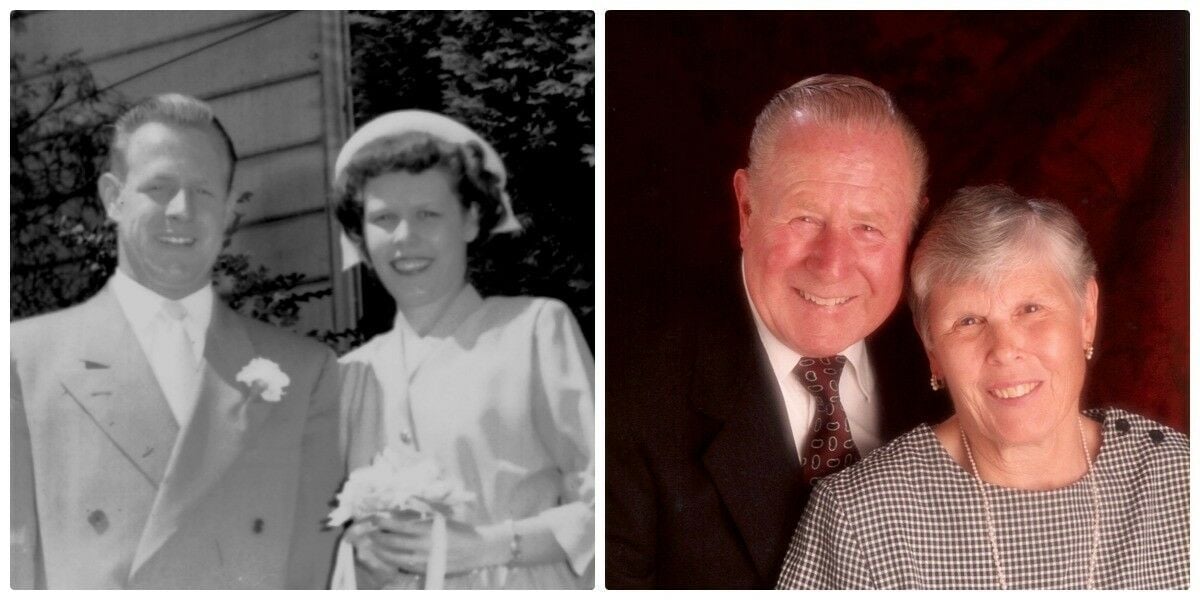 Whenever Daddy talked about their wedding day, he always recalled the story about how he and his brother Jack were almost late for the ceremony, and how he had to borrow $75 for Mom's ring ("Never borrowed any money from my brother before or since") and that perfect steak he had after at the RingSide. "The RingSide" he always called it, like there would never be another one like it. "First meal we ever ate as husband and wife," he'd say. "I had a t-bone, cooked just perfect."
When it came time for Dad and Mom's golden anniversary in 1999, there wasn't even a question about where we would hold their celebration.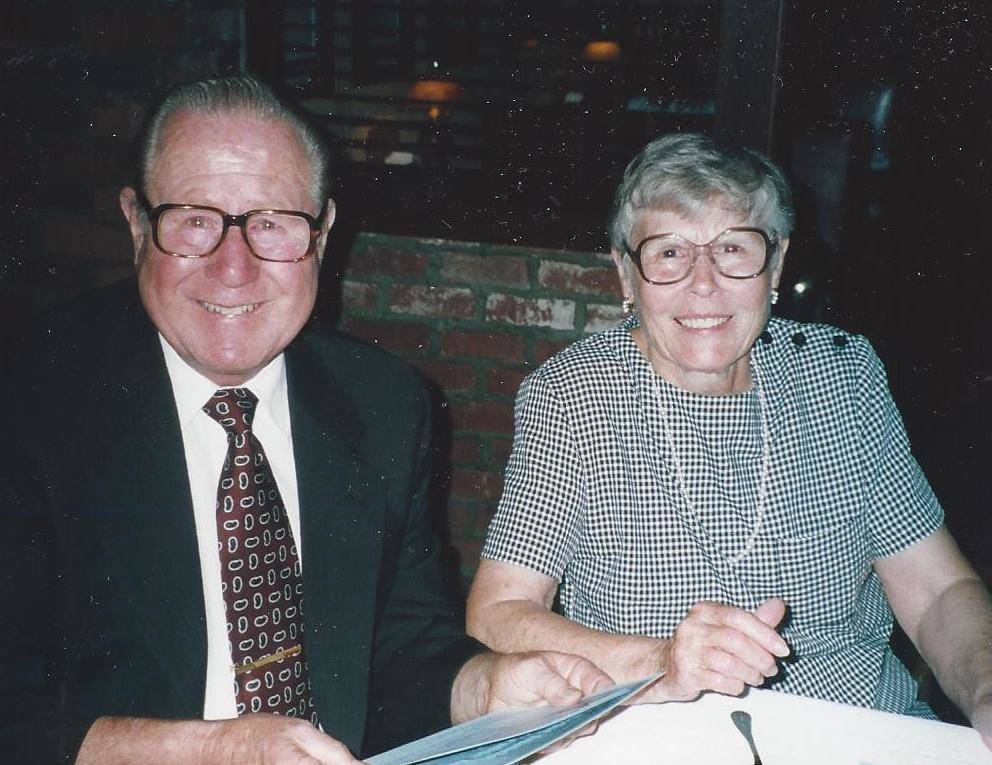 RingSide Steakhouse, with its tradition of culinary excellence and impeccable service, has been serving the best aged steaks, prime rib and those amazing famous onion rings for generations now. With my own RingSide family tradition going back nearly to the beginning, just imagine how thrilled I was to be invited to the media preview event for their 70th Anniversary celebration.
Held in the Ringside's sophisticated Barrel Room, the preview event gave Mr. B and I a taste of the celebratory menu as well as a glimpse into some of the exciting new additions and improvements at RingSide.
RingSide has a long history of helping Portlanders celebrate in style, and they have quite an elegant party planned for their own Platinum Anniversary. Spanning the entire month of June, the celebration includes a distinctive anniversary menu. A portion of the proceeds from the events will go toward helping New Avenues for Youth, an organization that serves homeless and at-risk youth.
When we arrived at the event, we were greeted with platters and glasses full of delectable bites and sips, and all around us, servers stood at the ready to carve us off samplings of the celebratory menu trio of beef.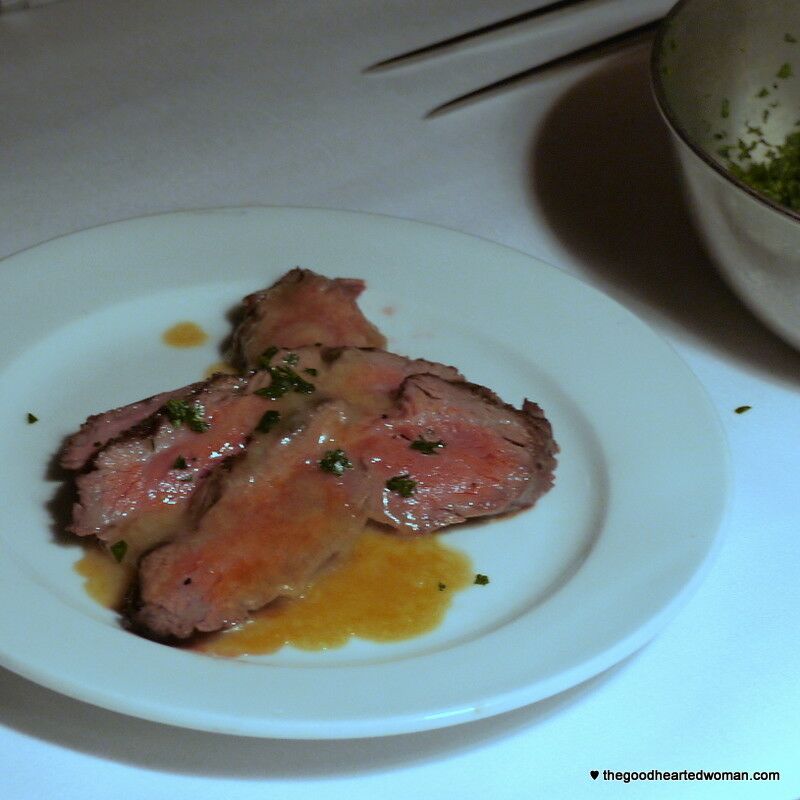 The Rib Eye Cap (above) was charbroiled and sliced in a simple presentation that allowed its fabulous flavors to take center stage. Mr. B and owner Craig Peterson agreed that the Rib Eye Cap was their favorite of the beef trio.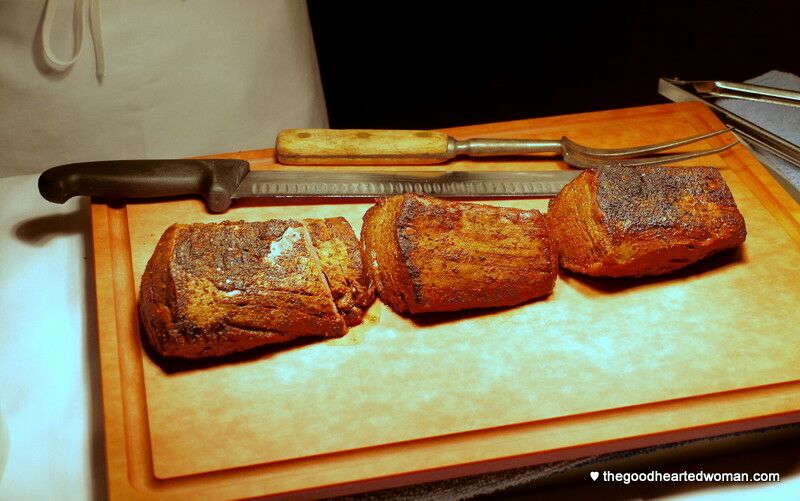 The Tenderloin Beef Oscar was my favorite. (They had me at Crab Leg.) This fork-tender Petite Filet Mignon comes topped with the aforementioned Dungeness crab leg, shaved asparagus, and a delicately decadent Béarnaise. The best of all worlds wrapped up in every bite!
Many at the event deemed the Braised Short Rib the best of show. The meat is so tender that it falls apart at fork's first touch. Not actually braised, these short ribs are cooked using a technique known as "sous vide" in a hot water bath for 24-30 hours. Once complete, they are served with a rich demi-glace.
In 2010, RingSide underwent some major renovations, designed to grow the operation and continue its tradition of excellence. Most took place behind the scenes – or under the scenes in the case of the new climate-controlled wine cellar.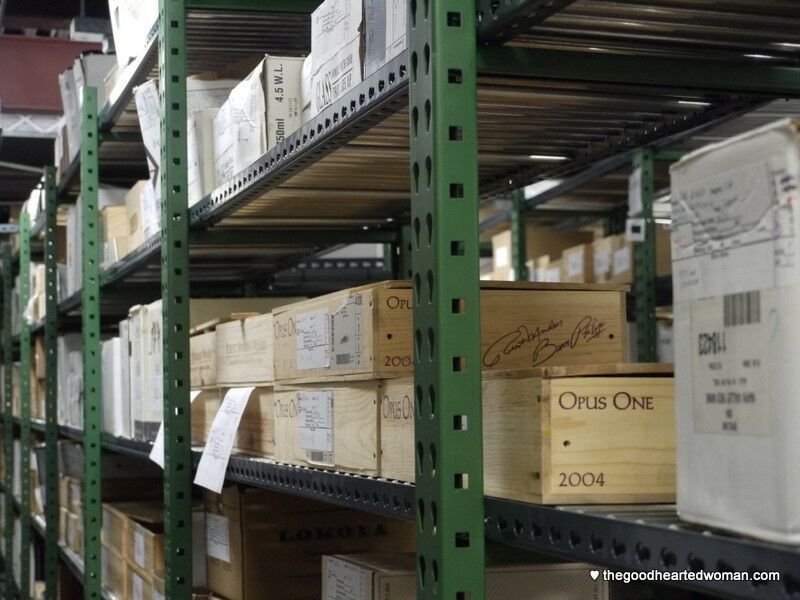 Third-generation owner Jan Peterson is passionate about wine, and serves as RingSide's wine curator. She shared that she loves the labels, and is intrigued with what people will do to make their labels unique to their wines.
Mr. B is our resident wine expert, and he was captivated by Jan Peterson's tour of the wine cellar. The cellar houses a very impressive collection of local and international wines, 90% of which are reds, including the pricey 1966 bottles of Pomeral pictured below, worth about $2000 each. (I missed the picture of their expensive little brother – a $10,000 bottle, vintage 1982.) And lest you think those tony bottles are just for show, let me tell you that Jan shared that she had sold a $10,000 bottle of wine earlier in the week. She commented that she was sad to see it go, but glad that someone was able to enjoy it. The Peterson family are home-grown Oregonians to their roots, and very supportive of local pinot noirs.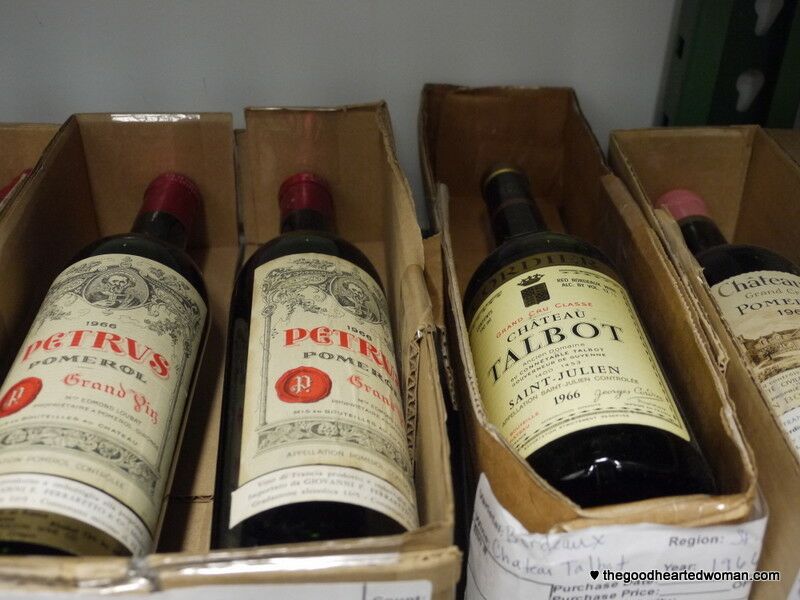 Our tour continued as owner Craig Peterson gave us a tour of the new dry aging meat locker and newly expanded kitchen. Mr. B and I were both so impressed by the Peterson family owners and their commitment to excellence in Portland's dining community. Listening to them talk made it clear that RingSide is much more than just a business for them.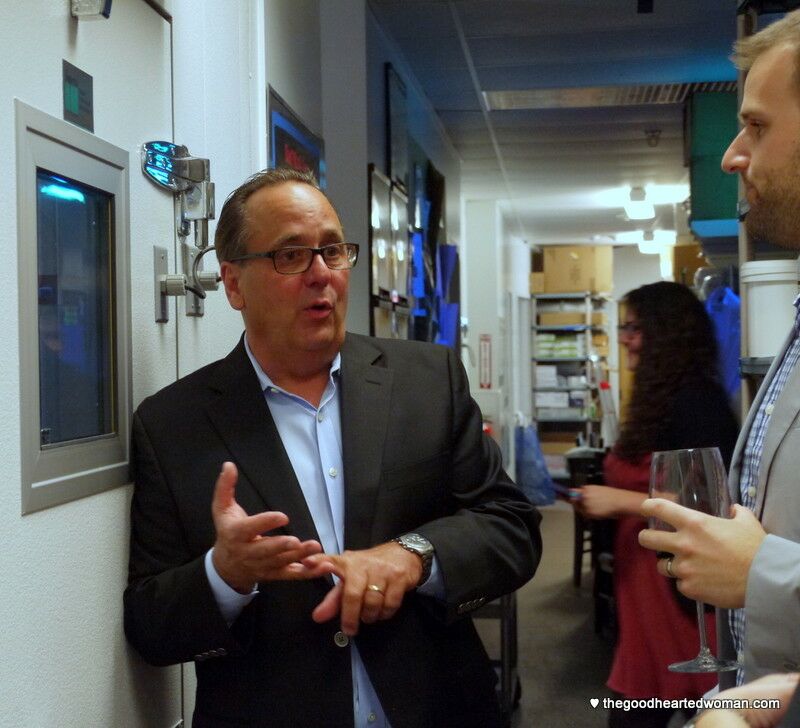 Beef in the aging room is held at a steady temperature for 26-31 days, with the entire stock being cycled through about every 3 weeks.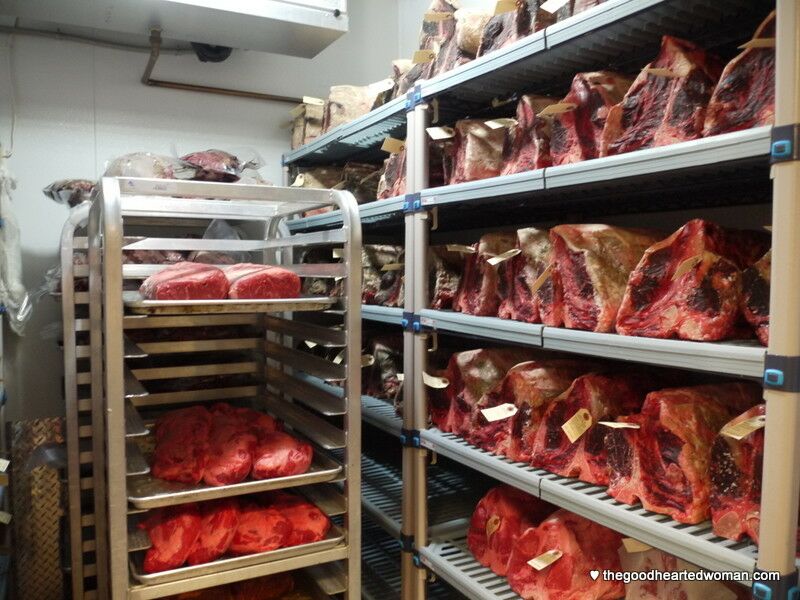 Because temperature and humidity control is so critical – if either is compromised, they can lose the whole contents of the meat locker – RingSide has a sophisticated backup system in place to guard against loss.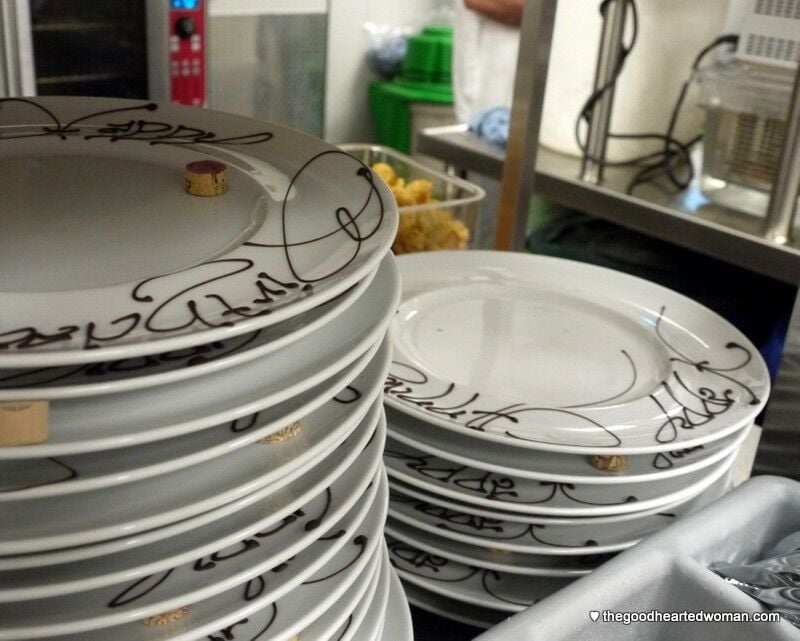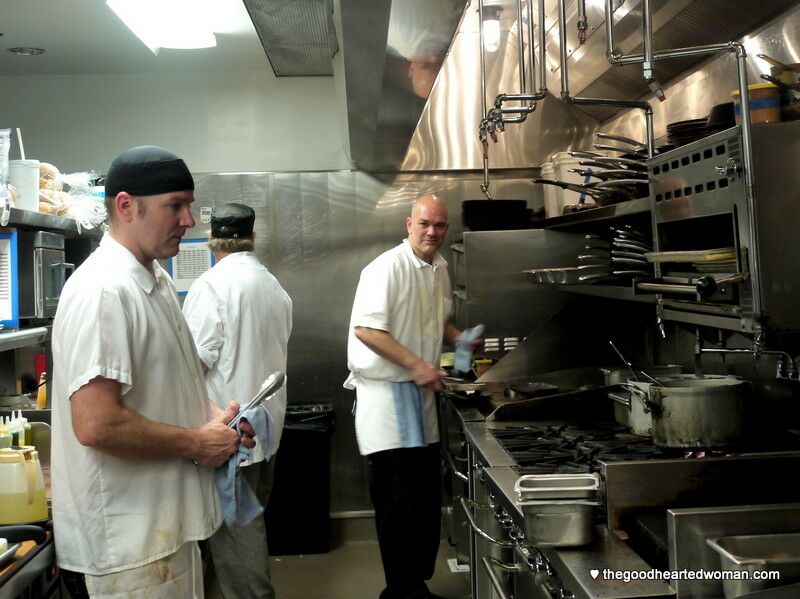 RingSide employs a unique two-side grill system to accommodate their necessity for super-fast order delivery.
"Steaks need to be picked up within a minute and a half of coming off the grill. They are served sizzling on a plate and we only have three minutes from start to finish before that plate stops sizzling," Craig Peterson explained. "Whenever we get someone new in the kitchen, the two-sided expediting system drives them crazy at first, but then they start to see how it works, and why we need it, and they adjust. Whoever does the expediting needs to be really fast on their feet."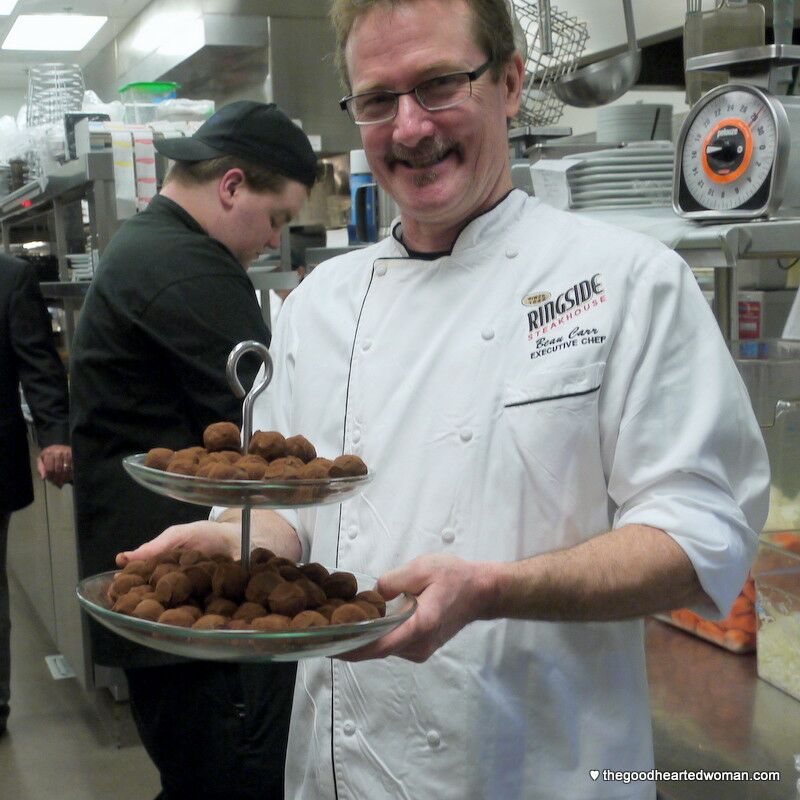 Disclosure: Mr. B and I are grateful to RingSide Steakhouse and The Little Green Pickle for inviting us to this event. Free food notwithstanding, we will always provide our honest opinion. The views and opinions expressed on this blog are entirely my own (and occasionally Mr. B's).