Our lighter version of classic Sloppy Joes has all the rich, savory, full-bodied flavor you're craving! (Super-easy recipe | no cans, no mixes)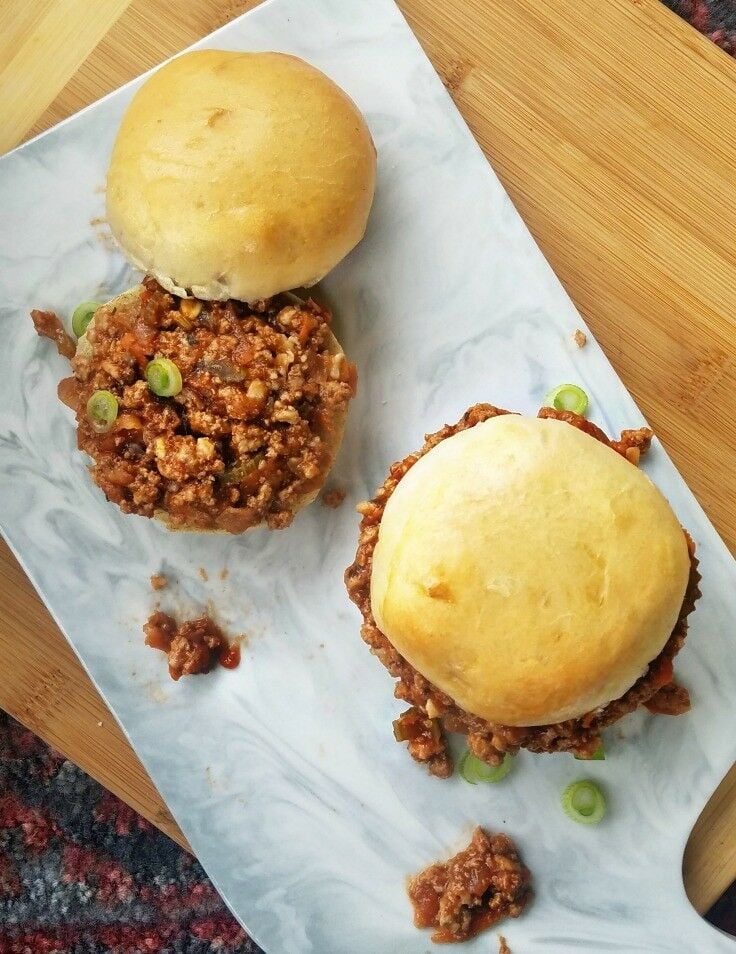 This post may contain affiliate links, but don't worry - they won't bite.
We had some amazing lunch ladies at my elementary school when I was growing up. Nearly every day, they baked us fresh bread, and they served up what I have come to learn was some of the finest school food offered in the Portland Public School District at the time.
Sloppy Joe Day was always a good day in our lunchroom! I remember passing through the lunch line, watching as the Sloppy Joe lady plunked a big ice cream scoop full of thick, meaty sauce onto the bottom half of a freshly baked burger bun, where it sat like a little brown igloo until she smooshed it into a patty shape with the other half of the bun.
Once at your table, you would hold your Sloppy Joe in both hands, fingers on top, thumbs down. The trick was to keep it level as you bit down, in the hopes that at least some of the filling would stay inside the bun as you did. I nearly always finished mine with a fork though, as most of my Joe inevitably ended up plopping out on my lunch tray.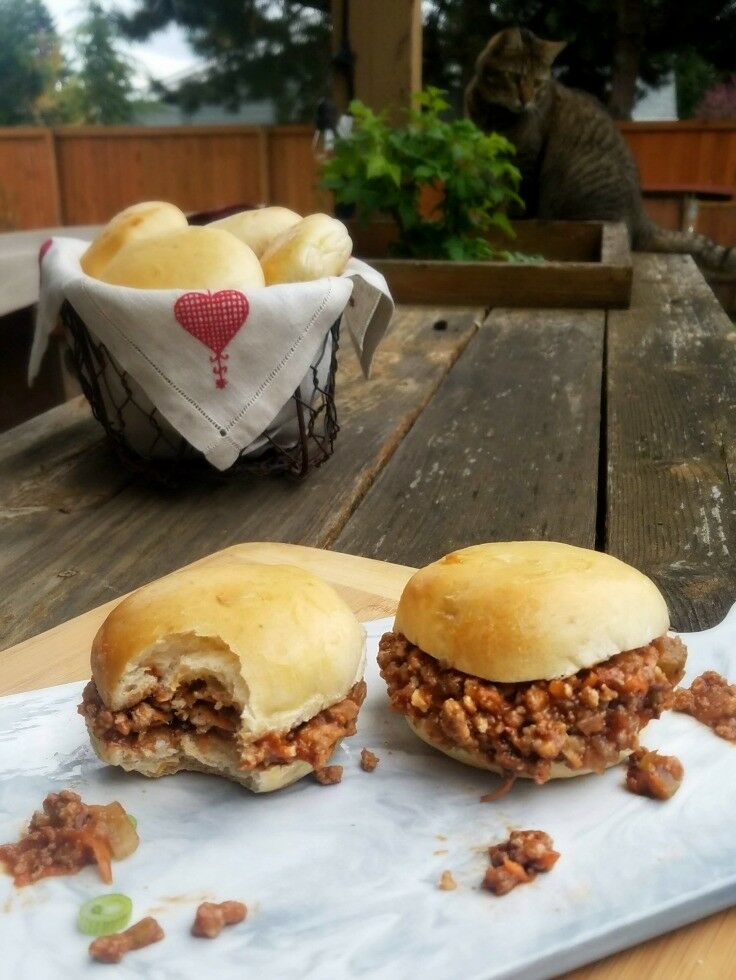 Who Invented the Sloppy Joe?
Three different institutions - two Florida Straits bars and a Midwest tavern - are variously credited with inventing the Sloppy Joe. The most widely accepted version is that Sloppy Joe's originated in the Midwest in the 1930's as the saucy loose meat creation of a Sioux City, Iowa cook named Joe. I'm not sure how true that story is, but I like it, so I'm going with it.
Sloppy Joe didn't find his way into my mother's kitchen until Hunt's released its canned "Manwich" sauce in the early 1970's, at which time Mama was quick to jump on the Sloppy Joe train.
Like many women of her generation, Mama was fascinated by the boon of boxed, canned, and frozen meals that food companies of the time were churning out. Hello, Joe!
Thankfully, the frenzy over boxed and canned meals has long passed, and today I do all I can to avoid prefab foods. But sometimes I still get the craving for those old standbys – most recently for the classic Sloppy Joes of my childhood cafeteria.

How We Lightened Up Ol' Sloppy Joe
In order to bring classic Sloppy Joes into the new millennia with lighter, healthier ingredients, I had to make a couple of significant changes.
First, because we've taken a giant step back from beef in the last few years, I substituted ground chicken for the traditional ground beef. (You can also use ground turkey.)
That, however, presents another problem, because ground chicken is essentially the tofu of live proteins, in that it is utterly tasteless all by itself. For a more positive spin, think of it as a blank canvas, just waiting for you to paint it up with your culinary magic.
The rich, savory flavor that is the calling card of any respectable Sloppy Joe is enhanced by adding a splash of Worcestershire sauce and a little cocoa powder to the mix.
In addition to the traditional onions and celery, I also added a handful of grated carrots for depth and sweetness, a squirt of Sriracha for a touch of heat, and a handful of savory spices.
Finally, because I prefer my Sloppy Joes to have some body, I added a little ground oatmeal.
Oatmeal for Thickening Sauces: If you've never used this trick to thicken a meat sauce before, it may sound weird, but it works like a charm. You never even taste the oatmeal. (Do not use oat flour for this: it is too finely ground.)
Lighter Classic Sloppy Joes
This lighter version of classic Sloppy Joes has all the rich, savory, full-bodied flavor you're craving! 
Print Recipe
Pin Recipe
Ingredients
Sloppy Joes Sauce
2

tablespoons

butter

1

medium

onion

chopped

3-4

stalks

celery

finely chopped

1 - 1 ¼

pounds

ground turkey or ground chicken

½

cup

cold water

¾

cup

ketchup

[We use Portland Ketchup!)

1

tablespoon

brown sugar

see NOTES

1

tablespoon

Worcestershire sauce

1

teaspoon

unsweetened cocoa powder

2

teaspoons

salt

2

medium

carrots

coarsely grated

1

teaspoon

Sriracha

1

teaspoon

dried basil

½

teaspoon

dried oregano

½

teaspoon

whole fennel seeds

½

teaspoon

paprika

1

cup

water

or as needed

⅛ - ¼

cup

old-fashioned or quick oats

coarsely ground or chopped
For Serving
Chopped green onions

Toasted burger buns

Cheese

sliced or grated [Optional; see NOTES]
Instructions
In a small bowl, mix together ketchup, brown sugar, Worcestershire sauce, cocoa powder, salt, Sriracha, basil, oregano, fennel seeds, and paprika.

Set aside.

Melt butter in a large, heavy skillet over medium heat.

Increase heat to medium-high and add chopped onions and celery.

Stir intermittently until the onions just begin to brown.

Add ½ cup water and ground meat to skillet with the onions and celery.

Season with Break meat apart and cook until no pink remains and water has evaporated.

Add contents of small bowl to skillet mixture and stir to combine thoroughly.

Reduce heat to Low, cover skillet, and simmer 5 - 10 minutes.

If mix is too thick: Add up to a cup of water before simmering (Don't go crazy, though!)

To thicken the mixture, add 2 -4 tablespoons of quick or old-fashioned oats.

This works best if you run them through a food mill or small blender first. Be careful though - you don't want to turn it into oat flour - you just want to break the oats up a little.
Notes
SLOW COOKER DIRECTIONS: Do steps 1 - 4 as outlined, then dump everything into the slow cooker, and cook on low for 1-2 hours.
INGREDIENT NOTES:
BROWN SUGAR: If you prefer your Joes a little less sweet, reduce or omit the brown sugar according to your tastes. Also, pay attention to the amount of sugar in your ketchup - if it is a very sweet variety, you will want to cut back on the brown sugar.
CHEESE: I usually use cheddar, or a blend of cheddar and jack. Just use whatever sounds good to you.
Nutrition
Serving:
1
serving
|
Calories:
154
kcal
|
Carbohydrates:
9
g
|
Protein:
21
g
|
Fat:
4
g
|
Saturated Fat:
2
g
|
Cholesterol:
52
mg
|
Sodium:
624
mg
|
Potassium:
390
mg
|
Fiber:
1
g
|
Sugar:
5
g
|
Vitamin A:
1941
IU
|
Vitamin C:
3
mg
|
Calcium:
21
mg
|
Iron:
1
mg
This website provides approximate nutrition information for convenience and as a courtesy only. You are solely responsible for ensuring that any nutritional information provided is accurate, complete, and useful.
Do you know what the three essential elements of a great school pizza are? Check out our Old School Cafeteria Pizza recipe to find out!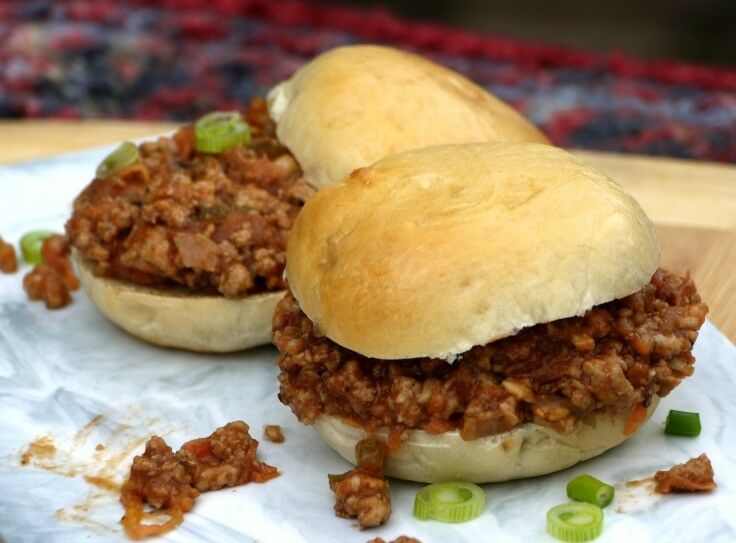 One of the best things about classic Sloppy Joes is that you can make them well ahead of time – as in days ahead – and simply heat the sauce up when you're ready to eat.

Sloppy Joes: Not Just for Buns!
Never underestimate the versatility of the humble Sloppy Joe. Sure, it's great on a bun, but it has so much potential for branching out. Here are just a few ideas:
Sloppy Huevos Rancheros

Sloppy Breakfast Tacos
Sloppy Lasagna
Sloppy Pasta
Sloppy on a Shingle
Sloppy Rice
Sloppy Avocado

Homemade Sloppy Joes are even better on homemade buns! We like to serve these on my homemade Cheese & Onion Burger Buns. If you'd like to learn more about making your own burger buns - it's super easy!!! - check out our post on How to Make Homemade Burger Buns (includes my Cheese & Onion Buns recipe).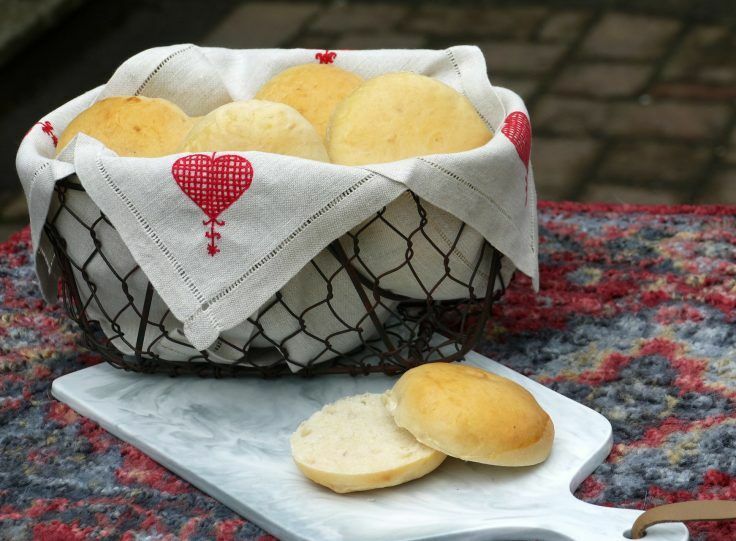 You may notice our cat Jackson Browne in the background of a few of the photos in this post. Jack has turned photo-bombing into a serious art form.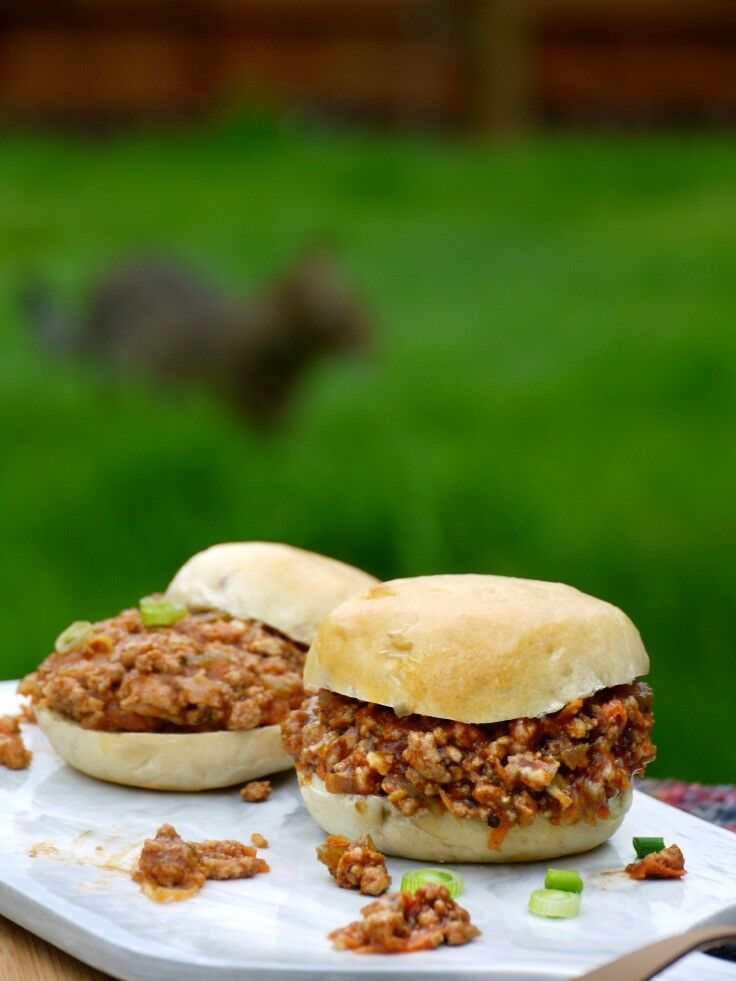 I am almost certain that Jack watches for me to point the camera (or my phone) at something, then waits until just the right moment before leaping into the shot a millisecond ahead of my shutter finger.
(You can catch more of Jack and friends, plus a few of my doodles, on Instagram at The Harmony Cat.)

THANK YOU so much for being a faithful reader and supporter
of The Good Hearted Woman. ? Be sure to PIN this post!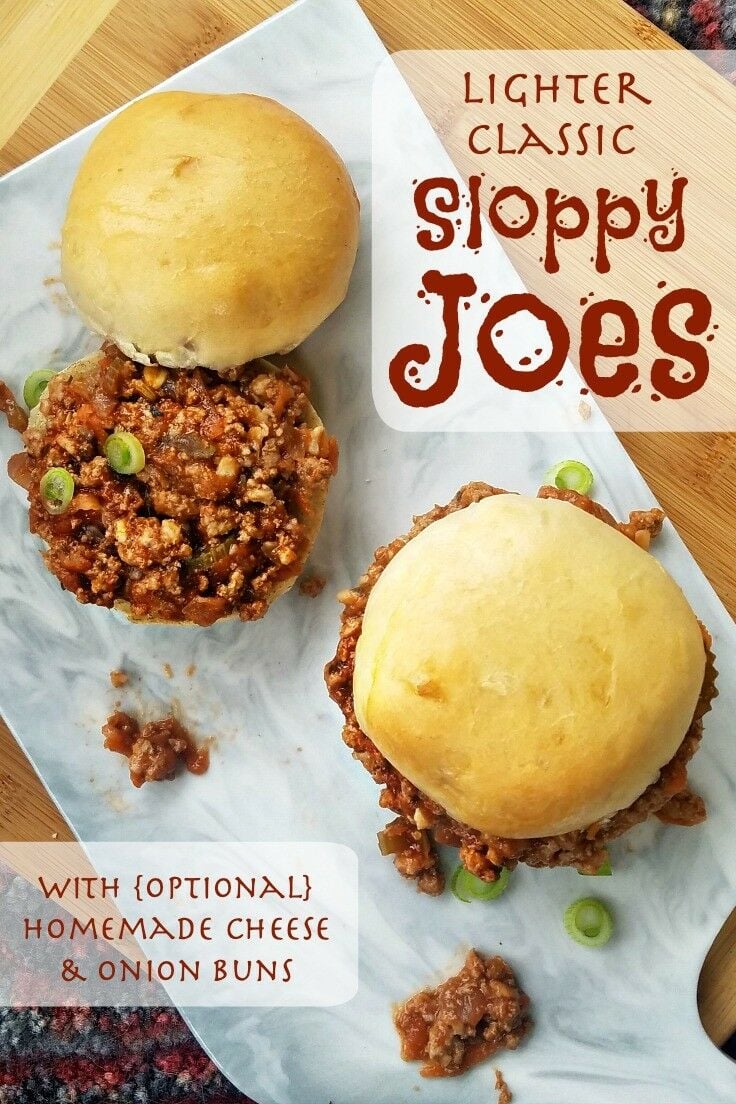 Disclosure: This post may contain affiliate links, including Amazon affiliate links, which means we may receive a commission if you click a link and purchase something that we have recommended. While clicking these links won't cost you any extra money, they do help keep this site up and running. As always, all opinions and images are my own. Please check out our disclosure policy for more details. Thank you for your support!