If you are new to snorkeling, Hanauma Bay on Oahu is an easy, safe place to get started; especially if you follow our practical snorkeling tips for beginners.
As an Oregonian, I'm conditioned to tense and shudder just thinking about swimming in the ocean, so the first time my toes touched Oahu's sun-soaked waters, I was like a toddler with a new wading pool. I couldn't get enough.
Since snorkeling was a new experience for me, we decided to go to Haunama Bay, which - based on how many people were there - is apparently where every other virgin snorkeler in the entire civilized world (or at least Oahu) goes.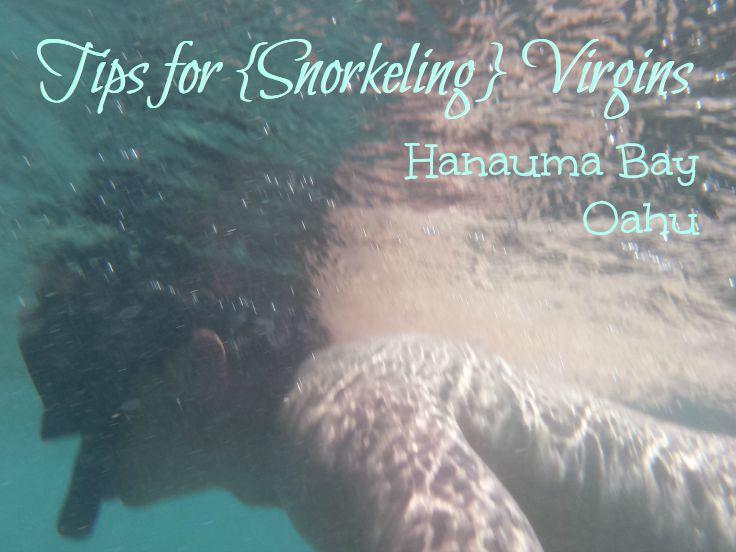 This post may contain affiliate links, but don't worry - they won't bite.
Even though I am a lifelong swimmer, I was a little nervous about snorkeling for the first time; however, I quickly learned that if you can swim, you can snorkel.
Salty ocean water dramatically improves buoyancy, so if you are used to swimming in a pool or fresh water as I am, you will find ocean swimming to be much less work.
Here are a few tips that saved us a lot of time and frustration:
Buy or Rent a "Dry Snorkel" - Seriously, spend the extra few bucks. I have zero desire to have water flooding down my snorkel. A dry snorkel has a special valve on top that seals shut when your snorkel goes underwater (like with a wave, or when you tilt your head to the side). It also has a special purge valve at the bottom of the snorkel so that it is easy to blow water out of the tube. I don't think I will ever go without one of these.
Take the Time to Properly Fit and Adjust Your Mask: Don't let the rental place rush you through the process of getting a mask that fits your face. Masks come in different sizes and shapes, and can be adjusted. Take your time, and make sure the one you have fits and will seal tightly around your face before you leave the rental site.
Take Pictures with Your Cell Phone: If you plan to use your cell phone for pictures, purchase a Waterproof Cell Phone Dry Bag. This turned out to be indispensable on our trip. (I've already used it a couple of time since I got home as well.) Also, the touch screen on your cell phone will not work under water, so be sure to set your volume key (or whatever works on your phone) as the camera shutter before you go out into the water.
Get Fins that Fit: Be sure to try them on before your get down to the water. You don't want to slip a fin and have the tide take it away before you even know what's happened.
Be Mindful of Shallow Water, Tides and Waves: I got quite a few scrapes on my legs because I started out in too shallow of water while the tide was coming in. Lesson learned. (If you are diving in colder water or around a lot of coral, a diving skin is a good idea.)
Avoid Sunburn: Reapply sunscreen often - at least every hour - and let give it a few minutes to "take" before diving back into the water. (I recommend a spray-on sunblock.)
Be sure to have a buddy spray down you back, because that is the part that will be exposed most of the time when you are snorkeling. Do not use sunscreen on your face above nose level, as it may be washed into your eyes.
Avoid Stirring Up the Sand: Too much sand can harm sea creatures around you and suffocate the coral.
Snorkel with a Buddy: As a former lifeguard, I cannot emphasize this enough: SWIM WITH A BUDDY! Even if you are a very strong swimmer, you still need someone to have your back when you're in the water.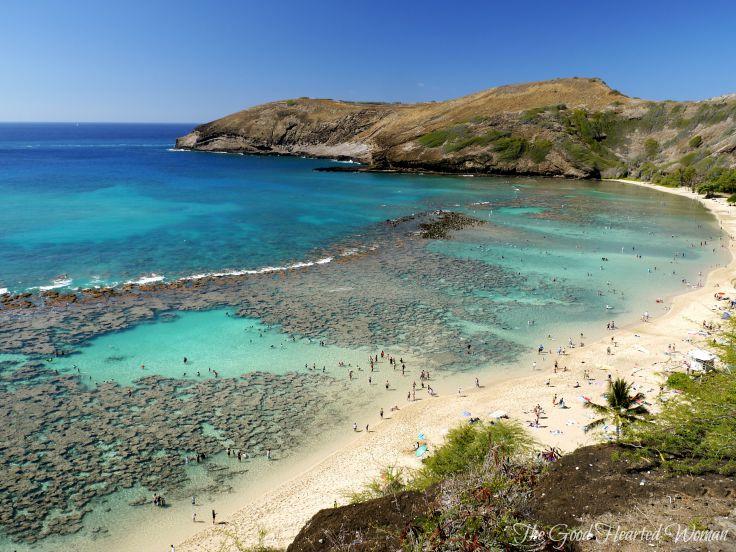 Visiting Hanauma Bay
Hanauma Bay Nature Preserve is the most famous of all Hawaii's snorkeling beaches, due in great part to its extremely high fish population – all of which are very used to humans and don't seem to care much if you get right up in their business, so to speak. This allows you to get up close and personal with the turtles, tropical fish, eels and other sea creatures.
Located on the east side of Oahu, Hanauma Bay is an old volcanic crater that is protected from all but the biggest of ocean swells. This makes for extremely calm water, and easy snorkeling for folks of all ages.
Hanauma Bay is a nature preserve, and visitors are encouraged to treat it as "a living museum." In the interest of minimizing the impact on the ecosystem, only about 3,000 visitors are allowed in daily, and before entering the preserve, everyone must watch a short video in the Marine Education Center.
Be sure to check Six Essential Sunrise Photography Tips for Beginners, all about what we learned on our Oahu photography tour.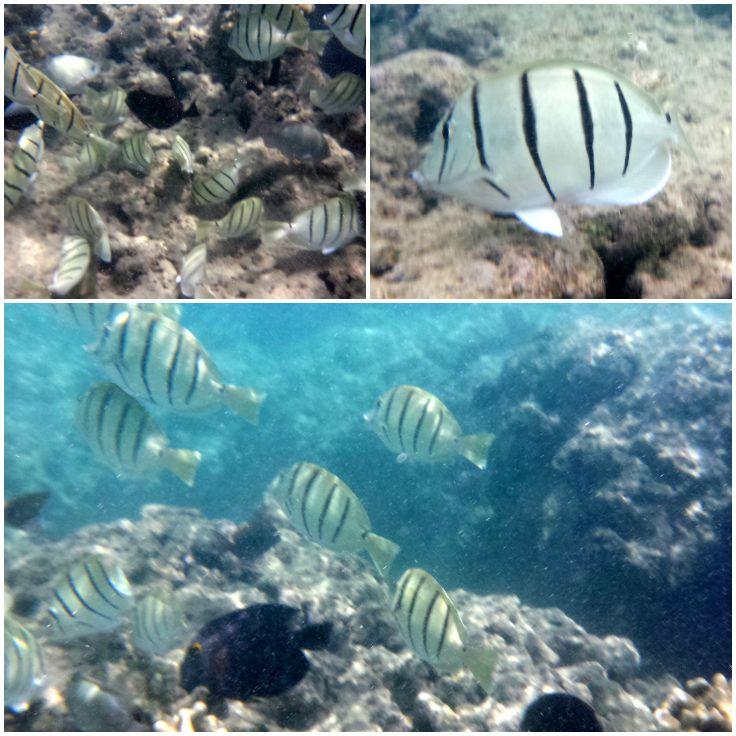 Coral and clear water begin just a short way from the beach. There are plenty of little hidey holes and crevices to check out, and you will see fish everywhere.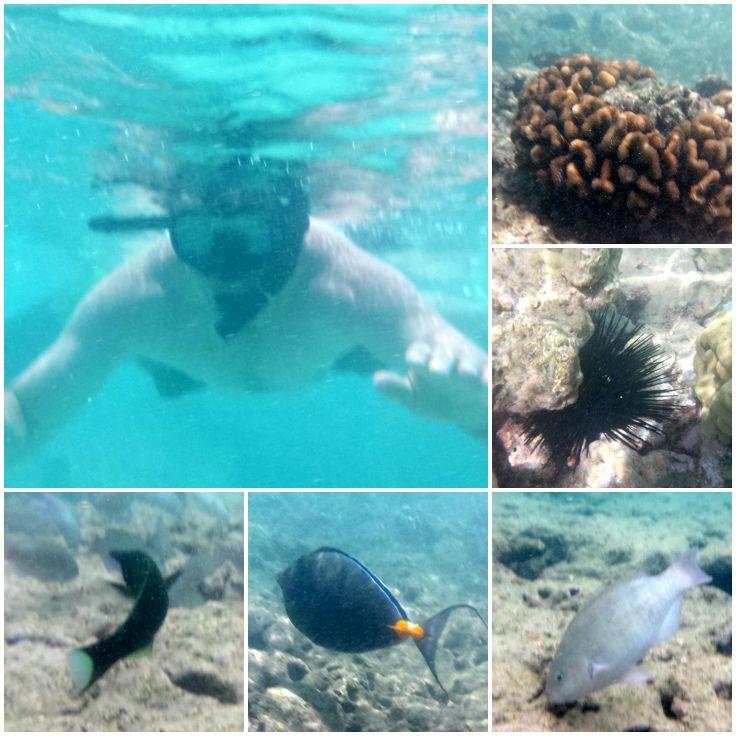 More than 450 colorful tropical fish, as well as octopus, crabs and eels can be found in the Hanauma Bay area. Visitors are asked not to touch the wildlife or the coral, and to use smooth, calm movements when creatures are close by.
Know before you go - Hanauma Bay Nature Preserve
Where: 30 min east of Waikiki, at Oahu's southeastern tip.
Getting there:

Drive yourself: Limited parking is located on the ridge above the actual bay.
Get a ride: Many different companies provide shuttle service from and back to your hotel, as well as gear rental. (We used

Kaimana Tours

, which we were very happy with, but there are a lot of different shuttle companies that offer a variety of deals throughout the year, so a little homework might save you some dollars.)

Facilities:

Showers and restrooms are on site.
Lifeguards are on duty.
Tram: If you want to save yourself the steep walk down to and up from the beach, a tram is available (for a small fee of course).
Picnicking: If you want to eat away from the sand and surf, tables can be found in the grassy are near the parking lot. A concession stand with snacks and beverages is there as well.

THANK YOU so much for being a faithful reader and supporter
of The Good Hearted Woman. • Be sure to PIN this post!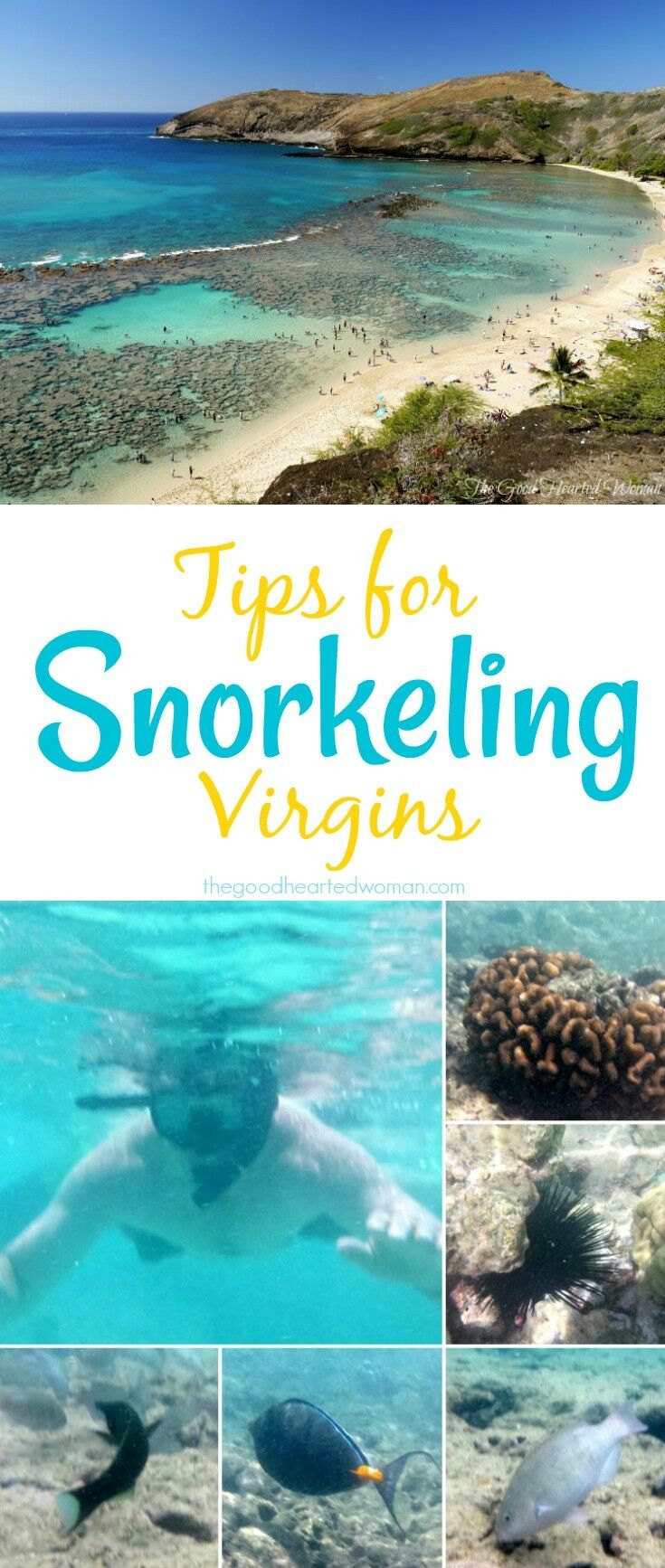 Disclosure: This post may contain affiliate links, including Amazon affiliate links, which means we may receive a commission if you click a link and purchase something that we have recommended. While clicking these links won't cost you any extra money, they do help keep this site up and running. As always, all opinions and images are my own. Please check out our disclosure policy for more details. Thank you for your support!