Hiking to the peak of Diamond Head Crater is no stroll through the park, but Wow! What a payoff!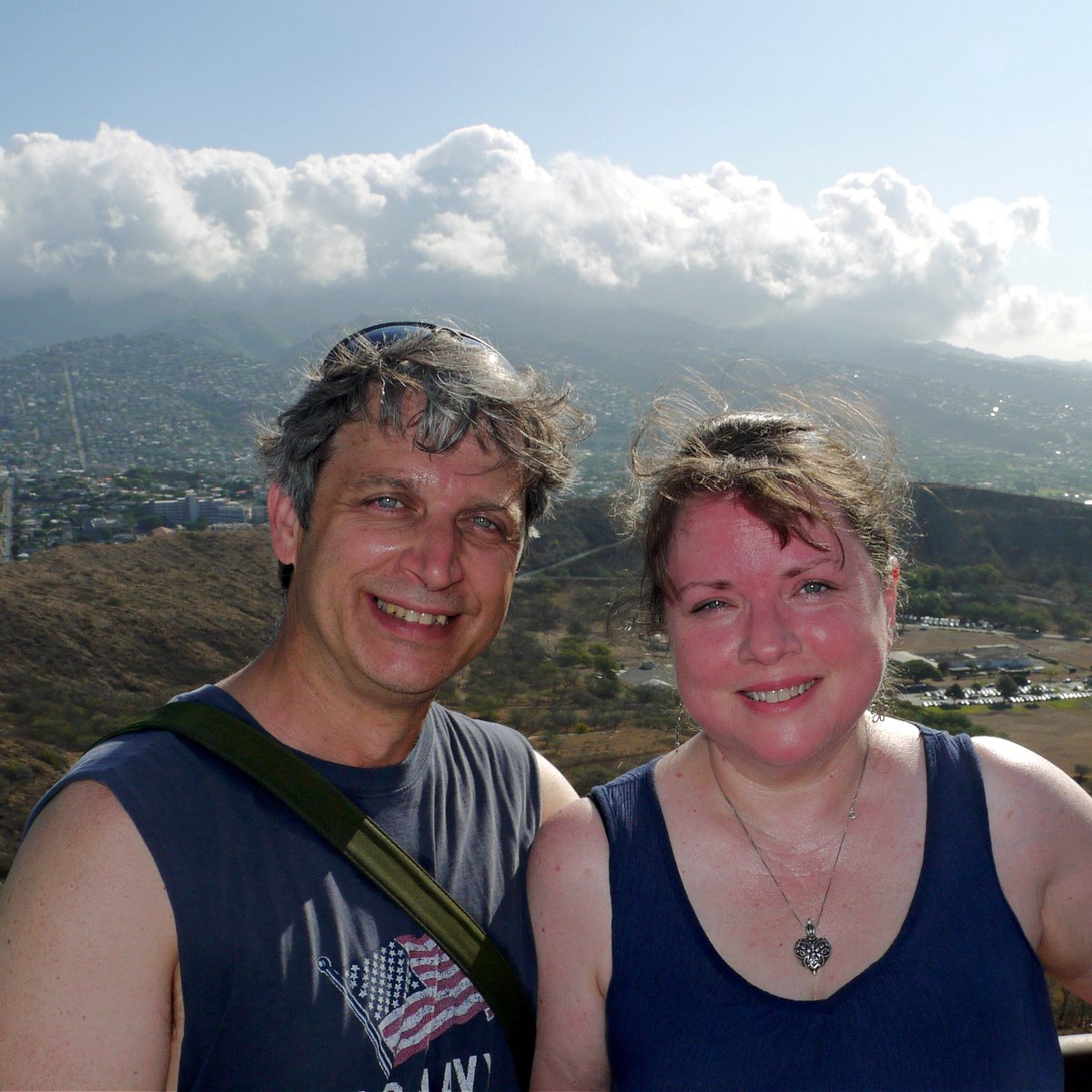 No, I am not sunburned in the picture above. I'm just one of those people who doesn't sweat much, overheats easily, and turns red any time my heart gets going faster than my feet. Now that we have that out of the way, let me tell you why we are smiling from ear to ear.
Or better yet, let me show you - from our vantage point at the top of Diamond Head Crater. (That's the top of that mountain in the image above!)
Looking to the right, Honolulu stretches west, and beyond it, Iroquois Point and the inlet to Pearl Harbor; and farther in the distance, the southwestern tip of Oahu.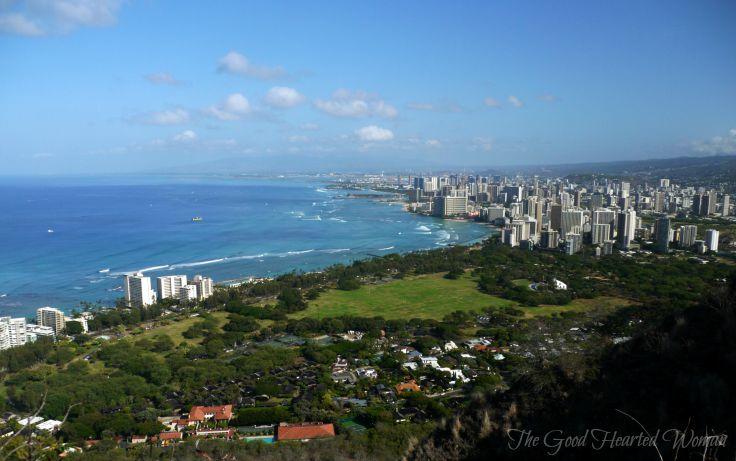 Now we look down, and about 700 feet below us stands the Diamond Head Lighthouse.
The original lighthouse was built in 1899, and the current structure, erected in 1917, stands 147 feet above sea level and uses the original 1899 fresnel lens to projects its light 18 miles out into the Pacific Ocean.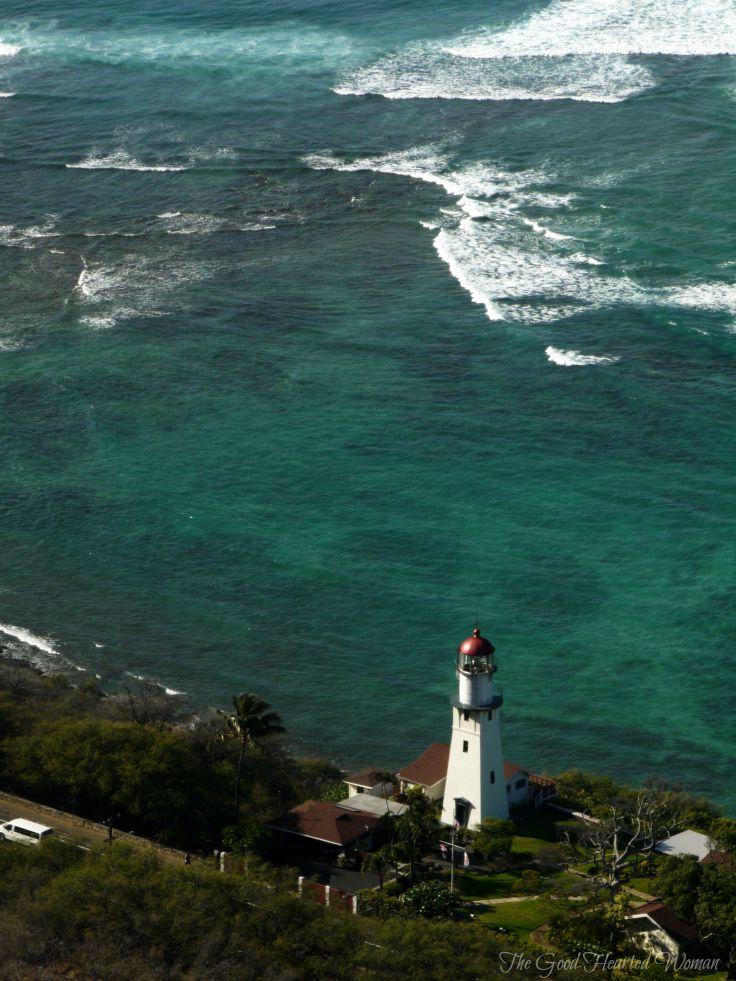 And then to the east, and beautiful Maunaloa Bay.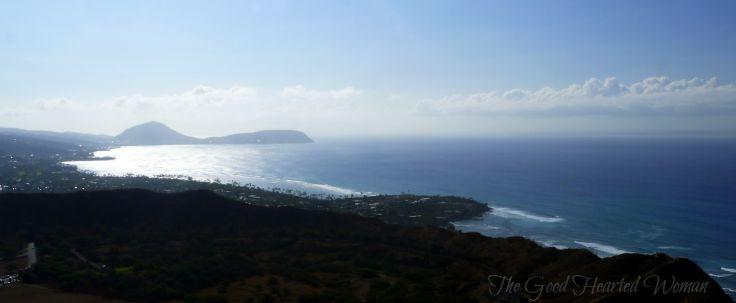 To sum it up - 360° of Amazing.
There is a price to pay for this view, though: this hike takes some effort. Admittedly, Mr. B is in better shape than I am, but we were both huffing and puffing a couple of times during this "moderate" hike.
The park service suggests visitors allow 1½ to 2 hours at a relaxed pace for the hike; however, the hike itself really only takes about an hour round trip, give or take - if you don't stop and take a lot of pictures.
If you are young and very fit and want to run the trail, it might only take you 30 minutes, but that's just a guess. (I'll certainly never know!) It will take you longer if you aren't in the habit of exercising, or you bring small children.
NO PETS: Do not bring your dog, or any other pet. Pet are not allowed in the Diamond Head park - not even the parking lot.
Tips for Hiking Diamond Head
Start early
The park is open from 6am to 6pm seven days a week. Thousands of people visit each day, so getting there early can help you avoid the crowds. But that's not the biggest reason.
In my book, it's all about the Heat. You are walking up the side of a extinct volcano here folks! There is very little shade, and it gets hot early.
Wear Solid, Closed-toed Shoes
This is not a flip-flop hike. I'm not your mom, so I'm not going to tell you that you can't wear flip-flops on the hike. But I will tell you that if you do, you'll wish you had listened to me. And while we're on the subject, wear a hat, or something to keep the sun off your head. (I brought my sun-brella, and I'm 100% sure it saved me from heat stroke.)
The first 0.2 miles of the 0.8 mile trail are all paved, but beyond that, the trail is rocky and uneven.
There are steep stairs and narrow tunnels to navigate as well, and many sections of the trail are only wide enough for one person. Needless to say, leave the stroller in the car and Great-Grandma at the hotel with the air-conditioning on.
Take Plenty of Water
It was surprising to me how many people didn't have water with them. The reason I noticed is because they were suffering, many obviously in need of a drink.
Once you leave the parking lot area there are no restrooms, water or other services available.
According to the park service, when it's hot and humid, people who don't hydrate enough frequently need to be carried out, and because of the terrain that often means a helicopter rescue. And while a helicopter ride over Oahu sounds fabulous, I wouldn't want to take it while lying flat on the floor of an National Guard medical helicopter with an IV stuck in my arm because I forgot to bring a water bottle.
Pro tip: If you have the means, freeze a bottle the night before so that it will stay cold.
Don't hurry.
Enjoy the experience. If you find that the pace you've set is a little too ambitious, slow down. This is an adventure, not a race.
There are a couple of tunnels that you will need to go through; the longer is 225-feet long. I have a very mild case of claustrophobia, and this tunnel was a bit of a challenge for me. However, you never lose sight of light, and that helps a great deal.
There is also a quite daunting 99-step staircase: I'm out of breath just remembering it.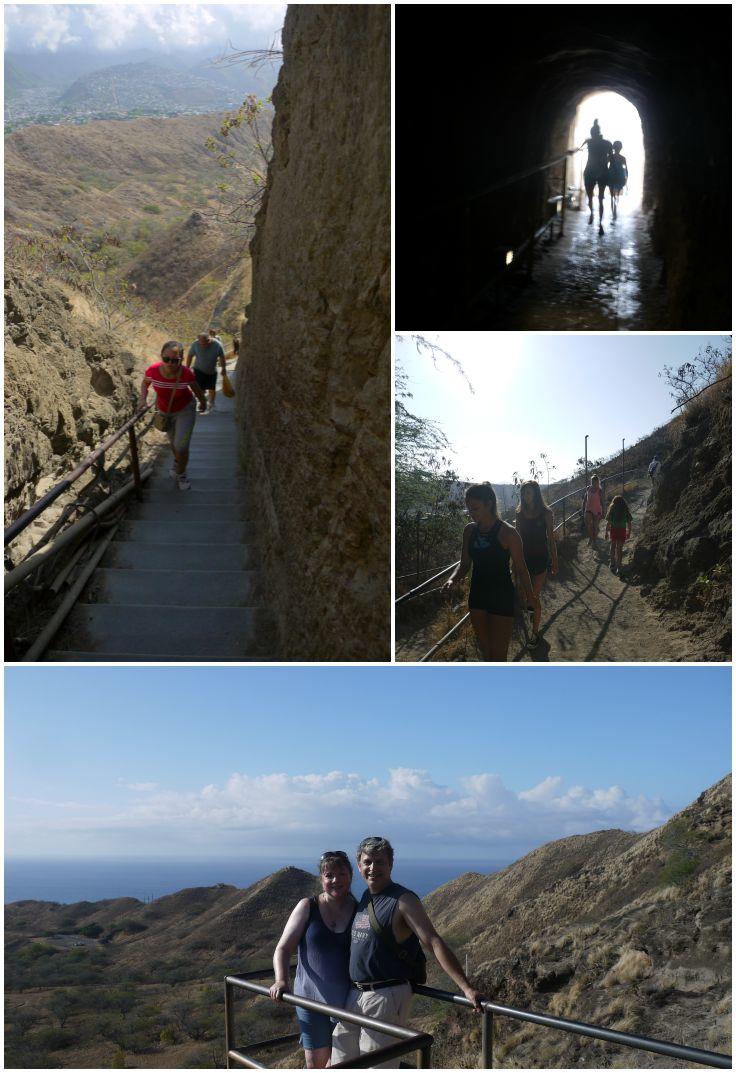 Take Pictures (and make sure you are in some of them!)
I took a minute to grab a few shots of one of my favorite subjects, too.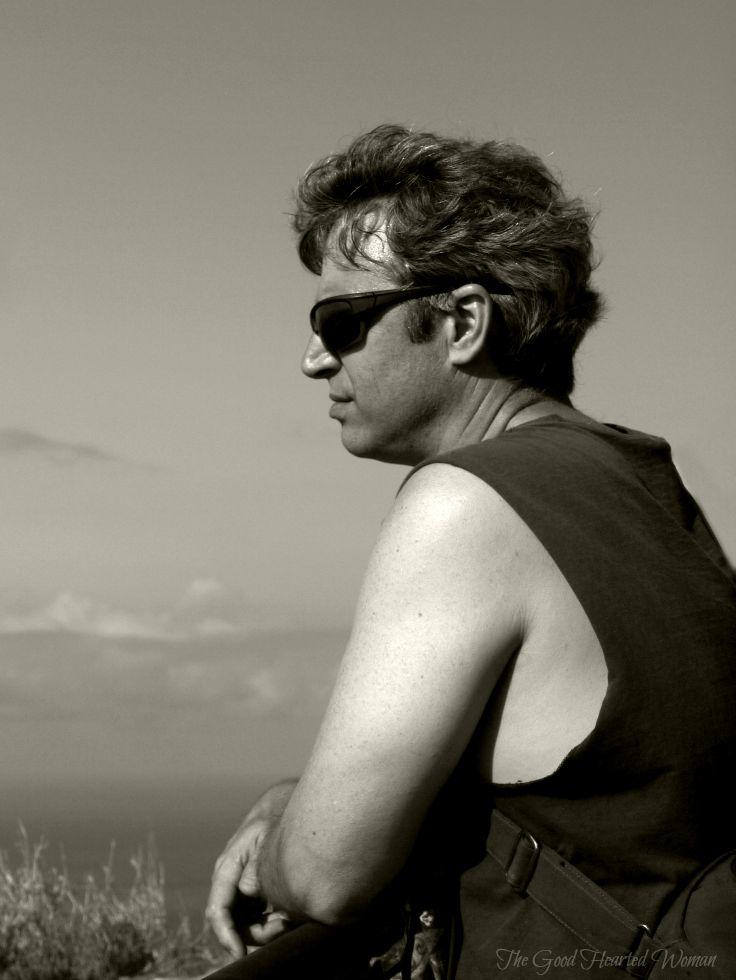 Remember to have someone take your picture. (Yes, you can take a selfie, but...) There are plenty of friendly people in this world, and a lot of them will be right up there with you on the top of that volcano.
My best advice: find a mom. Moms get left out of pictures a lot, so whenever I see a mom taking a picture of her family, I make a point of asking if I can take the picture so that she can be in it too. Nine times out of ten, she will flash me a Mom Club smile (First rule of Mom Club) and it makes my day.
That's about it, so I'll end where I started: If you have the opportunity to climb Diamond Head, do it! You will sweat - and it is totally worth it!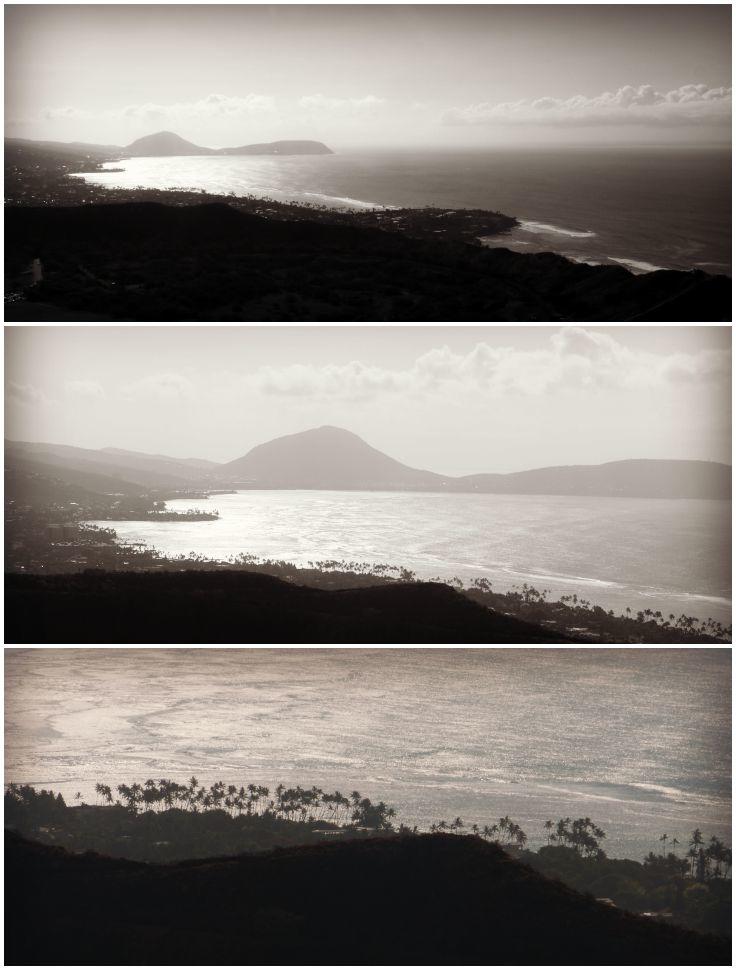 Diamond Head isn't the only sweaty, difficult hike with an amazing payoff that we've tackled. Check out our tips for how to survive the Delicate Arch Trail (Arches National Park, Moab, Utah)!
FAQ
How long does it take to hike up Diamond Head?
The 0.8 mile hike up Diamond Head is steep and moderately difficult, with hot, dry, sloping terrain. It takes about 2 hours to complete, give or take. From trailhead to summit, there is 560 foot gain as you ascend from the crater floor. 
Hawaii-inspired Food & Recipes
More Oahu Travel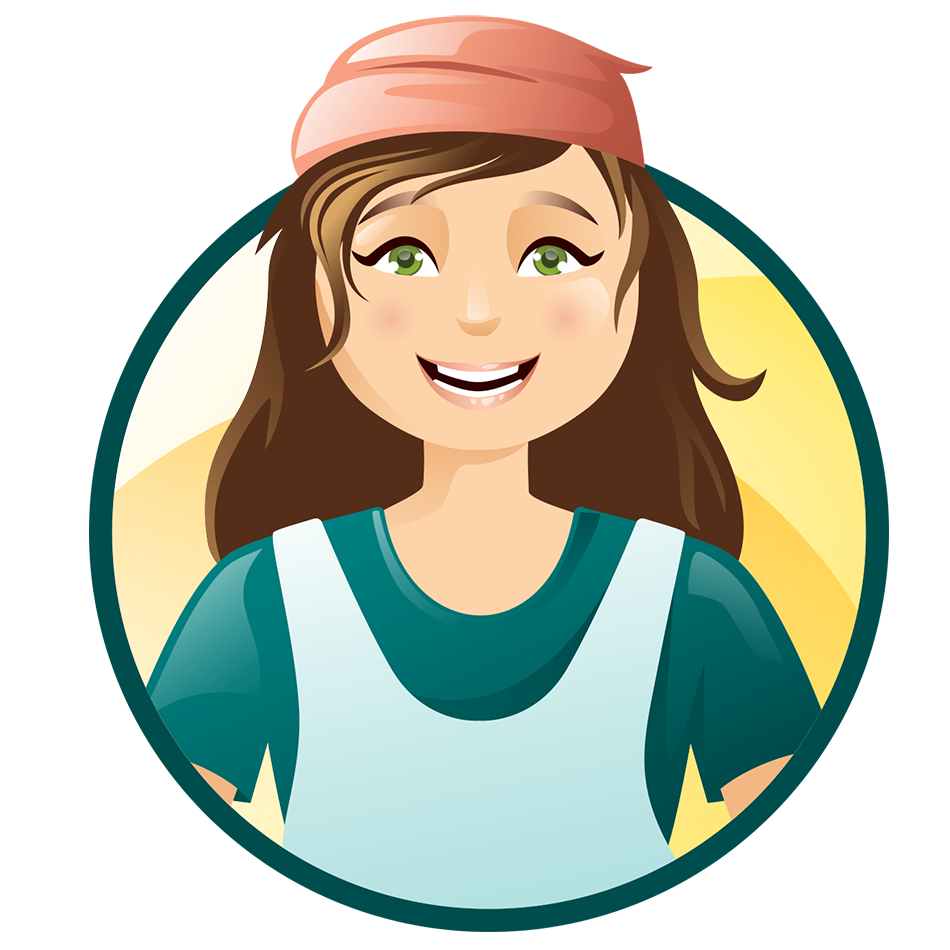 Thank you for visiting the Good Hearted Woman. Remember to bookmark this site, and come back soon!