Give them a gift that they will remember, treasure, and love forever - a Songfinch personalized song, written just for them.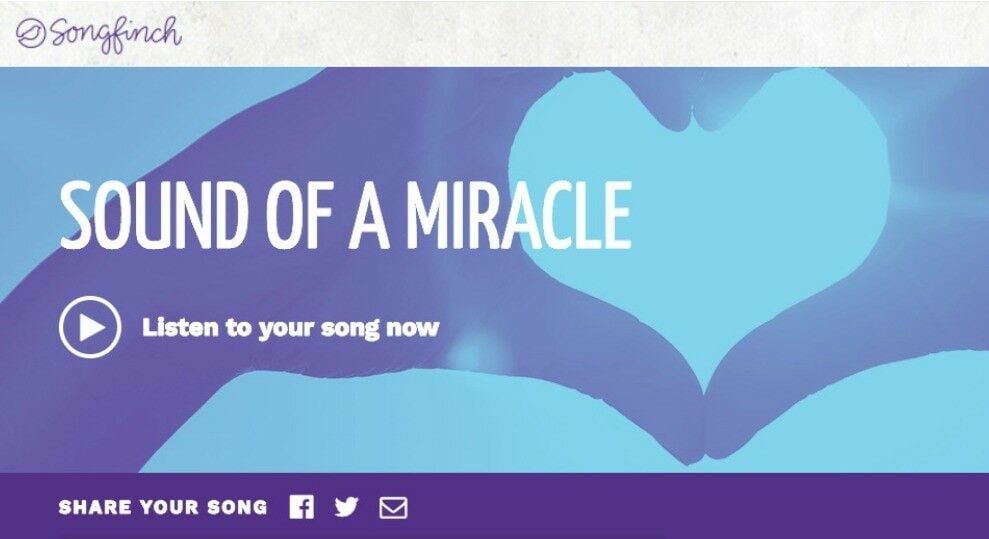 When Songfinch reached out awhile back and asked if I'd like to try out their personalized song writing services, at first I balked. We don't do many sponsored posts here on GHW, and for good reason: objectivity is too easily clouded by compensation.
However, this particular pitch resonated, because it falls directly into our Cozy Living Music Loving wheelhouse. Plus, you as a reader can check everything yourself - including a real, final product - and draw your own conclusions about the quality and value.
So I put a pin in it and waited for the right time to come around.
The right time happened as Mr B and I were preparing to leave on a Caribbean cruise to celebrate our wedding anniversary. I wanted to do something really special for him, and at first thought of writing a song myself. But then I remembered Songfinch, and I thought, if there was ever a great time to try their personalized songwriting service out, this is it.
Songfinch promises that, in a week or less, one of their professional songwriters will craft a one-of-a-kind song, based on your story, that you can give to the one you love. And they deliver!
Giving a Songfinch Personalized Song is Easy!
When I began ordering my song from Songfinch, one of the first things I noted was how smooth and streamlined they had made the entire process. It was far easier than I had imagined; especially when we're talking about asking a complete stranger to craft something so personal.
The whole Songfinch ordering process took me just 30 minutes.
Once you pay for your song, a series of clean, easy-to complete screens will walk you through the process. The first one is literally a MadLib:

After I filled it out, mine read: I want to give my husband a song for our anniversary that makes us remember how much of a miracle our relationship is.
The next screen, on which you share your story, is the most time-consuming. Completing it took up about 25 of the aforementioned 30 minutes.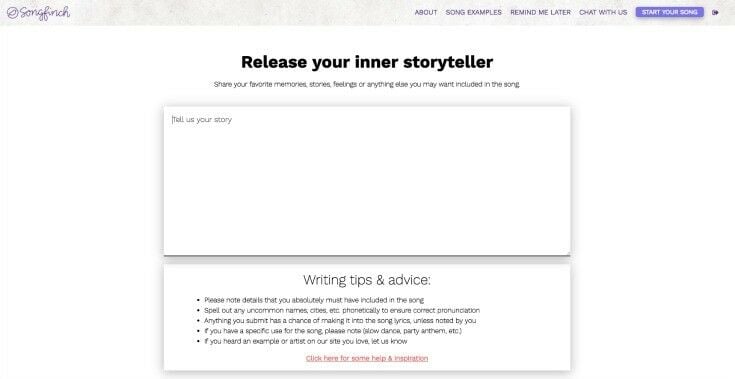 I'm including our personal story below in case you'd like to see how much of what I gave them is woven into the lyrics of our completed song.
Our story reads like a Hallmark movie. My husband and I met in choir during our sophomore year of high school. He was a gifted guitar-playing baritone who loved Elvis and old-timey country music, and I was a passable soprano with an affinity for '70s singer-songwriters and classic arena rock. By the end of our junior year, we were engage to be married and had become one of those couples that everyone just knew was going to make it. However, after our senior year, when he went in the Navy and I went off to college, fate stepped in, and we broke up.

Thirty years of life went by, and then by some miracle, we got a second chance. We were married on the same date we had chosen way back when, and the little diamond that he gave me back in high school is now in my wedding ring, flanked by two emeralds as a nod to our May birthdays.

Some things don't change though: music is still one of the cornerstones of our life. We play and write songs together, enjoy making music with our extended family, and can't imagine our lives without music in it.
After writing up the story paragraph, there are just a few quick screens that allow you to specify a mood or two, genre (everything from country to hip-hop to acoustic pop), and whether you would prefer a female or male vocalist.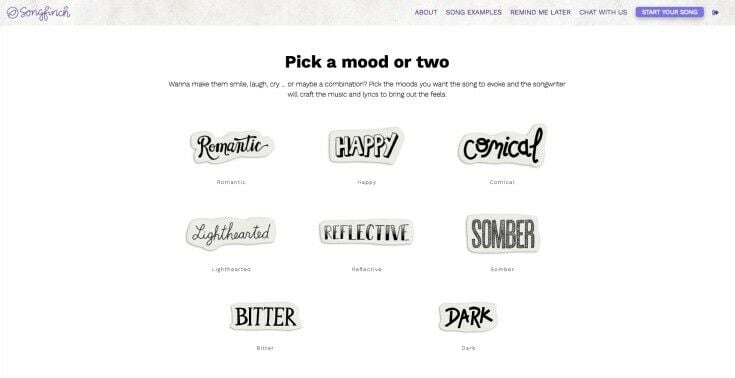 For mood, I chose Romantic & Reflective. For genre, I wrote that I would like "something singer-songwritery with maybe a bit of a country vibe." (If you listen to our song, you'll hear that our singer-songwriter, Will Duvall, absolutely nailed this one, despite my ridiculously specific description.) Conversely, I didn't specify what kind of vocalist: I just wanted the best person for the job, regardless of gender.
After I submitted my song application, I received a series of emails from Songfinch letting me know that my song was on its way, and then I sat back and waited.
No. That's not true. I ran around the house trying to pull everything together for our trip while I worried that the song might not arrive in time because I had accidentally forgotten to order it until exactly a week before we set sail, when I would likely have no wifi access. As I mentioned earlier, Songfinch promises to deliver your song within a week, but I cut it way too close for comfort, and that was on me.
Five and a half days later, however, on the evening before we were to take off on our flight to Florida from where our ship was to embark, I received an email letting me know that our song was ready.
When your song is complete, you are sent a link to your personal Songfinch page, where you can listen to and download your song, read the lyrics, even learn about your singer-songwriter.
🎵 Listen to our song - SOUND OF A MIRACLE - on our personal Songfinch page.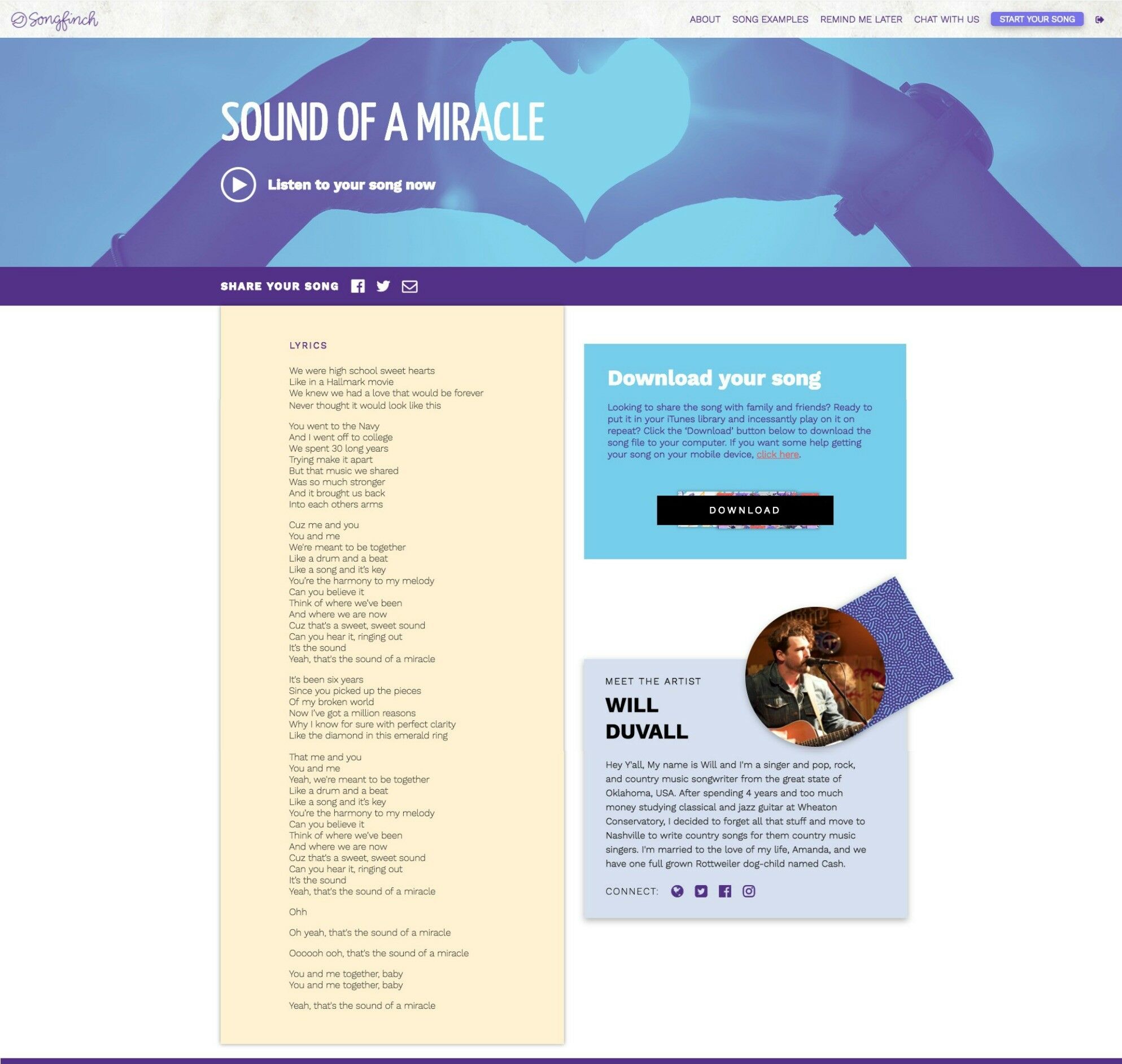 Our Songfinch Review
I have to admit, when I went to our Songfinch page to listen to our song for the first time, I did so with some trepidation. I mean, a week is a pretty small window in which to write, record, and mix a song, and I was a little concerned about how well everything would turn out.
I shouldn't have wasted my time worrying. To capture the spirit of the moment, here's the exact email that I sent to my contact at Songfinch right after I downloaded our song:
Hey Rob –

One more quick note before I go dark for a week: I just listened to the song four times and I couldn't wait to let you know how much I LOVE IT! Everything is perfect, and I couldn't be more pleased.

I'll check in when I get back, but in the meantime, please pass on to everyone involved my pure delight and deep appreciation! Thank you so much!

Peace,
Renée B.
So how did my gift go over? Well, after a wonderful day strolling the streets of Old San Juan, as we spent the evening sitting on our balcony and watching the lights of Puerto Rico drift off into the distance, I told Mr B that I wanted to play a song for him.
That's when things got a little funny (haha, not weird), mostly because I didn't tell him anything else ahead of time. As he listened to the lyrics, at first he thought it was a song by someone with a story that mirrored ours to a remarkable degree. Then he thought maybe I had written it and had someone else record it. Then, when he finally figured it all out, he LOVED it!
One of the things we both love about our song, Sound of a Miracle, is that it has so many personal messages wrapped up in the layers of its seemingly simple lyrics. Will did such an expert job of telling our story, and we love it more every time we listen to it. We've already worked out the chords so we can sing it ourselves, and we see it as being a song we will be singing to our grandkids as they years go by.
That, my friends, is a gift that keeps on giving.
---
Who in your life would love the gift of a song? (HINT: Your mother. Your mother would love a song. Trust me about this.)
I can think of dozens of people and occasions for which a Songfinch personalized song would make the perfect gift, including:
Mother's Day
Father's Day
Grandparent's Day
Birthdays
Best Friends
Sibling Day
Weddings
Wedding Anniversaries
New Babies (Personalized lullabye, anyone!?!)
Family Reunions
Class Reunions
Graduations
Valentine's Day
Retirements
Memorials
Songfinch Discount Code
If you would like to order a song for someone you love, use this discount code - GOODHEART - when you check out for $20 off a Song From Scratch.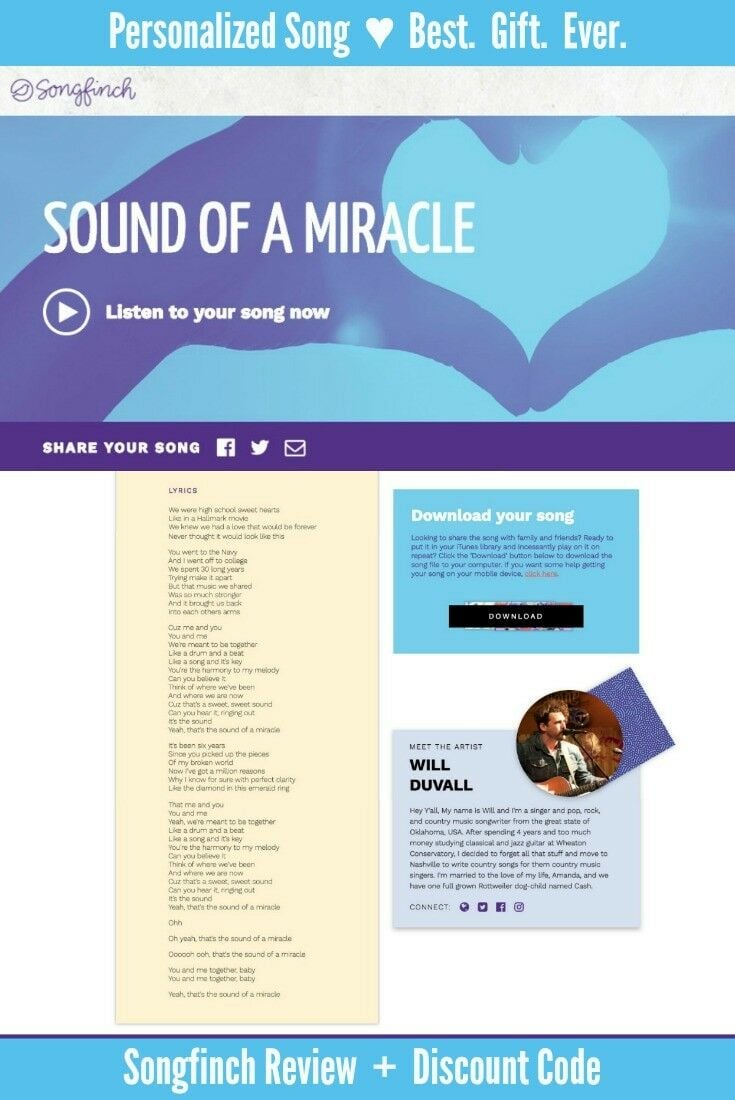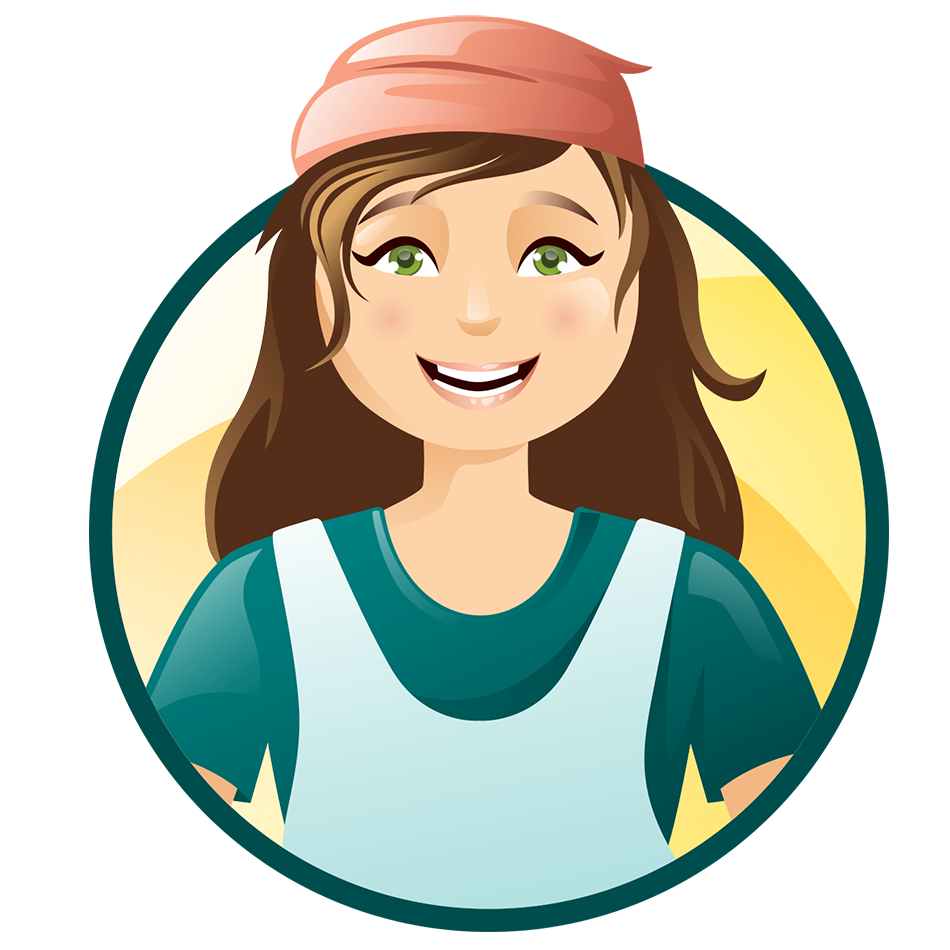 Thank you for visiting the Good Hearted Woman. Remember to bookmark this site, and come back soon!