We've all got a few curious kitchen utensils, right? Here's our list of weird but useful kitchen gadgets you may not know you need.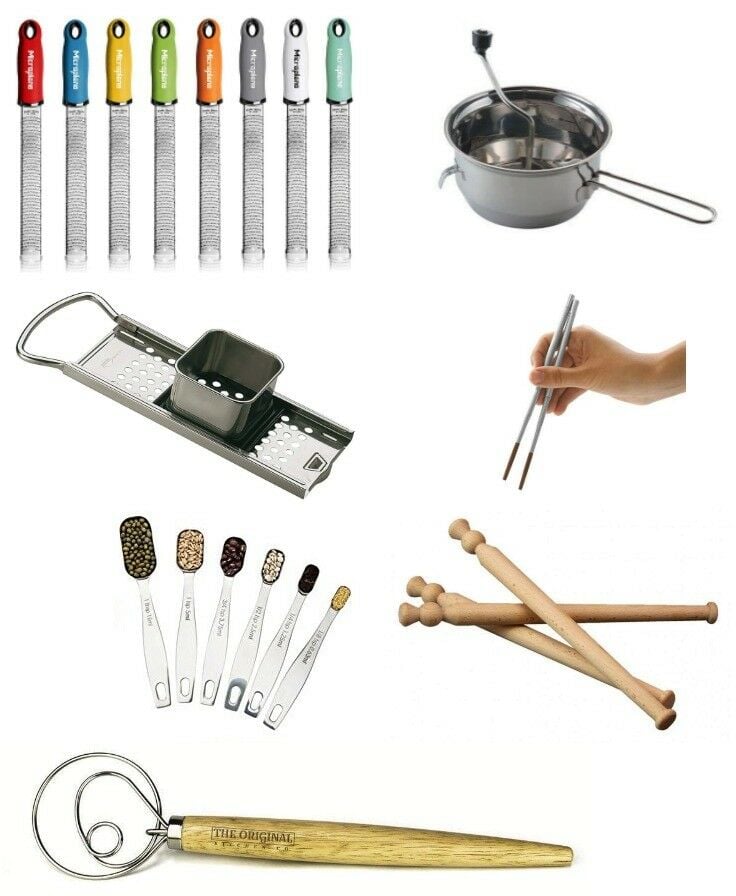 Jump to:
What's in Your Utensil Drawer?
Everything from our cultural heritage to our mother's affinity for hot cereal can affect how we cook and what we cook with. We rarely have the exact same tools in our utensil drawers because we all come to the kitchen with a different background and set of experiences.
For a tool to claim permanent residency in my kitchen utensil drawer, it must be one that I need and use at least once a year, and usually much more often than that. For example, I often use a lot of fresh garlic when I cook, and consider a garlic press to be a mandatory kitchen item.
On the other hand, I have a dear friend who, every time I am over at her house cooking and ask if she has garlic press (and yes, it happens more often than you might imagine) - every. time. - she looks at me like I've just asked her if I can borrow her spare flux-capacitor. (Note to self: Get Cheryl a garlic press (or a flux-capacitor) for her birthday next year.)
The most ringing endorsement I can give for the items on this list is that I would buy another one exactly like the one I have if mine broke. That's what it really boils down to, right? Would you miss it if it was gone?
---
Listed below in order of relative awesomeness, here's our list of useful kitchen gadgets you may not know you need:
Scottish Spurtle
What the heck is a spurtle!?! Good Question! A spurtle is a Scottish cooking implement used to stir oats as they cook. Its design allows you to keep the oats off the base and out of the corner curve of the sauce pan as they are cooking. I use it whenever I cook any kind of small-grained product on the stove (i.e., grits, polenta, etc.)
Gift Idea: Package a Scottish Spurtle and a bag of Irish Oats in a pretty ceramic cereal bowl and BOOM - a perfect gift for just about anyone.
Danish Dough Whisk
Ever wished your whisk had a little more heft to it? Here's your new best friend - straight from your grandma's kitchen! Built to last, a heavy-duty Danish dough whisk is perfect for hand-mixing mixing batters and doughs of all kinds. Dough doesn't get caught up in the wires, and it cleans up in seconds.
Try: Buttermilk Biscuits
Gift Idea: Package a Danish Dough Whisk with a fancy packaged scone or pancake mix in a small mixing bowl.
German Spaetzle Maker
A spaetzle maker, common in German-speaking countries, simplifies the spaetzle making process and speeds up the prep time. It's kind of a one-hit wonder, but if you love spaetzle, it is almost indispensable. I use ours every year when making our annual Oktoberfest dinner!
Try: Rye Sourdough Spaetzle or Easy Spaetzle
Microplane Zester
When Mr B and I got married, a dear friend gave me a Microplane zester as a shower gift, and it immediately became one of the single most indispensable tools in my kitchen. Not only does it zest citrus like a dream, but it shaves parmesan and other hard cheeses into the finest, lightest shredded cheese ever, and grates everything from chocolate to garlic to nutmeg with equal ease. If you don't have one of these babies already, pick one up today in your favorite color!
Note that this is the only item on the list that I've narrowed to a specific brand. This is because I've tried many other zesters and fine graters, and in my experience, none do as good a job as the Microplane brand does.
Try: Smoke Salmon Crustless Quiche
Food Mill
If you've ever wondered how people make those uber-smooth sauces and soups, a food mill might just the thing you've been looking for. Food mills are a tool that has endured the test of time, and are often employed when canning or making preserves to produce a smooth puree without seeds, skins, or stems.
A favorite memory from my own childhood is standing on a chair over our food mill and turning it round and round while my mom peeled apples for applesauce.
Many food mills are mechanical, but if you aren't up for grinding away at a pile of apples all day long, there is a nifty little food mill attachment for your Kitchen Aide that does the work for you.
Try: Easy No Peel Whole Apple Applesauce
Narrow Measuring Spoons
Do you have a set of measuring spoons that are narrow enough to measure spices directly out of spice jars? I've had a set of "skinny" measuring spoons for years, and I can attest that they can make life so much easier.
Try: Homemade Pumpkin Spice or Spicy Skillet Dry Rub
Collapsable Travel Chopsticks
Technically, this one isn't a "kitchen" utensil: it's a "travel" utensil, but it's one of my favorite things. Plus, it's good for the Earth.
Recently, I started carrying my own travel chopsticks. I use them for everything from stirring drinks to tossing salads. (I also use them to eat, when appropriate.) They have their own little carrying case, and take up almost no room in the small festival bag I carry as a purse. (One of my friends calls it my "Jenga Purse," because everything is so precisely placed.) I use them instead of grabbing plastic utensils or disposable chopsticks whenever possible: I'm pretty sure I've already saved at least one very small tree in the process.
The first time I whipped out my chopsticks at a restaurant when my teenager was present, she was tempted to tease me a little, but she immediately had a change of heart. "I'm kinda glad you do little things like that," she told me. "It's cool."
I like being able to pull my little chopsticks out at a moment's notice, and I love that I will never again have to face that awful moment when you crack open a pair restaurant chopsticks and pray they break apart evenly and don't give you a splinter in the process.
Did you know that over 20 million mature trees are cut each year for single-use chopsticks? If you need another reason to buy a set of travel chopsticks, how about this: it is one small way you can help to make the world a little better - with virtually no effort at all on your part.
Silicone Garlic Peeler
The first time I ever used a silicone garlic peeler, it seemed like magic! Just pop a clove in the silicone tube, roll it around under your palm a bit, and Voila! The garlic falls out peeled and the tissue paper skin can be simply brushed away.
I put one or two cloves inside, roll it sideways on the counter with my hand and the peel comes right off. Before this, I would crush the clove with my knife and it gets all sticky and I waste some of the tasty juice.
Try: Roasted Garlic Compound Butter or Roasted Garlic Smashed Potatoes
---
We'd love to hear about your favorite kitchen utensils! Please take a moment to tell us what you can't live without in the comments below.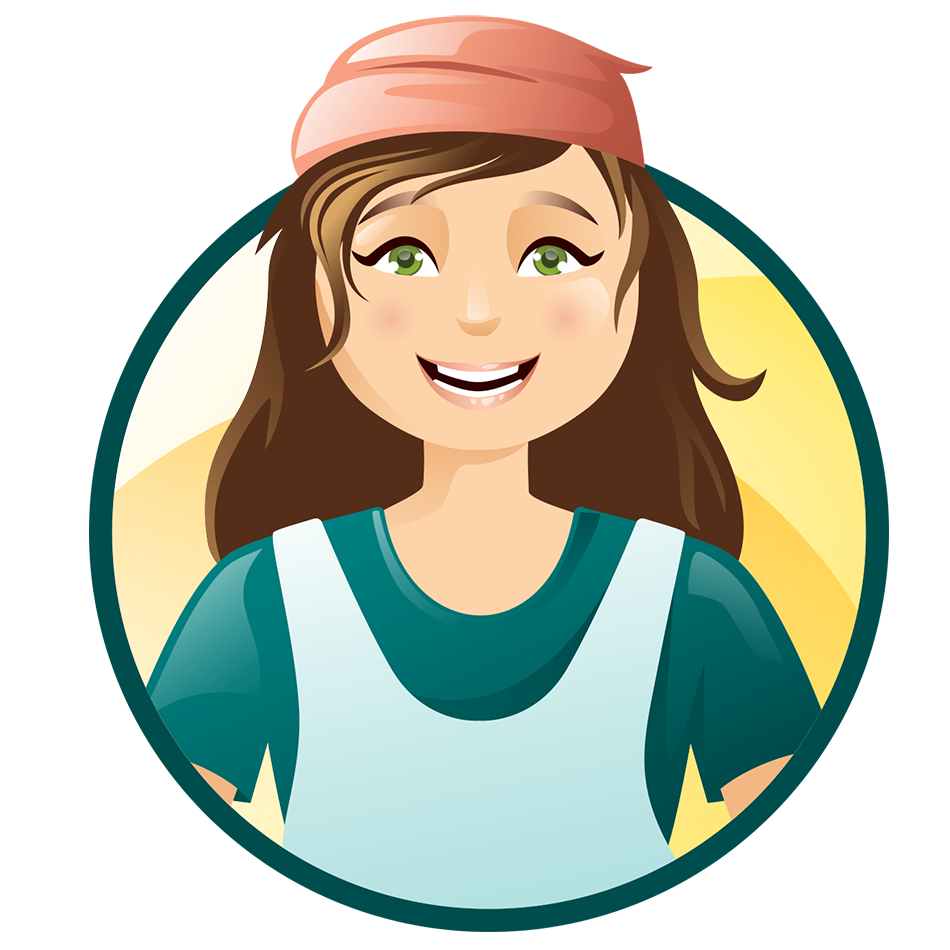 Thank you for visiting the Good Hearted Woman. Remember to bookmark this site, and come back soon!