Garlic Spears are in season – get them before they disappear! 
Garlic Spears, the flower tops of the elephant garlic plant, are available for a few fleeting weeks in the spring and early summer at your grocery or local farmers market. They make a beautiful presentation and a tasty addition to your table.
This post may contain affiliate links, but don't worry – they won't bite.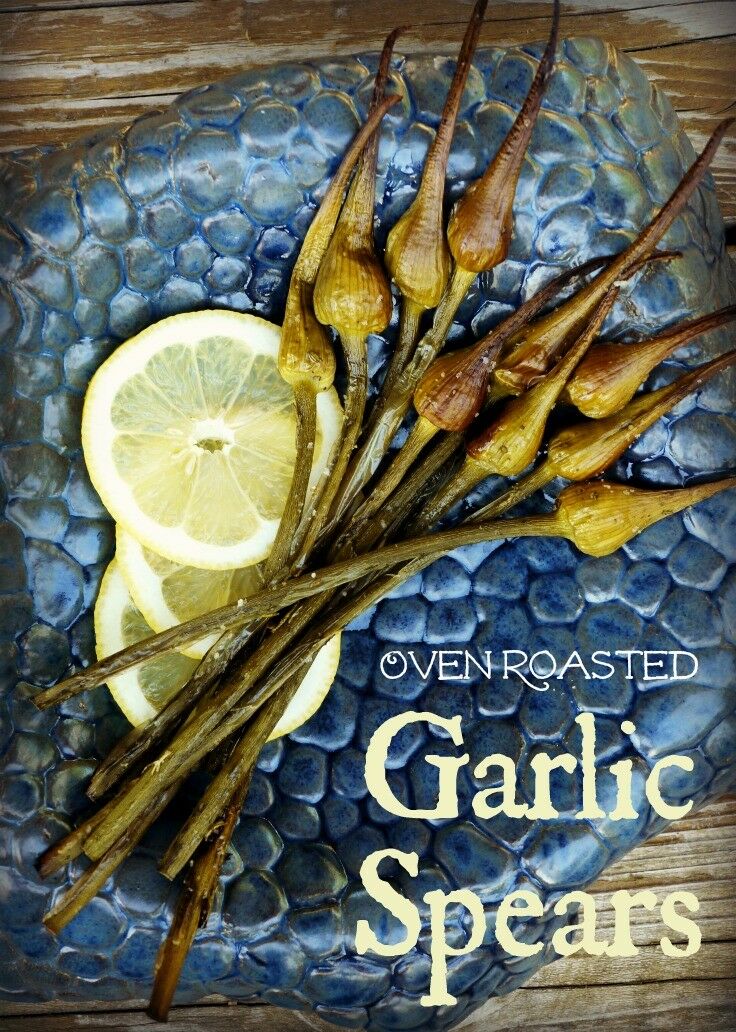 I have to admit that, until recently, garlic spears were new to me. How I missed them until then, I'll never know, but before I even tasted them, I was hooked! In fact, when we brought this bunch home, I took ten times more pictures of them than I needed – look how beautiful they are!
Garlic spears can be eaten raw or cooked. When raw, they carry a pretty hot punch, and can be used to spice up things like baked potatoes or salads.
They can also be steamed, lightly sauteed, or roasted.  Garlic spears have a very mild garlic flavor that mellows the longer they are cooked, and can be served alone, chopped into pasta or casseroles, or pureed into soup, sauce, pesto, or hummus.
We chose to keep things simple and oven-roast them, and the results were wonderful – far beyond expectation! I used this amazing Meyer lemon olive oil, which (while definitely not a requirement here) enhanced the flavors even more. The flavor was only the slightest bit garlicky: they tasted somewhat like asparagus, but closer to an artichoke. (I don't like asparagus much, and I loved these, if that helps any.) Preparation could not be more easy!
Roasted Garlic Spears – Easy as 1-2-3!
1. Cut off the ends.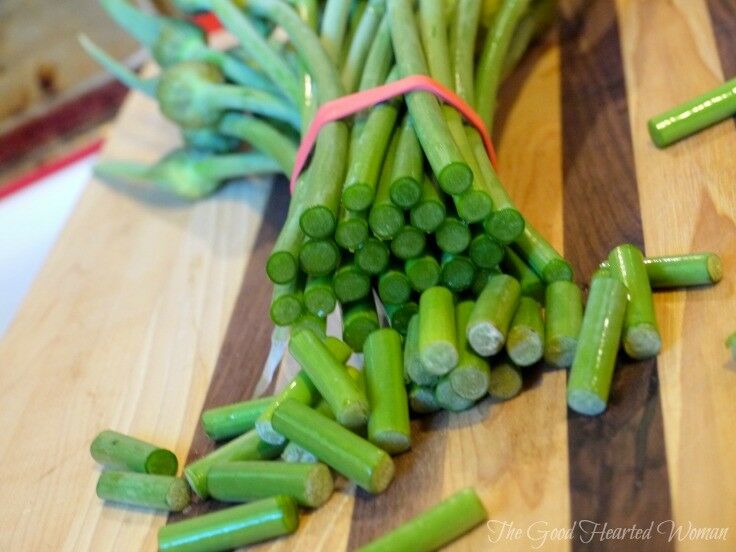 2. Toss in a little olive oil, salt and pepper and lay out in a single layer on a heavy baking sheet.
3. Roast in a 375° oven for 30-35 minutes, until the tips are lightly browned and the stalk is tender. Toss midway through roasting time if desired.
To serve, sprinkle with lemon juice.
Disclosure: This post contains affiliate links, which means we may receive a commission if you click a link and purchase something that we have recommended. (Rest assured though, we will NEVER recommend anything we don't believe in just to make a buck. We like to sleep at night.) Anywho, while clicking these links won't cost you any extra money, they will help us keep this site up and running – and (relatively) ad-free! Please check out our disclosure policy for more details. Thank you for your support!