Classic Spanish Gazpacho is the perfect summer soup – chilled, savory, and full of rich, robust, garden-fresh goodness.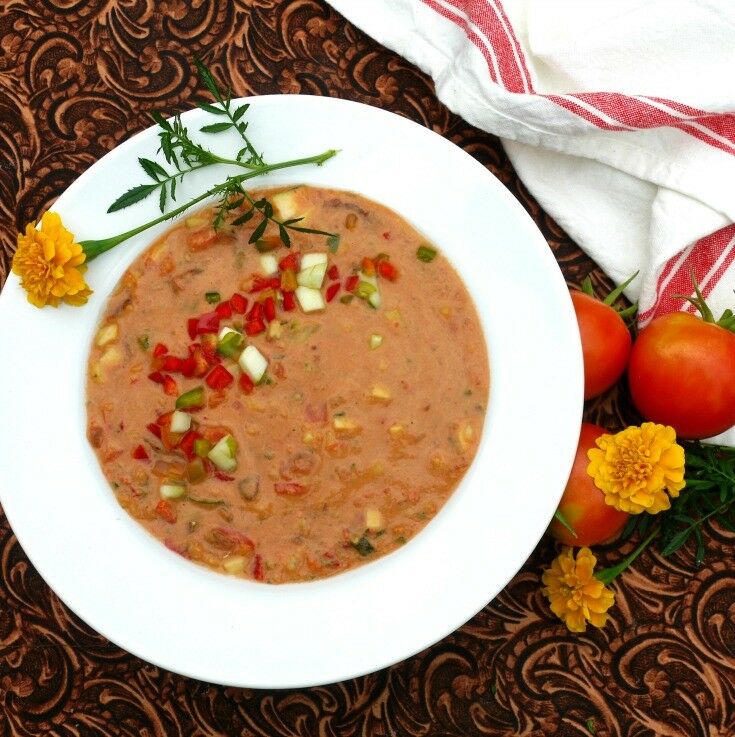 This post may contain affiliate links, but don't worry - they won't bite.
I remember the first time I ever ate gazpacho: I have to admit, I was dubious. Cold tomato soup? Really? I was twenty and I'd never eaten cold soup of any kind before. I wasn't sure that I wanted to either, but I was at a luncheon hosted by a friend's mom, and you remember what your mama always told you when you went to eat at other peoples' houses, right? Anyway, when I tasted it, I found it to be surprisingly rich and savory, with slightly sweet overtones and more body than I expected from a purely vegetable-based soup.
Since then, I've worked to perfect my own gazpacho recipe, one little batch at a time. At this point, I think it's pretty darn awesome.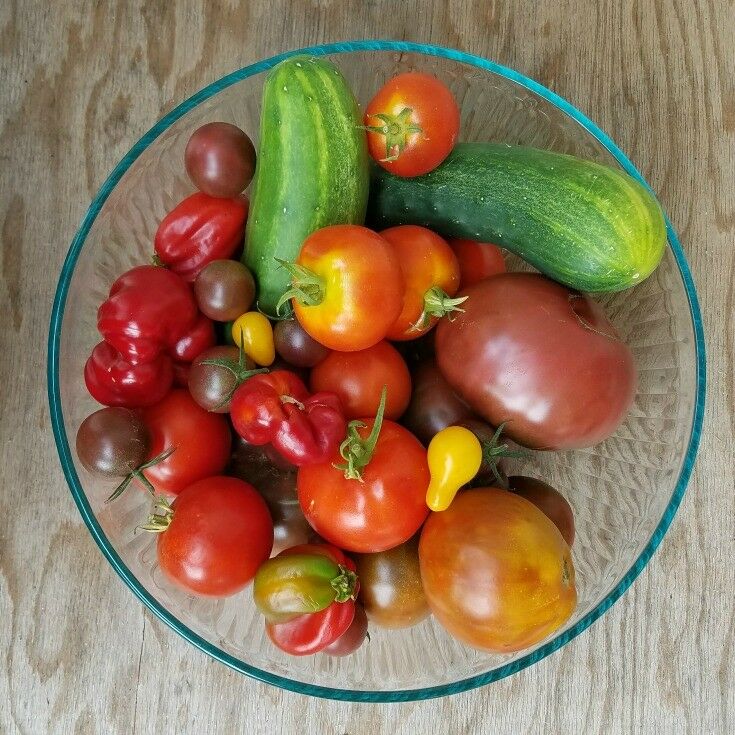 As far as I'm concerned, there is only one good time of year (in the Northern Hemisphere) to make traditional tomato-based gazpacho: in the waning months of summer and through September, when the gardens and farmers markets are overflowing with warm, fat, vine-ripened tomatoes and shiny sweet peppers.
The picture above shows a single day's harvest from our garden last week. Thanks almost entirely to Mr B's dedicated gardening skills, we are flush with a wide variety of tomatoes, cukes, and peppers! In an effort to use everything at its peak of freshness, I decided to make a big batch of gazpacho to get us through a busy week. (Gazpacho will keep about a week in the fridge.)
Garden Tip: We plant marigolds in our garden as part of our organic pest control plan. You probably already know that they repel a number of creepy-crawlies, but did you know that they are edible? Marigolds have a slight citrus flavor, and can range from spicy to bitter, tangy to peppery, making them great for salads or as a pretty garnish on any savory dish.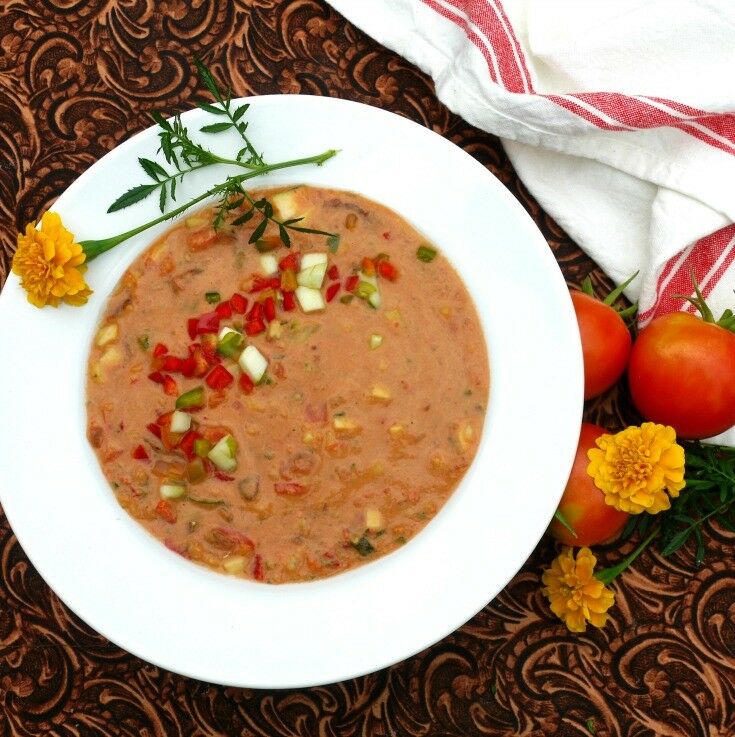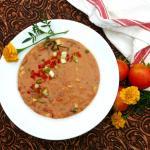 Garden Fresh Gazpacho
Print Recipe
Pin Recipe
Servings:
12
Servings (1 cup each)
Ingredients
Tomato Mix 1
4

lbs.

vine-ripened tomatoes

peeled & diced ¼"

1

lb.

cucumbers

peeled, seeded & diced ¼"

½

lb

red

orange, yellow or green bell peppers, seeded & diced

1-2

jalapeno peppers

seeded and diced ⅛"

½

lb.

onion

diced ¼"

15-20

large

fresh basil leaves, chiffonade

4

cloves

garlic

minced

1

tablespoon

granulated sugar

2

teaspoons

kosher salt

1-3

teaspoons

Sriracha or other hot sauce

1

teaspoon

chili powder

optional **

1

teaspoon

ground cumin

1

teaspoon

dried oregano

½

teaspoon

freshly ground black pepper
Tomato Mix 2
1

lb

tomatoes

roughly chopped (or cherry tomatoes)

⅓

cup

olive oil

1

lime - juice & zest

3

tablespoons

balsamic vinegar

2

tablespoon

Worcestershire sauce
Instructions
In a large bowl, combine Tomato Mix 1 ingredients: diced tomatoes, cucumber, bell pepper, jalapeno, onion, basil, garlic, salt, cumin, oregano, Sriracha, and pepper. Toss thoroughly to combine.

In a blender jar, combine Tomato Mix 2 ingredients: Rough chopped tomatoes, olive oil, lime juice, lime zest, balsamic, and Worcestershire sauce. Puree mixture until smooth.

Pour Mix 2 into bowl with Mix 1 and stir to combine.

Using a hand-blender, puree the two mixtures together until it reaches the desired consistency. If you like your gazpacho very chunky, you don't need to do this step. (See Blender Note below)

Refrigerate 2 hours or overnight to allow flavors to blend.

Garnish with additional diced veggies, avocado, and/or sour cream. Serve cold.
Notes
This recipes lends itself easily to halving or doubling.
Nutrition
Serving:
1
g
|
Calories:
120
kcal
|
Carbohydrates:
14.1
g
|
Protein:
2.4
g
|
Fat:
6.6
g
|
Saturated Fat:
0.9
g
|
Polyunsaturated Fat:
4.5
g
|
Sodium:
355
mg
|
Fiber:
3.3
g
|
Sugar:
8
g
This website provides approximate nutrition information for convenience and as a courtesy only. You are solely responsible for ensuring that any nutritional information provided is accurate, complete, and useful.
Serve with hearty, rustic bread on the side.
** In my most recent batch of gazpacho, I subbed in a teaspoon of my Spicy Rockfish Dry Rub for the chili powder. Totally awesome - I highly recommend it!!
Blender Note: Some people like their gazpacho very chunky, while others prefer it completely pureed: the choice is yours. If you don't have a hand-blender, you can definitely do the last step in your regular blender jar: just puree about half the total mixture in the blender and then remix everything together. That said, I prefer the hand-blender method because I think it allows for better control of the final product.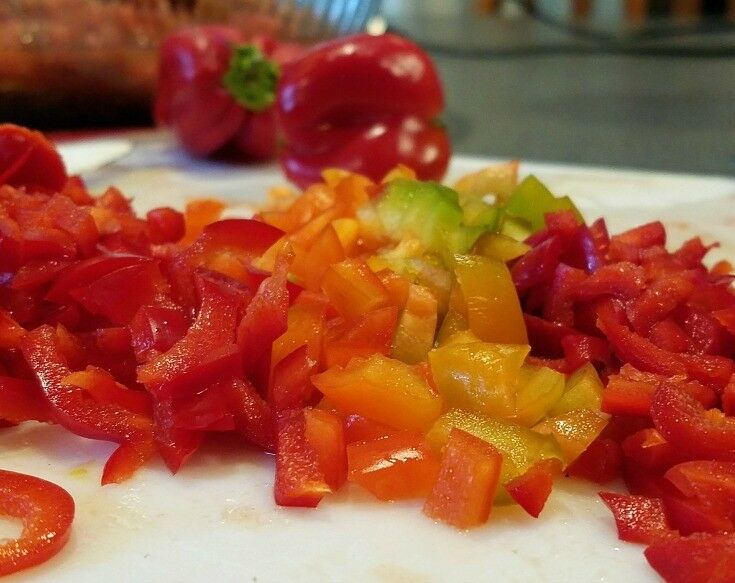 Final Thoughts: Like biting into the perfect BLT, for most of us there is only a narrow window of opportunity each year to enjoy truly great gazpacho.  Certainly you can make it year round, but don't try making gazpacho in February with my recipe. (How often do you read about bloggers expressly advising you not to use their recipe?) If you want great garden-fresh gazpacho, and you have a bunch of ripe, sweet tomatoes, then this is your gazpacho recipe. However, if all you have are those hard little red balls they sell in the grocery stores in the winter months, then look for a recipe that uses canned tomatoes, tomato sauce, or tomato juice. Hot house tomatoes and the like simply do not have the depth of flavor or sugar content to make it worthwhile. (Nor do they taste like actual tomatoes.)
Some things are worth the wait.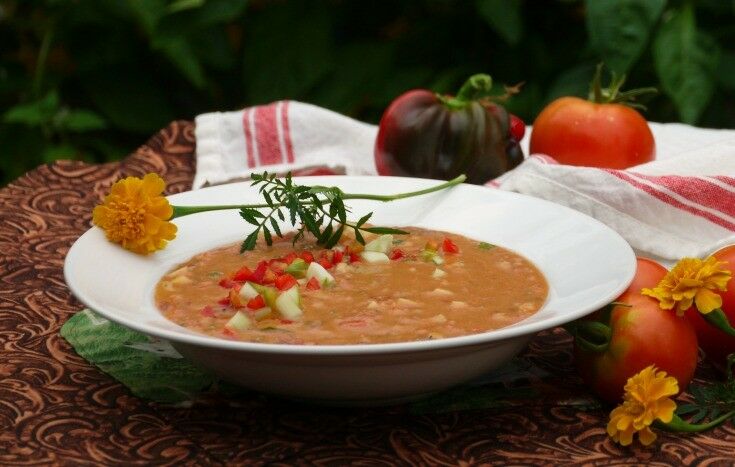 Disclosure: This post may contain affiliate links, which means we may receive a commission if you click a link and purchase something that we have recommended. While clicking these links won't cost you any extra money, they will help us keep this site up and running - and (relatively) ad-free!! Please check out our disclosure policy for more details. Thank you for your support!
Pin for Later!