I was in my 30's before I discovered my love of eggplant, and this is a (much lighter) adaptation of the recipe that converted me – Madhur Jaffney's Lake Palace's Aubergine. Delicious hot or cold, fresh or a week old, this has become one of my all-time favorite dishes.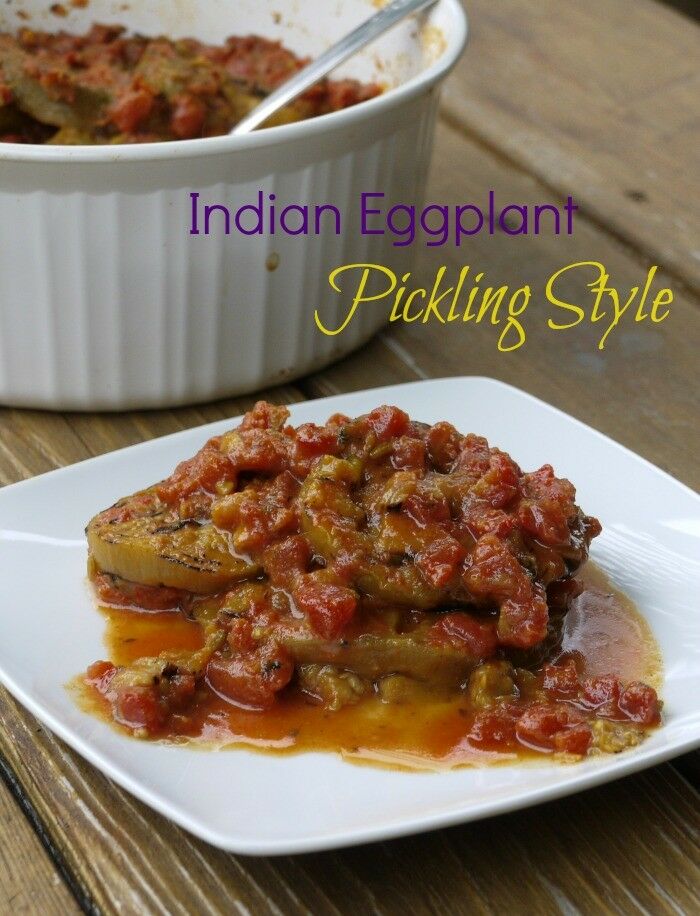 More than a few of my friends turn up their nose at the mere mention of eggplant, like a 3-year old (or my sister) with a plate of mushrooms. But if I make this stuff and don't tell them what it is, they will rave about it all day and ask me for the recipe to boot. The magic for this dish is all in the sauce – a blend of ginger, garlic and other spices that will make your kitchen smell like what Amazing would smell like if it had a scent. I honestly think it would even make cooked peas taste good (not that I'm going to try.)  I'm tempted to marinate some tofu in it to see how that turns out.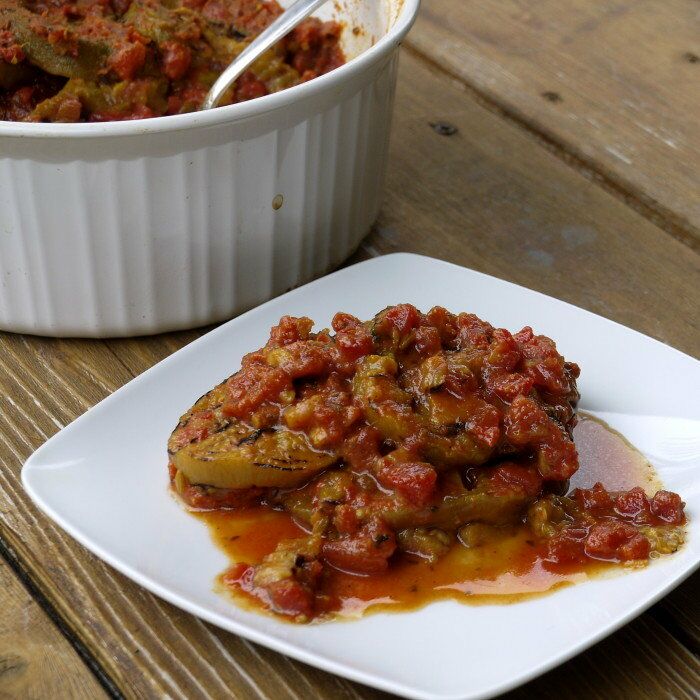 Indian Eggplant - Pickling Style
Print Recipe
Pin Recipe
Ingredients
2

large eggplants

1-

inch

cube fresh ginger

6

cloves

garlic

1/4

cup

water

About 1/3 cup vegetable oil

divided

1

teaspoon

whole fennel seeds

1/2

teaspoon

whole cumin seeds

or 3/4 teaspoon ground cumin

2

cans diced tomatoes

I used the ones with roasted garlic. Or you can use 3 fresh ones, peeled and chopped.

1

tablespoon

ground coriander

1/2

teaspoon

turmeric

1

teaspoon

salt
Instructions
Prepare the Eggplant:
I usually peel the eggplant first if it has a thick skin, but that's a matter of personal preference.

Cut eggplant into 1/2-3/4 inch slices, and brush one side of each eggplant slice with olive oil.

Put the oiled side down and grill - either over an outside bbq or in a grill pan - over medium-high heat until softened; about 3 minutes.

Brush the facing side with oil and then flip the eggplant slices over.

Cool eggplant slices.
Prepare the sauce:
In a small blender or food processor, combine ginger, garlic and water, and blender until almost smooth. (I usually add a little of the canned tomatoes to give the blender a little more to work with.

Heat 1 tablespoon of oil in a large skillet. When hot, put the fennel and cumin seeds in the skillet and cook until they turn a few shades darker. This will only take a few seconds, so have the other ingredients ready. Pour in tomatoes, and add remaining spices. Stir and cook about 5 minutes to thicken slightly.
This dish is can be served immediately, but I usually put it in the fridge and serve it cold.  Just wonderful with a lovely dal, raita and some naan. (Also delicious for breakfast with a poached egg.)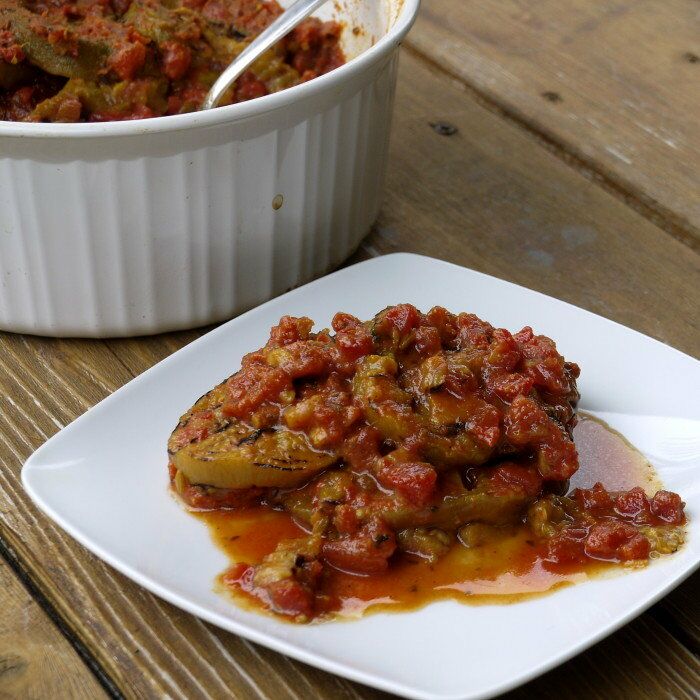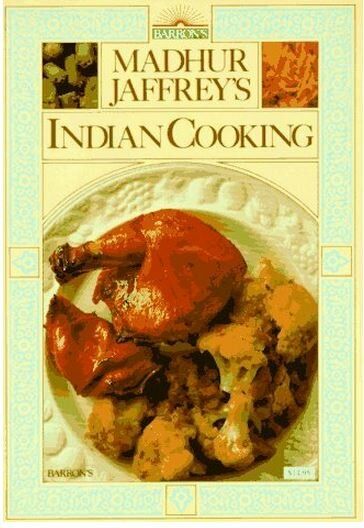 I adapted this recipe from one I found in one of my favorite cookbooks, Madhur Jaffrey's Indian Cooking.  The most substantial changes I made were to streamline the cooking process and lower the fat content – the original calls for a whopping 1 1/2 cups of vegetable oil!