In which Mr B and I take an exotic French-Moroccan cooking class and learn (among other things) the difference between a tagine (the vessel) and a tagine (the stew); plus an awesome recipe for Carrot Salad with Harissa, Feta & Mint! 
Mr B and I recently took a cooking class together at Sur La Table, and not only did we learn a ton while we were there, but it turned out to be an amazing Date Night too!
I partnered with Sur La Table to bring you this post. This post may contain affiliate links.
Cooking classes are one of the best Date Nights! You get to spend time doing something active and interesting with your sweetheart, meet some fun new people, and eat a great meal at the end of the day.
Our class – "Exotic French-Moroccan Cuisine" –  was held in the teaching kitchen at Sur La Table in downtown Portland, directly across the street from Powell's. (Check here to find Sur La Table classes in your area.) Aprons and recipes were ready and waiting when we arrived, and ingredients and tools were strategically placed around the work area.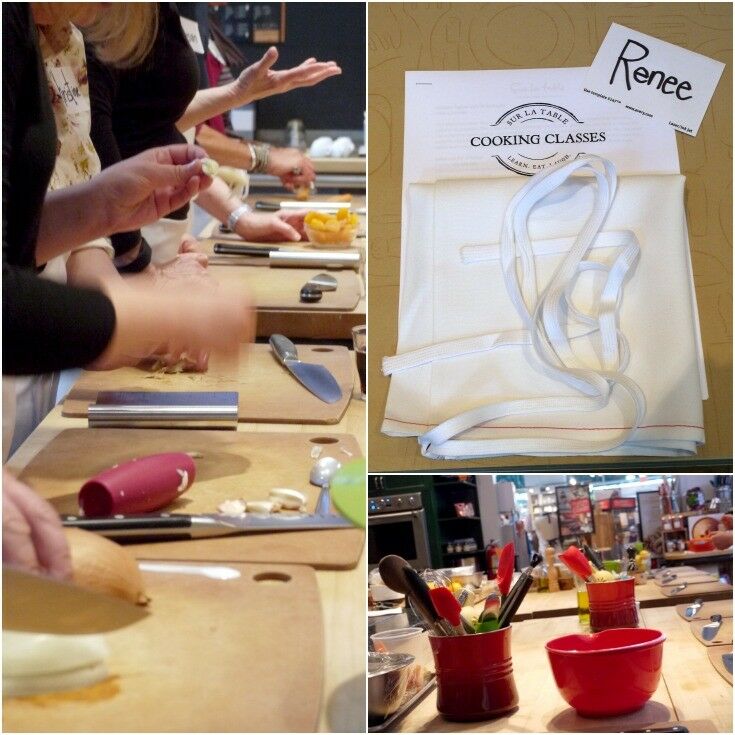 One thing that immediately impressed us about our Sur La Table cooking class was the caliber of instruction. Our instructor for the day was Chef Priscilla Umeda, a beautifully warm, captivating woman with great passion and skill for cooking. Chef Priscilla, originally from Nigeria, grew up as the oldest female child in a family of eight children, so it fell to her to "insure her siblings were fed."  Thus, the seeds for creating delicious food and educating others in culinary arts were planted early.  After earning a degree in Business Administration & Management in Nigeria, Chef Priscilla taught herself the art of cake making that became a thriving business in Nigeria before her migration to America. Now a trained, professional chef, she is actively engaged in the culinary training of  both home cooks like us and professional chefs.
Before we got to work, Chef Priscilla gave us a little history about Moroccan cuisine. We learned that Moroccan cuisine is considered one of the most important cuisines in the world, due in great part to the remarkable diversity of colonizers and immigrants who have influenced it over the last millennia. The cuisine of Morocco's first inhabitants, the Berbers, still exists today in dishes like tagine and couscous. It took on spices, nuts and dried fruits, and the sweet and sour combinations from Arab invasions; olives, olive juice and citrus from the Moors; pickling from Moroccan Jews; and kebabs from the Ottoman Empire. The short-lived French-Moroccan colony left behind a culture of cafes, pastries, and wine.
Chef Priscilla also introduced us to the quintessential hallmark of Moroccan cooking: the Tagine. The word tagine has two meanings. First, it refers to a traditional North African clay-pot cooking vessel. The bottom is a wide, shallow circular dish used for both cooking and serving, while the top of the tagine is distinctively shaped into a rounded dome or cone.
Second, tagine refers to the iconic Moroccan stew: created in layers of warm spices, tender meats, fresh vegetables, and dried fruits, tagine is slow-cooked in the aforementioned traditional cooking vessel.
Sur La Table offers two kinds of class formats: demonstration and hands-on. Ours was of the latter variety, with everyone taking part in the preparations. Chef Priscilla walked us through four dishes: Chicken Tagine with Dried Fruits, Couscous with Saffron & Ginger, Carrot Salad with Harissa, Feta & Mint, and Cardamom Madeleines with Rosewater Glaze.
There were about twenty people in our class, and there was plenty for everyone to do. Mr B jumped right into the action! One of the things I appreciate about Sur La Table's class philosophy is that they aren't just about throwing together a short list of menu items, but rather, they aim to teach techniques and send you home with practical advice and information that you can immediately use in your own kitchen.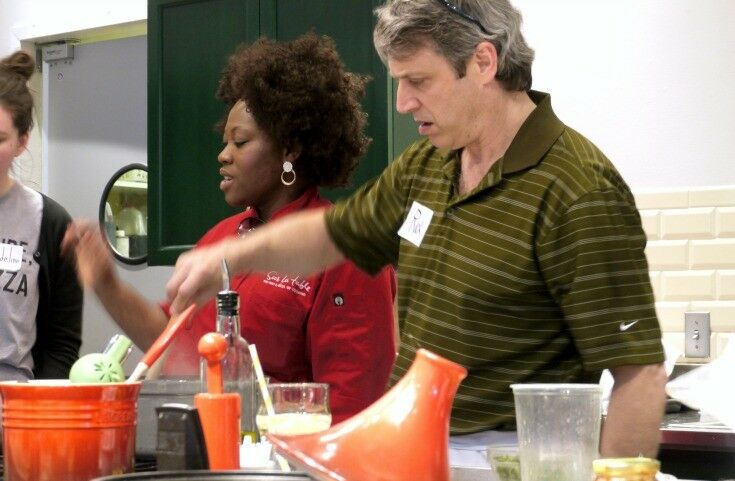 As far as Mr B and I are concerned, every meal needs to include a little something sweet. These Cardamom Madeleines with Rosewater Glaze were as lovely as they were delicious.
Mr B and I both loved the fresh, sweet and slightly spicy flavors of this Carrot Salad recipe (shared here courtesy of Sur La Table). Note that it uses preserved lemons, an indispensable ingredient in Moroccan cooking. Their unique pickled taste and texture cannot be duplicated with fresh products. You can buy them in specialty stores, or they can be easily made at home.
Carrot Salad with Harissa, Feta & Mint
Print Recipe
Pin Recipe
Ingredients
1/4

cup

olive oil

3

medium garlic cloves

minced

1

teaspoon

ground cumin

1/2

teaspoon

ground caraway seeds

1

tablespoon

harissa

1/4

teaspoon

ground cinnamon

1

teaspoon

sweet paprika

1

tablespoon

honey

1/4

cup

fresh lemon juice

1

preserved lemon

rind only, finely minced

Sea salt & freshly ground pepper

to taste

1

pound

carrots

peeled and julienned or coarsely grated

1/4

cup

finely chopped fresh cilantro

1/4

cup

finely chopped flat-leaf parsley

1/4

cup

finely chopped fresh mint

4

ounces

feta

crumbled
Instructions
Heat oil in small skillet over medium heat. Add garlic, cumin, caraway, and harissa. Cook until fragrant; about one minute. Remove from heat and add the cinnamon, paprika, honey, lemon juice, and preserved lemon. Salt and pepper to taste.

In a large bowl, combine carrots, herbs, and feta. Pour prepared dressing over carrot mixture and toss to combine.
Overall, we loved our Cooking Class Date! Not only did we have a great time together, but we learned some new cooking techniques that we can use in our everyday cooking. We are definitely looking forward to taking more classes in the future.
Have you ever taken a cooking class? If so, please share your experience in the comments below! 
Disclosure: Sur la Table provided Mr B and me with a complimentary cooking class to facilitate this post. All opinions are 100% our own. This post may contain affiliate links, which means we may receive a commission if you click a link and purchase something that we have recommended. While clicking these links won't cost you any extra money, they will help us keep this site up and running – and (relatively) ad-free!! Please check out our disclosure policy for more details. Thank you for your support!