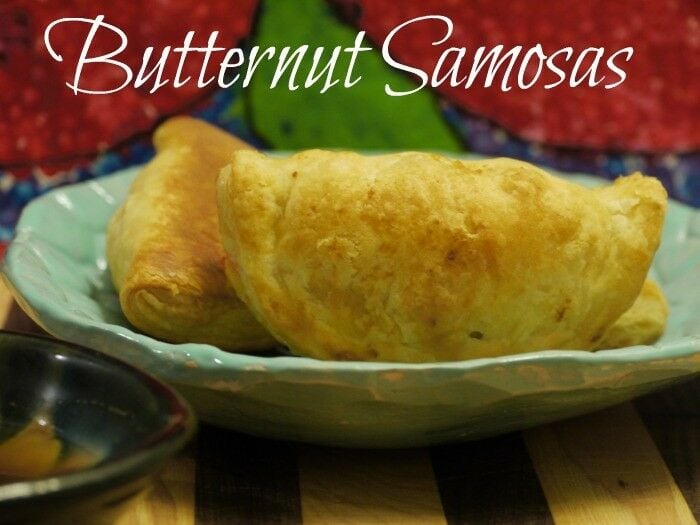 Mollie Katzen's Moosewood Cookbook was my first vegetarian cookbook. (If you are a vegetarian-leaning sort of person of a "certain age," there's a good chance it was your first, too.) Opening the cover on Moosewood is like taking a step back in time: hand-lettered pages are filled with wonderful, rich, easy-to-prepare vegetarian recipes, wrapping you in a comforting, laid-back-to-your-roots granola sort of vibe.
This post may contain affiliate links, but don't worry - they won't bite.
These Sweet Potato Butternut Samosas are inspired by one of my favorite Moosewood recipes. The most obvious change I made was to magically change the peas (which I hate) to butternut squash (which I love), and the white potatoes to sweet potatoes because I think they go with the butternut better. I also added some curry powder and a shake of nutmeg to boost the butternut squash.
These little pillows of delicious make a great appetizers, or you can make them bigger and serve them as savory hand-pies. Either way, be sure to serve them with some dipping sauces.
(For Food Bloggers Only: Well, of course I did not take these pictures in my powder room because the sun set way too early the day I made them and I haven't made the investment in good lighting yet. Who does that?!?)
Butternut Samosas
Print Recipe
Pin Recipe
Ingredients
Dough (Easy Way. Not Vegan.)
Filling
2

sweet potatoes

about 5-6 inches each

1

cup

cubed butternut squash

¼ inch cubes

1

Tablespoon

olive oil

1

cup

finely chopped onion

2

cloves

garlic

minced

1

Tablespoon

freshly grated ginger

1

tsp.

mustard seeds

1

tsp.

ground coriander

1

tsp.

curry powder

1

teaspoon

kosher salt

2

Tablespoon

lemon juice

Cayenne

to taste
Instructions
Dough
I use frozen puff pastry. Really easy, and much faster. And yes, it's probably not as healthy for you as some options…but it tastes fantastic! However, if you want to be all authentic (or keep it vegan) use the recipe from The Moosewood Cookbook:

Mix the flour and salt in a medium bowl. Make a well in the center, and add the yogurt. (If you aren't worried about it being vegan-worthy, you can use an equal amount of buttermilk instead.) Mix first with a spoon, and then with your hand to form a smooth dough. Add extra flour if you need to keep the dough from being sticky. Knead for about five minutes, then cover while you make the filling.
FIlling
Peel the potatoes and cut them into 1-inch pieces. Put them in a saucepan, cover with water, and boil until potatoes are tender. Drain. Mash very lightly – just break them into pieces. You want them to be very chunky: not a smooth mash.

In a large skillet, saute cubed butternut squash in olive oil until it just begins to soften. Add onion, and stir until squash is tender and onion is very soft.

Add garlic, ginger, mustard seeds, coriander, curry, nutmeg and salt. Stir over medium heat for a minute or two to release the flavors of the spices.

Combine squash mixture with potatoes. Stir in lemon juice. Cool at least 15 minutes before filling pastries.
Assembling Pastries
I use puff pastry and cut 9 circles from each sheet using the rim of a large glass. Take each little circle and roll it out until it is about 3 ½ inches across. Put a heaping tablespoon of the filling in the middle, wet one half of the edge, and fold it over to form a little half-moon.

Press down all around the open edge to seal. Do this 17 more times. Bake at 425° for about 25-30 minutes, or until golden brown.
Moosewood Dipping Sauce
Place all ingredients in a small saucepan over medium heat and stir until sugar dissolves. Simmer 10 minutes. Serve warm or at room temperature.
Mint Chutney
Put mint, cilantro, ginger, lime, water, salt and pepper in a food processor and process until it becomes a sauce. (It's OK if there's still little leaf bits.) Heat olive oil in skillet. Add mustard seed and fry until you hear popping. Add mustard seed to sauce. This can be served separately, but I like it mixed in with the Dipping Sauce.
This website provides approximate nutrition information for convenience and as a courtesy only. You are solely responsible for ensuring that any nutritional information provided is accurate, complete, and useful.
Note: I couldn't find the Moosewood Dipping Sauce recipe in the current (40th Anniversary) edition, and it is delicious, so you're welcome.
Hint: Spread the leftovers bits of pastry on a baking sheet lined with parchment paper. Sprinkle with sugar and bake while you assemble the samosas. It will take about 15-20 minutes at 425°.
THANK YOU for being a faithful reader and supporter
of The Good Hearted Woman. • Be sure to PIN this post!
Disclosure: This post may contain affiliate links, including Amazon affiliate links, which means we may receive a commission if you click a link and purchase something that we have recommended. While clicking these links won't cost you any extra money, they do help keep this site up and running. As always, all opinions and images are my own. Please check out our disclosure policy for more details. Thank you for your support!