Thousand Island dressing is indeed a very special sauce, but the real stuff isn't at all what you may think it is!
Mr B and I have many things in common, including our shared love of Reuben sandwiches, so it should be no surprise that St Patrick's Day – with our big corned beef dinner extravaganza – naturally leads to a brief (albeit unacknowledged) post-holiday season that could be referred to as Reuben Week. You need only a few ingredients to create the perfect Reuben sandwich, and one of the most important is a good Thousand Island dressing.

Let's talk about that a little about that dressing, shall we? You may think you know what makes up Thousand Island, but my guess is that you are likely wrong. Yes, you can throw together a passable "special sauce" with mayo, ketchup a splash of mustard and little sweet pickle relish, and you can call it whatever you want – as long as you don't call it Thousand Island. Because it isn't.
Authentic Thousand Island dressing is a sweet, tangy, creamy, delicious concoction of fresh ingredients that include onions, sweet pepper, and even a hard-boiled egg! Make it once, and you'll never want store-bought again.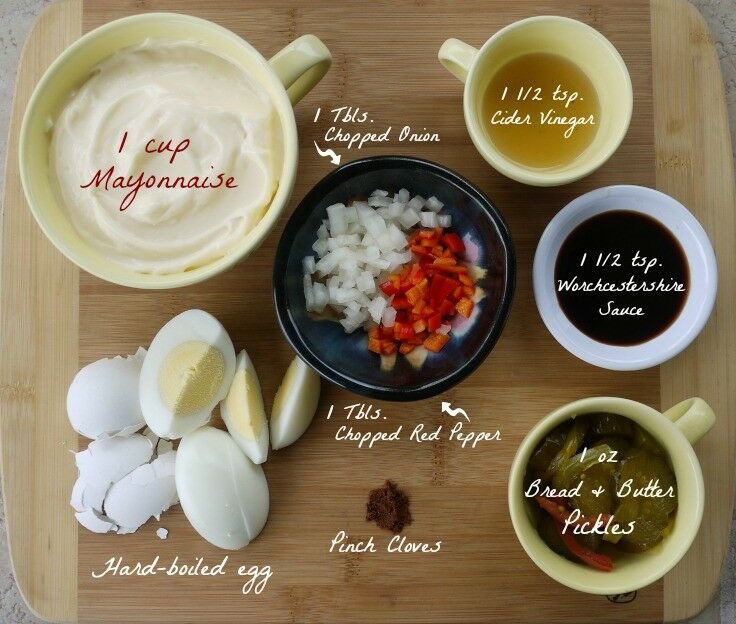 Authentic Thousand Island Dressing
Print Recipe
Pin Recipe
Ingredients
1

cup

mayonnaise

I use homemade

1

hard-boiled egg

1 1/2

teaspoons

Worcestershire sauce

1 1/2

teaspoons

vinegar

1

ounce

Bread & Butter pickle slices

or 2 tablespoons sweet pickle relish

1

tablespoon

finely chopped sweet red pepper

1

tablespoon

finely chopped onion

Pinch

of cloves
Optional
Dash Sriracha or Tabasco

1-2

teaspoons

sugar

Salt to taste
Instructions
Place all ingredients in a blender and process until smooth.
Ingredient Notes
Cloves are one of those things where a little goes a long way. I use home-canned bread-and-butter pickles that already have cloves in them, so I generally don't add any additional.
Some people like their Thousand Island very sweet, while others prefer it a little more tangy. You can fine-tune the flavor to meet you needs by adjusting the sugar, salt and vinegar a bit.
Some people like to throw a couple of olives into their Thousand Island. I'm personally not a fan, because I think it makes the dressing too salty.
I like a dressing that actually pours, so I usually add a little water at the very end to get the desire consistency.
The Perplexing History of 1000 Island Dressing
The history of 1000 Island Dressing dates back to the early days of the 20th century, and centers in the small resort village of Clayton, New York. Almost from the beginning, the story is a muddled mess of players all claiming credit, so the story you hear depends on who you ask. After sifting through a number of sources, this is my best guess:
It seems that there was a fishing guide named George LaLonde, Jr. who led fishing expeditions through the waters of the 1000 Islands, located along the border between northern New York State and southeastern Ontario, Canada. After a day of fishing, George and his wife, Sophia, would serve their guests what they called "shore dinners," often complemented with an unusual salad dressing.
On one particular occasion, George was guiding a prominent New York City stage actress named May Irwin and her husband. In addition to acting, May Irwin was a renowned cook and cookbook authoress, and was particularly impressed with the dressing she and her husband were served at their shore dinner, so she asked George for the recipe. Sophia, who created the dressing, was flattered by the request and willingly gave her the recipe.
Upon her return to New York City, May Irwin gave the recipe to George C. Boldt, owner of the Waldorf Astoria Hotel in New York. Impressed with the dressing and its flavor, Mr. Boldt directed his world famous maitre d'hotel, Oscar Tschirky, to put the dressing on the hotel's menu, and the rest is history.
If you want to do your own detective work, here are a few sources to get you started:

THANK YOU so much for being a faithful reader and supporter of The Good Hearted Woman.

❤

Be sure to PIN this recipe!

I'm sharing this recipe on the Weekend Potluck Recipe Linkup. Check it out for more great recipes!