Eating in Hawaii can be expensive - unless you know where to go! Here's the second installment in our countdown of delicious and wallet-friendly Oahu cheap eats.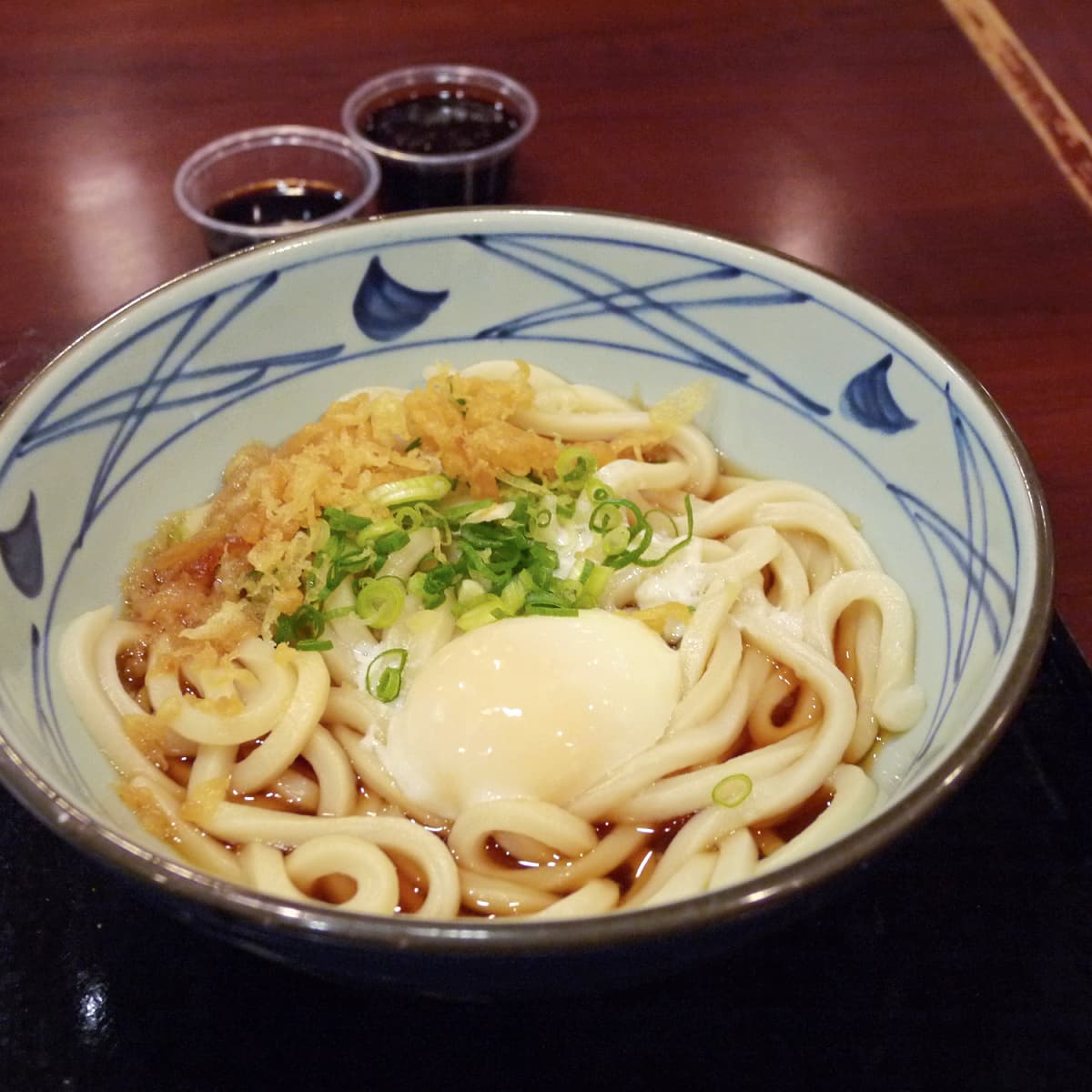 Be sure to read the first installment in our countdown of delicious and wallet-friendly Oahu cheap eats (plus one helpful note for bus-tourists with limited lunch choices).
Countdown of Cheap Eats on Oahu
5 • Highway Inn (Honolulu)
Mr. B and I are big Guy Fieri fans, so we had to check out his recommendation for authentic Hawaiian food at the Highway Inn in Honolulu.
The service very friendly, and we were escorted to a table quickly. After studying the menu (which included a glossary of terms for non-locals) we decided to share a Super Lau Lau Combo Plate.
Combo plates are served with poi or rice, `uala (sweet potato), haupia (Hawaiian flan), and a choice of lomi salmon, potato salad, macaroni salad, or nalo greens with liliko`i dressing. Our super combo came with an extra protein, and we could choose from kalua pig, pipikaula, squid lu'au, or chicken long rice.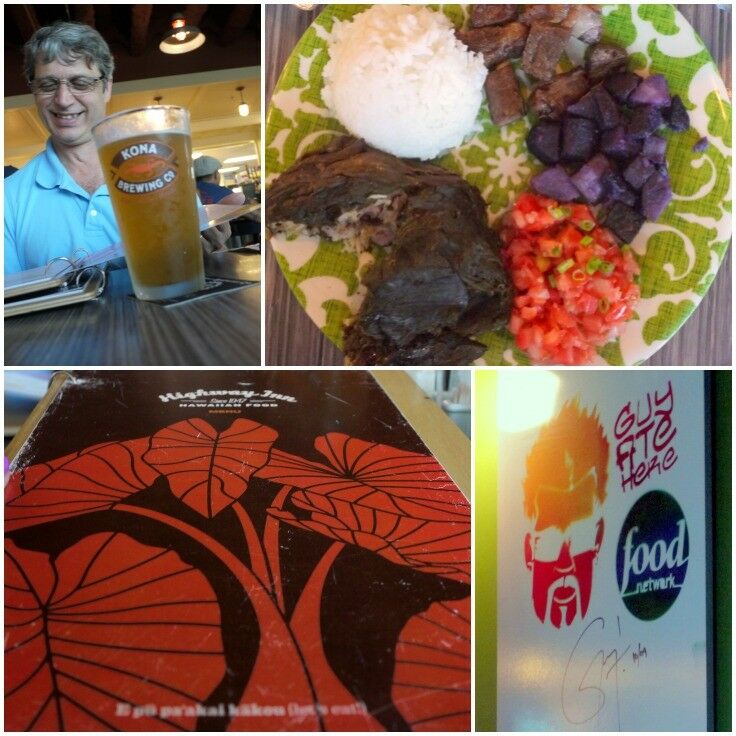 Mr. B and I both enjoyed the lomi lomi so much that I spent the rest of my trip asking complete strangers how they made it at home so that I could make an authentic version myself. Likewise, the sweet potatoes and the pipikaula (a moist, flavorful Hawaiian-style jerky) were both very good.
Lau lau was completely new to me. It involves carefully wrapping a mixture of finely shredded kalua pork (or chicken/beef) and fish in taro leaves and steaming the mixture. I wish I could say I loved it, but I didn't– I found the steamed taro leaves too reminiscent of canned spinach. However, the inside pork and fish mixture was quite tasty, which resulted in my half of the plate looking like a picky toddler had a go with it.
Overall, while traditional Hawaiian fare did not move to the top of my favorite cuisines list, the Highway Inn is definitely a great place to experience it.
Note: If you are looking for "live like a local" Hawaiian food on the cheap, my tour bus driver Aaron (a seriously nice guy) highly recommended Ono Hawaiian Foods in Waikiki. Disappointingly, Mr. B and I ran out of time to make it there this trip, but it gets great reviews on Yelp, so you might want to check it out.
4 • Surf N Turf Tacos (Honolulu - Waikiki)
The portions here are over the top! Waikiki is a shopping mecca with high end stores aplenty, and everything there seems to comes with the price-tag to match, even the food. However, Surf N Turf Tacos is one place where you can definitely get your money's worth.
Before we stopped here, I read a few reviews and they were quite mixed, but I'm really glad we decided to go for it. It was located very near where we were staying, so we picked up a burrito and a salad bowl and took them back to our hotel to eat.
The service was very friendly, and the food was fresh, hot, and plentiful. In fact, if we had known ahead of time how ginormous our order would be, we would have split a single item - as it was, the leftovers were plenty for a couple of generous snacks for each of us.
There have lots of vegetarian options, and we especially recommend the Grilled Veggie Burrito. (Sorry that there are no pictures of this one: we were so hungry when we got back to our hotel that I completely forgot to take pictures before we ate, and we all know how pretty leftover burritos are!)
3 • Me BBQ (Honolulu - Waikiki)
From the outside, Me B-B-Q looks like a run-down, dingy little hole-in-the-wall. (Taped to the window next to the business hours, you will find a list of "Don't's" that includes a warning against sleeping on the premises.) Don't let that put you off for a second!
The food at Me's is so good (and so wallet-friendly) that we ate here twice. Portions are huge and one combo plate was plenty for both of us, with leftovers to spare. There are a ton of dishes to select from.
We ordered the Na's Special, which comes with Korean-style chicken and beef (both amazing!), fish jun (egg battered fish), two scoops of rice, and a choice of four sides– all for about twelve bucks!

2 • Marukame Udon (Honolulu - Waikiki)
Our #1 for pick for vegetarians!
Umami, often referred to as the fifth taste, is described as a pleasant "brothy" or "meaty" taste with a long lasting, mouthwatering and coating sensation over the tongue. Let me just tell you up front, Marukame Udon is the place on Oahu to seriously get your umami on.
We must have passed by the line outside Marukame Udon ten times over the course of a couple of days before we finally decided to brave it, and we were so glad we did.
As it turns out, due to the cafeteria-style service (think Subway with delicious fresh noodles), it moves pretty quickly.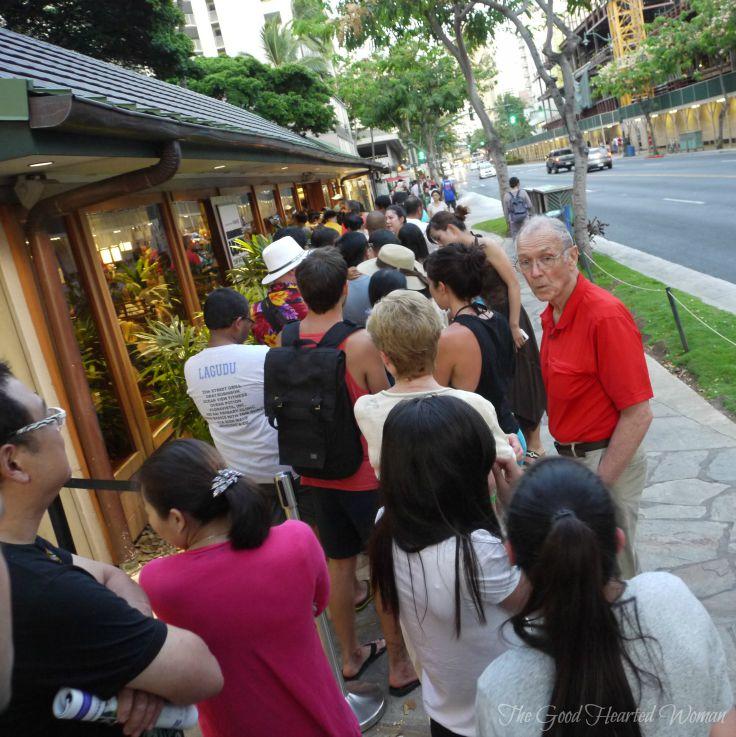 Marukame Udon aren't your typical udon noodles: made Sanuki-style, the process for creating them is known to be back-breaking, but the results are amazing. (It also offers a great show for folks waiting for a meal.)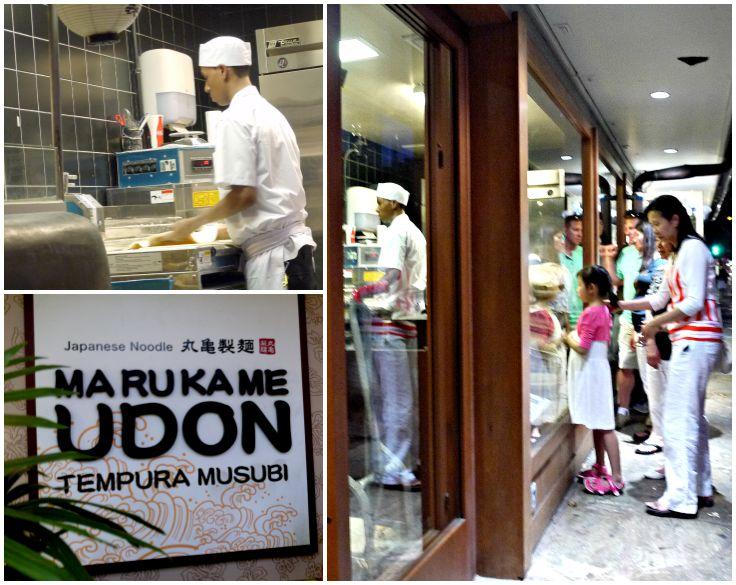 You first choose from a variety of udon options that are tailored to your tastes, including traditional, curry, bukkake, cold or hot. You then progress through the line and add your choice of tempura (vegetable and seafood), inari, musubi and fried chicken.
Finally, you can add a little something extra to make it your own, including tempura sauces, chili flakes and wasabi, Tenkasu (tempura crumbs), Welsh green onions, and freshly grated ginger. For Kake udon, there's also soup dispenser where you can add as much or little as you like.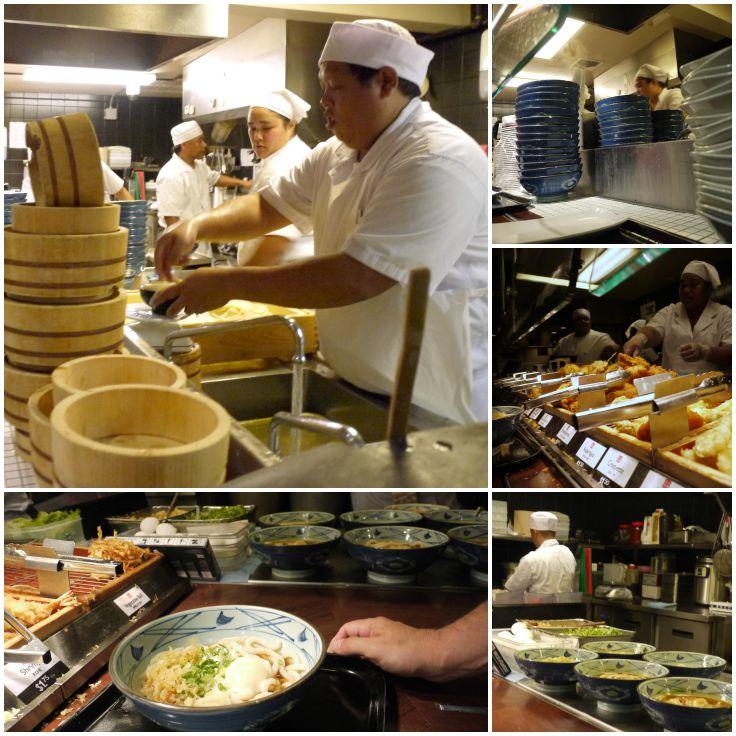 I ordered bukakke odun, which is served cold. Mr. B had his Ontama-style, topped with a soft boiled egg. The noodles themselves were tender and perfectly cooked, and both came swimming in a deliciously amazing, wonderfully savory sauce that made our umami receptors do a freaking happy dance all over our mouths.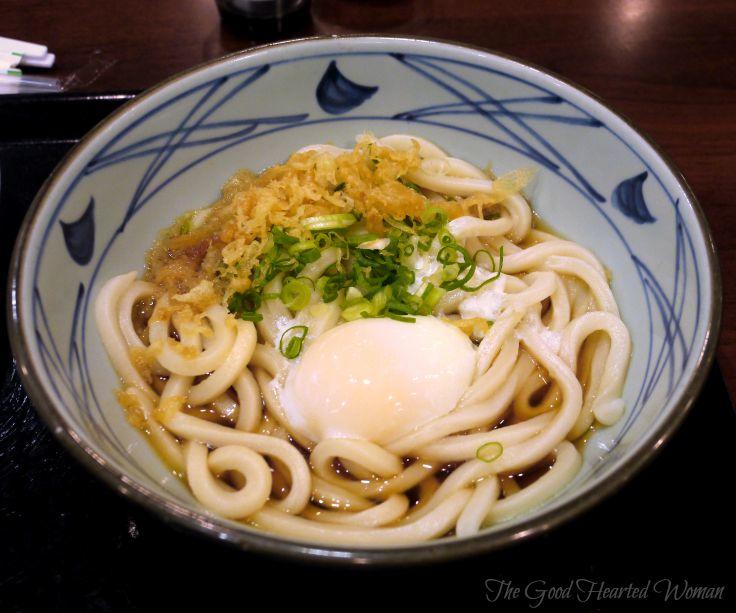 Oh my gosh. I'm getting so hungry just thinking about it that I almost forgot – our whole bill for two bowls, four small plates and a soda came to just $18! Especially by Waikiki standards, that's a crazy-good deal.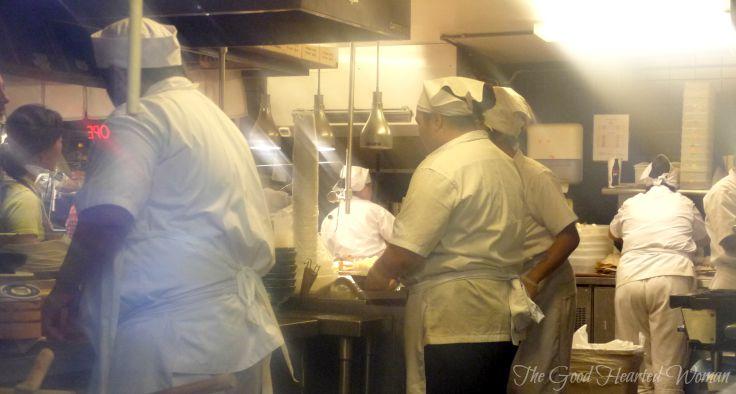 Could there be anything better than fresh udon noodles? Believe it or not, we think so.
1 • Fumi's Shrimp Farm (Roadside Stand, Kahuku)
Winner winner - Shrimp for dinner! This is our Oahu cheap eats Top Pick! And guess what‽ They taste even better than they look!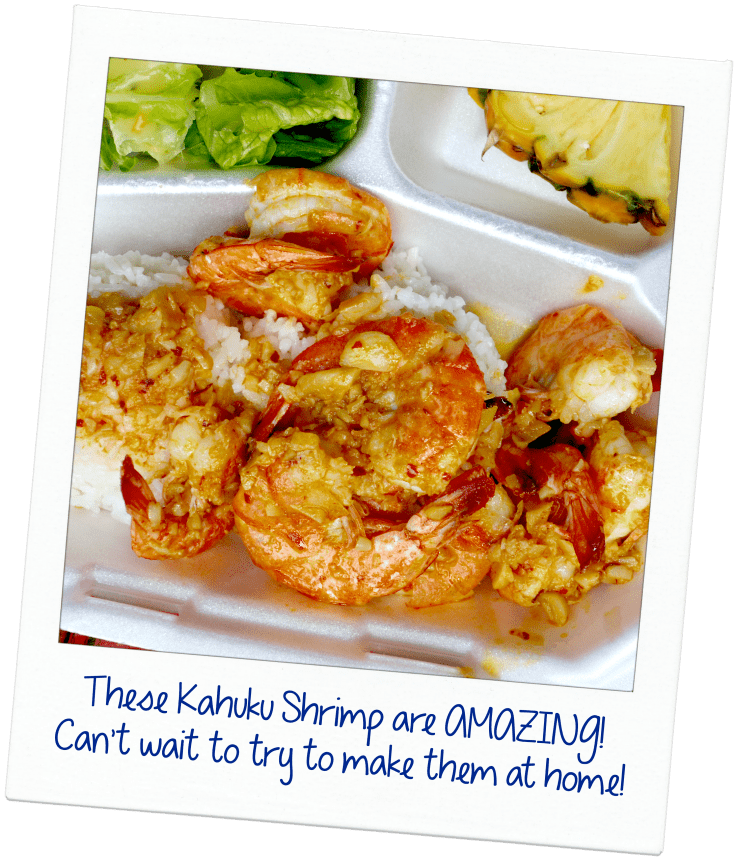 The first time we ate at Fumi's (yes, I said first; as in, we came here more than once), I ordered the Spicy Garlic Shrimp. My plate came with nine clean, fat prawns with the shells attached, and was served with two scoops of rice, a slice of fresh, cold pineapple, and a small tossed salad.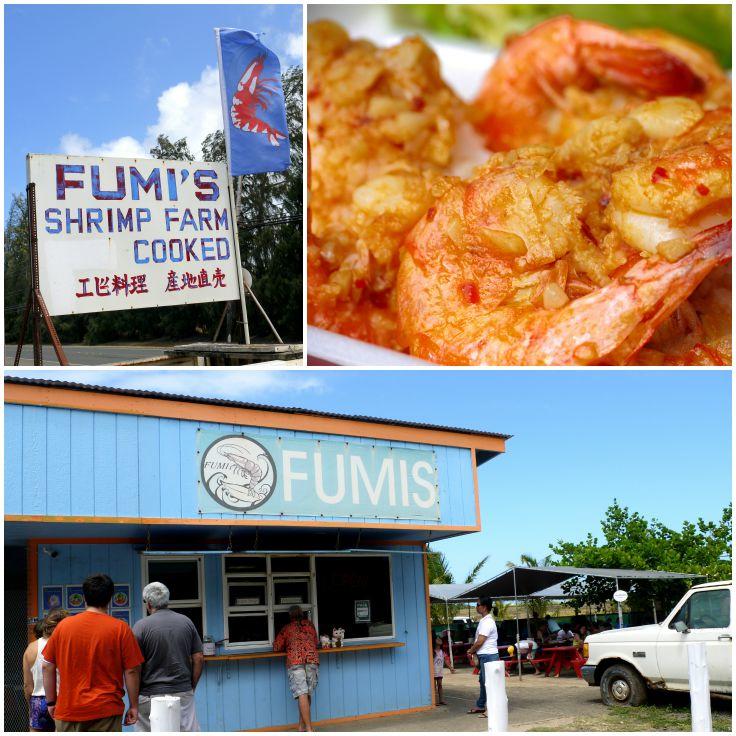 The pineapple slice and salad provided a nice complement, but felt mostly like a bow to social convention. I mean, you can't really just serve a big plate of prawns and call it a plate lunch... can you?
My shrimp was bathed in a buttery garlic sauce that brought out its sweet notes without overpowering them, and the bite was firm and tender. They were so perfect that I think I may have even teared up a little.
At $13 a plate (2015), this was the best deal on the island, as far as I'm concerned.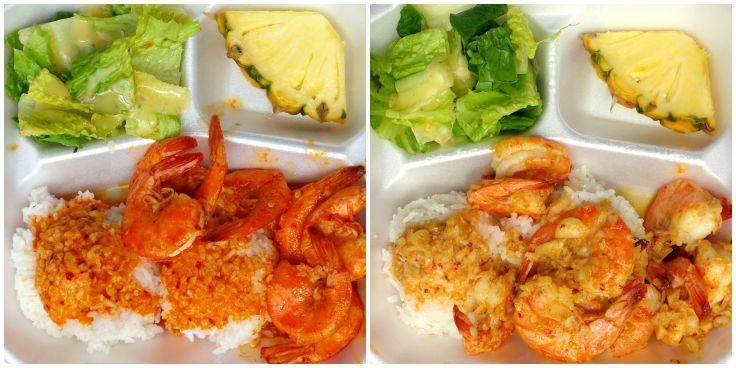 Mr. B had the Hot & Spicy Shrimp, and in his words, "that buttery texture and the sauce on the outside was so good that I couldn't help but suck off the juice before I peeled them." Having tried them myself, I can tell you that they were quite spicy, but not overly so.
One thing we both noted was that the shrimp had an amazingly fresh flavor that you just can't get from frozen shrimp. Taken directly from Fumi's aquaculture farm out back, the shrimp we ate for lunch had been scuttling around just minutes before we arrived. (We have it on relatively good authority that same cannot be said of all the shrimp along the North Shore, as much of it comes from the Costco freezer case in Honolulu.)
How to Get to Fumi's Shrimp Truck
From Honolulu, take a drive up to Oahu's North Shore. You will eventually come upon a number of Kahuku-style shrimp vendors - Giovanni's Famous Shrimp Truck at the Kahuku food cart pod being the most notable. (If you can't see it for all the signatures covering the truck, you may be able to recognize it by the long line of hungry tourists stretching endlessly from it.)
Keep driving.
Farther up the coastline, you will easily spot the red Romy's Kahuku Prawns and Shrimp shack, with its equally long nightmare of a line.
Keep driving. (Just a couple more minutes, I promise.)
Soon you will see the sea-blue sided shrimp stand of Fumi's Shrimp Farm - with a short line, plenty of parking, lots of covered picnic table seating, and AMAZING farm-fresh shrimp.
Powder Room Review
We stopped here after a long day of kayaking, and were very happy to find that Fumi's had not only a cleaning station where you can wash up after eating those luscious crustaceans, but also a large, clean restroom that is perfect for changing.
The only drawback to eating shrimp at Fumi's is that it will leave you wanting more. And more. And more.
Hawaii-inspired Food & Recipes
More Oahu Travel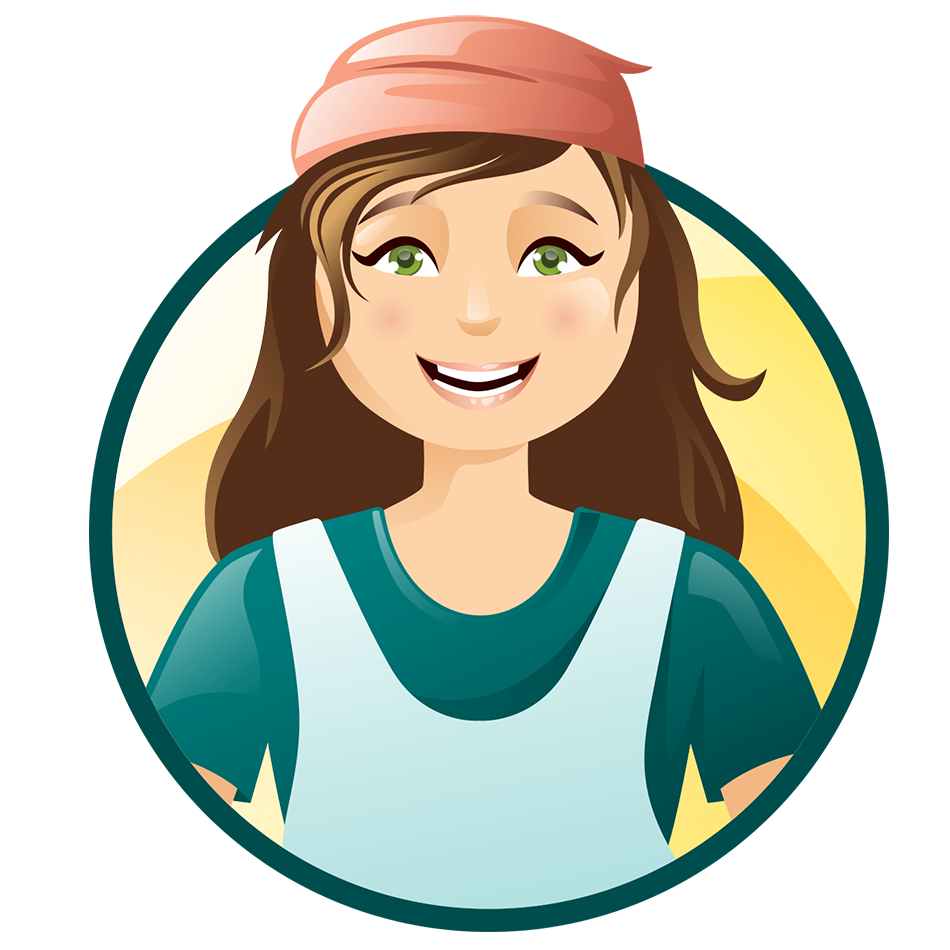 Thank you for visiting the Good Hearted Woman. Remember to bookmark this site, and come back soon!