Coconut milk and vanilla symphonize to create the richest, creamiest Dairy-free Vanilla Ice Cream you'll ever taste!
Creating a truly good homemade ice cream that is also dairy-free is a challenge.
Ice cream is one of our favorite desserts, and I honestly wasn't sure I'd be able to come up with an acceptable vanilla ice cream recipe without using the heavy cream that was the base of my mother's unforgettable vanilla ice cream.
I'm not not gonna lie: this ice cream recipe isn't as good as Mom's. (Nothing ever will be.) But after a lot of trail and error, when we finally got it right, it was totally worth all the effort. It may not be Mom's; but it is rich, creamy, smooth, and delicious!
Seriously - you'll never miss the dairy!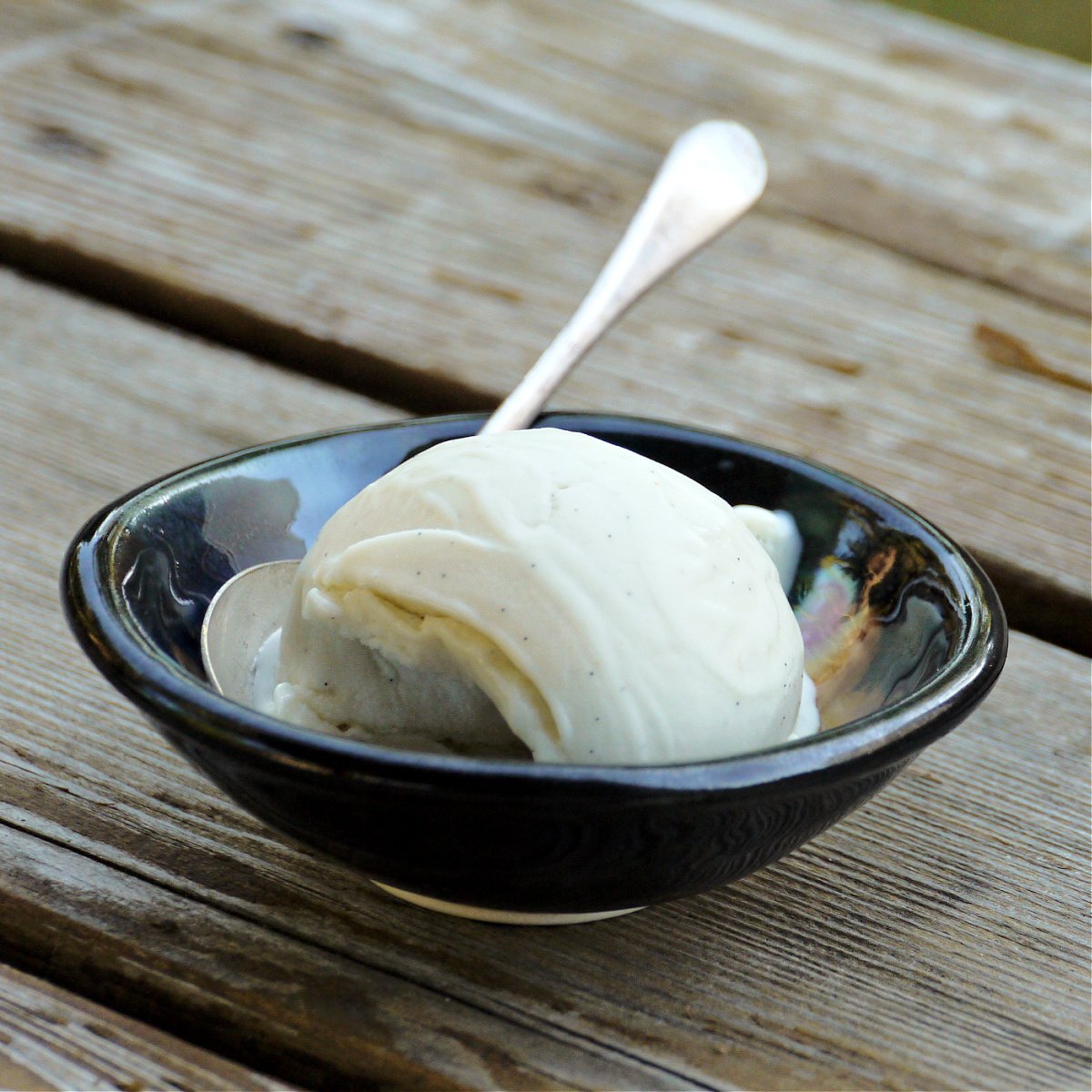 This post may contain affiliate links, but don't worry - they won't bite.
This coconut milk-based ice cream turns out ridiculously creamy, and as smooth as cool velvet. We enjoy this ice cream as is - plain, with a bowl and a spoon. It's also perfect when we have a dairy-free guest and a dessert that calls out "would you like a scoop of vanilla with that?"
With just six simple ingredients, our Dairy-free Vanilla Ice Cream recipe is simple and easy to make, and requires just a few minutes of hands-on time.
About Ice Cream Makers
Our old-fashioned crank ice cream maker, a holdover from my own childhood, is perfect in the summertime when ice cream-making is often a family event, and we need larger quantities. It is also excellent for making memories.
Mr. B loves ice cream, and a while back, I splurged and bought him a new electric ice cream maker for his birthday. Since then, we've also grown unexpectedly fond of the simplicity (and instant gratification) that comes with modern technology.
Our "modern" ice cream maker was definitely a great purchase. It makes up to two quarts of ice cream, gelato, and other frozen fare, making it the perfect size for couples or small families.
I do hope to someday to get my dream ice cream maker. Then Mr B and I will sit in our backyard and make music and ice cream with our family and friends. (If I ever get it, I'll tell you all about it!) Until then, our little electric wonder is a welcome addition to our kitchen!
Dairy-free vanilla ice cream is scrumptious all by itself; or try it with a spoonful or two of our fresh berry compote!
Recipe Updated June 23, 2021 (Originally published May 17, 2016)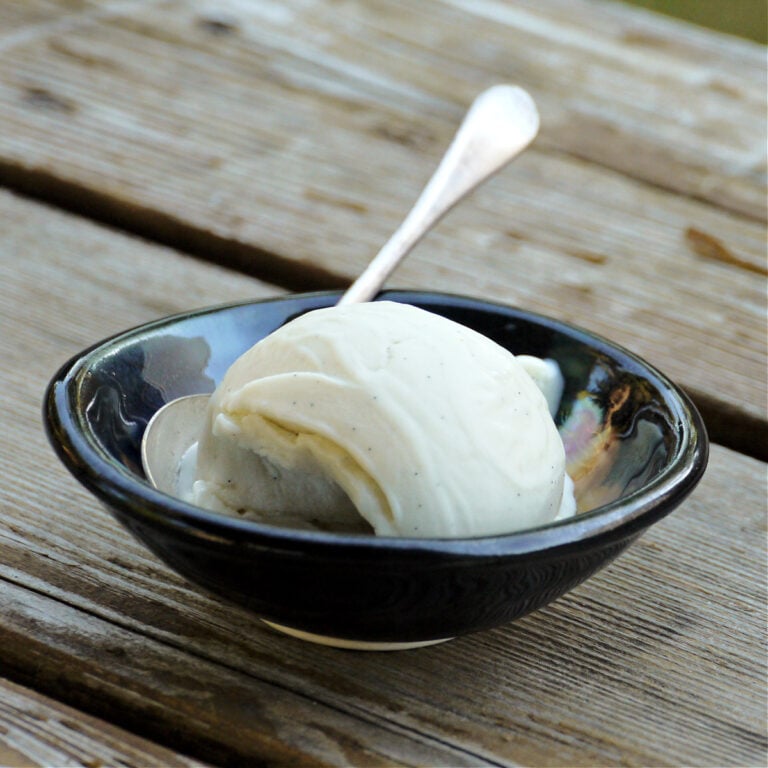 Dairy-free Vanilla Bean Ice Cream
Coconut milk and vanilla symphonize to create the richest, creamiest dairy-free vanilla ice cream you'll ever taste! 
Print Recipe
Pin Recipe
Ingredients
4

egg yolks

⅔

cups

cane sugar

26

ounces

full-fat coconut milk

2 cans

¼

teaspoon

salt

1

whole

vanilla bean

2

tablespoons

vodka
Instructions
Follow the manufacturer's directions for prepping your ice cream maker's churning bowl so that it is completely chilled prior to starting your ice cream.

Combine egg yolks, coconut milk, sugar, and salt in a blender and process until smooth.

Pour mixture into a medium sauce pan, and heat over medium low just until steamy.

You should see little bubbles forming around the edge of the pan. DO NOT BOIL.

Slice vanilla bean down the middle, and scrape the tiny "vanilla sand" inside into the hot coconut milk mixture.

Whisk thoroughly to combine.

For more intense vanilla flavor, put the whole cut vanilla bean pod into the hot ice cream mixture, and then fish it out before pouring the ice cream mixture into the ice cream maker.

Continue to cook the coconut milk and vanilla bean mixture until it has thickened to the consistency of a thin custard.

Remove from heat and whisk in the vodka.

Vodka, or rather the alcohol in the vodka, keeps the ice cream from getting too hard and crystalizing in the freezer. (For alternative preparation, see note below.)

Refrigerate mixture about 2 hours, or until completely cold.

Pour mixture into ice cream freezer and prepare according to manufacturer's directions.

Add mixture directly to chilled ice cream maker and churn according to manufacturer's instructions. (It should take about 35-45 minutes.)

When finished churning, the ice cream should have the consistency of soft serve.

For soft-serve style ice cream, serve immediately.

For a harder, scoopable ice cream, transfer to a freezer-safe container and place in the freezer for 2-3 hours.

Take out and place on the counter for 10 minutes to soften for serving.
Notes
Alternate "vodka-free" Preparation: 2 tablespoons of vanilla extract can be substituted in place of the vanilla bean and vodka. 
Note that, if you are concerned about alcohol in your ice cream, vanilla extract contains as much alcohol as vodka. Either way, the vanilla extract or vodka MUST be added AFTER the mixture is taken off the stove. The alcohol helps to keep the ice cream from getting too hard.
Nutrition
Serving:
1
serving
|
Calories:
189
kcal
|
Carbohydrates:
13
g
|
Protein:
2
g
|
Fat:
15
g
|
Saturated Fat:
12
g
|
Polyunsaturated Fat:
1
g
|
Monounsaturated Fat:
1
g
|
Cholesterol:
65
mg
|
Sodium:
59
mg
|
Potassium:
142
mg
|
Sugar:
11
g
|
Vitamin A:
87
IU
|
Vitamin C:
1
mg
|
Calcium:
19
mg
|
Iron:
2
mg
This website provides approximate nutrition information for convenience and as a courtesy only. You are solely responsible for ensuring that any nutritional information provided is accurate, complete, and useful.
For soft-serve style ice cream, serve immediately. For a harder scoopable ice cream, place in the freezer for 2-3 hours. Take out and place on the counter for 10 minutes to soften for serving.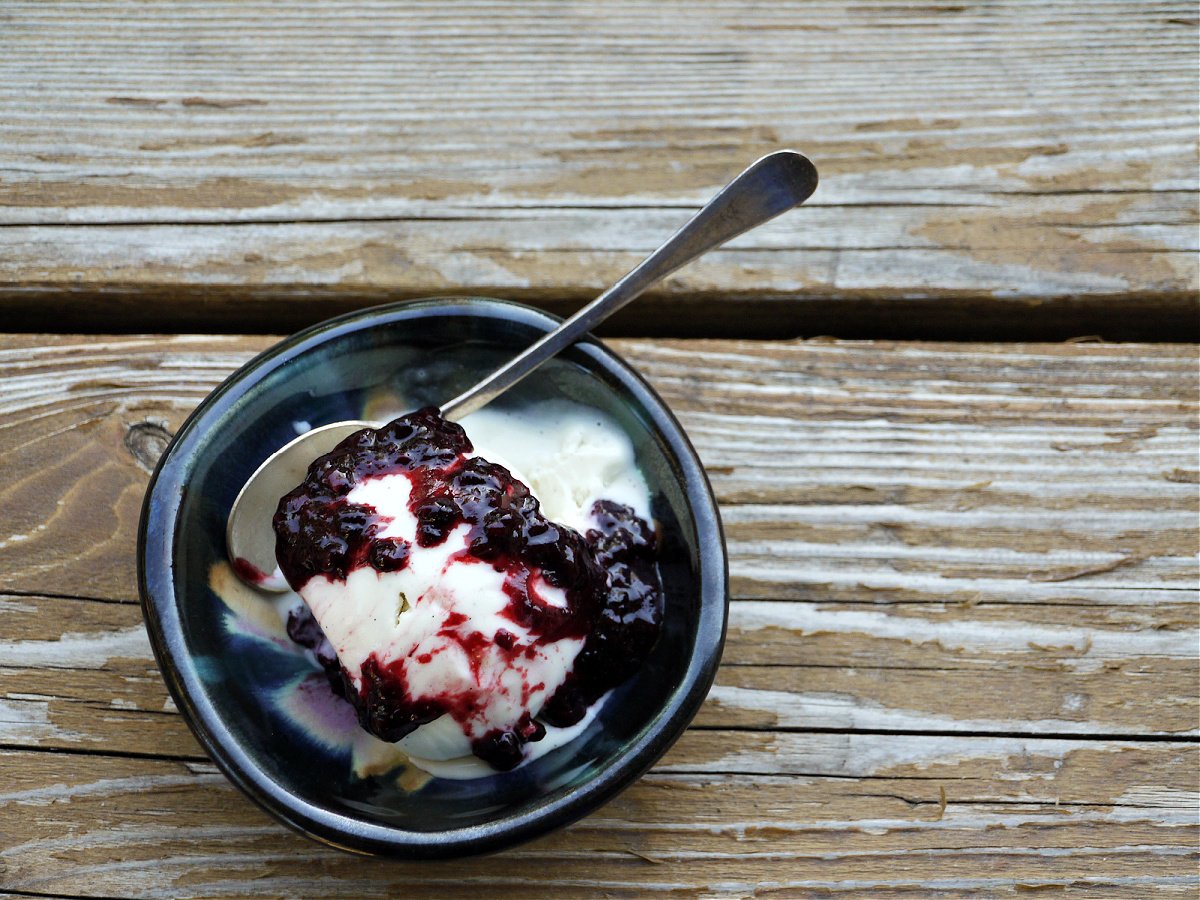 Do you love ice cream? Try our Old-fashioned Chocolate Ice Cream Soda!
---
THANK YOU so much for being a faithful reader and supporter
of The Good Hearted Woman. • Be sure to PIN this post!
Disclosure: This post may contain affiliate links, including Amazon affiliate links, which means we may receive a commission if you click a link and purchase something that we have recommended. While clicking these links won't cost you any extra money, they do help keep this site up and running. As always, all opinions and images are my own. Please check out our disclosure policy for more details. Thank you for your support!