There are few things as refreshing as a scoop of Fresh Strawberry Ice Cream on a hot summer day, and this is the best fresh strawberry ice cream recipe you'll ever make!
This post may contain affiliate links, but don't worry - they won't bite.
This fresh strawberry ice cream is - no exaggeration - the best strawberry ice cream I've ever had. I'll admit though, this recipe took Mr B and me some serious trial and error to put together. We wanted to get it just right, and so a lot of strawberry ice cream had to be made - and eaten - during the "research & development" phase. (Really - a LOT.)

Strawberry Ice Cream is trickier than it looks!
You'd think, just throw some strawberries, cream, and sugar together and you're golden, right? Wrong.
The biggest problem with fresh strawberry ice cream is the strawberries themselves. Strawberries have a very high water content, and what does water do when it get very, very cold? That's right, class - it freezes! Into little ice crystals. Which are fine for winter windows and root beer mugs, but no so great for ice cream.
To avoid having hard, crunchy strawberry ice cream, you have to do something to counteract water crystallization; hence the vodka and the corn syrup in this recipe. (Note: Any 70/80 proof liquor will work: we use whipped cream vodka.)
With a higher freezing temp than water, the alcohol in the vodka keeps discourages water crystallization, which in turn keeps your little strawberry chunks from turning into little strawberry ice cubes, while the corn syrup adds body, and keeps the texture smooth and supple.
NOTE: If you prefer to avoid liquor completely, just leave it out. Your chopped strawberry chunks will be a bit crunchy, and the ice cream may get a little harder than optimal after a day or two in the freezer, but chances are it won't last that long anyway.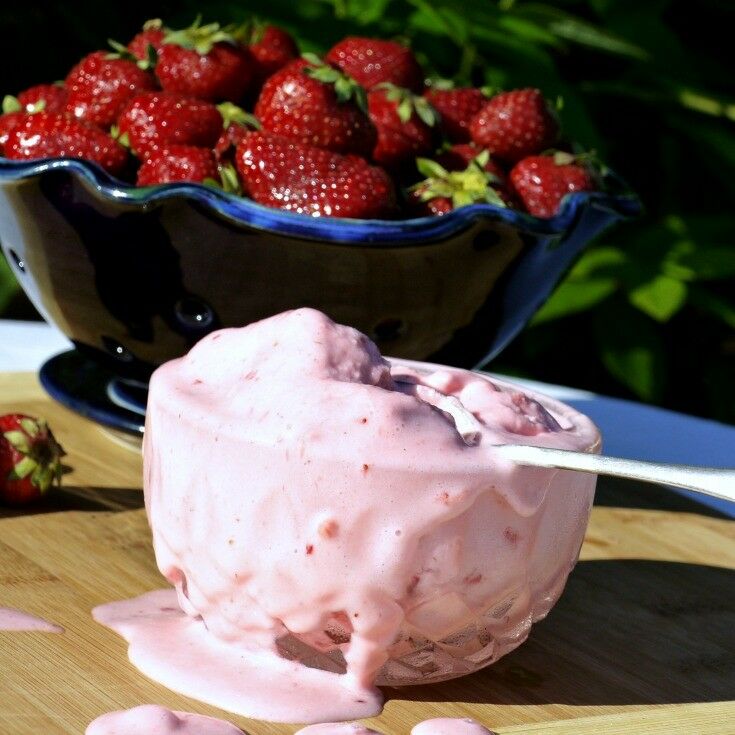 If you've made strawberry ice cream before, you may find a few other things are different about this recipe:
No Eggs - While eggs usually make for a richer ice cream, in the case of strawberry ice cream, they do so at the expense of that amazing fresh strawberry flavor - the exact thing that you want to preserve. Another bonus for leaving the eggs out - no cooking necessary. (I'm not afraid of raw eggs, but you may be, and that's ok. Our eggs are produced in my backyard.) Anyway, that leads me to...
No Cooking - Why? First off, you don't have eggs, so there's no reason to make a "custard base." Cooking also changes the flavor of the strawberries, and all I want to taste is sweet cream and fresh strawberries.
Less Sweeteners (i.e., sugar, etc.) - Almost all of the recipes I consulted as I was developing this recipe used a heavier hand with the sweeteners than my final recipe. I prefer to enhance the natural sweetness of the strawberries rather than overwhelm it. It's a delicate balance, based in part on how sweet your strawberries are.
Corn Syrup - I use corn syrup in a number of my ice cream recipes, particularly the ones that are heavy on fruit. It adds texture and body, while discouraging ice crystal formation.
Half & Half - Yes, you can use heavy cream if you want. You can also use 1 cup of milk and 1 cup of heavy cream (but that's basically what half & half is, so why?). I've made this recipe using each of these three options, all with fine results; however, I think the lighter, cleaner flavor of the half & half lets the fresh strawberry flavors shine through most brightly.
We hope you enjoy this fresh strawberry ice cream as much as we do!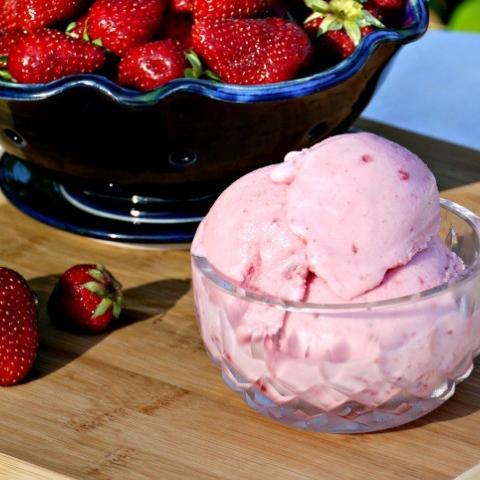 Homemade Fresh Strawberry Ice Cream
An easy-to-make strawberry ice cream that preserves the fresh taste of summer strawberries with a smooth, creamy texture. | Egg-free recipe
Print Recipe
Pin Recipe
Ingredients
1

quart

fresh strawberries

divided

1

cup

sugar

divided (or more, to taste)

2

tablespoons

whipped cream vodka**

[Optional, sort of]

2

cups

half & half

⅓

cup

corn syrup

½

teaspoon

kosher salt

to taste
Instructions
Hull all the strawberries. Chop enough strawberries to make one cup of chopped berries. (You probably want the chunks to be pretty small, but I'll leave that to you.) Put chopped strawberries in a small bowl with ¼ cup sugar and the vodka. Refrigerate while you make the rest of the ice cream base.

Put remaining strawberries in a blender and puree. Measure out about 1 ½ cups of puree. (If you have extra, put it in the fridge - you can use it for ice cream topping later!)

Blend the 1 ½ cups of strawberry puree with the remaining ingredients. Taste the mixture and adjust the sweetness to your personal tastes by adding a little additional sugar if desired.

Chill the ice cream base in the blender jar in refrigerator for at least one hour.

Take the blender jar out of the fridge and add the chopped strawberry mixture. Pulse very briefly to combine. (You want to keep those little chunks of strawberries, so don't get crazy here.)

Churn in ice cream maker according to manufacturer directions. (For reference, it usually takes 25 -30 minutes to freeze in our ice cream maker.)

Serve immediately for soft serve ice cream, or, if you prefer your ice cream hard-set, put it in the freezer for 2-4 hours before serving.
Nutrition
Serving:
1
serving
|
Calories:
175
kcal
|
Carbohydrates:
32
g
|
Protein:
2
g
|
Fat:
5
g
|
Saturated Fat:
3
g
|
Cholesterol:
15
mg
|
Sodium:
120
mg
|
Potassium:
174
mg
|
Fiber:
2
g
|
Sugar:
28
g
|
Vitamin A:
152
IU
|
Vitamin C:
47
mg
|
Calcium:
56
mg
|
Iron:
1
mg
This website provides approximate nutrition information for convenience and as a courtesy only. You are solely responsible for ensuring that any nutritional information provided is accurate, complete, and useful.
If you are all about the strawberries, be sure to check out our Triple-layer Strawberry Cake (from scratch) - it goes perfectly with a scoop of fresh strawberry ice cream!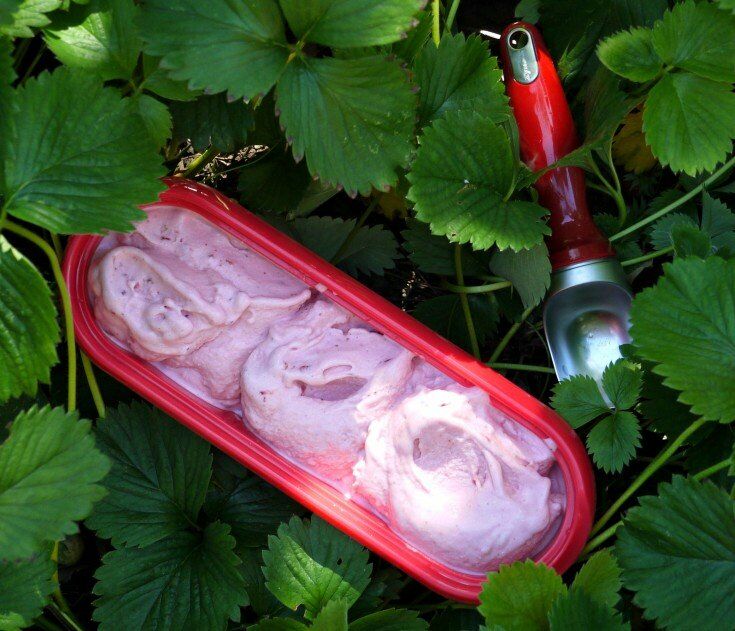 Just so you know, I didn't reinvent the wheel here - I consulted a vast number of other strawberry recipes, and incorporated some of their ideas as I developed this recipe. Here are the resources that I leaned on the heaviest: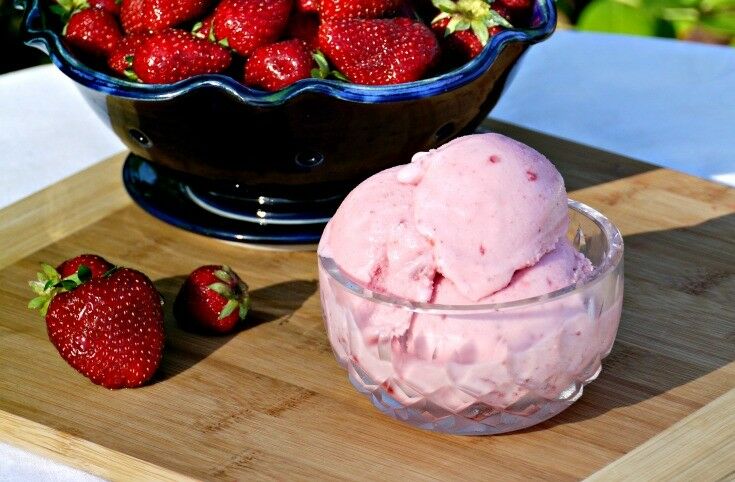 THANK YOU so much for being a faithful reader and supporter
of The Good Hearted Woman. • Be sure to PIN this post!

Disclosure: This post may contain affiliate links, including Amazon affiliate links, which means we may receive a commission if you click a link and purchase something that we have recommended. While clicking these links won't cost you any extra money, they do help keep this site up and running. As always, all opinions and images are my own. Please check out our disclosure policy for more details. Thank you for your support!