Classic French Onion Soup
is a perfect union of sweet caramelized onions, crusty french bread croutons, and bubbly melted cheese. Our tried-and-true, easy-to-make recipe is rich, savory, and satisfying to the bone.
French Onion Soup is a simple soup made of four basic components - sweet caramelized onions, savory stock, crusty french bread, and bubbly melted cheese. But that short list comes with a lot of questions:
What kind of onions work best for French Onion Soup? And does it matter how you slice them? (Spoiler: It does!)

What's the difference between browning onions and caramelizing them?

Do I need a baguette, and what the heck is a batard?

What kinds of cheeses work best for French Onion Soup? Should I use processed cheese?
You've got questions; we've got answers.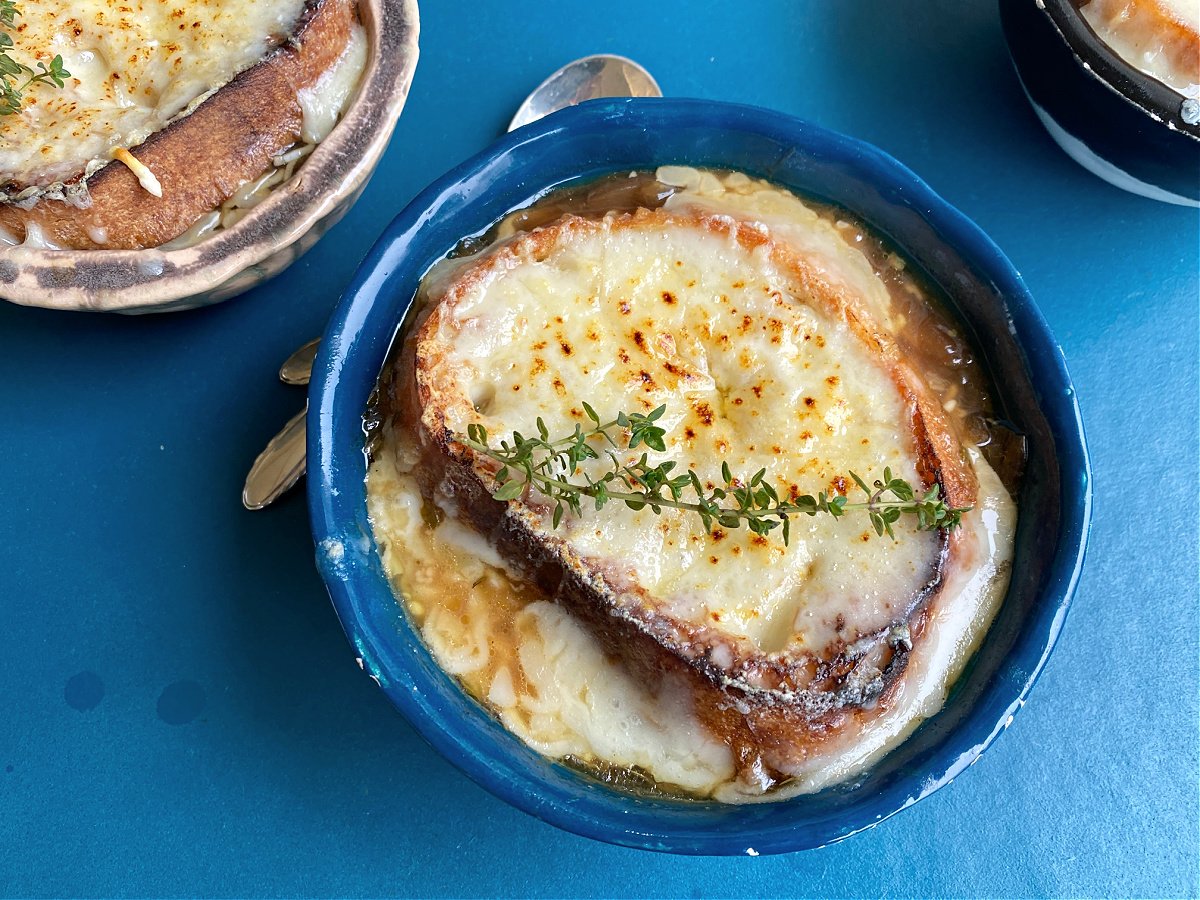 This post may contain affiliate links, but don't worry - they won't bite.
What kind of onions work best for French Onion Soup?
The type of onions you use can dramatically impact both the cooking time and the sweetness level of your soup. It may seem counterintuitive, but avoid using sweet onions for caramelizing.
When making anything with caramelized onions, I prefer to use a mixture of red and yellow onions. Sweet onions will work, but will take significantly longer to cook, and the end-product will have less flavor than that made with red and/or yellow onions.
You might be wondering what causes the aforementioned Onion Sweetness Inversion, so here's the scoop: plain old red and yellow onions have a far more complex flavor profile than do sweet onions. While we perceive sweet onions to be sweeter, yellow and red onions have more pungent lachymators (i.e., stuff that makes you cry) than do sweet onions (e.g., WallaWallas, Vidalias, etc.), giving the impression that the red and yellow onions have a higher sugar content, when the opposite is actually true. It is because of their higher sugar content that red and yellow onions yield richer caramelized onions, and subsequently, more flavorful French Onion Soup.
Does it matter how the onions are cut for caramelizing?
You wouldn't think so, but apparently, it does. According to America's Test Kitchen, slicing onions from pole to pole (root to stem) instead of cross-grain prevents them from breaking down too much during the long cooking process.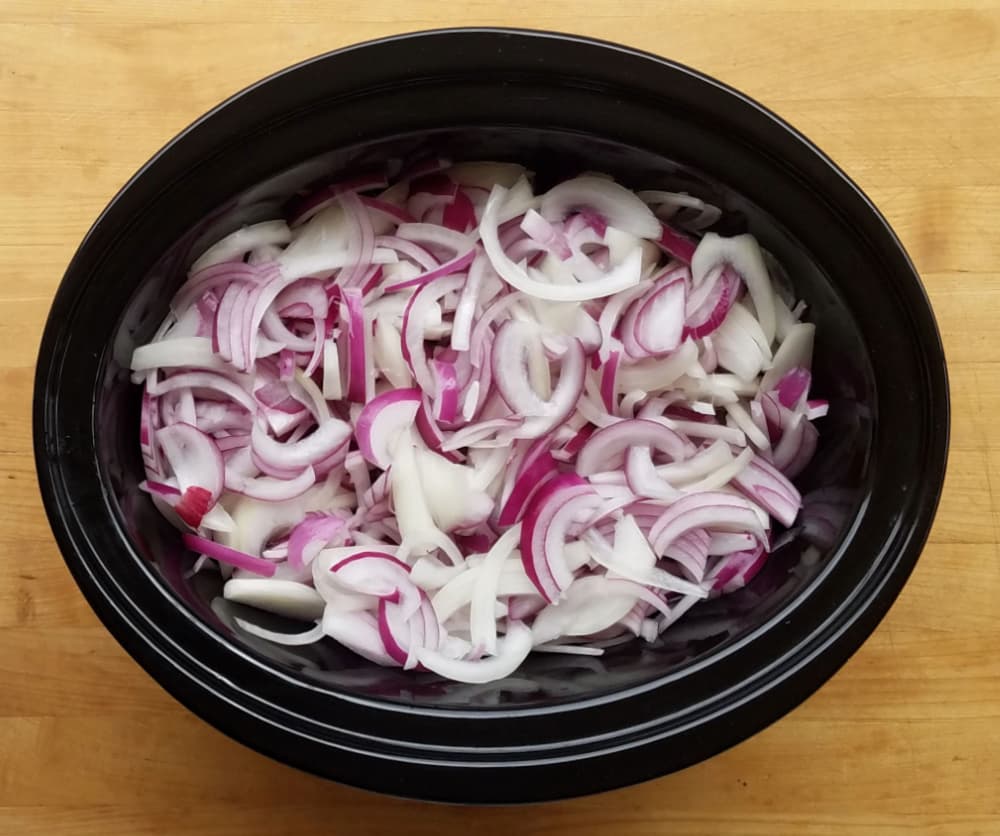 What's the difference between "browning" and "caramelizing"?
Browning is the relatively quick process of browning the outside of onions, done in hot oil at relatively high temperature.
Caramelizing, on the other hand, is a much slower process; requiring no less than 45 minutes (and upwards from an hour for larger quantities) over much lower heat.
Caramelization describes the chemical reactions that take place when any sugar is heated to the point that its molecules begin to break apart and generate hundreds of new flavor, color, and aroma compounds. [Cook's Illustrated]
This slow cook is necessary in order for the chemical process to occur that transforms the sugars in the onions into rich, jammy, umami goodness. This magical transformation only happens after a long cooking time. The more caramelized, the deeper will be the color of the onions and the more intense the flavor.
You can encourage the caramelization process by adding a teaspoon or two of sugar to the onions as they cook; however, the process cannot be rushed. Doing so may result in bitter onions; and subsequently, bitter soup.
Using the traditional stove-top method, caramelizing the onions for this French Onion Soup recipe will take at least 45 minutes, and up to an hour. (I make my caramelized onions in the slow cooker, over a period of about 18 hours.)
Good news! You can freeze caramelized onions!
Did you know you can freeze caramelized onions? Make a big batch and freeze them. Then you can have this easy-to-make soup on the table in just 30 minutes, anytime you want!
What kind of cheese is best for French Onion Soup?
Traditionally, French Onion Soup is topped with a bubbly, broiled Gruyère cheese. Gruyère is a Swiss-type or Alpine cheese.
Gruyère has a distinctive but not overpowering taste and gets excellent scores for meltability. The flavor of Gruyère can vary wildly, depending on both cheesemaker and age. Like Jarlsberg, young Gruyère is described as creamy and nutty, with the later becoming more earthier as it matures. Fully aged Gruyère can have a slightly grainy texture, like that of aged cheddar.
Depending where you live, it can be difficult to find good Gruyère. If you have this problem, do not - for the love of all Kitchen Elves everywhere - do not buy anything with the words "processed" in its name to melt on top of your hard-earned caramelized onions (unless you enjoy eating melted Play-doh). Instead, go with one of these delicious alternatives.
Gruyère Cheese Substitutes
Fontina and Parmesan: In the absence of Gruyere, the Fontina & Parmesan combo is my personal favorite cheese finish for French Onion Soup. (The soups shown throughout this post are all topped with this mixture.)
Fontina is a semisoft, very meltable cheese with a slightly nutty, savory flavor. Fontinas from the United States usually have a milder flavor and softer texture than do those from Europe. (I don't think I'd use a European Fontina for this soup.)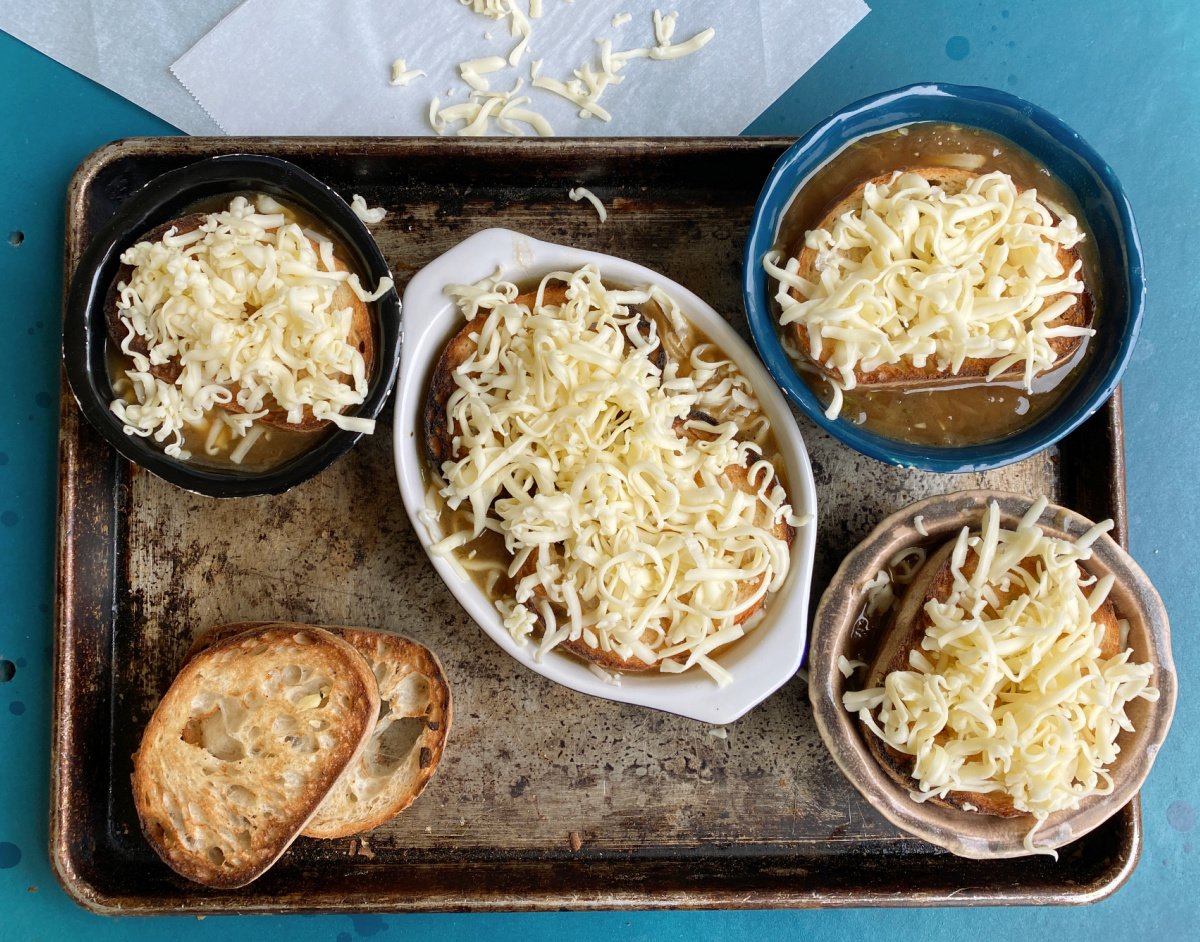 Jarlsberg: Jarlsberg is my favorite everyday cheese. It's smooth, sweet, nutty flavor complements French Onion Soup and pulls the sweet notes from the soup. Really good choice. (The only reason I list Fontina first is because, objectively, as far as flavor and meltability are concerned, it is more closely aligned with Gruyère.)
In a pinch, any mild, meltable Swiss cheese will work. Just choose a cheese you love, grate it up, and enjoy!
Should I use a Baguette or a Batard? (And what the heck is a Batard, anyway?)
French baguettes are the usual crouton of choice for French Onion Soup; however, I prefer to use French Batard.
A batard is the lesser known cousin of the thin, sexy French baguette. Usually about a foot or less long, the batard is much thicker around than the baguette, with a slightly thinner crust. I find that batard croutons make for a better soup-eating experience: they are easier to spoon up, and not quite as chewy as those made from baguette rounds.
No fancy french breads? No worries! Everyday grocery-store French bread will also work just fine. Your choice of bread for the croutons is totally up to you.
A Note about Soup Stock
A soup is only as good as the stock upon which it is built.
French Onion soup is traditionally made with beef stock (or broth); however, you can make it with chicken or vegetable stock if desired.
If you make your own soup stock, use a light version. You don't want the flavor of your stock to overwhelm the subtleties of the caramelized onions. You should be able to see sunlight through a jar of your stock. If it is too thick to see the light, add a little water, or a 75/25 combination of water and wine.
Always taste any stock, including boxed stocks, before you use them. A bad stock can ruin an entire soup; a great one can elevate it. If you don't like the flavor of your stock, don't use it.

No need to worry about fancy soup crocks if you don't have them: you can serve French Onion Soup in any individual, oven-safe vessel. Garnish with a sprig of fresh thyme and you're all set!
Recipe Updated February 9, 2021 (Originally published November 21, 2013)
Classic French Onion Soup
Classic French Onion Soup is a perfect union of caramelized onions, crusty french bread, and bubbly melted cheese. Our tried-and-true, easy-to-make recipe is rich, savory, and satisfying to the bone.
Print Recipe
Pin Recipe
Ingredients
5

pounds

red or yellow onions

about 4-5 large onions, sliced stem to root about ¼" thick (or, I suggest using pre-prepped caramelized onions)

2

tablespoons

butter

2

tablespoons

olive oil

2

cloves

garlic

minced

1

tablespoon

fresh thyme

minced (or ½ teaspoon dried thyme), plus a few sprigs for garnish

½

teaspoon

freshly ground pepper

2

tablespoons

Wondra

or all-purpose flour

1

cup

red wine

or white wine

4

cups

beef stock

or chicken stock, or vegetable stock

2

teaspoons

Worcestershire sauce

6

ounces

Gruyere*

grated (or Fontina, Swiss, or Provolone)

1

ounce

Parmesan

shredded or grated (optional)

2

cloves

garlic

whole, peeled

1

french bread baguette or batard

sliced in ½-inch rounds (or french bread loaf)

salt

to taste
Instructions
Caramelized Onions
In a 10-inch Enameled Cast Iron Dutch Oven (or other large, heavy-bottom saucepan) melt 2 tablespoons olive oil and 2 tablespoons butter over medium-low heat.

Add sliced red or yellow onions to melted oil and butter.

Cook slowly, stirring frequently, over medium-low heat until onions are very soft and have turned dark golden brown.

Caramelizing the onions should take at least 45 minutes. DO NOT RUSH or your onions may turn out bitter.

Foolproof step-by-step directions for caramelizing onions can be found on our post, Slow Cooker Caramelized Onions.
Soup Base
To the prepared caramelized onions, add the wine and deglaze the pan.

Bring to a simmer over medium-low heat.

Stir in garlic, thyme leaves (or dried thyme), and freshly ground pepper.

Reduce the heat and simmer on low until the wine has evaporated and the onions are nearly dry; about 5 minutes.

Add the beef stock and Worcestershire sauce.

Return soup to heat and allow to simmer 10 minutes more.

Season to taste.
Baguette Croutons
While soup is simmering, arrange baguette slices on a baking sheet in a single layer.

Set under broiler just long enough to toast lightly; about 2 minutes.

Flip the baguette rounds over and repeat.

Rub one side of each toasted bread slice with a clove of garlic.
Serving
When you are ready to serve, ladle hot soup into oven-safe bowls.

Float one or more prepared baguette croutons on top.

Sprinkle generously with grated cheeses.

Place under broiler just long enough to melt and slightly brown the cheese.

Garnish with fresh thyme sprigs and serve.
Notes
Wine & Wine Substitutes:
I like my French Onion Soup slightly lighter and on the sweet side: a good Reisling works very nicely.
If you are not a wine-drinker and prefer not to buy it, you can use equal parts additional broth and white grape juice in place of the wine. 
Nutrition
Serving:
1
serving
|
Calories:
341
kcal
|
Carbohydrates:
21
g
|
Protein:
13
g
|
Fat:
20
g
|
Saturated Fat:
9
g
|
Trans Fat:
1
g
|
Cholesterol:
44
mg
|
Sodium:
964
mg
|
Potassium:
90
mg
|
Fiber:
1
g
|
Sugar:
3
g
|
Vitamin A:
773
IU
|
Vitamin C:
1
mg
|
Calcium:
369
mg
|
Iron:
1
mg
This website provides approximate nutrition information for convenience and as a courtesy only. You are solely responsible for ensuring that any nutritional information provided is accurate, complete, and useful.
How to Lighten Up Classic French Onion Soup
If you prefer the classic, intensely flavored French Onion Soup, use beef broth and red wine as listed first in the recipe.
Mr B and I, however, prefer our French Onion Soup on the lighter side of traditional, both in sodium load and flavor profile. For this reason, we often sub in a light chicken stock or vegetable stock (for a vegetarian French Onion Soup) in place of the traditional beef broth base, and white wine instead of the customary red or port.
Either way, it's delicious!
Note that if you sub in a vegetable stock, take care that it doesn't have a strong flavor, as it will affect the outcome of your soup.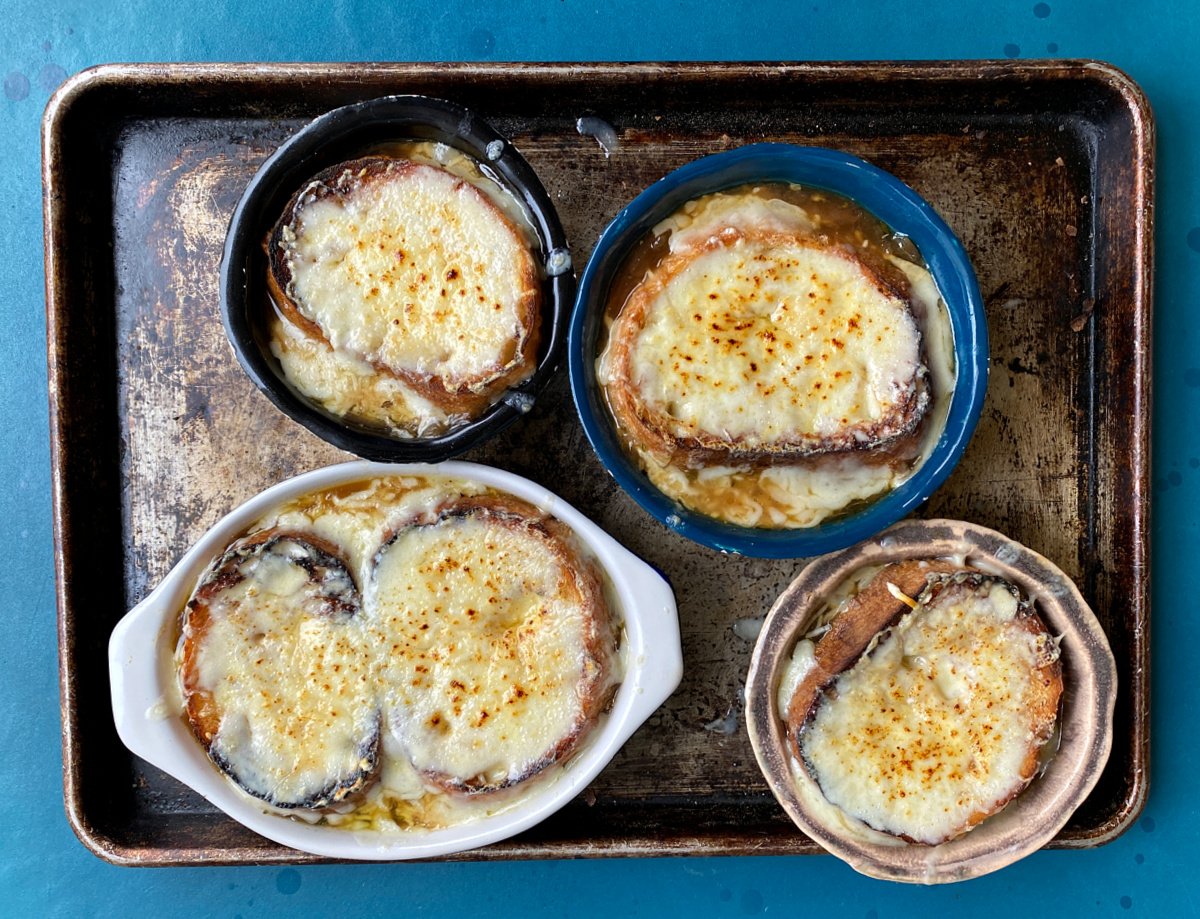 Homemade soups are some of our favorite things. Be sure to check out these delicious, time-tested classic soup recipes, including Loaded Baked Potato, Hungarian Mushroom, and the easiest Ham-bone Split Pea Soup you'll ever make!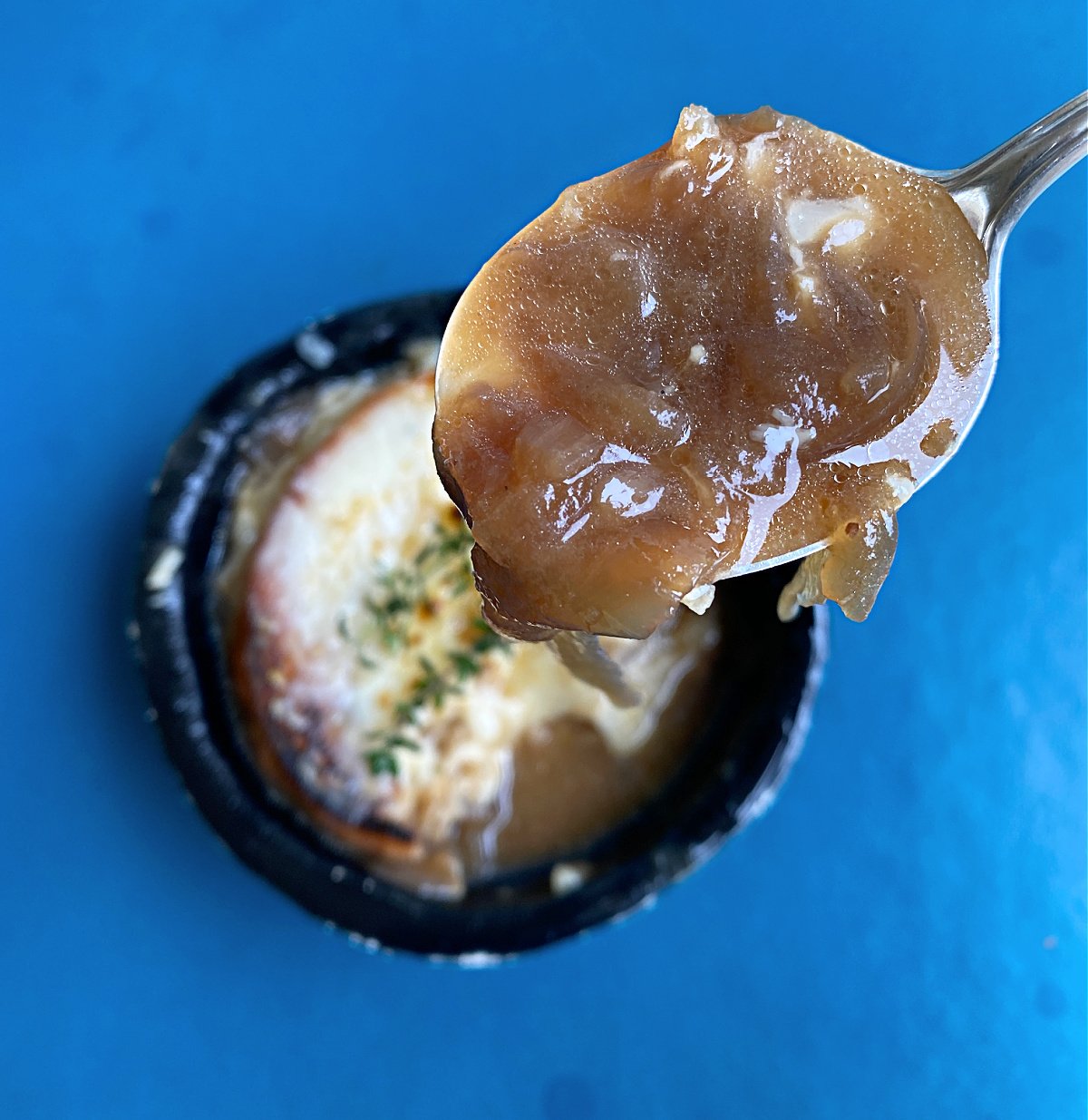 I'm not big on excessive kitchen gadgets, but this herb stem stripper is a thumbnail saver - and totally worth the real estate it takes up in my kitchen drawer. To use it, you just thread the stem through the smallest hole through which it will fit, and pull the stem through. Like magic, the herb leaves fall away, ready to use. It works like a charm on fresh thyme!
I'm sharing this recipe on the Weekend Potluck Recipe Linkup.


Check it out for more great recipes!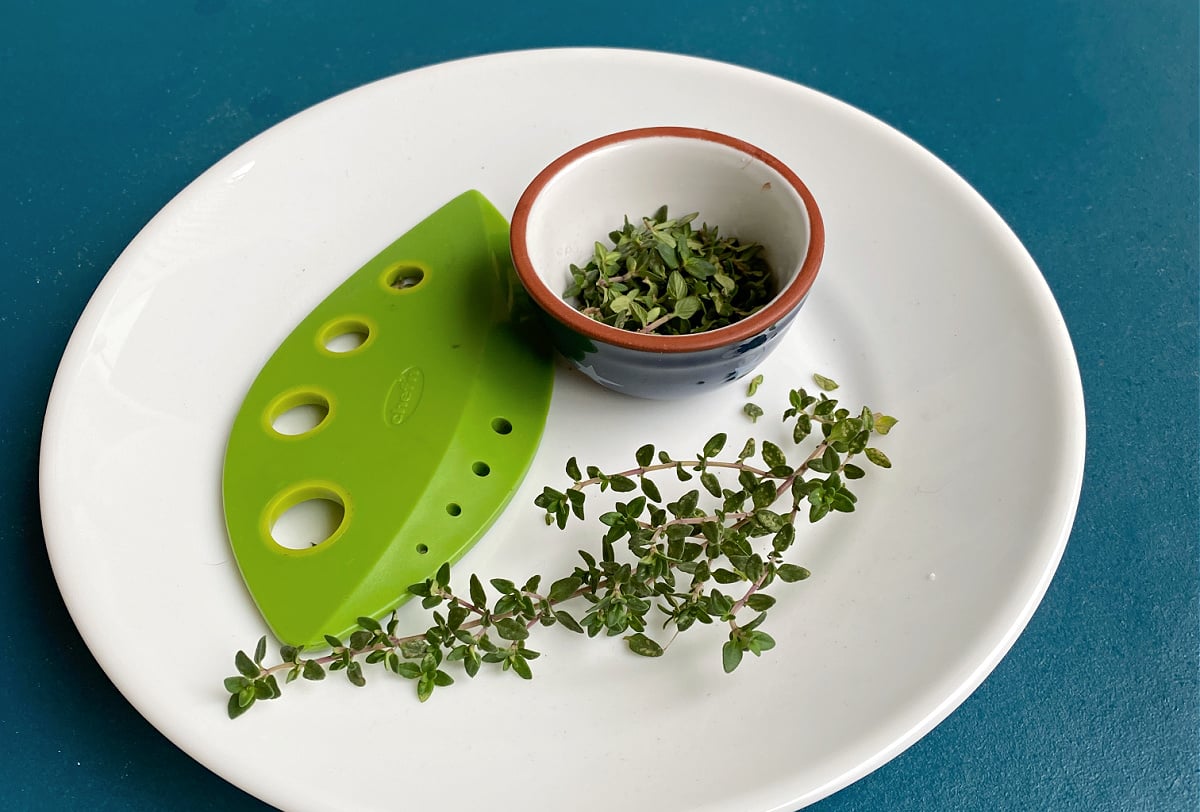 THANK YOU so much for being a faithful reader and supporter
of The Good Hearted Woman. • Be sure to PIN this post!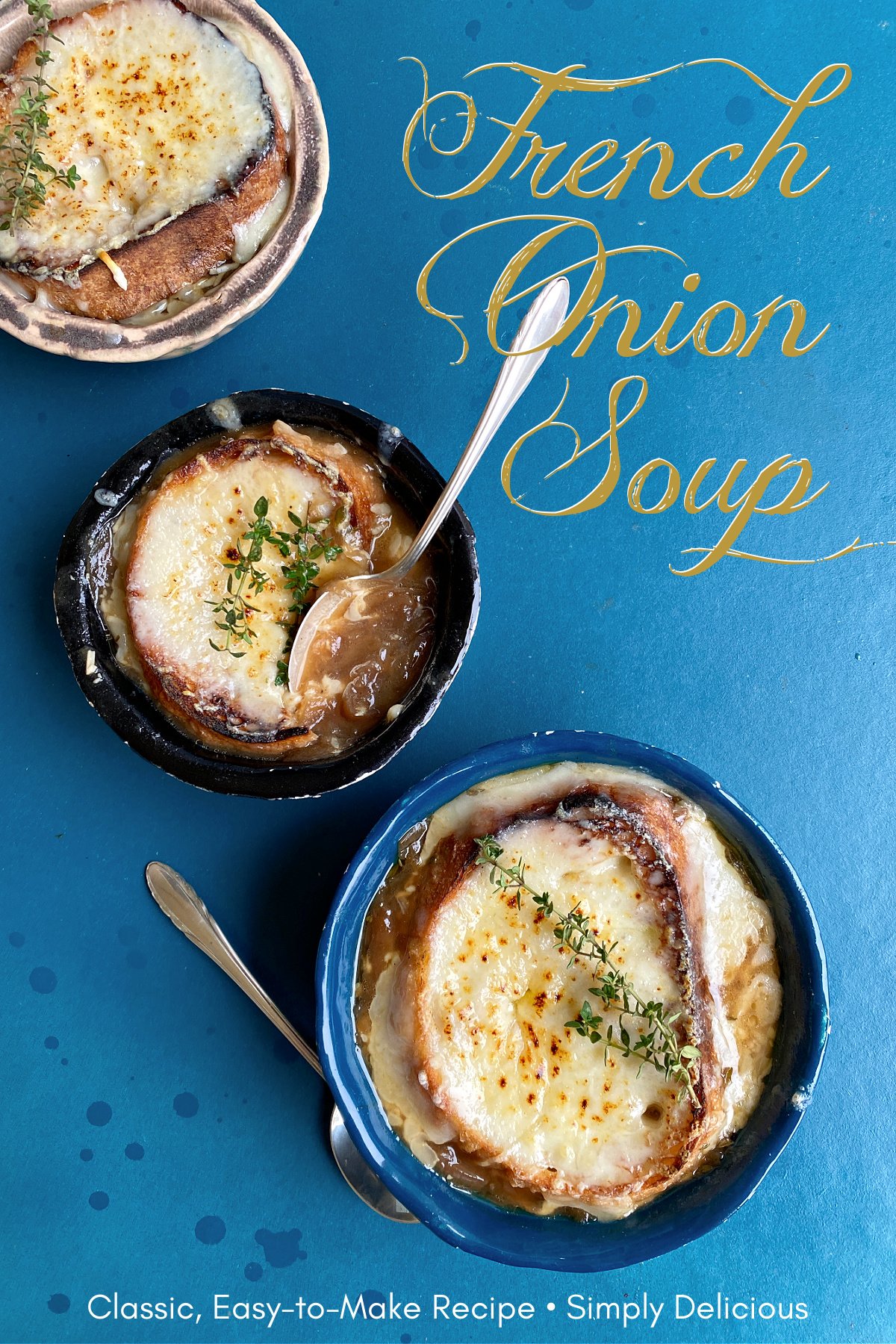 Disclosure: This post may contain affiliate links, including Amazon affiliate links, which means we may receive a commission if you click a link and purchase something that we have recommended. While clicking these links won't cost you any extra money, they do help keep this site up and running. As always, all opinions and images are my own. Please check out our disclosure policy for more details. Thank you for your support!