Make perfect Fresh Squeezed Lemonade just like grandma used to make! You only need three ingredients to stir up a pitcher of cool, refreshing lemonade. Enjoy one of life's simple pleasures today!
This post may contain affiliate links, but don't worry - they won't bite.
Lemon. Sugar. Water.
Three simple ingredients - lemon juice, sugar, and water - stirred together in the right proportions, create a potion worthy of Hogwart's own Professor Slughorn.
For me, a cool glass of this magical concoction can conjure memories decades old: of brightly colored lemonade stands, beating summer sun, and my mother's red hibiscus pitcher.
What memories can a pitcher of fresh homemade lemonade make for you?
When It Comes to Homemade Lemonade, Fresh is Best
Making a pitcher of freshly squeezed lemonade takes a little more time than stirring together sugar-powder (or frozen concentrate) and water, but the results are so worth it!
In my experience, lemonade made from fresh lemons is smoother, brighter, and more vibrant. It has, at the same time, more kick and less astringency than that made from either a mix or concentrate, and it requires less sugar to achieve the same level of sweetness. Plus, when you make your own, you can be assured that the lemon juice is made from organic sources, if that's important to you.
Lemonade's Simple Syrup Controversy: To Turn on the Stove or Not
There are two schools of thought when it comes to making homemade lemonade: the "Simple Syrup" school, and the "No Stoves in Summer" school. As with most things in life, I live on middle ground: when it comes to making fresh lemonade - just do what you gotta do.
If I have time, I'll make the simple syrup because, after some experimenting, I have found that making a simple syrup first results in a smoother infusion with more body to it. In other words, a simple syrup will yield the best homemade lemonade. Period.
Nevertheless, if it is just too dang hot out to turn on the stove, then go with it: you can make a fine pitcher of lemonade by simply stirring the three ingredients together. However, if you choose to skip the simple syrup step, I strongly suggest making the lemonade at least two hours before serving to allow the sugar to completely dissolve and blend.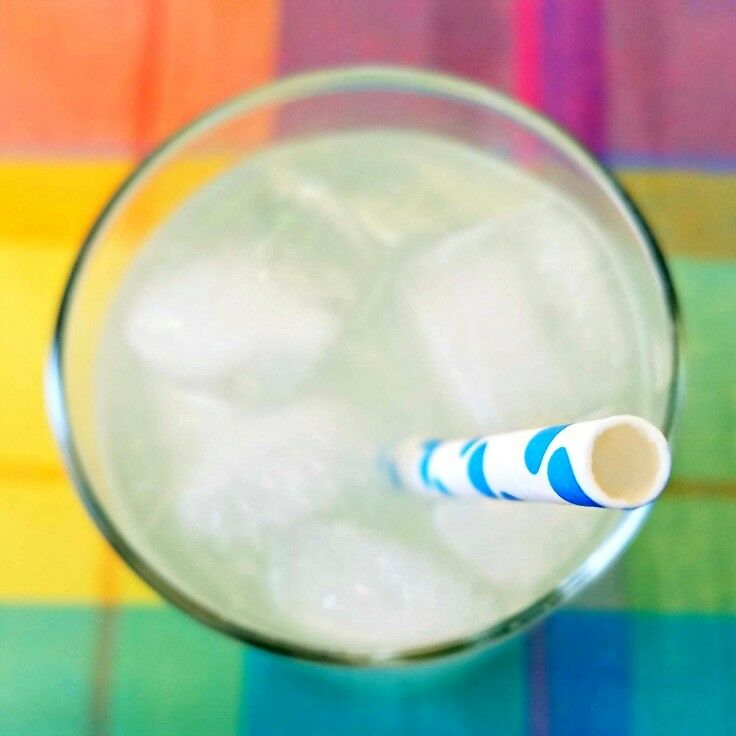 How to Get the Most Juice Out of Your Lemons
When it comes to juicing lemons, there are a few easy tricks for getting the most juice possible. (HINT: These tricks will work with any citrus fruit!)
Roll lemons firmly for one minute on the countertop before juicing. This action breaks down the membranes in the lemon that encapsulates the juice.
Microwave lemons for 10-15 seconds before juicing. Same.
Use a good, solid citrus juicer. I've owned a number of citrus juicers over the years – both manual and electric, and the citrus juicer I have now is by far my favorite. It really does the job; plus, you can make nifty little towers from the empty peels!
(Normally, I would zest the lemons before juicing, and use the zest in the lemonade or freeze it for later use; however, in this case, I had a lemon-peel tower to photograph, so...)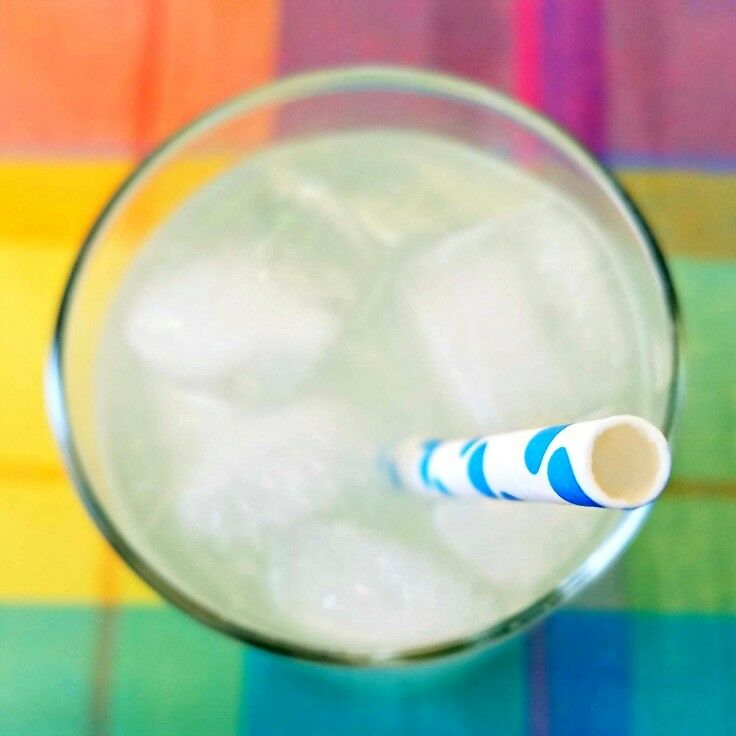 Homemade Lemonade from Fresh Lemons
Fresh lemonade - one of life's simplest pleasures.
Print
Pin
Add to Shopping List
Go to Shopping List
Ingredients
8

cups

cold water

1 ½

cup

white sugar

1 ½

cup

fresh lemon juice
Instructions
Combine sugar and 1 cup of water in small saucepan. Bring to boil over medium-high heat, stirring until sugar is completely dissolved. Cool to room temperature. (You can speed up the process by putting it in the freezer for 15 minutes.)

In a large pitcher, combine fresh lemon juice, cooled simple syrup, and remaining 7 cups of water.
Notes
This recipe was created using FRESH lemons. If you choose to use bottled lemon juice from concentrate (i.e., Real Lemon®, etc.) instead, add ¼ cup more sugar to the simple syrup. 
Nutrition
Serving:
1
serving
|
Calories:
155
kcal
|
Carbohydrates:
41
g
|
Protein:
1
g
|
Fat:
1
g
|
Saturated Fat:
1
g
|
Sodium:
13
mg
|
Potassium:
48
mg
|
Fiber:
1
g
|
Sugar:
39
g
|
Vitamin A:
3
IU
|
Vitamin C:
18
mg
|
Calcium:
10
mg
|
Iron:
1
mg
This website provides approximate nutrition information for convenience and as a courtesy only. You are solely responsible for ensuring that any nutritional information provided is accurate, complete, and useful.
Give your homemade lemonade an extra punch
Incorporate some zest into your lemonade. Lemon zest will always add a little extra brightness and bite to anything you add it to; and that includes lemonade. You can do this by adding zest to your simple syrup, or by adding it directly to the lemonade as it is being mixed.
Adjust the water:lemon-sugar ratio to your own tastes. Add half to three-quarters of the suggested water, and then taste the lemonade before adding more.
---
THANK YOU so much for being a faithful reader and supporter
of The Good Hearted Woman. • Be sure to PIN this post!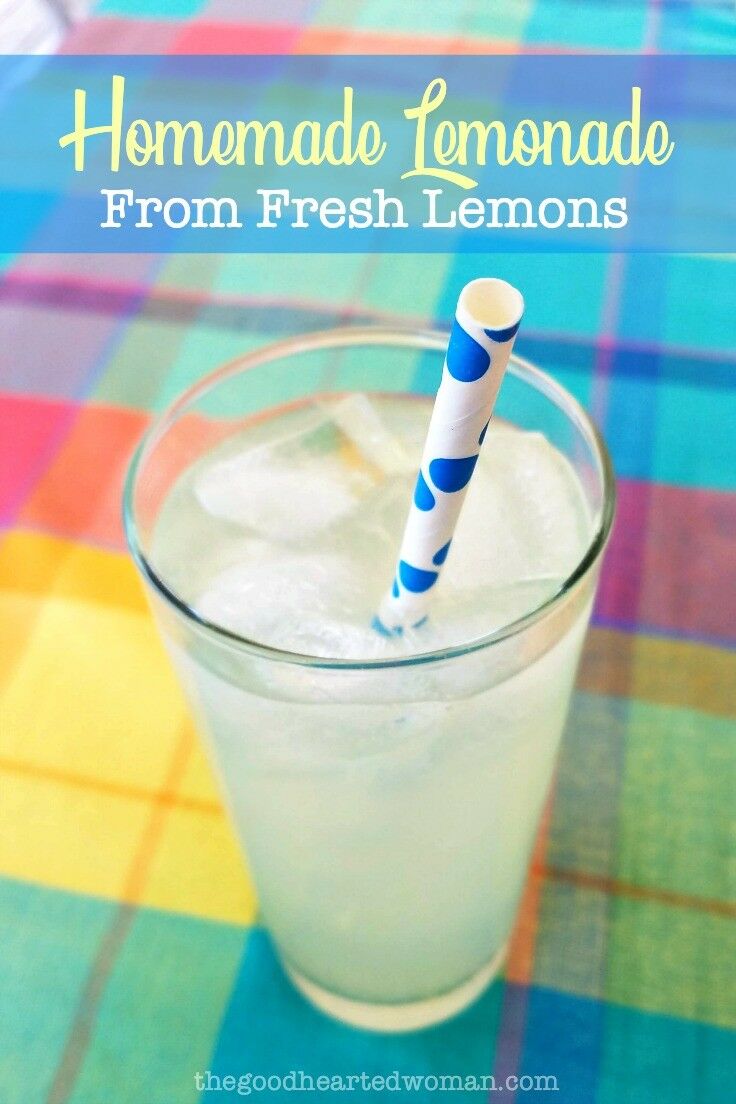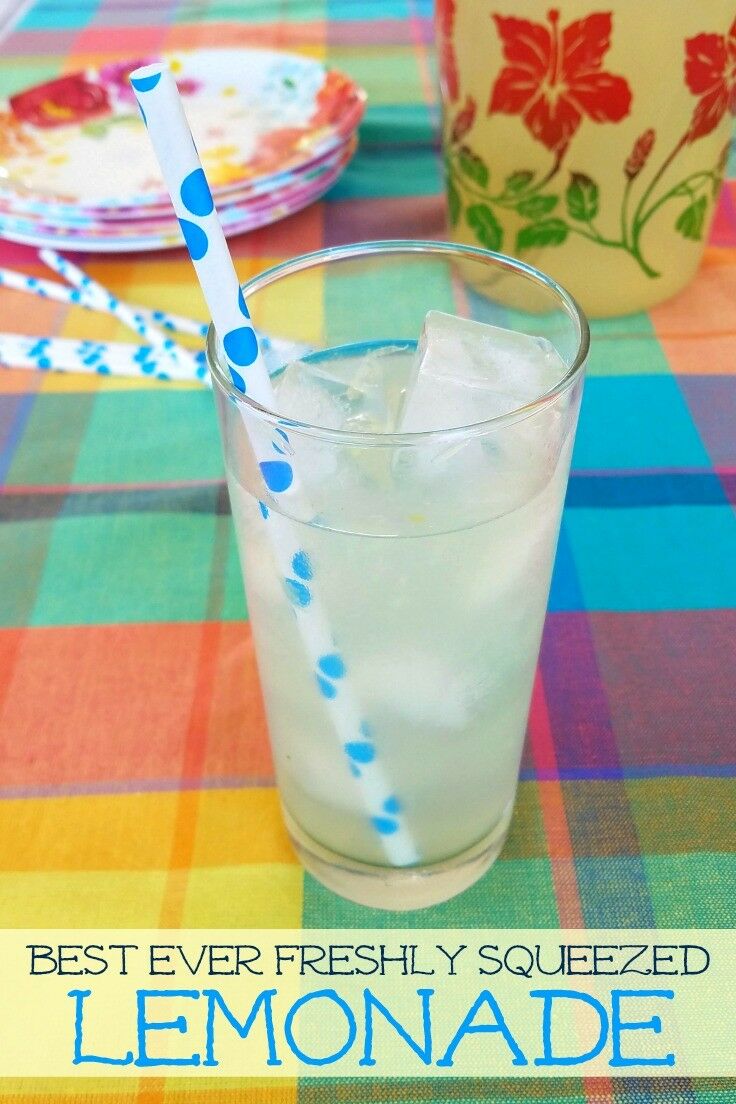 If you love lemons, be sure to check out this roundup of 30+ Handpicked Meyer Lemon Recipes You Need to Try!
Some thoughts on seasonal dishware...
When you come right down to it, food should taste the same whether you serve it up on a paper plate or on fine china, right? But does it? Really?
Before you take that first bite, you take in food with your eyes, your nose, even your ears. The tone of a dining experience is set by the presentation. The goal is set a mood while making the food appealing to all the senses. Generally speaking, the better food looks, the more people are likely to enjoy it.
Until recently, I've always been quite pragmatic when it comes to dishware, but recently, as seasonal options become more and more affordable, I've jumped on board. There are so many beautiful - and extremely affordable - seasonal options, and this year, I picked up these colorful floral melamine dishes (perfect for backyard bbq's!) halfway thru the season at 80% off. If you're thinking of getting some summery dishes, now is the time to do it!
Disclosure: This post may contain affiliate links, including Amazon affiliate links, which means we may receive a commission if you click a link and purchase something that we have recommended. While clicking these links won't cost you any extra money, they do help keep this site up and running. As always, all opinions and images are my own. Please check out our disclosure policy for more details. Thank you for your support!