When temperatures soar, it's time to make homemade ice cream! Here you'll find some of our favorite churned ice cream recipes, plus tips about how to make ice cream at home, ice cream makers, ice cream bases, and more.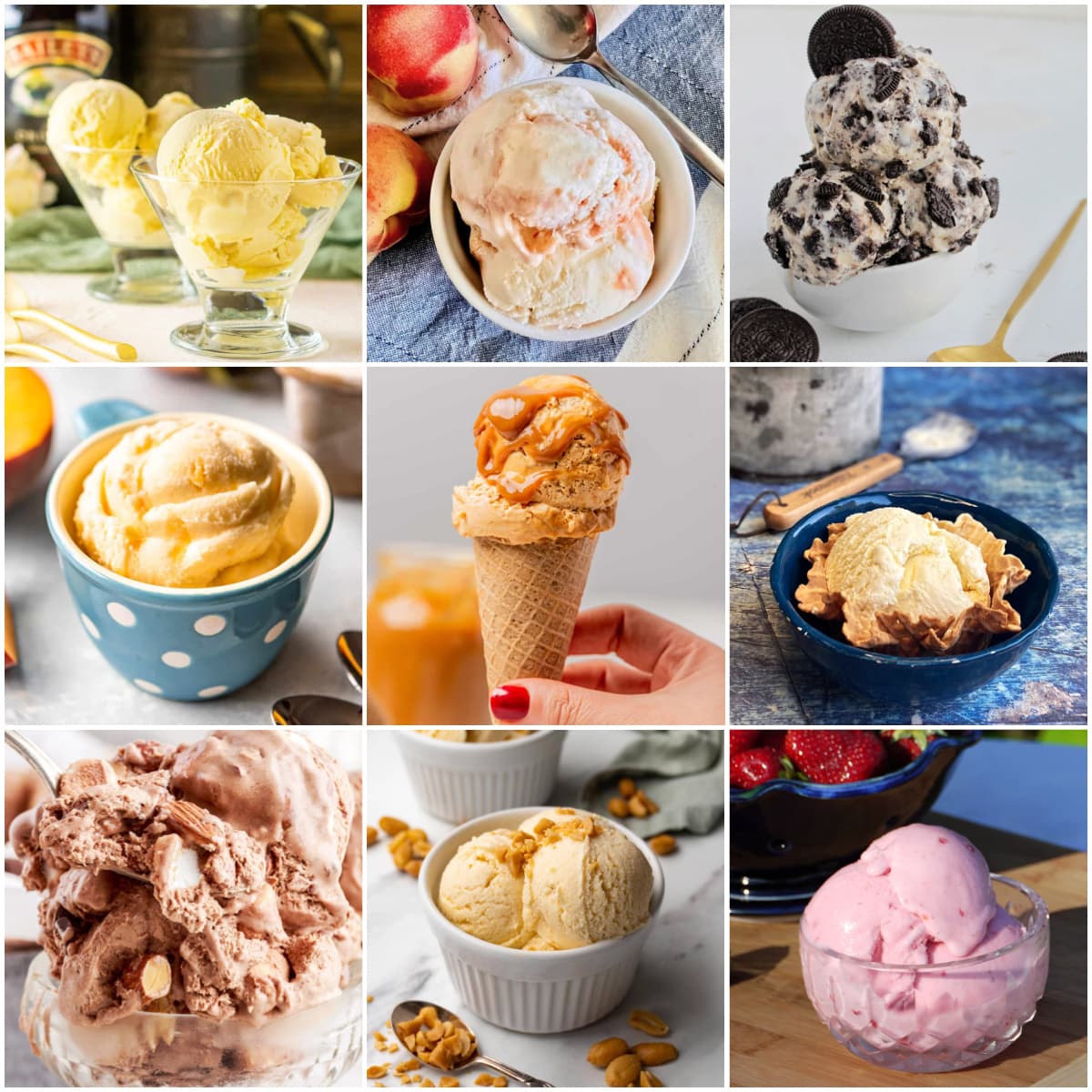 Jump to:
Ice Cream Bases
There are basically two types of ice cream bases; those with eggs and those without eggs. All ice cream bases - from gelato to Indian kulfi - fall into one of these two categories.
Custard Base
Classic custard-style ice cream base is basically a cooked custard or pudding. Also known as French-style ice cream, it is a simple mixture of egg yolks, cream, and sugar. The eggs act as an emulsifier to make the ice cream rich and creamy, and the results are soft and scoop-able.
Custard bases require a little more time and thought to make. Any cooked ice cream base should be refrigerated for at least four hours (or better yet, overnight) to allow it to cool completely.
Egg-Free Base
Ice creams made from an egg-free base usually taste lighter, and may freeze more solidly than custard-based ice creams. For example, Philadelphia-style ice cream is an eggless ice cream consisting mainly of cream, milk, and sugar.
Also known as American-style ice cream, Philadelphia-style ice cream is quicker and easier to prepare than French-style ice cream because it doesn't require making a custard. Compared to custard-based ice cream, Philadelphia ice cream is generally lighter and airier, with a more milky mouth-feel.
More Examples of Egg-free Ice Creams:
Gelato
Frozen Yogurt
Sorbet
Kulfi
Soft Serve
Mochi
Sherbert
How Long Does It Take to Make Ice Cream?
Minimally, homemade ice cream takes about an hour to make and freeze, using an egg-free base and freezing it to soft serve consistency. It takes a minimum of three hours to make and freeze custard-style ice cream.
+ Ice cream base: Takes 15 minutes to mix
Egg-free ice cream base: Ready to go into the freezer immediately.
Custard-style ice cream base: Plus 15 minutes to cook, and 2-4 hours chilling time.
+ Churn: 20-50 minutes
Bucket-style Ice Cream Maker: Takes anywhere from 25-50 minutes to freeze the ice cream base, depending on the ice cream freezer capacity, ambient temperature, and how much ice cream you are making.
Countertop Ice Cream Machine: Takes around 20-45 minutes to churn, depending on ice cream freezer capacity and specific machine model.

Most countertop machines require you to pre-freeze the bowl, which can take between four and twelve hours. We keep ours in the freezer all the time, so we can make ice cream whenever the mood strikes!
+ Serve: Ready to serve (soft serve) or 3-4 hours (hard set)
Soft serve: Ice cream can be served immediately.
Hard set: For a harder scoopable ice cream, place in the freezer for 4 hours. Take out and place on the counter for 10 minutes to soften for serving.
Choosing an Ice Cream Maker
There are two basic styles of household ice cream makers: old-fashioned bucket-style and countertop freezer bowl-style. When choosing which type of ice cream maker you need, consider capacity first. What is maximum amount of ice cream you will need to make at one time? The answer will determine which style best fits your needs.
Bucket-style ice cream makers usually have a large capacity, and can make 1 - 1½ gallons of ice cream at one time. Countertop freezer bowl models make as little as half a quart, and up to 2 quarts.
Once you've decided between bucket and countertop models, you can refine your choices. Or, you can be like us; we are a two-machine household. We have a bucket-style machine for large family gatherings, and a smaller countertop machine for times when we don't need as much ice cream at one time.
Bucket-style Ice Cream Makers (Hand Crank & Electric Churn)
Our old-fashioned crank ice cream maker, a survivor from my childhood, is perfect in the summertime when ice cream-making is a family event and we need large quantities. It is also excellent for making memories.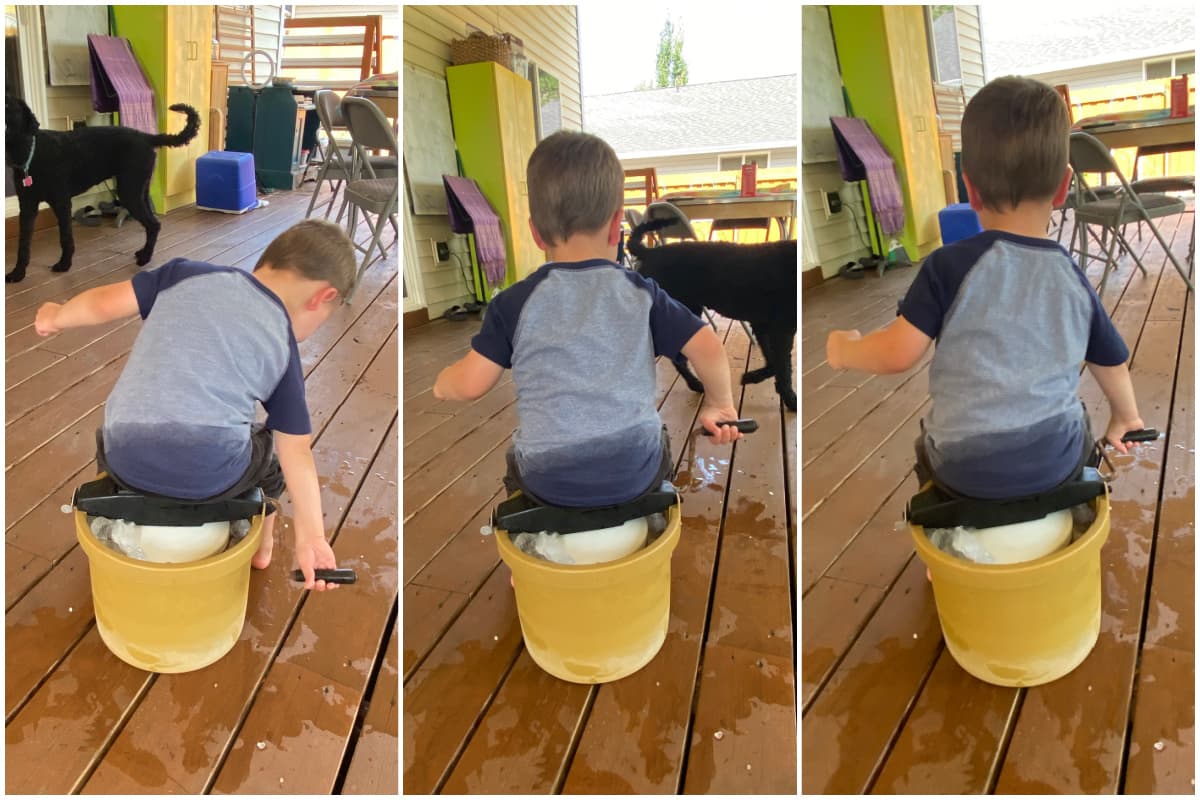 There are times, however, when you don't want to spend half an hour or more on the back porch cranking ice cream. Most bucket ice cream machines sold today come with an electric churn as standard equipment; hand-churns are sometimes included as a novelty addition.
Bucket-style ice cream makers require ice and rock salt to work. The amount of ice and salt you use in a bucket ice cream maker will depend on the size of your freezer and the ambient temperature, among other things. We usually layer about 4-5 inches of ice and then a large handful rock salt, and repeat until the freezer bucket is nearly full.
Electric Churn: Simply plug the ice cream maker in and let it do its job.
Hand-crank: Let your smallest, youngest helpers start the cranking first, and work up to the older ones as the ice cream begins to get harder to crank.
You may need to add more ice as you proceed. Keep the ice level just below the top of the canister.
Electric churns will usually have an auto-stop; however, you can also "hear" the ice cream set as the machine works harder to churn it. If you are churning manually, check when the mixing becomes very difficult.
To check the ice cream, brush all the ice and salt off the lid and carefully remove it. The mixture inside should have the same consistency as thick soft-serve ice cream. If it is too soft, replace the lid and crank it a little longer.
When the ice cream is done, remove the dasher. (We always let the kids share the "Christmas tree".)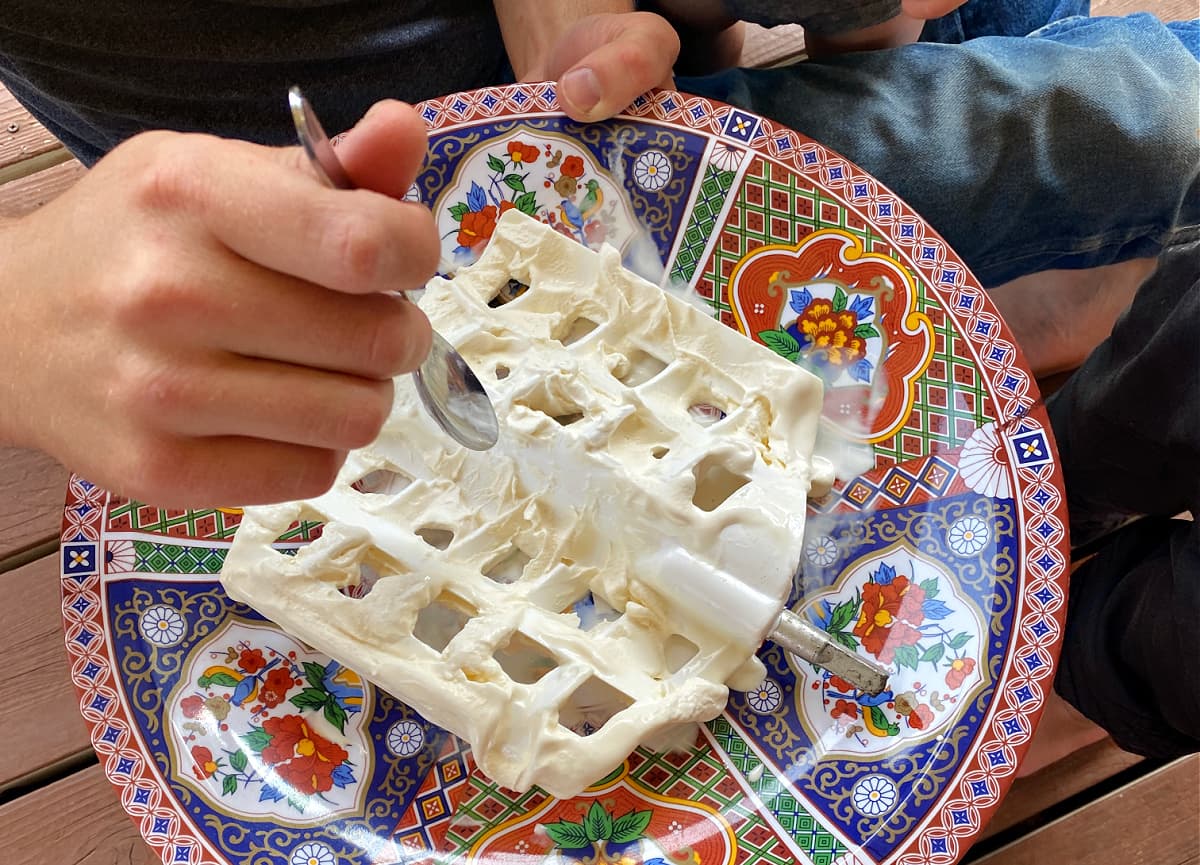 Countertop Ice Cream Machines
Countertop ice cream machines are one of the things our grandparents dreamed about when they were kids. With just the touch of a button, you can have ice cream churned and ready to eat in under 30 minutes!
Ice cream machines usually have settings for ice cream, gelato, and sorbet at minimum, with an auto shut-off and other programmable features. They are easy to clean, and take relatively little space on the pantry shelf when not in use. (We absolutely love our Cuisinart 2-quart ice cream machine!)
If you have a KitchenAid Mixer, you're in luck, because they offer a 2-quart Ice Cream Maker attachment that includes a freeze bowl, dasher, and drive assembly. Powered by your stand mixer, all you need to do is pour in the ice cream base into the freezer bowl, and turn it on and wait for about 25 minutes.
Ice Cream Storage
Homemade ice cream doesn't last as long as store-bought ice cream because it lacks all the additives and preservatives present in most commercial ice creams. Most homemade ice cream is good for about two weeks when tightly covered and stored the freezer.
TIP: To help prevent ice crystals, press a sheet of plastic wrap, parchment, or waxed paper directly on the surface before putting the lid on.
Troubleshooting
Homemade ice cream is usually simple and easy to make, but occasionally, you may have a failed batch. There are many reasons why homemade ice cream fails; most often it is because the recipe is not well balanced and has too much water in the mixture. This can come from substituting lower-fat ingredients or adding too many water-heavy flavorings (fruit, berries, juice, etc.). (For troubleshooting ice cream recipes, check this guide for tips.)
A second common reason for ice cream not freezing properly is related to temperature; either the freezer bowl was not in the freezer long enough, and/or the ice cream base was not chilled enough before it was poured into the machine. The good news is, in this case you can usually save poorly frozen ice cream by refreezing it. Keep in mind that it is imperative that both the freezer bowl and the base be thoroughly chilled before beginning the churning process.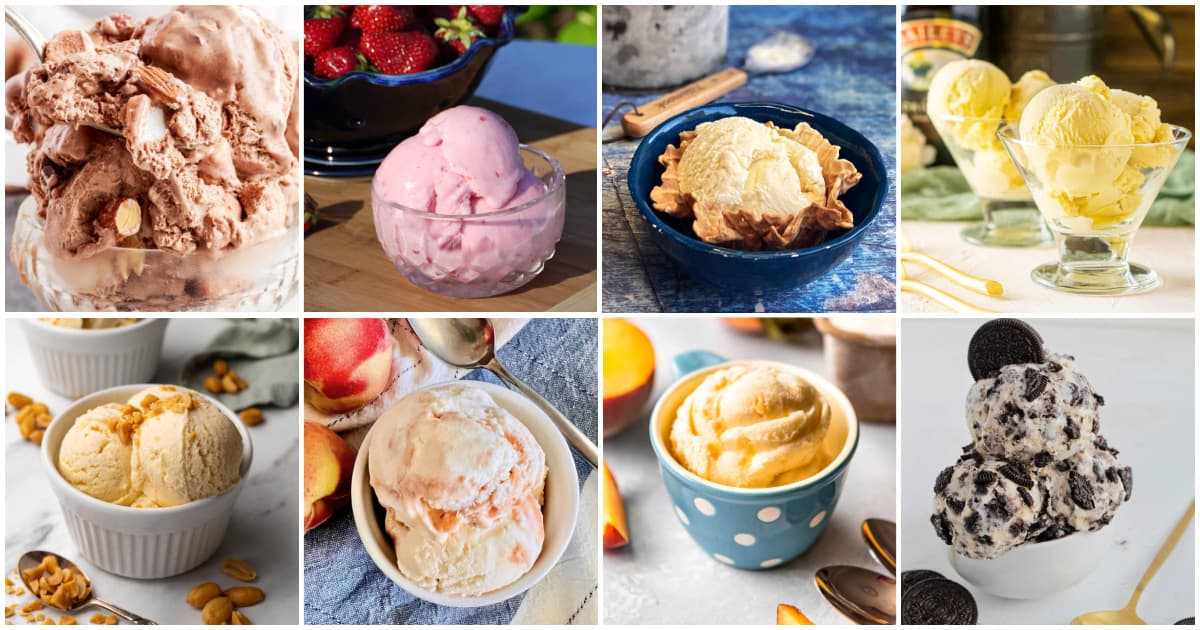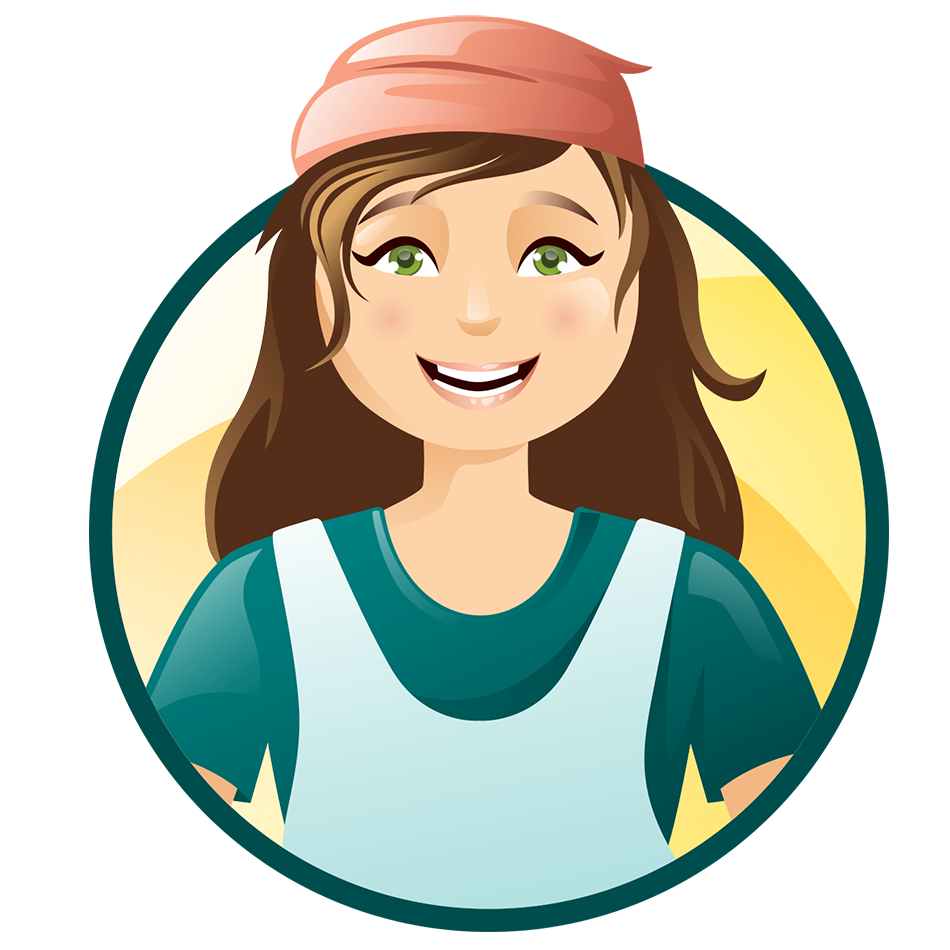 15 Homemade Ice Cream Recipes for Ice Cream Makers
Whether you use an old-school bucket ice cream maker or a fancy digital countertop model, you'll love all these cool, creamy churned ice cream recipes – including traditional favorites and fun new flavors.
Thank you for visiting the Good Hearted Woman. Remember to bookmark this site, and come back soon!