Roasted Pumpkin Seeds are a savory seasonal treat, and super easy to make, too! We've collected 10 of the tastiest pumpkin seed recipes around to get you started! Be sure to check our tips for how to clean pumpkin seeds for roasting, too!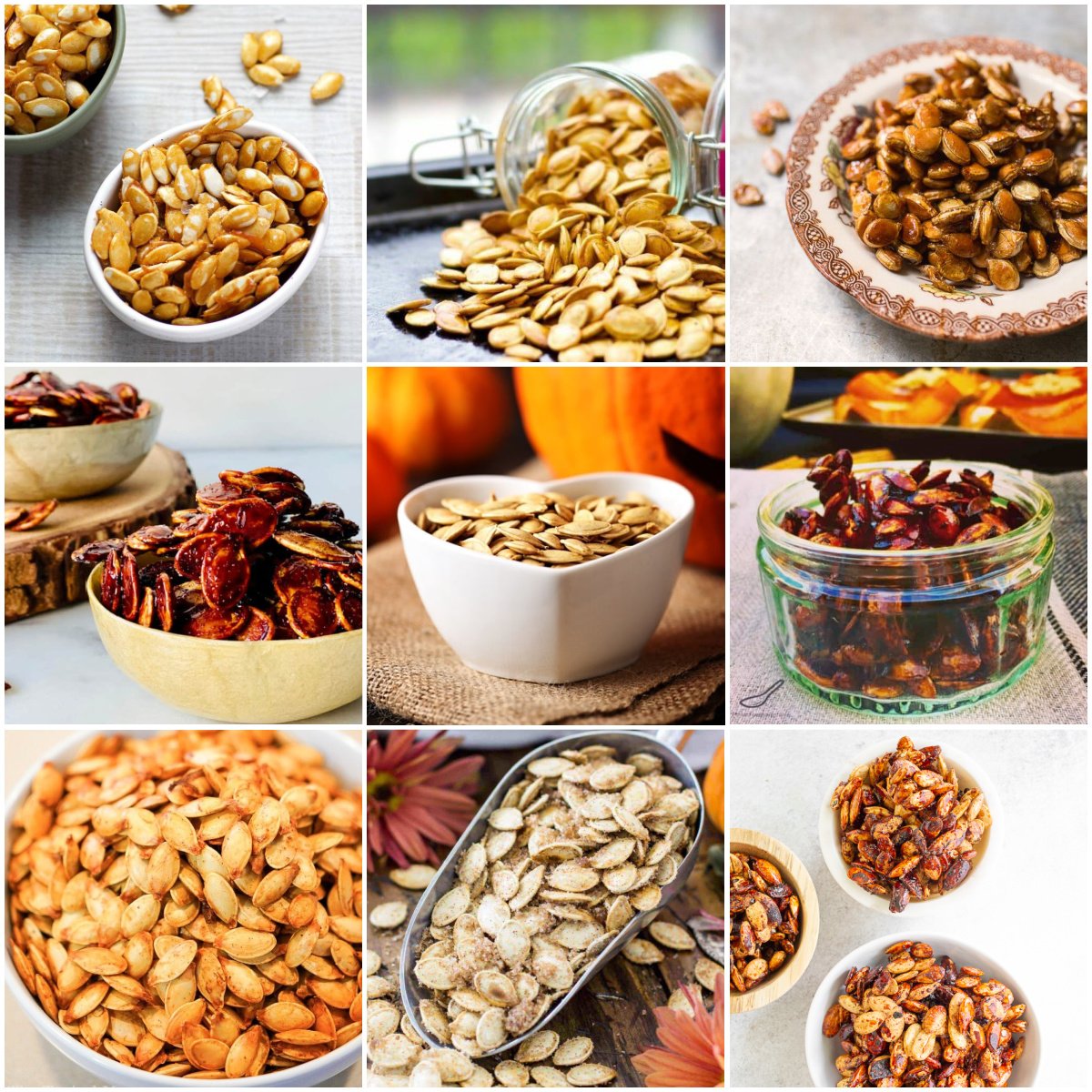 Jump to:
Pumpkin Carving Memories
When I was a kid, pumpkin carving was always a big night at our house. Dad would give me a piece of paper to work out the details on – mouth, eyes, nose – and then we would trace my drawing onto the front of the pumpkin.
With a few sheets of the Oregon Journal covering our kitchen table, Daddy would cut the top and pull it off, and then he and I would degut the pumpkin together while my mom watched. (She didn't like the feel of pumpkin guts and left that part entirely to us.)
Then Dad would help me carve the face, letting me hold the knife and showing me how to carefully cut each angle and line, all the while entertaining me with a steady string of Halloween dad/teacher jokes.
What do ghosts put on their cereal? (Booberries!)
What kind of pants do ghosts wear? (Boo-jeans)
What happens when a vampire goes out in the snow? (Frost-bite)
I remember being so excited when our Jack-o-lantern was done!
Mom would put some aluminum foil in the bottom of the pumpkin and set a white candle inside, and Dad used a long-handled match from our fireplace to reach down in and light the candle. When the candle was lit, Daddy put the lid on the pumpkin and dimmed the front room lights, and then we stood back and watched the candle dance inside.
That was the best, best, best part of Halloween.
The trick-or-treating was fine, and the candy was great too, but that moment when we lit our pumpkin – that was Magic!
Nowadays, a lot folks are painting their pumpkins or covering them with glitter and such, but not me. As long as I can manage it, there will be a Jack-o-Lantern on my porch – glowing warmly and filling the night air with the scent of warm pumpkin.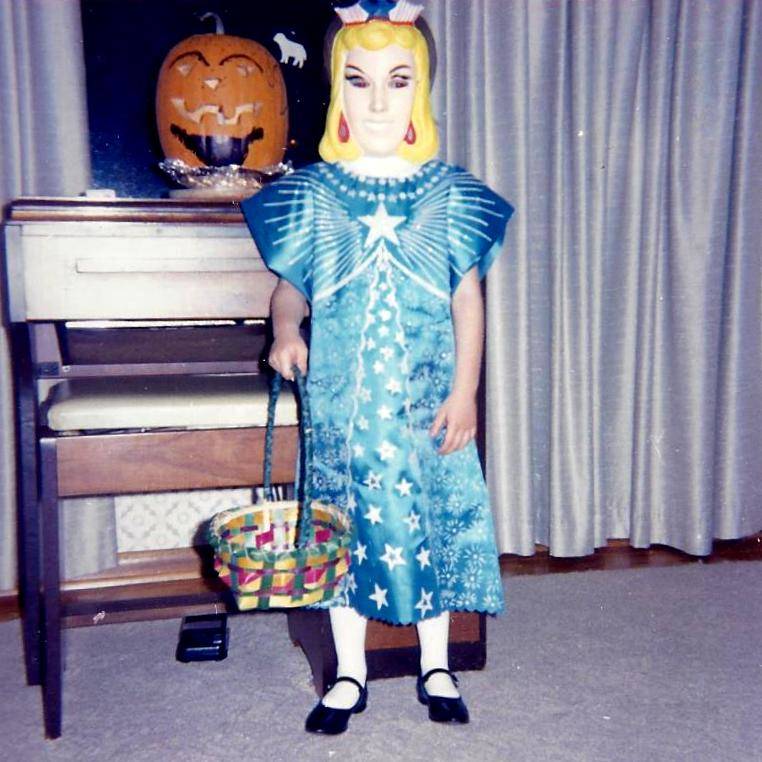 The scariest thing about Halloween "back in the day"? Trying to breathe under those masks! (Also, I was four or five in this picture, and I have no idea what motivated me to draw a beard on my Jack-o-lantern, but there it is.)
How to Clean Pumpkin Seeds for Roasting
Once the pumpkin is cleaned out and you have a pile of pumpkin seeds, it takes just a few minutes to make a delicious treat for the whole family!
Roasted pumpkin seeds are quick and easy to make, but before you can roast any pumpkin seeds, you need to clean them up.
I used to cringe just thinking of having to clean off all those sticky seeds - until I learned this simple trick! Now, cleaning off the pumpkin seeds is a snap!
First, carve out your pumpkin. Remove the pulp and seeds together onto a clean baking tray.
Separate as much of the pulp as you can by hand. ("As much as you can" really means as long as you can stand it. For me, that's about a minute. Pumpkin guts make my hands itch.)
Get a big bowl and fill it halfway with water. Put the seeds into the water - pulp and all - and start squishing them around with your hands. The pulp will sink to the bottom, and the seeds will rise to the top. Easy peasy.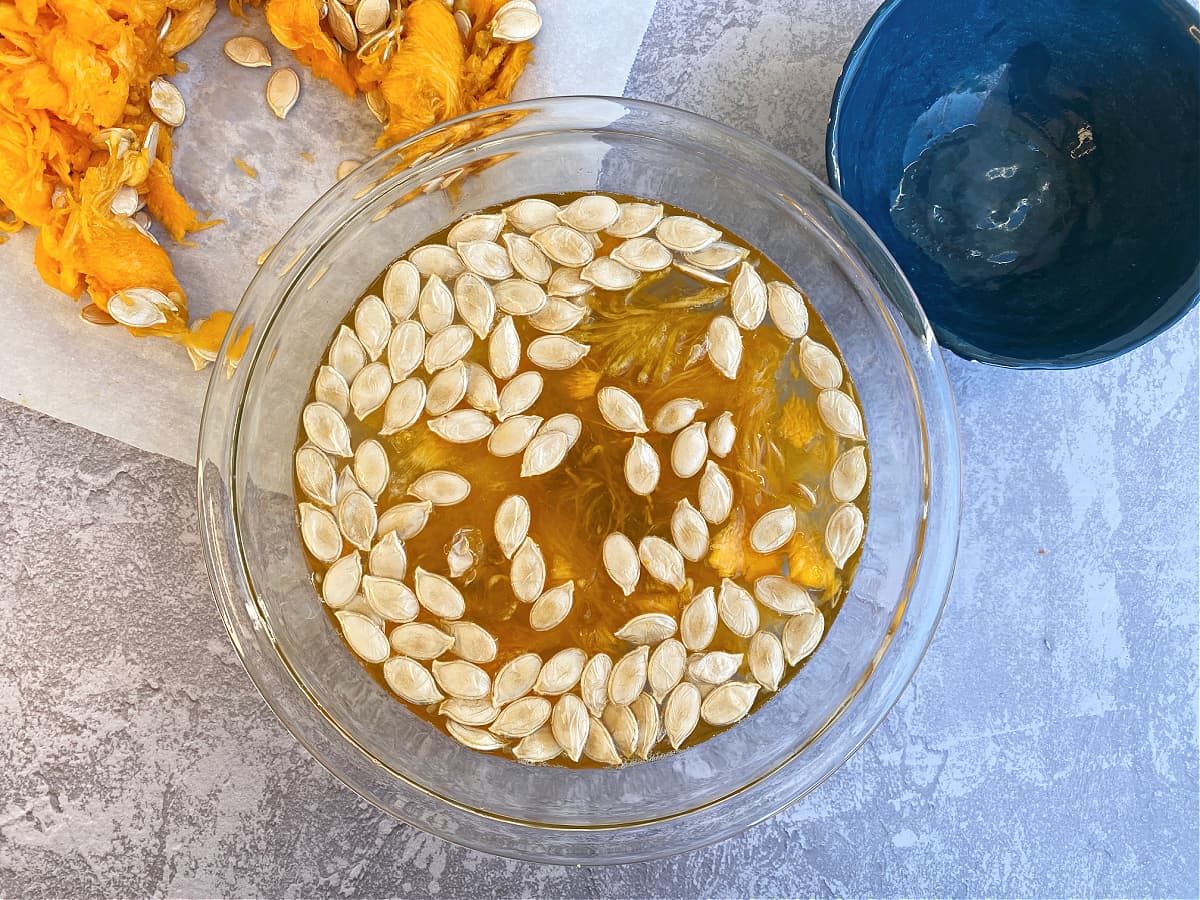 As the seeds float to the surface, skim them off and set them on a parchment-lined tray to dry out. When they are dry, proceed to roasting them as desired.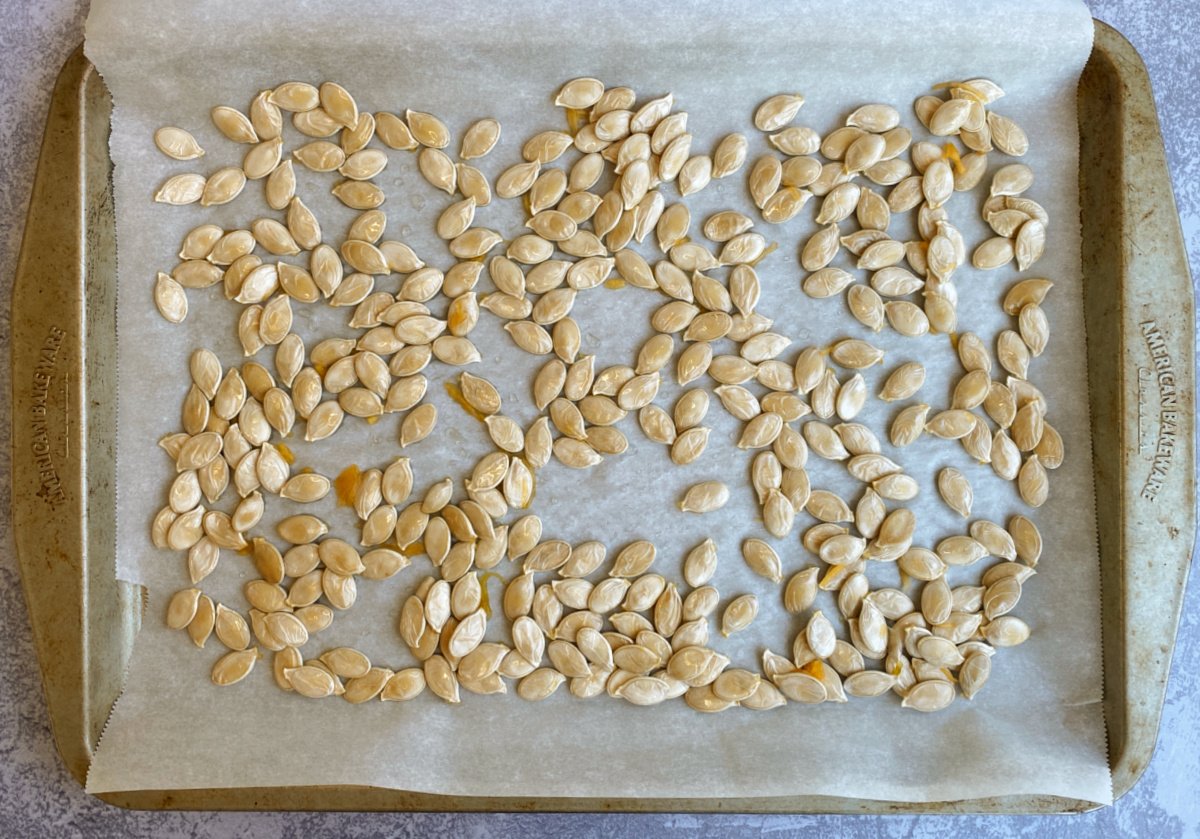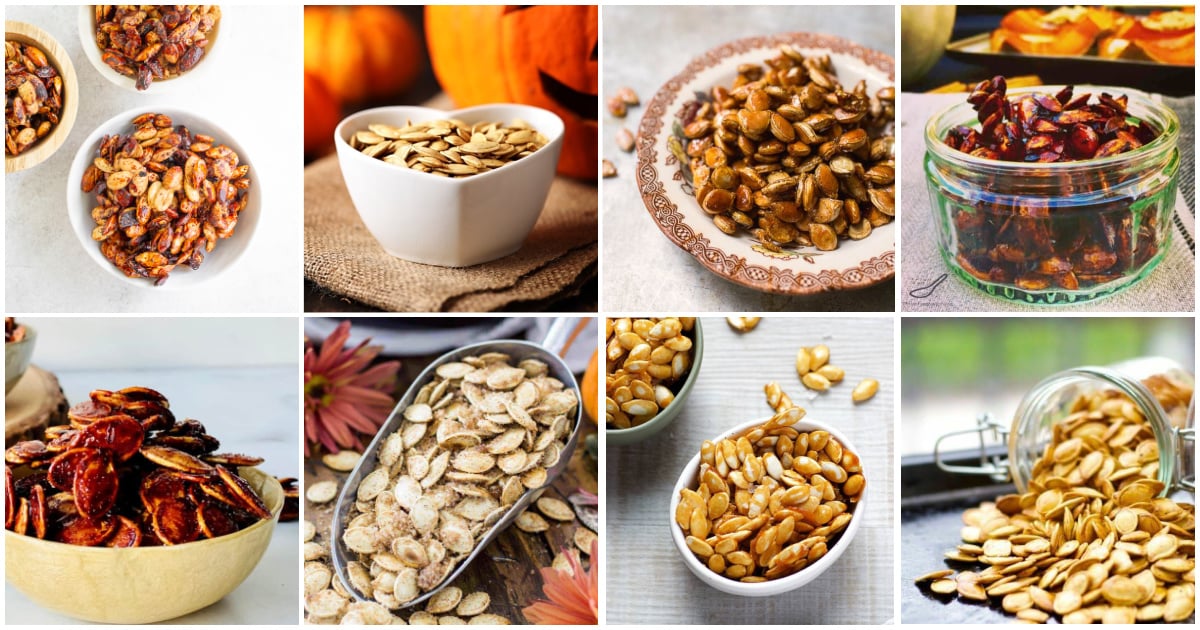 Top 10 Best Roasted Pumpkin Seed Recipes
Roasted Pumpkin Seeds are a savory seasonal treat, and super easy to make, too! We've collected some of the tastiest pumpkin seed recipes around to get you started!
More Pumpkin Recipes
Planning on doing some fall baking? Be sure to mix up a batch of our fresh pumpkin spice mix It's easy to make your own pumpkin puree for all your fall recipes, too. Here are just a few ideas: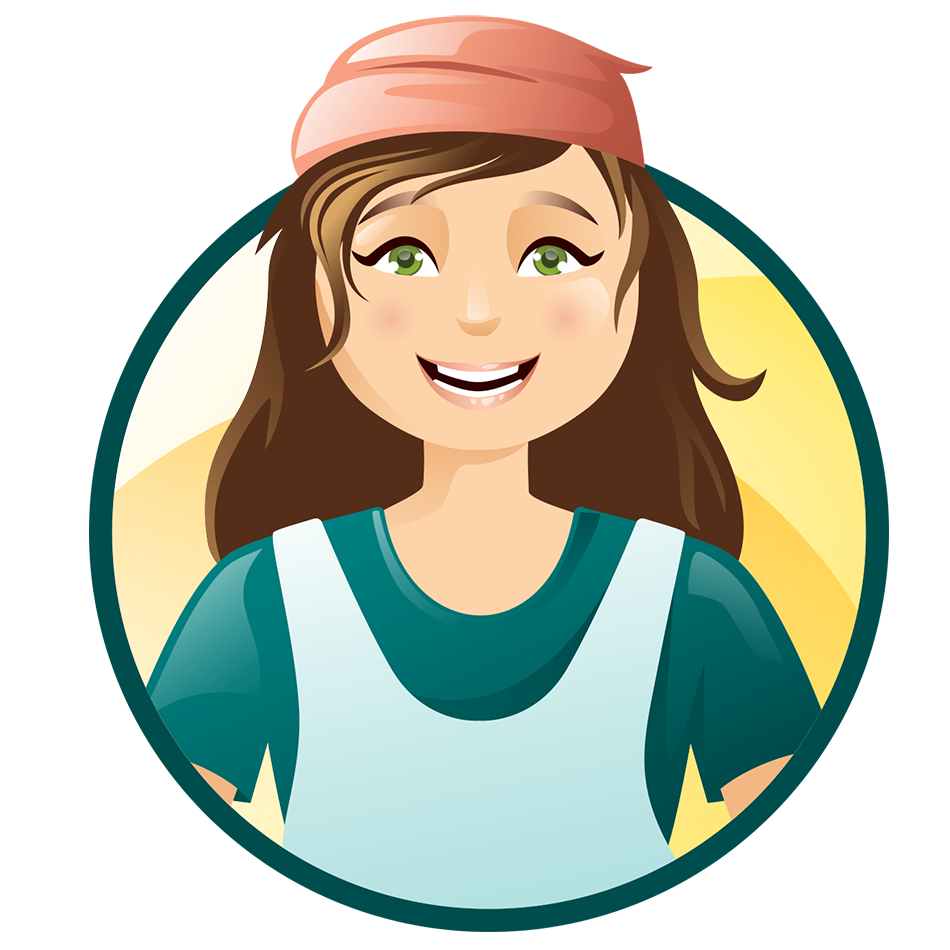 Love it? Pin it! If you enjoy these Roasted Pumpkin Seed Recipes, be sure to save it! Pin it to your favorite Pinterest recipe board before you go!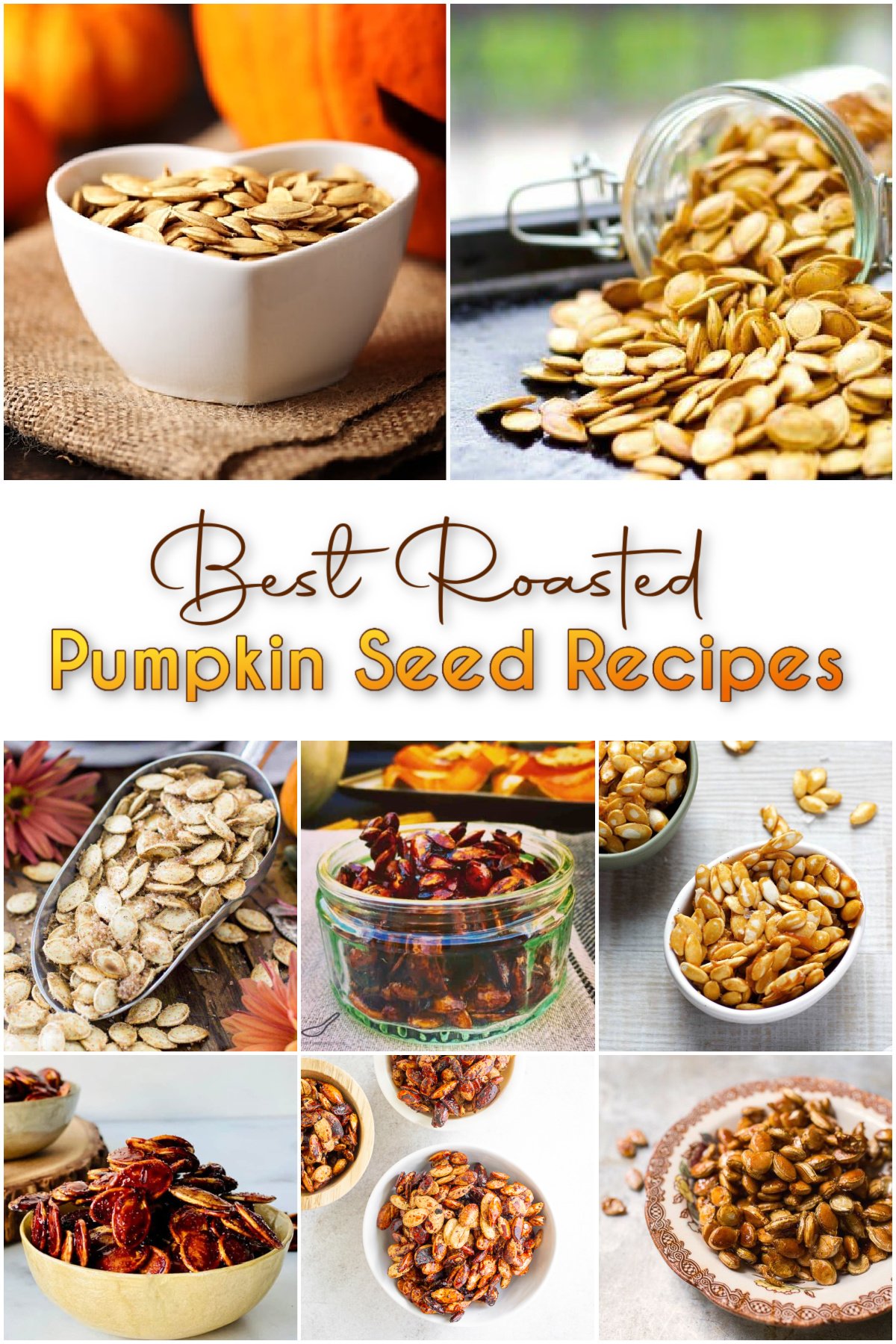 Thank you for visiting the Good Hearted Woman. Remember to bookmark this site, and come back soon!