This time of year farm stands and grocery stores alike practically give away winter squashes, and years ago I started making pumpkin butter when I figured out how easy and inexpensive it is to make. Nearly everyone loves it, and it makes a wonderful hostess or neighbor gift.
This year, I set out make a  single batch, for which I needed two pounds of roasted squash. I chose:
1 medium Kuri squash -  A very sweet, firm fleshed squash with a delicate, mellow flavor.
1 Sugar Pie Pumpkin - A small, sweet variety of pumpkin.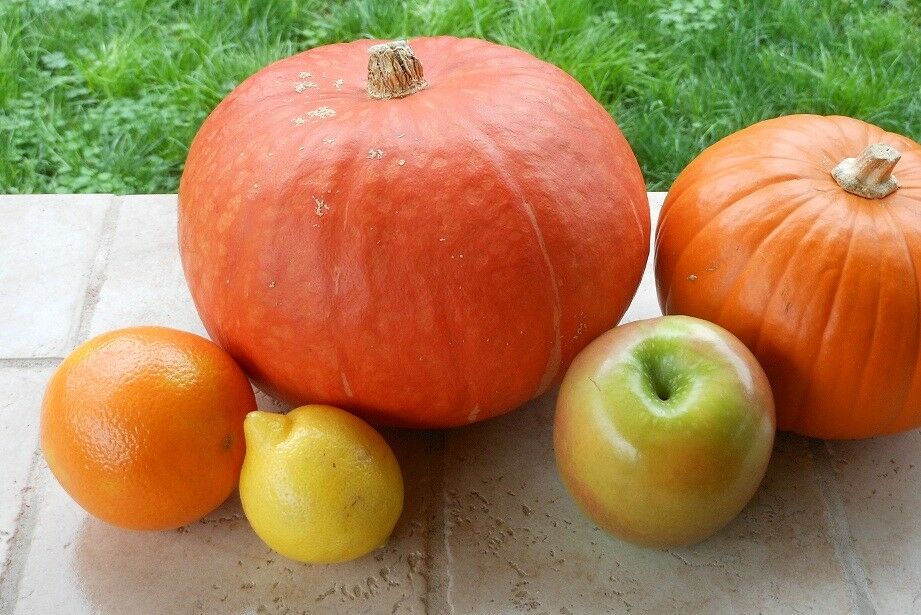 After roasting, these gave me almost exactly 2 pounds - perfect for a single batch! So I put the roasted squash puree in the crock-pot, added the rest of my ingredients, and sat back to think a bit while they started to peculate and fill my house with amazing fall flavors. And it was during this Thinking Time that things got a little carried away... because what I thinking was, "Hmm, if I'm making that much, how much harder is it to make some more? Not much. And then I'll have some for the neighbors, and a few friends..." So before I knew it, I had a family-size crock pot nearly overflowing with a triple batch. To the previous batch, I added the flesh from:
1 large Amber Cup squash - Bright orange pumpkin-like squash with very sweet flesh.
1 large yam - Yams are sweet, and have that smooth, buttery consistency that I'm looking for.
If Butternut Squash had been on sale, I would have definitely used some of that too - they have such a wonderful texture and taste - but I think this turned out fine without them. Also, you may find, if you look over the internet, that many butter recipes use apple juice as a liquid: I prefer orange in the pumpkin butter - the juice and zest give the butter a fresh taste, and the flavors blend together beautifully.
Pumpkin Butter
Print Recipe
Pin Recipe
Ingredients
2

lbs.

Roasted Squash puree

about 6-7 cups - Suggested varieties include sugar pumpkins, butternut squash, Red Kuri squash, Ambercup squash (or, honestly, you can use canned pumpkin. I won't tell.)

Zest & juice of one Orange

2

Tablespoons

Lemon Juice

2

cups

firmly packed light brown sugar

1

teaspoon

vanilla
Instructions
Put pulp from roasted vegetables into a crock pot. Add the rest of the ingredients. With an immersion blender, blend until smooth. You can add a little water if it helps - you want the consistency to be like very thick baby food. Alternately, you can puree the mixture in a upright blender in batches, and then return it to the crock pot.

Set the crock pot on low, cover and leave it alone for about four hours. Uncover and cook until it is the desired thickness.

Pumpkin Butter can be refrigerated for six weeks or frozen for six months.**
This website provides approximate nutrition information for convenience and as a courtesy only. You are solely responsible for ensuring that any nutritional information provided is accurate, complete, and useful.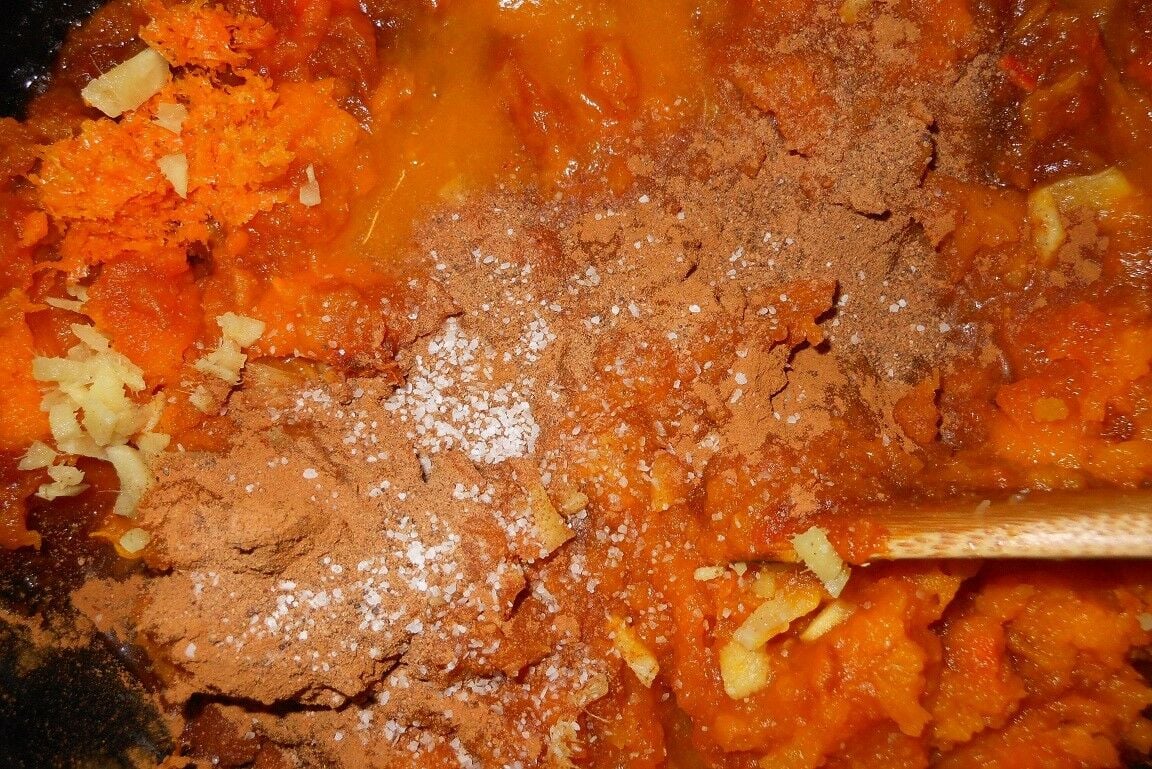 It seems a bit of a misnomer to call this Pumpkin Butter, but Squash Butter just doesn't sound right, does it? I thought briefly of calling it Harvest Butter, but that begs an explanation every time you give it out, so in the end, I think Pumpkin Butter works best.
Did you know:  Winter Squashes aren't necessarily harvested in the winter? This term dates back to a time when the seasons were crucial to a family's survival, and vegetables were known as "winter vegetables" if they would keep until December.
Disclaimer Regarding Home-Canning: You will read on the internet that you cannot can Pumpkin Butter: the USDA now recommends against it because, due to the density of the pumpkin butter, the heat may not properly reach the center of the pumpkin butter in the jar. So, officially, I am not telling you anything different. Whether you choose to can it is completely up to you. As for me, I have been canning pumpkin butter for quite some time (in tall half-pint jars in a boiling water bath) and never had any problem whatsoever. In fact, people have been canning pumpkin butter for decades, centuries even, and lived to tell about it. So it is completely up to you. But if perchance you would like to know a little more about how to do it, here is a very helpful link. You may note that the woman offering this tutorial also has a recipe for pumpkin butter - hers has twice as much sugar as mine, and mine has much, much more acid: both sugar and acid are important to safe food preservation when water-bath canning, and I can only speak for my own recipe, which has served me well over the years. But, once again, what you can or don't can is completely up to you.
If you opt not to can your pumpkin butter, just put it in jars or food-safe plastic containers. It can be refrigerated it for up to 6 weeks, and frozen for six months or more.