The Pacific Fleet Submarine Museum at Pearl Harbor is a living, interactive museum and memorial. Thoughtfully designed, it is a place for veteran submariners to take their families and share their history, and for civilians to learn about the daily lives and the sacrifices made by the Silent Service.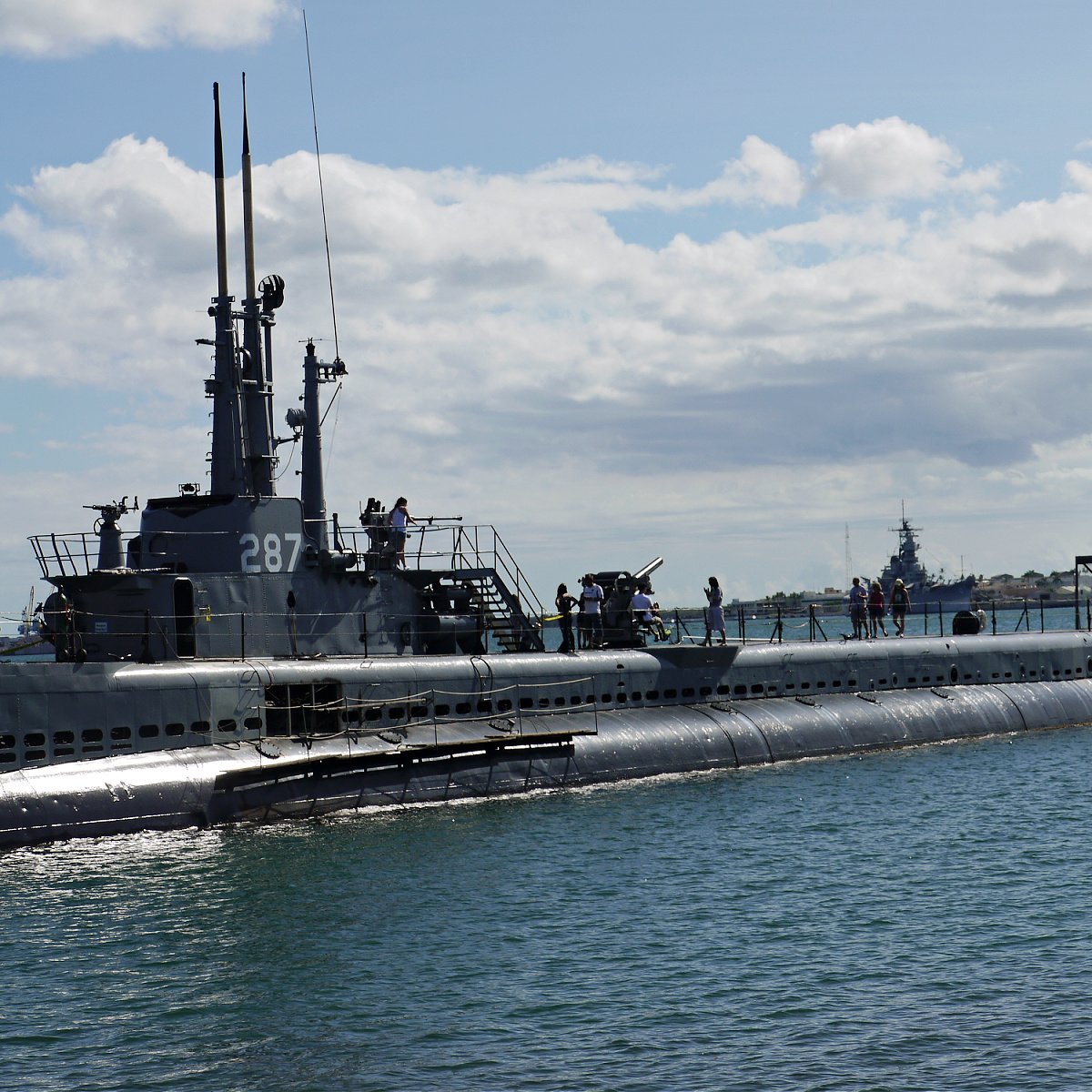 The Pacific Fleet Submarine Museum (formerly, USS Bowfin Submarine Museum & Park) is operated by The Pacific Fleet Submarine Memorial Association, and features the WWII fleet submarine USS Bowfin, outdoor artifacts, a lanai, food services, and a gift shop.
USS Bowfin Tour
USS Bowfin (SS-287) was a fleet attack submarine that fought in the Pacific during WWII, and helped to make famous the term Silent Service.* Known as the "Pearl Harbor Avenger" because of nine successful war patrols following the initial attacks, the USS Bowfin is now a floating, interactive museum.
*Silent Service was a nickname for the US Navy's submarine force in the Pacific during World War II.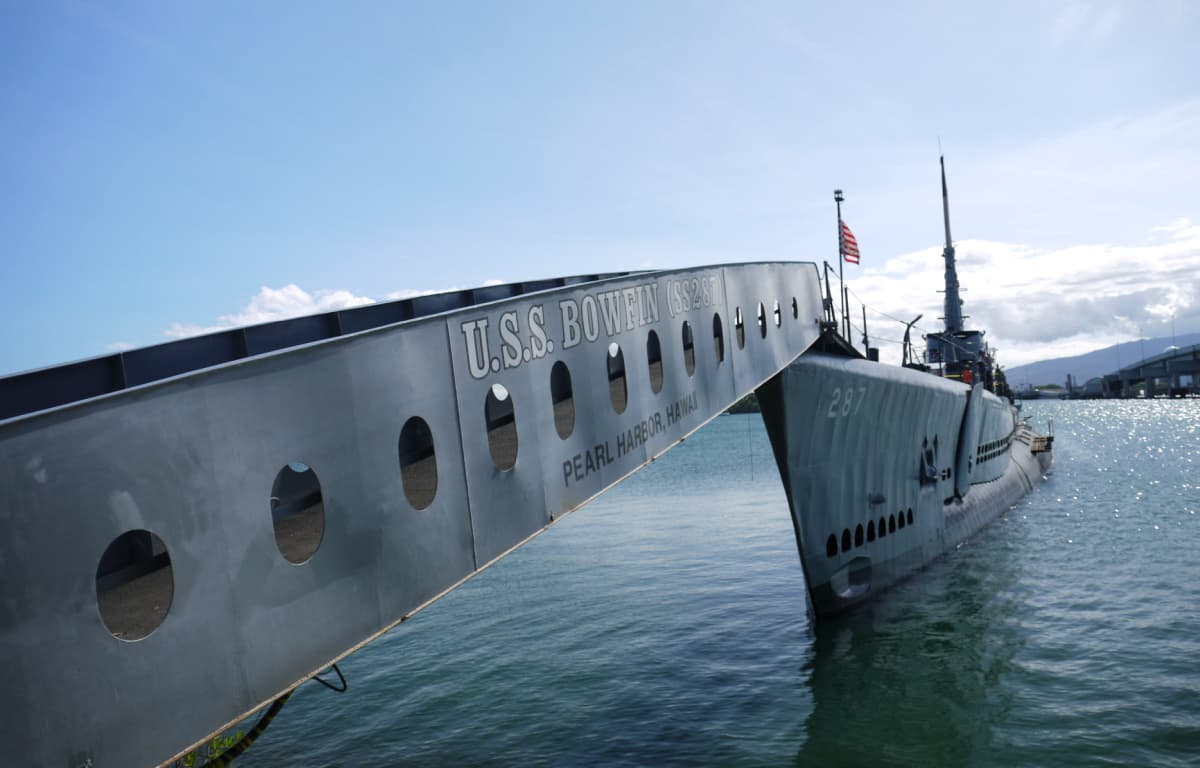 A tour of the Bowfin gives you the chance to walk through and get a feel for what living on a sub might be like. Mr B and I took the self-guided audio tour, which greatly enhanced our tour experience.
My dad enlisted in the Navy in 1943, the day he turned seventeen. Dad was 5'5" and 117 pounds when he enlisted; exactly what the Navy was looking for in a submariner.
After completing basic training, Dad was assigned as a Torpedoman's Mate the USS Searaven, a submarine stationed at the time in Pearl Harbor. Needless to say, our tour of the Bowfin hit close to home for me.
Hot-Racking
Dad and I once took a tour together of the USS Blueback, a submarine anchored at the Oregon Museum of Science and Industry (OMSI) in Portland, Oregon. At the time, he shared with me a little about his daily life as a submariner in WWII, and as we passed by the narrow bunks designated for low-ranking crew, he shared his experience with hot-racking.
Like the Bowfin, his sub used a sleeping arrangement called hot-racking (also known as hot bunking). This is the practice of assigning up to three (usually low-ranking) crew members to a single bed or "rack" to reduce berthing space, with each one having a different assigned bunk time.
A crew member would work his duty shift, and then return to lie down on a rack immediately after it was vacated by another crew member who had just left for his duty shift. (Thus, he lay down on a "hot" rack.)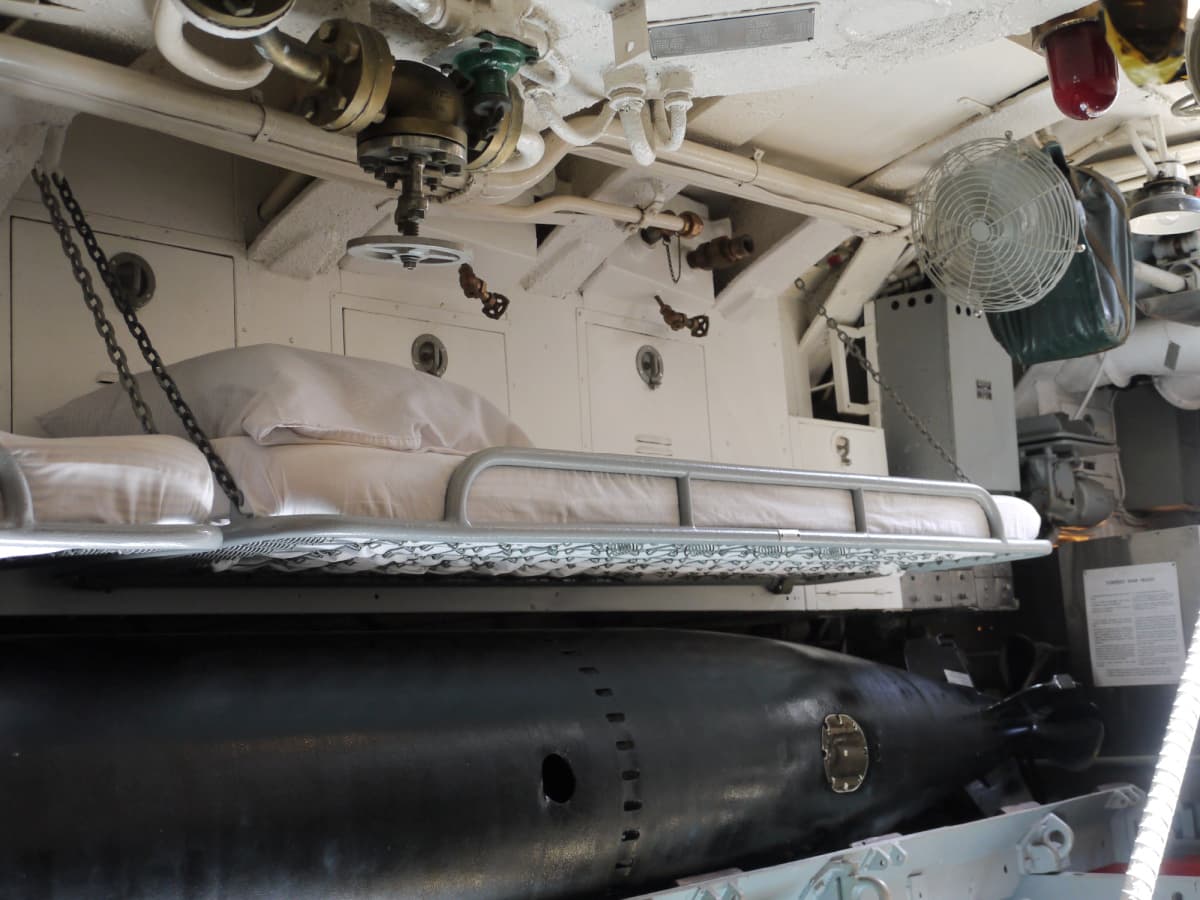 Dad said this hot-racking system often caused trouble and frustration (who'da thunk?); however, his assignment as a Torpedoman's Mate offered an interesting berthing alternative: apparently TM's often slept in empty torpedo tubes!
We noticed on our tour of the Bowfin that there was an actual bunk placed directly over a torpedo in the Torpedo Room.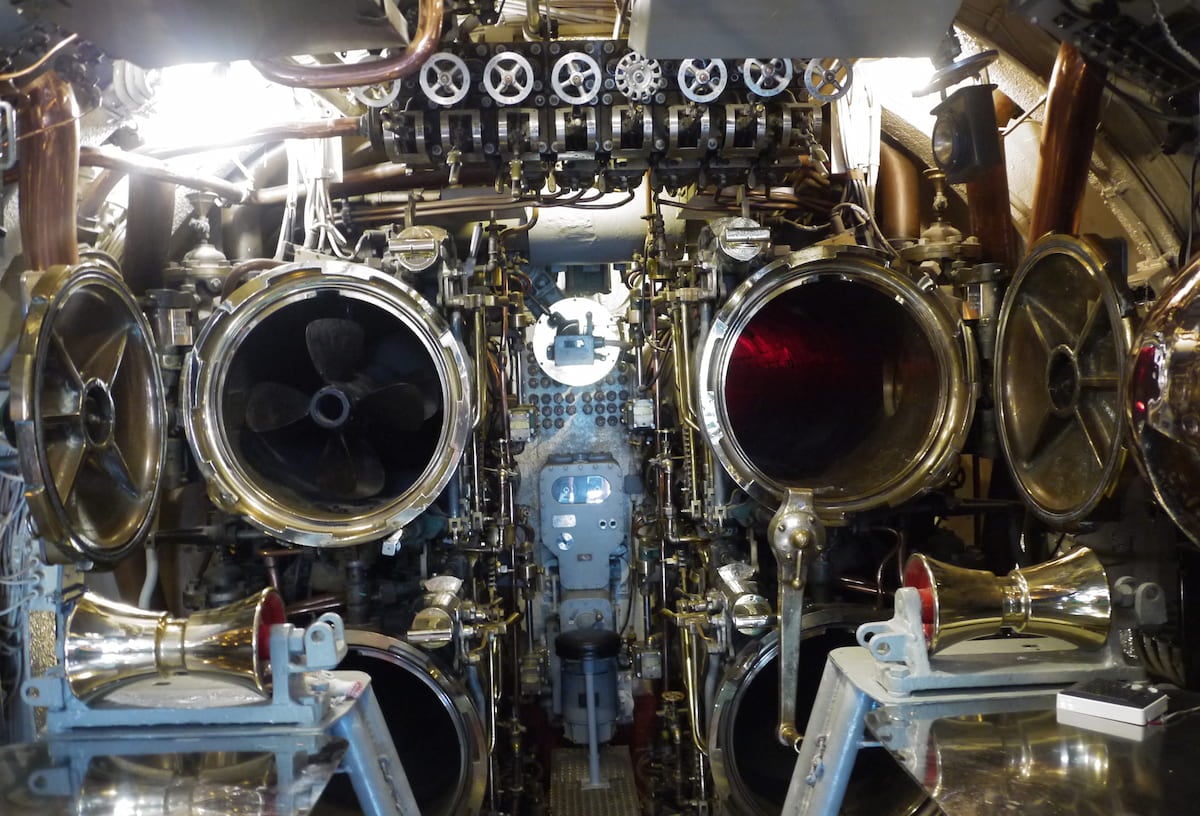 Just the idea of living underwater on a sub sets my mild claustrophobia on edge, and then sleeping in a tiny tube‽ Thanks, but no thanks.
Bowfin Exhibits
Exhibits aboard the USS Bowfin include an impressive collection of submarine-related artifacts such as submarine weapon systems, photographs, paintings, battle flags, original recruiting posters, and detailed submarine models, all illustrating the history of the U.S. Submarine Service.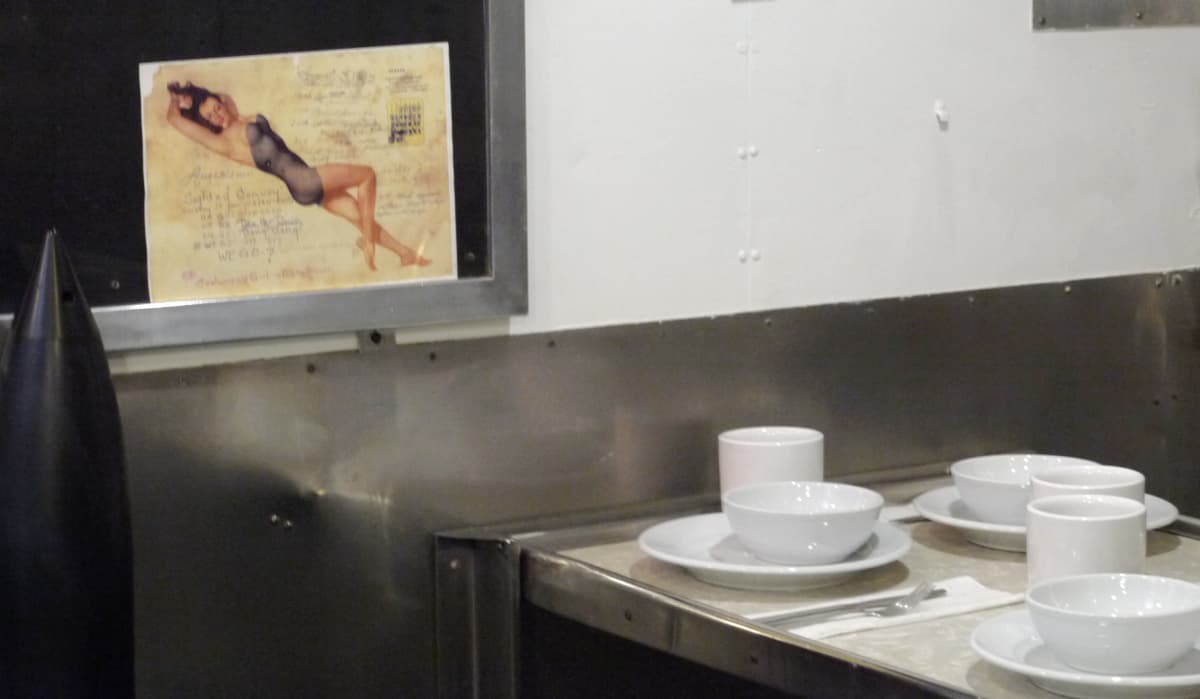 All the great things are simple, and many can be expressed in a single word: freedom, justice, honor, duty, mercy, hope.

―Winston Churchill
In addition to the Bowfin tour, the Submarine Museum offers visitors a number of outdoor and gallery exhibits. These have been greatly expanded in recent years.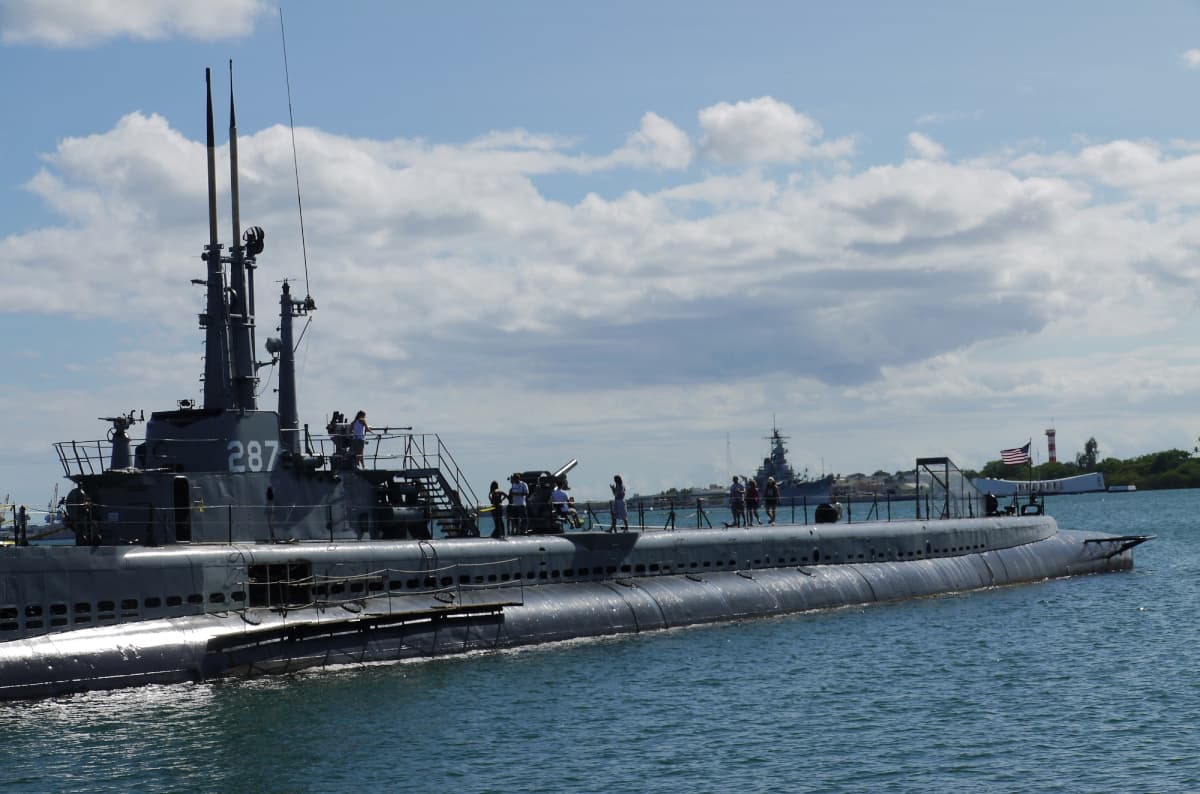 Waterfront Memorial
Be sure to take a few minutes to visit the Waterfront Memorial at the Submarine Museum. Dedicated to the 3,600 submariners lost during World War II, this memorial honors their memory as it tells the story of each of the fifty-two submarines lost.
Submarine Museum Information
Updated: March 2023
How to Get There
Pacific Fleet Submarine Museum is conveniently located within the Pearl Harbor Visitor Center. According the the National Park Service, if you are using a GPS, the physical address is:
Pearl Harbor National Memorial
1 Arizona Memorial Place
Honolulu, HI 96818
Warnings: A search for "Pearl Harbor" on Google Maps will take you to the active military base, not the Pearl Harbor Visitor Center.
Hours & Entrance Fees
The Visitors Center ticket desk is open daily from 8:00 a.m. to 3:00 p.m., and ticketing counters are located in the courtyard of the Pearl Harbor Visitor Center. Discounts are available to local residents and military with valid id.
The Pacific Fleet Submarine Museum is open daily from 7:00 a.m. to 5:00 p.m.
General admission:
Adults: $21.99
Children (ages 4-12): $12.99
Military, kama'aina (local resident): $15.00 per adult and $7.99 per child (4-12)
School group pricing is available
Admission includes an audio tour that is available in seven languages (English, Spanish, French, German, Japanese, Korean and Chinese). Prices are subject to change without notice.
For more information or to reserve a tour, visit bowfin.org.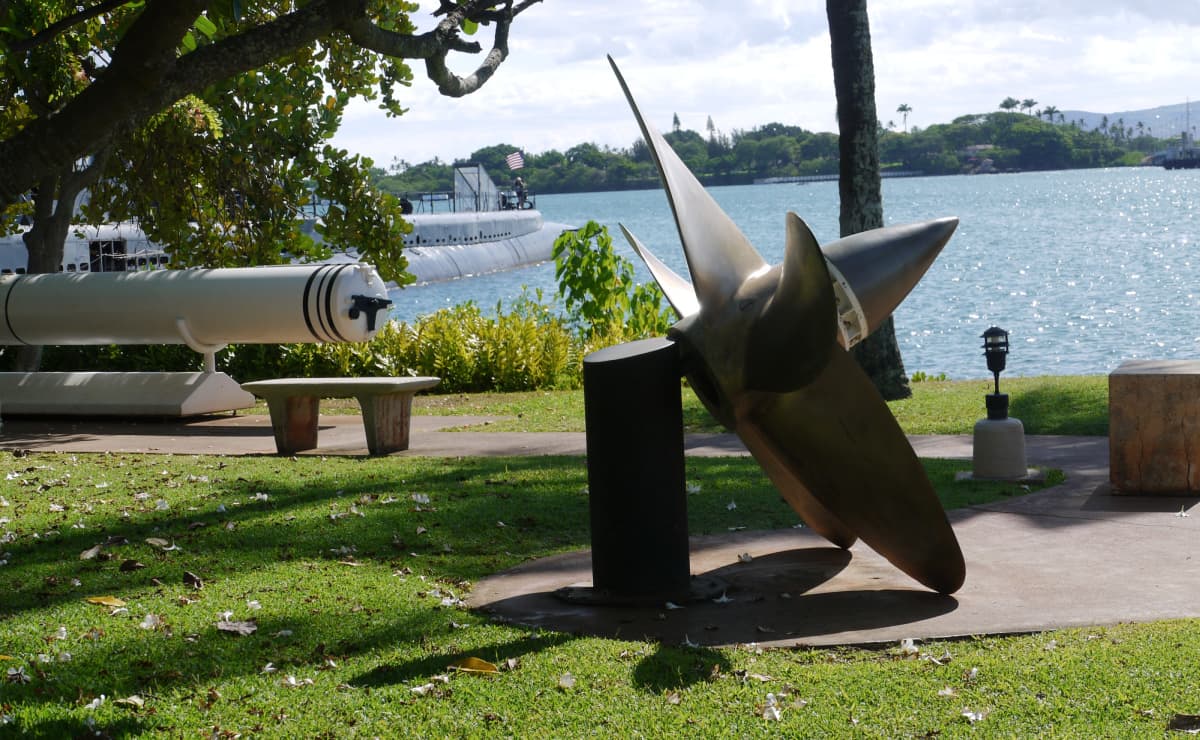 Hawaii-inspired Food & Recipes
More Oahu Travel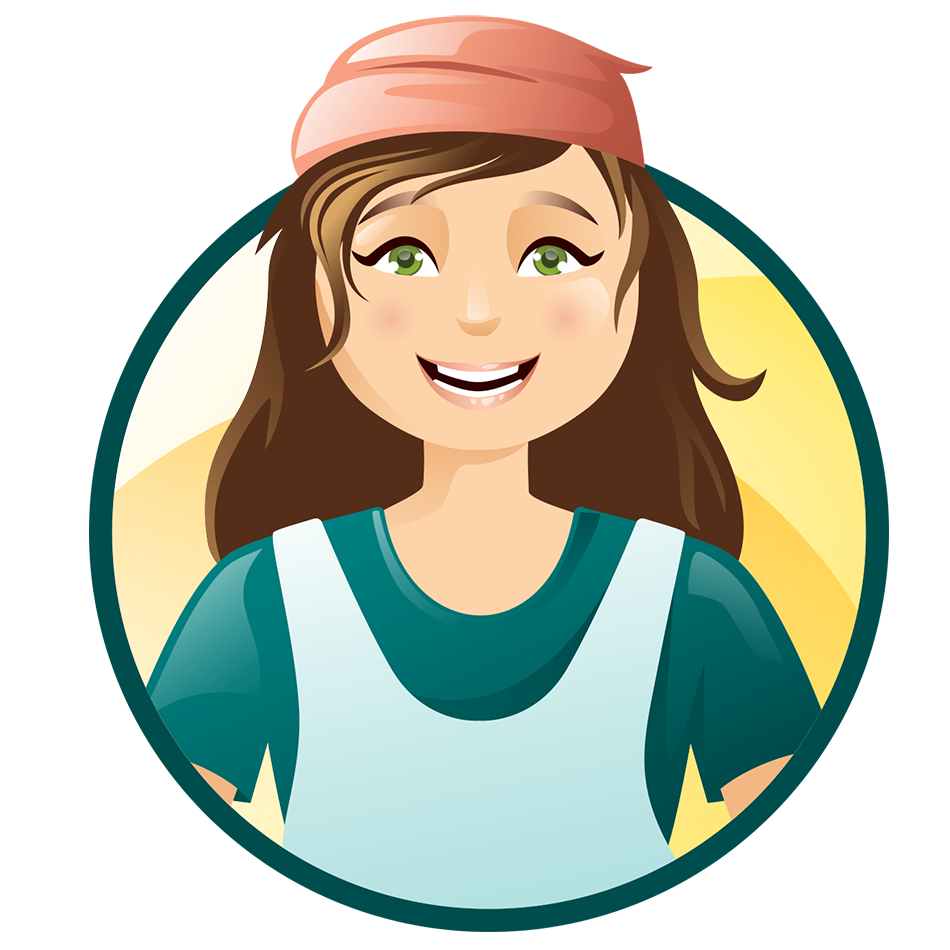 Thank you for visiting the Good Hearted Woman. Remember to bookmark this site, and come back soon!