Perfect for any occasion, this Southern-style triple-layer strawberry cake (made from scratch - no boxed cake mix!) is a moist, amazingly delicious cake with a fresh, luxurious strawberry buttercream frosting.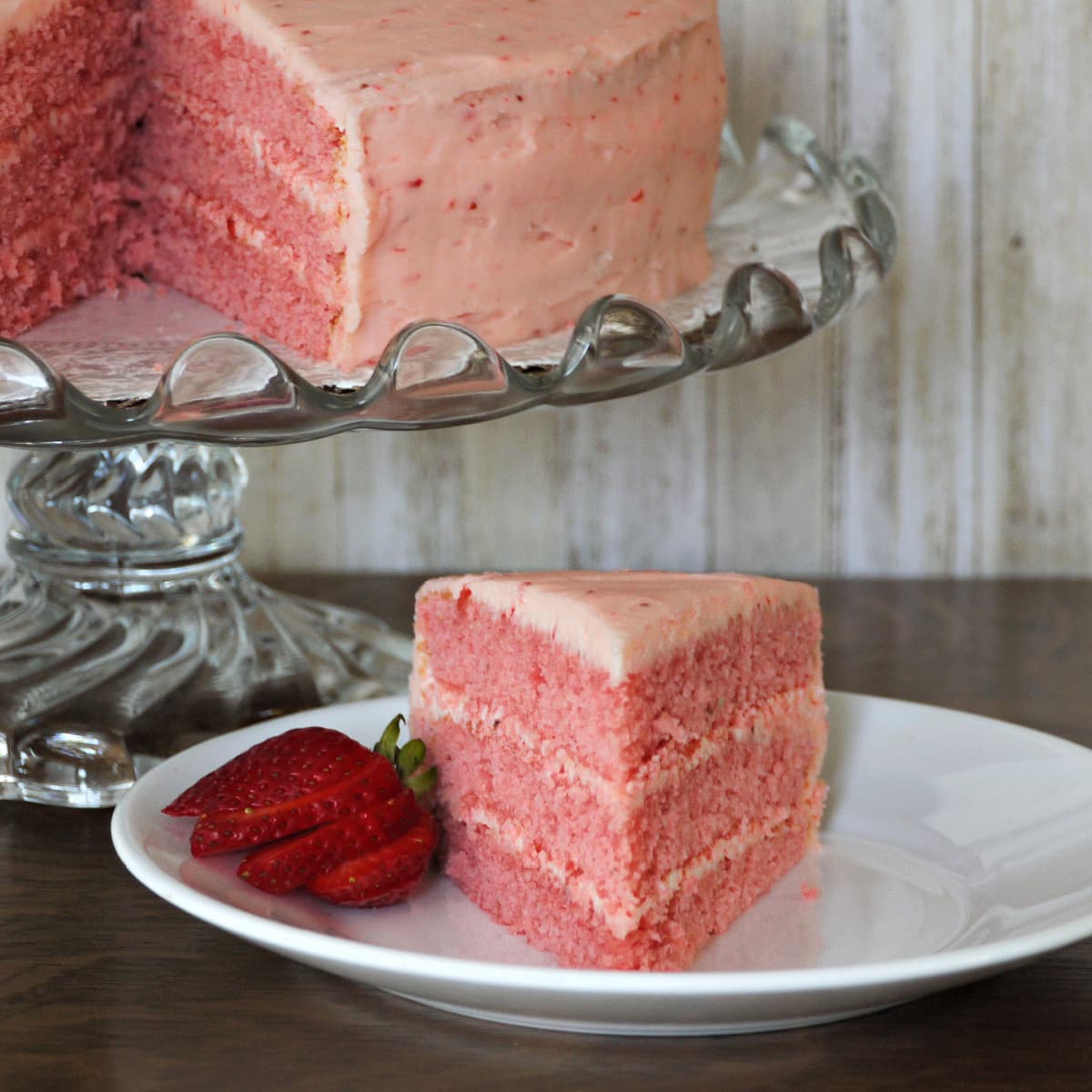 Jump to:
What's the Story Behind this Recipe?
For me, baking is often about memories. Sometimes I bake memories for people I love: pineapple-upside down cake when we go camping, peach cobbler in August, pumpkin pie for my mother's birthday. Other times, baking is a path that takes me back in time.
In the summer of 2018, Mr B and I traveled to Tennessee, where we had the honor of attending the Change of Command and Retirement Ceremony for one of his best friends from his Navy days.
If you've never attended the retirement rites of a senior military officer, I highly recommend it. It may very well renew (or redeem) your faith in both our country and the people who protect it. (And if the flag passing ceremony of Olde Glory doesn't move you to tears, I don't know what will.)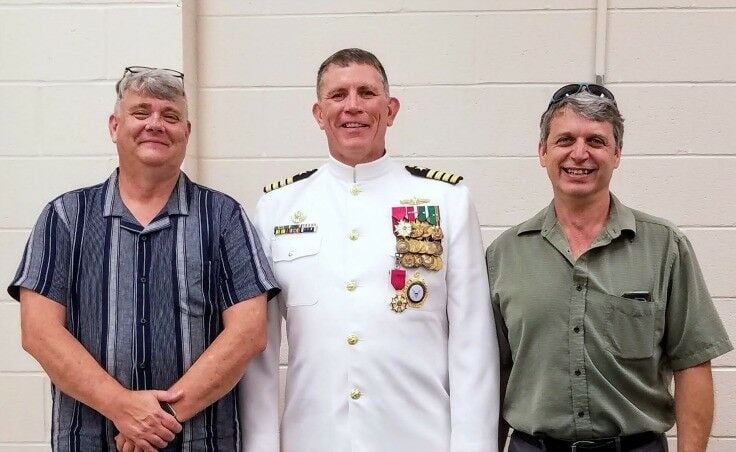 After the formal ceremonies concluded, we were ushered into a reception room filled with sailors decked out in their full dress whites, along with families and friends. My eyes roamed from one small cluster to the next; to the smiling faces, the convivial conversations, the warm embraces.
In the middle of the reception room was a long refreshment table with two large, beautifully decorated cakes on either end. Centered between them sat a modest, unpretentious pale pink layer cake.
A memory flickered.
That pink cake. My mother always told me that Southerners love their cakes. I plated a small piece and took a bite.
In an instant, I was four...maybe five, sitting on my stool at my Pop's yellow chrome and formica kitchen table. I don't know the occasion, but I remember that cake. Smooth, sweet, pink, and perfectly strawberry.
It tasted like summer.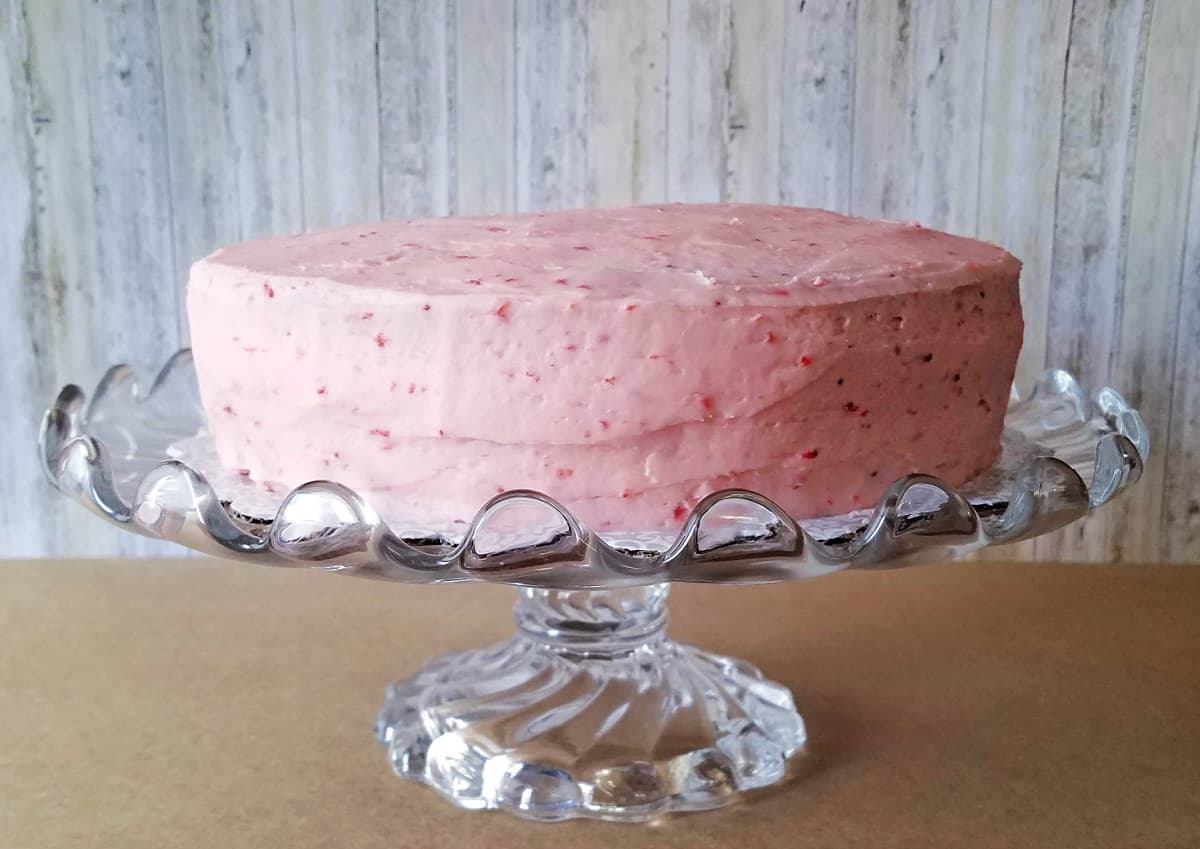 Standing in that reception room in Tennessee, I had not tasted strawberry cake in fifty years, but as that single bite melted on my tongue, it was yesterday.
When Mr B and I returned home to Oregon, I set about baking myself a memory.
Why this Recipe Works
Perfecting a recipe for a Strawberry Cake from scratch wasn't easy. Nearly every recipe source I could find required a boxed cake mix, and I was intent on baking a cake *from scratch.*
In my quest, I consulted at least fifteen different recipes, cookbooks, and bakers' websites before I finally felt confident about my game plan. However, once I got the ratios for everything right (the sugar levels were especially tricky) and recognized that those whipped egg whites make all the difference, it all fell into place.
I couldn't be happier with the outcome!
This strawberry scratch cake is far and away easier to make than you might imagine; and in my opinion, working with the triple layers is easier than two thicker layers. My recipe for Strawberry Cake from scratch results in a moist, amazingly delicious cake with a fresh strawberry buttercream frosting. You are going to love it!!!
What Goes into this Recipe
Cakes are Persnickety: Ingredients Matter
★ Flour: It's important to use cake flour for this cake. Cake flour is a finely milled, delicate flour that results in a fine crumb and a good rise.
The primary difference between cake flour and all-purpose flour (AP) is that cake flour has slightly less protein, which translates to less gluten in your cake, which means you will have a more tender cake. My personal cake flour preference is Bob's Red Mill Super Fine Cake Flour.
I cannot stress this enough: when it comes to flour in baking, sift first, THEN measure.
★ Jell-O®: Y'all know that I try to avoid the boxes, but this recipe just doesn't fly without Jell-O®. If possible, avoid using off-brand gelatin: the strawberry flavor in them usually tastes like cheap kids' candy.
★ Strawberries: Fresh and frozen will both work.
FAQs & Expert Tips
Frosting Philosophy
There are two basic schools of thought about frosting: (1) the cake is a necessary conveyance for getting as much frosting as possible into your mouth; and (2) the cake is the star, and frosting is, well… frosting. It is for sealing the cake and adding additional texture and sweetness, but don't go all crazy and let it overpower the cake.
I belong to the second, "less-is-more" group. You may notice that, in the images here, there is only enough frosting between the layers to hold them together, and that the outer frosting isn't spread on very heavily. For my tastes, this amount of frosting provides the perfect balance for this cake.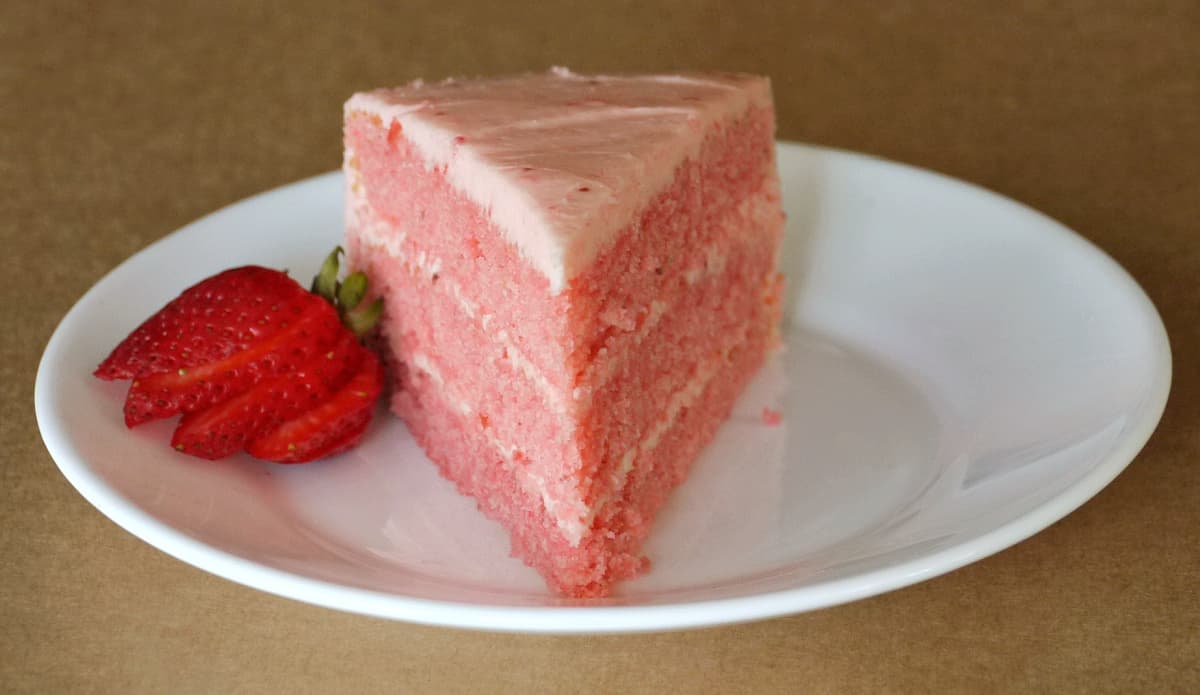 If, however, you lean toward the first, "the-more-frosting-the-better" group, be assured that you will not run short of strawberry frosting with this recipe. I had well over a cup leftover when this cake was done. (Hello, late-night frosting-n-graham-crackers!)
When whipping egg whites, what is the difference between soft, medium, and stiff peaks?
♦︎ Soft peaks barely hold their shape, and flop over as soon as the beaters are lifted.
♦︎ Medium peaks can hold their shape, but the peak curls over when the beaters are lifted.
♦︎ Stiff peaks stand straight up when the beaters are lifted.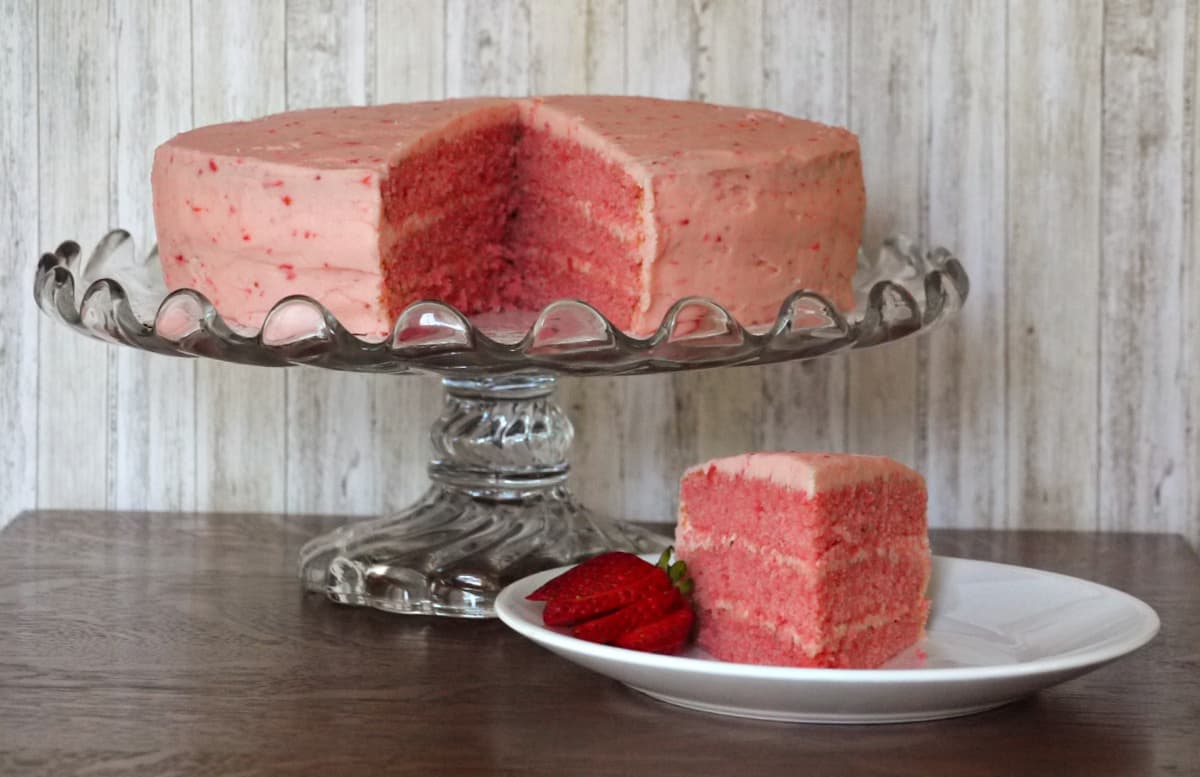 More Fresh Strawberry Recipes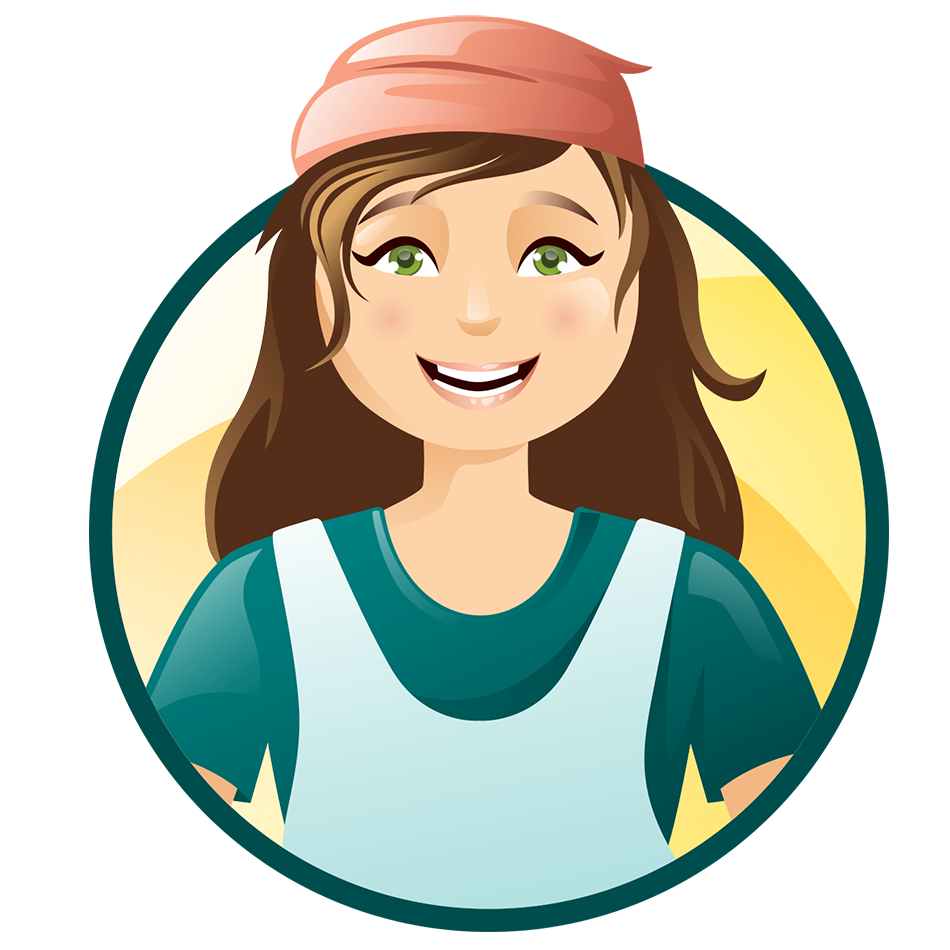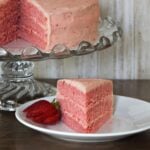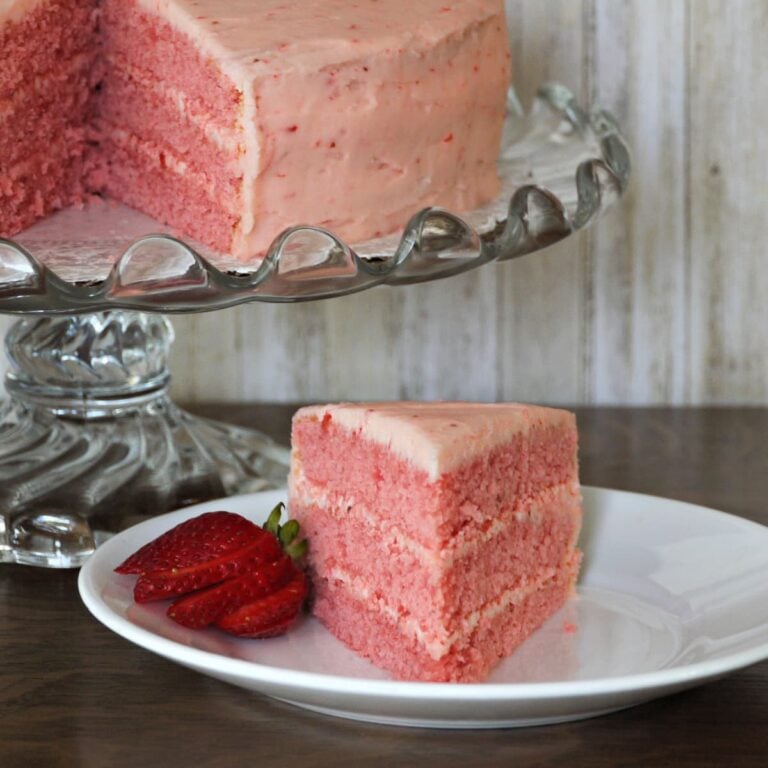 Triple-layer Strawberry Cake with Fresh Strawberry Buttercream Frosting
Perfect for any occasion, this Southern-style triple-layer strawberry cake (made from scratch!) is a moist, amazingly delicious cake with a fresh, bright strawberry buttercream frosting.
Print
Pin
Add to Shopping List
Go to Shopping List
Ingredients
Strawberry Puree
8

ounces

fresh hulled strawberries

2

tablespoons

white sugar
Strawberry Cake
4

egg whites

room temperature

2½

cups

sifted cake flour

VERY Important: Sift, THEN measure.

1

tablespoon

baking powder

1

cup

unsalted butter

room temperature

1⅜

cups

white sugar

3

ounces

Strawberry flavored Jell-O®

1 small package

1

teaspoon

salt

3

egg yolks

1

cup

milk

2% or whole

½

cup

fresh strawberry puree

1

teaspoon

fresh lemon zest

1

tablespoon

vanilla
Strawberry Frosting
6

cups

powdered sugar

1½

cups

unsalted butter

room temperature

⅓

cup

strawberry puree

1

tablespoon

strawberry jam

or ½ tsp. strawberry extract

½

teaspoon

salt
Instructions
Make Strawberry Puree
Combine fresh strawberries and two tablespoons of sugar in a blender. Pulse until strawberries are reduced to a pulp.

DO NOT blend until smooth. (You will use ½ cup of the puree for the cake. Reserve the remaining puree to use in the frosting.) 

Set aside and allow to macerate further while you perform next few steps.
Make the Cake Layers
Preheat oven to 350°F | 175°C.

Grease and flour three 9-inch round cake pans. 

Whip eggs whites until they form medium peaks. Set aside.

Combine sifted flour and baking powder. Set aside.

Whisk together milk, strawberry puree, lemon zest, and vanilla. Set aside.

In a large mixing bowl, cream together butter, sugar, dry strawberry Jell-O®, and salt.

Beat in eggs yolks one at a time. 

Stir flour mixture into batter alternately with strawberry-milk mixture.

Gently fold in whipped egg whites.

Pour batter evenly into the three prepared cake pans.

Bake in preheated oven for 20-25 minutes, or until a toothpick or skewer comes out clean. 

Allow cakes to cool in their pans over wire rack for at least 10 minutes. Carefully tap out onto wire rack to cool completely. 
Make Strawberry Frosting
Using an electric mixer, beat butter on medium-high until light and fluffy.

With mixer on low, add powdered sugar to the whipped butter alternately with ⅓ cup pureed strawberries.

Combine thoroughly into a soft, creamy mixture that will hold its shape.

Cool in the refrigerator for 10 minutes, or until it has firmed up slightly.
Assemble the Cake
Spread the top of the bottom layer of cake with frosting.

Add the middle layer and refrigerate again until the frosting has firmed up a bit.

Add the top layer and frost sides and top of cake. 

For a cleaner frosting, apply a crumb coat first to keep the crumbs out of your final frosting.

If you are spreading the frosting on thick, you may want to refrigerate the cake after you apply the frosting between each layer until the frosting has firmed just a bit; about 10-15 minutes for each layer. (If you are frosting it thin, you probably won't need to do this.)

Decorate with fresh strawberries if desired.
Notes
This strawberry cake freezes well. 
Nutrition
Serving:
1
piece
|
Calories:
610
kcal
|
Carbohydrates:
82
g
|
Protein:
5
g
|
Fat:
31
g
|
Saturated Fat:
19
g
|
Cholesterol:
114
mg
|
Sodium:
325
mg
|
Potassium:
100
mg
|
Fiber:
1
g
|
Sugar:
66
g
|
Vitamin A:
960
IU
|
Vitamin C:
14
mg
|
Calcium:
81
mg
|
Iron:
1
mg
This website provides approximate nutrition information for convenience and as a courtesy only. You are solely responsible for ensuring that any nutritional information provided is accurate, complete, and useful.
Disclosure: This post may contain affiliate links, including Amazon affiliate links, which means we may receive a commission if you click a link and purchase something that we have recommended. Please check out our disclosure policy for more details.