Exceptionally easy to raise, Mason Bees are ultra-gentle uber-pollinators that improve the health and well-being of your flowers, fruit crops, and garden.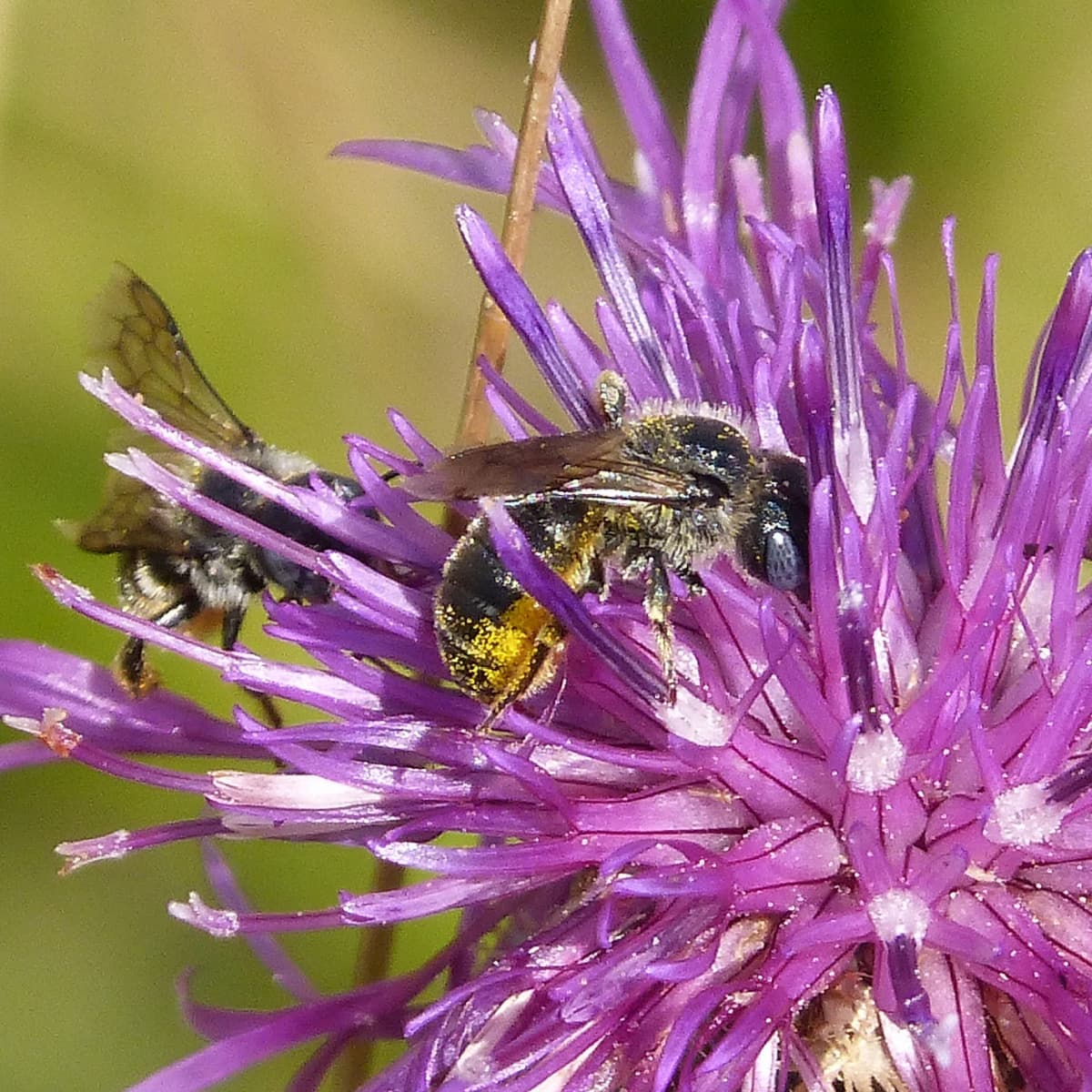 Jump to:
What are Mason Bees?
Are You a Backyard Gardener? Have you heard about Mason Bees? These little non-stinging, super-pollinating bees are one of the best kept secrets of the gardening world!
A few years ago when a local Mason bee supply company (now defunct) reached out to ask if we'd be interested in raising Mason Bees and sharing our experience. At the time, I didn't know much about Mason Bees: I knew that they used mud for something, and they are usually included as a footnote in articles about the global impact of our overstressed honeybee population, but that's about it.
I set about educating myself, and somewhere in the process, the hyper-obsessive researcher in me grabbed the reins and made me spend hours and hours pouring over everything I could find on Mason bees. And just like that, I had the equivalent of a minor in Mason Bee husbandry - and we had a Mason Bee Cottage all set up and open for tenants in the backyard.
Read on for everything you need to know about why you should raise Mason Bees, and how to get started today!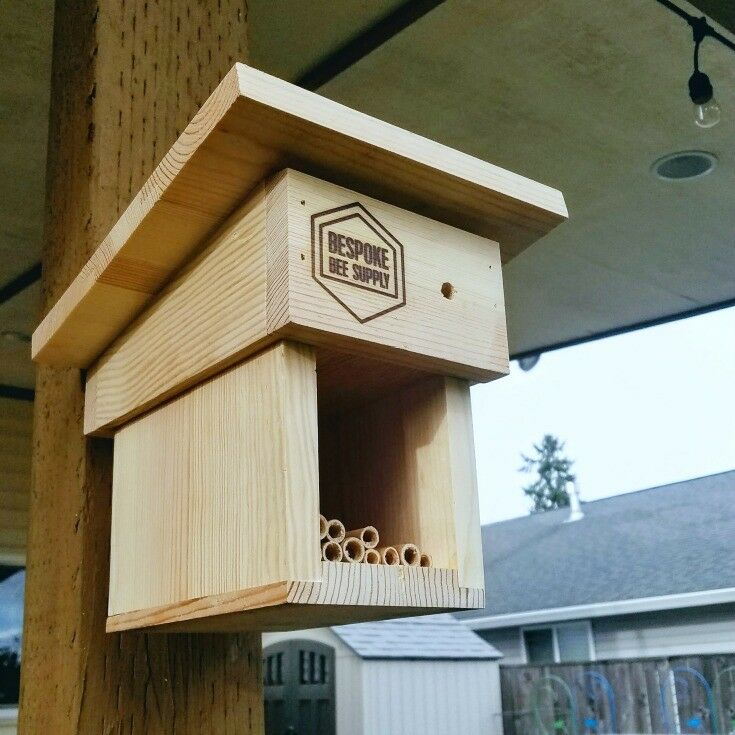 The Single Life
Mason bees are solitary nesting bees that emerge in early spring and lay their eggs in long, skinny tubes. These super-pollinators are exceptionally gentle and will only sting if you trap or squeeze them. (Can we all just agree to not squeeze the bees, ok?) There are about 300 species of Mason Bees found across the Northern Hemisphere and in Australia, so chances are you can find them in your area. Moreover, they don't make honey, so there's very little upkeep involved in raising these fuzzy little garden friends.
Mason Bees Don't Sting!
Mason Bees are categorized as "solitary bees." This means that each female is a Queen Bee and - like most single mothers - must do all of the work herself; including gathering pollen/nectar, laying eggs, and doing upkeep on her little mud nursery. She simply doesn't have the time or disposition to get all aggressive and defensive, so you can get very close without any fear.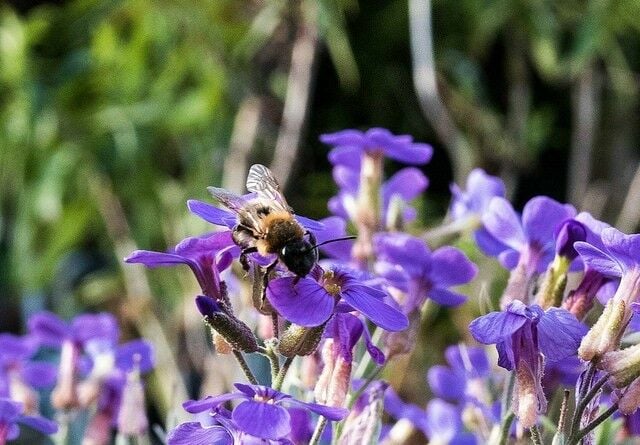 Mason Bee Life Cycle
Mason Bees emerge from their nest as adults in early spring. Males usually emerge before the females, which are mated immediately after emergence from the nest. Female Mason Bees begin to lay eggs in the beginning of the season, usually mid to late March. When Mama Mason Bee has provided a supply of food for the larva, she lays an egg and then seals it in an individual cell enclosed with mud walls. (Hence the name "mason" bees.)
Mason Bee eggs hatch almost immediately after being laid, and the larvae eat, grow, and pupate inside their little mud cell. The larva relies on warm spring and summer temperatures to grow, and by the end of June, each larva has spun a waterproof cocoon. The bees overwinter as fully-formed adult bees in fuzzy, wrinkled cocoons that look like the raisins you clean out of the backseat of the car. A new season of spring Mason Bees will begin to emerge when the weather begins to warm, and the cycle begins again.
Why Gardeners Love Raising Mason Bees
Mason Bees are far more efficient pollinators than their Honey Bee cousins. According to Bryan Danforth, Professor of Entomology at Cornell University, "[Mason Bees] are three times better pollinators than honeybees."
Mason Bees tend to stick closer to home. Honey bees will range up to two miles from their hive, while Mason Bees usually stay within 300 feet of home.
Mason Bees are very gentle. The males do not have a stinger, and the females will only sting if trapped or squeezed. (Once again, just don't squeeze them, ok?)
Raising Mason Bees takes almost no time. In exchange for an hour or two hour each year, your Mason Bees will improve the health of your fruit crops and garden and give you hours of relaxing entertainment in the process!
You don't need any fancy protective "bee-gear" to raise Mason Bees. [See #3 ?]
Mason Bees are fascinating to watch, and can be as educational as they are eco-friendly. And finally...
Raising backyard Mason Bees is one more step toward being a good steward of the land. Aiding the increase of Mason Bees in your area can ease the burden of overstressed Honey Bee populations, therein protecting and sustaining our future food supply... and (not to be hyperbolic, but) possibly contributing to the survival of every land-dwelling creature on the planet.
Seen through that lens, Mason bees are kind of a big deal; which makes people who raise them global environmental heroes.
How to Start Attracting Mason Bees
Everything I read about attracting Mason Bees for your first season is all very Field of Dreams, in that if you build it, they will come. In other words, give them an attractive place to live, a ready supply of mud, and a nearby garden or fruit trees, and they will move right in.
With that in mind, the first thing you need to do is decide where your Mason Bees will live and what they will live in. The latter part of this was a no-brainer for me because Bespoke Bee Supply [closed] sent me a beautiful Mason Bee Cottage to help me get started.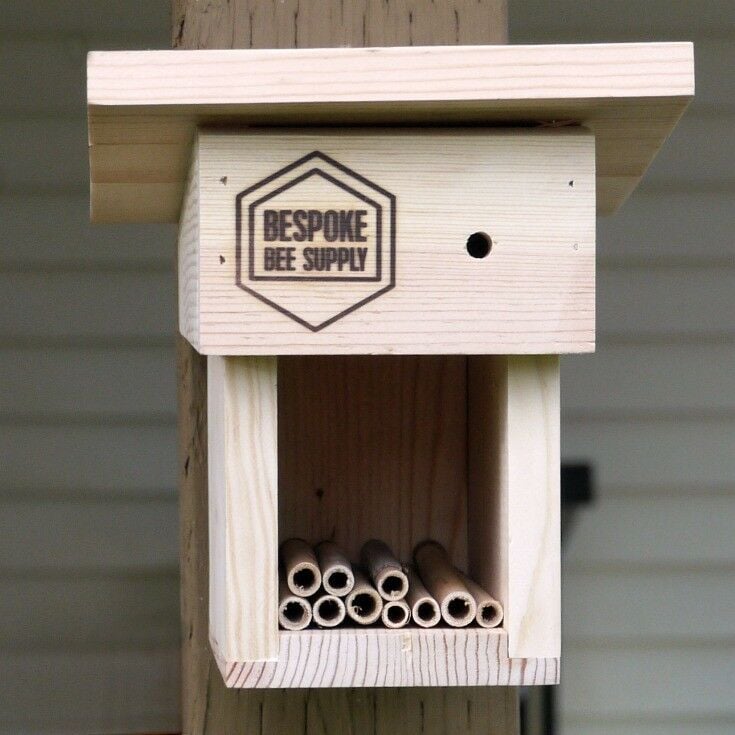 You can buy fully assembled Mason bee houses at your local nursery, order them on Amazon, or find a beautiful, fun, and functional Mason bee house on Etsy. You can even buy Mason bee house kits, perfect for making as a family project.
Fun Find: Finding Home: A Story of a Mason Bee is a lovely children's book that gives readers an inside look at the lives of six beneficial native creatures through an engaging and educational tale of a mason bee's search for a new home.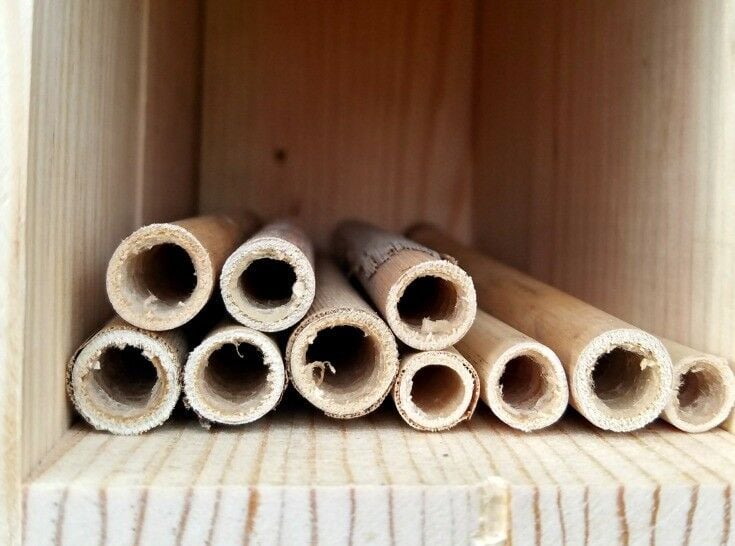 Easy Mason Bee Set-Up
1. Select a location and set up your Mason Bee home. It should face the morning sun and protect the bees from wind and rain. (Under an eave with southern exposure is perfect!) The Bespoke website also suggests that you place your bee-home at eye-level so that you can "see your new friends coming and going in their dapper new digs."
2. Make sure there is a supply of moist, clay-rich mud nearby, or at least the "ingredients" to make mud. (If you live in the Pacific Northwest, this shouldn't be a problem!) Mason Bee mamas need mud to seal their eggs into their little cells, so it's important that they have open ground with moist clay mud for building their nesting chamber partitions. Of course, they can make their own mud with a ready supply of water, but if you have little kiddos around, I'm sure that they would love to help out by making a great big mud pie for your Mason Bees!
3. After you harvest your bee cocoons in the fall, give your Mason Bee Cottage or Apartment a good cleaning with a stiff brush, and store unused tubes in a dry place. A few minutes of maintenance each year will go a long way toward extending the life of your Mason Bee home and nesting materials.
Harvesting Bees (Wait! What‽)
Don't worry - "harvesting bees" sounds a lot scarier than it is! Really, it's more like harvesting "bee seeds." It's all a very easy process that simply involves removing the Mason Bee cocoons (aka "fuzzy raisins") from the tubes, sorting them, cleaning them in a bleach mixture, and popping them into the fridge in a breathable container for the winter.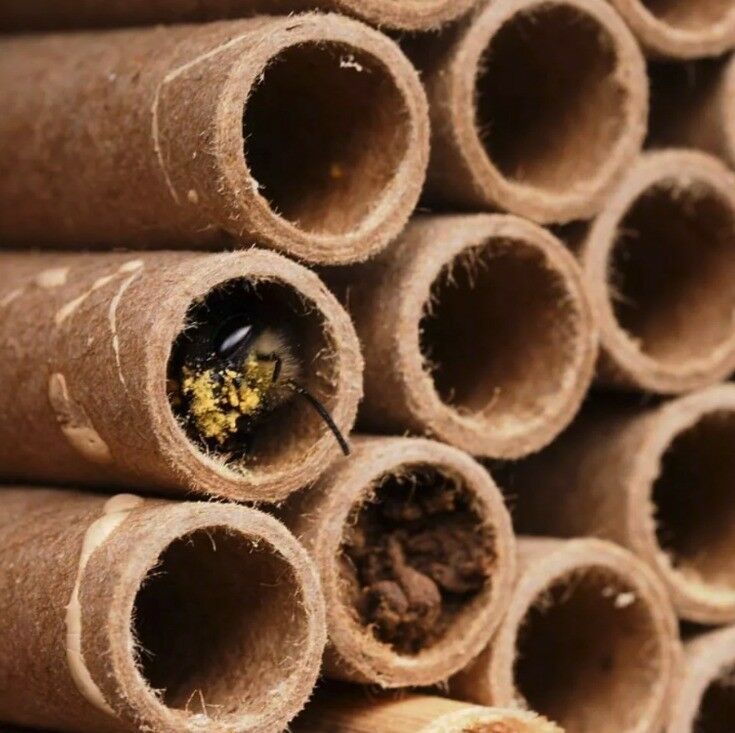 FAQs & Expert Tips
Mason Bee-keeping Basics
Early Spring
Set out your Mason Bee home and make sure there is water and clayey mud nearby. Put out your cocoons if you have them from a previous year, and new Mason Bee tubes. [If you are concerned about attracting bees the first year, you can spray an attractant to entice free-roaming mason bees to your cottage or apartment (...which upon rereading sounds way racier than it is meant to).] Temperatures should be reliably above 55°F, and plants should be beginning to flower so that your bees have something to eat.
Late Spring (End of Active Period)
Collect nesting tubes and store them in the garage or shed to protect them from harsh weather and parasites.
Fall
Store harvested bee cocoons in the fridge in a breathable box. Mason Bee cocoons like a little humidity, so be sure to include a very slightly moist paper towel alongside your cocoons and check it regularly to insure that it stays moist. Mason Bees and nesting materials also need to be cleaned each fall to protect them.
Winter (Optional)
Share cocoons with family, friends, and neighbors.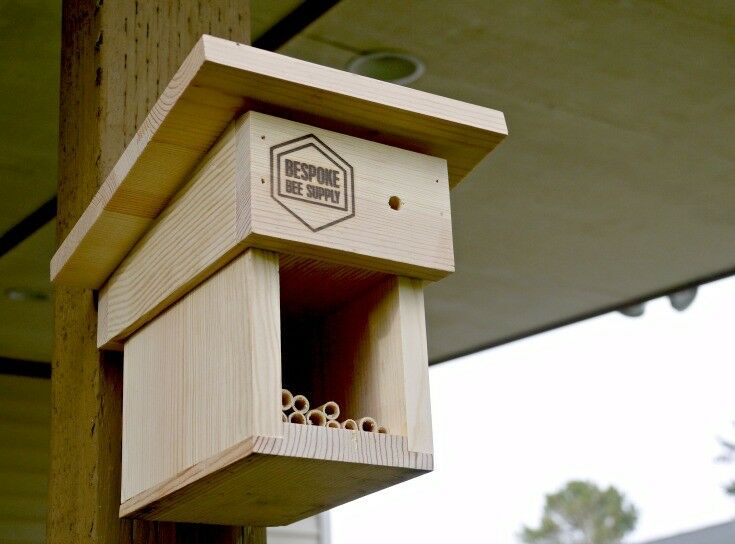 For more information and one-on-one help in your area about raising and harvesting Mason bees, check out local beekeeping programs, nurseries, college agricultural programs, or even the Auduban Society.
Resources:
More for Your Garden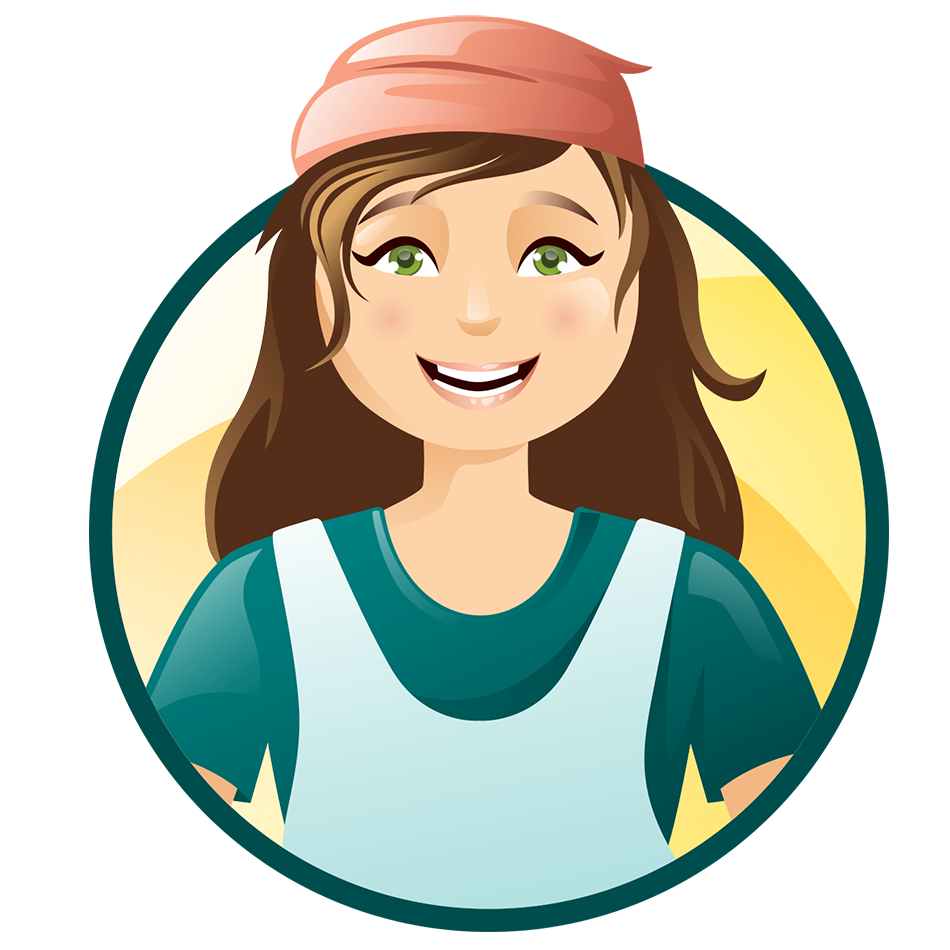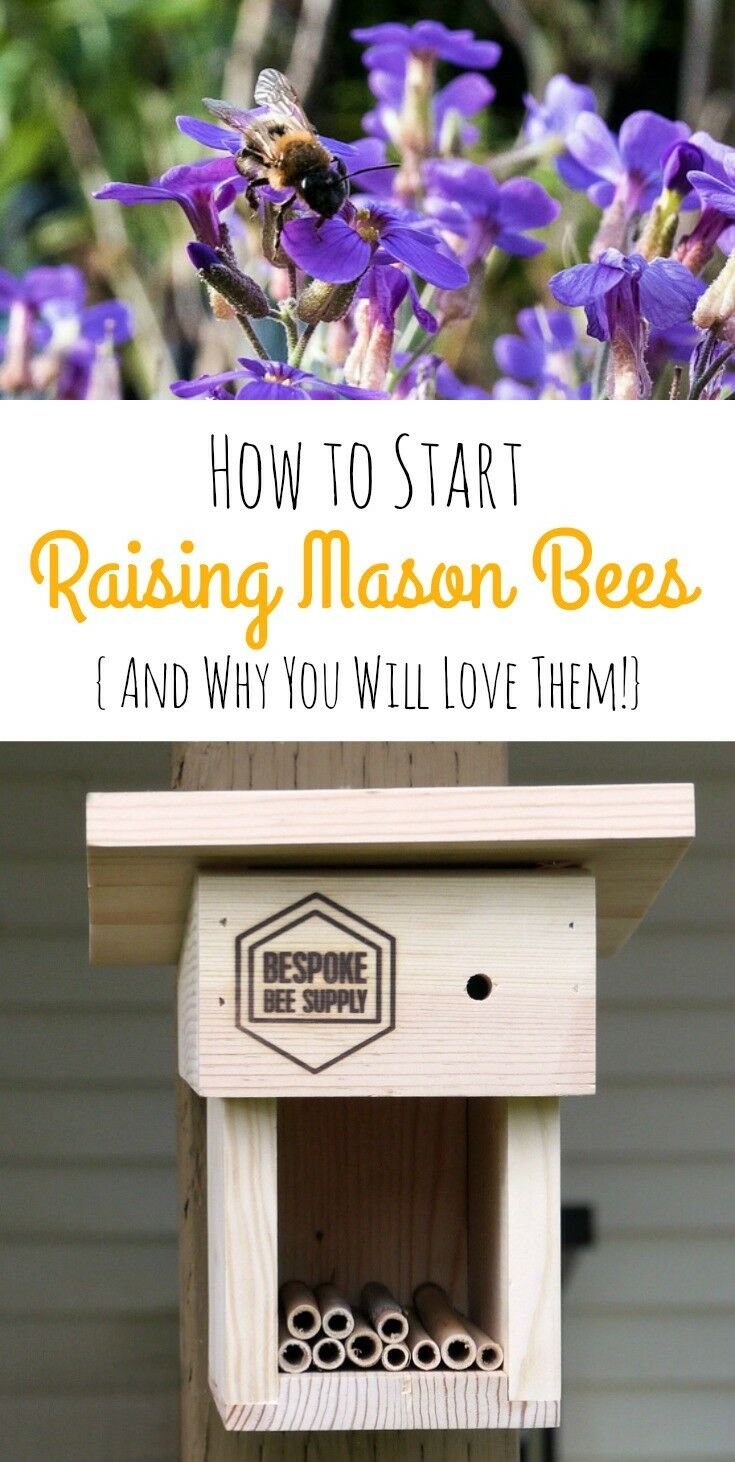 Thank you for visiting the Good Hearted Woman. Remember to bookmark this site, and come back soon!
We teamed up with BeSpoke Bee Supply (no longer in business) to bring you this post.