Fast, inexpensive, and easy to create, this Redwork Chicken Tea Towel makes a fun addition to your kitchen or a lovely, thoughtful gift.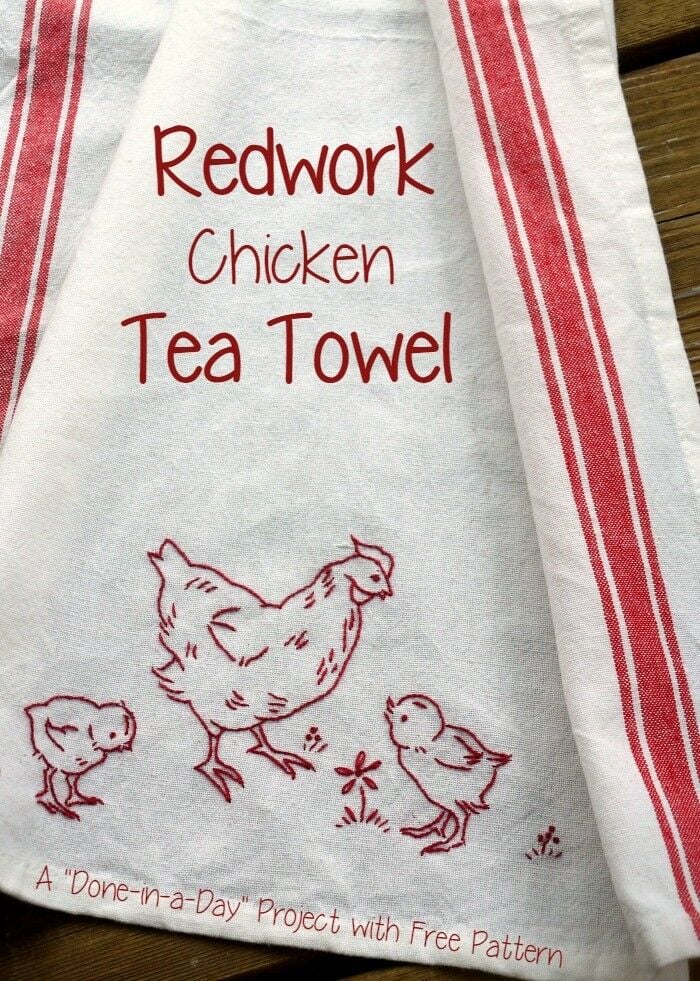 This post may contain affiliate links, but don't worry – they won't bite.
For the past week or two, I've been badly in need of a Craft-Fix.
If you know me at all, you know that I have an entire room full of sewing, painting, drawing and other craft projects to complete. (Don't even get me started about the writing projects that I have "in-progress.") How about you? What's in your "Project Closet"?
But don't you ever just want to start and finish a project in the same day? That's how I've been feeling lately. So last week, I started cruising Pinterest for some creative inspiration, and ended up finding a huge board of old-fashioned redwork like my great-grandma used to do. Eureka!
Now, it's no secret that I've had chickens on my mind lately. In less than a week, I'm off to Camp Blogaway, where among other things I'll be representing Nest Fresh Eggs, and so I've been experimenting with all sorts of egg recipes lately. In addition, these little ladies just joined our family last week:
A chicken tea towel was a perfect afternoon project! Fast, inexpensive, and simple to create. Plus – so cute!
A quick search brought me to Knitting-and.com, where I found a collection of great free embroidery patterns. Even better, the images themselves are from the 1940's and are all in public domain! However, the specific pattern I found to an Etsy seller, and since I wanted to be able to share a pattern that you could print directly, I drew up a new one just for this project. You can download my pattern PDF here → FREE Redwork Chicken Pattern. (You are welcome to share this pattern with others if you link it back to this webpage.)
Here's my finished towel. Isn't this just adorable? If you want to make one of these lovelies, it will cost you just a few bucks and a couple of hours.
Chicken Redwork Tea Towel – Step-by-step
You will need:
Embroidery needle – I used a DMC #5 sharp
Embroidery floss – I used DMC 816
100% cotton tea towel – I used a cool retro tea towel that I bought at Joann's (3 for about $5 with a coupon). You can also use a plain flour sack tea towel, or just make one out of muslin.
Embroidery Hoop or frame – I used a 7-inch hoop, but I would have used my 5-inch if I could have found it.
Download and print the FREE Redwork Chicken Pattern.
Transfer the pattern to the front of your flour sack tea towel. For a design this simple, I usually just trace the main parts of the design directly onto the fabric with a soft pencil or removable ink. You can do this by using a light table, or just holding it over a window.
Hoop it up and embroider. Most of the needlework is done in a simple outline stitch using 2 strands of floss. The chicken eyes and the small flowers are worked in french knots, and the larger flowers are a french knot surrounded by lazy-daisy stitches.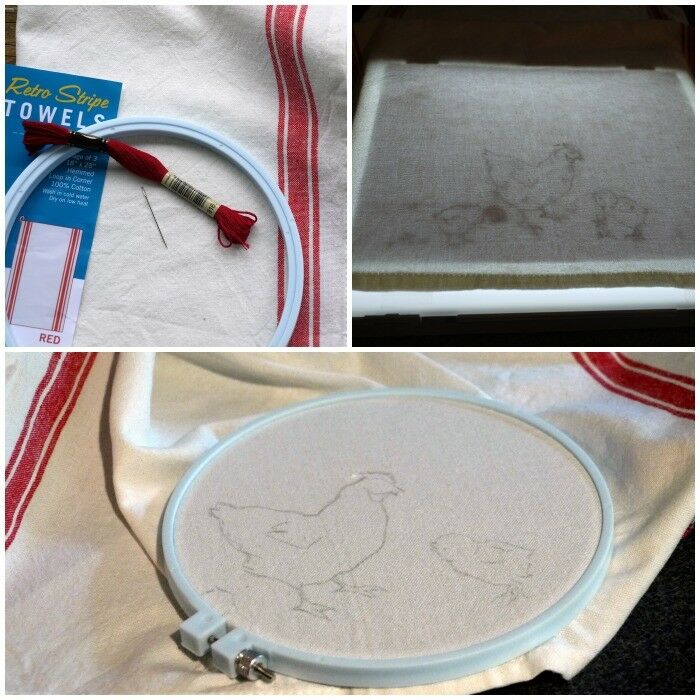 This little Redwork Chicken Tea Towel takes only a couple of hours to complete, or even less if you choose to do a smaller portion of the pattern. It is well worth the time, and makes a fun addition to your kitchen or a lovely, thoughtful gift.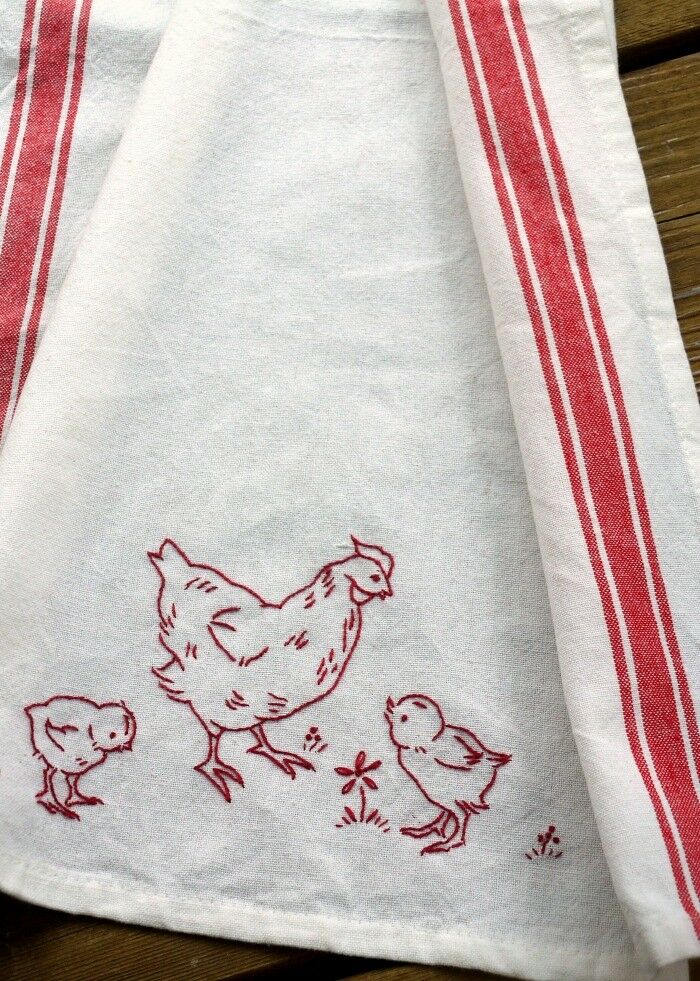 Disclosure: This post may contain affiliate links, which means we may receive a commission if you click a link and purchase something that we have recommended. While clicking these links won't cost you any extra money, they do help keep this site up and running, and at the same time allow us to keep traditional advertising to a minimum. As always, all opinions and images are my own. Please check out our disclosure policy for more details. Thank you for your support!