Blue Cheese is amazingly versatile; equally perfect on a fruit and cheese plate or as a stand-out ingredient in your next meal. Check our roundup of delectable blue cheese recipes for ideas!
Jump to:
What's the Story on Blue Cheese?
Mr B and I took a trip to the Rogue Creamery in Southern Oregon's Rogue River Valley, where we visited the Rogue Creamery to learn more more about blue cheese, and see first-hand how they create their award-winning cheeses.
For many years, I erroneously thought that blue cheese, Roquefort, Gorgonzola and the like were distinctly different cheeses. And they are... but they aren't.
Like Swiss- and cheddar-style cheeses, there are a wide variety of blue cheeses, each with its own unique flavor and textures, but they can ofttimes be used interchangeably in recipes. So before we go any farther, let's take a moment to discuss what blue cheese is.
Blue Cheese Basics
Blue cheese is most often made from cow, sheep, or goat milk.
Blue cheese is made by culturing milk with Penicillium, a type of mold.
Different blue cheeses are cultured in various ways, using unique strains of Penicullium, giving them their distinct flavor, texture, and aroma.
In the European Union, many blue cheeses (e.g., Roquefort, Gorgonzola and Stilton) are protected, and can bear their name only if they have been made in a particular region.
Popular Blue Cheese Varieties
Cabrales - Traditionally made from mixing goat and sheep's milk together, Cabrales has a strong, spicy flavor.
Danish Blue - This strong blue cheese is creamy, with a semi-soft texture.
Dorset Blue Vinney - This English blue cheese is made with unpasteurized, skimmed cow's milk, and has a hard texture, a crusty outer layer, and a strong aroma and taste.
Gorgonzola - Made with either cow or goat's milk (sometimes both), Gorgonzola is a firm, creamy cheese with a salty and often slightly sweet taste.
Roquefort - Famously green-veined, Roquefort has a tangy, salty flavor with sweet undertones.
Stilton - This semi-soft cheese is made from unpasteurized cow's milk, and has a strong aroma and outstanding flavor.
Rogue Creamery (Est. 1933)
There's something comforting and wonderful about the rustic feel of a real, honest-to-goodness (emphasis on the goodness!) cheese shop, and the Rogue Creamery is about as honest a cheese shop as they come.
Founded in 1933 at the height of the depression, Rogue Creamery began producing blue cheese in 1954. Today, they continue to draw both inspiration and resources from Southern Oregon's Rogue River Valley, and offer award-winning varieties of outstanding handcrafted blue cheese, cheddar cheese, and TouVelle.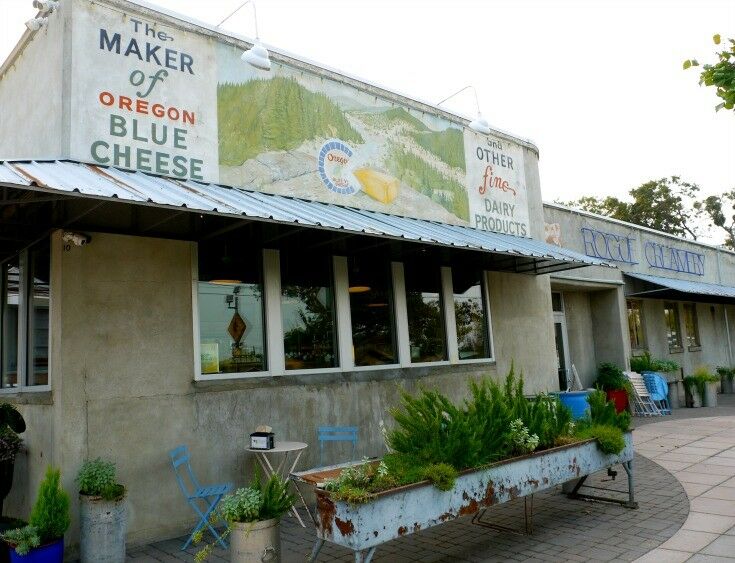 Step inside to sample cheeses to your heart's content. Hungry travelers can order one of their crazy-good panini-style grilled cheese sandwiches, prepared with more than a generous amount of cheese.
A great place to pack a perfect picnic, Rogue Creamery also offers a carefully curated selection of deli items, crackers, fruit, beer, and wine, as well as local artisan jams, jellies and sauces. The staff at the shop is helpful and knowledgeable, and will be more than happy to help you with your selections. Samples are always available, but if something you want to try isn't out, all you need to do it ask.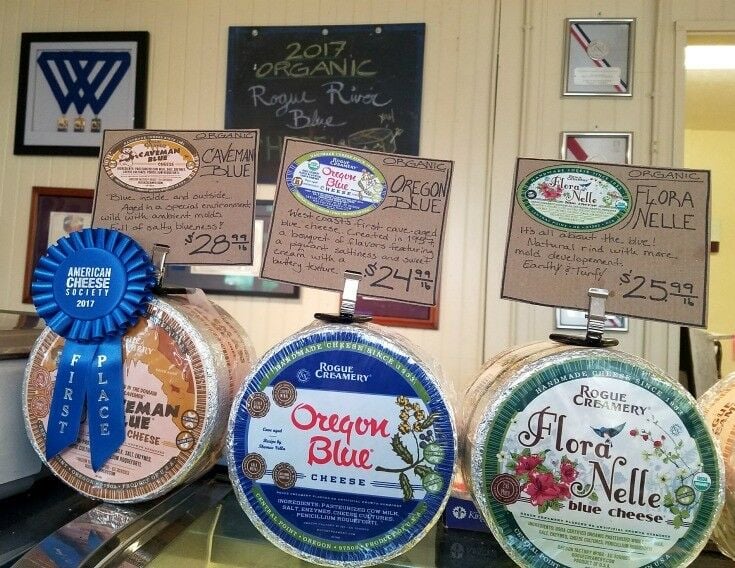 Creamery Notes
Smokey Blue: Referred to in-house as "Beginner Blue," this smooth, smokey blue packs in all of the flavor (and then some) without the harsh, bitey quality of some blue cheeses. This classic Roquefort-style blue cheese is cold smoked sixteen hours with Oregon Hazelnut shells, resulting in a sweet, creamy, smoky flavor. It crumbles well, and is "easy to eat" as blue cheese goes, and pairs well with well-rounded "food" wines that are on the fruity side and lighter on tannins and acidity.
LaDiDa Lavender Cheddar: I know - it sounds weird, but Mr B and I both love this uniquely floral cheese. LaDiDa would be perfect on a dessert tray with chocolate or scones, and paired with a light dessert wine.
Caveman Blue: Full-bodied, buttery, and AMAZING! Rogue Creamery uses a unique aging environment to create this golden-hued blue that tastes of sweet, fresh buttermilk with hints of tropical fruit. Caveman's earthy undertones pair well with a wide range of beverages, from bold reds to sweeter desert wines to full-flavored Stouts.
Blue Heaven (Powdered Cheese): Blue Heaven is a proprietary blend of Oregon Blue, Oregonzola, Crater Lake Blue and special reserve blue cheeses. Perfect for sprinkling on salads, breads, popcorn, nuts, and anything else you can think of.
Not a fan of dry, tannin-rich red wines? Me either. But next time you have the chance, try some with a bite of blue cheese. You may be pleasantly surprised (as I was) to discover that the pairing opens up whole new venues to you.
Tannins literally bind to the cheese's protein and fat, measurably softening the astringent qualities of the tannins, and making the entire tasting experience smoother in the process.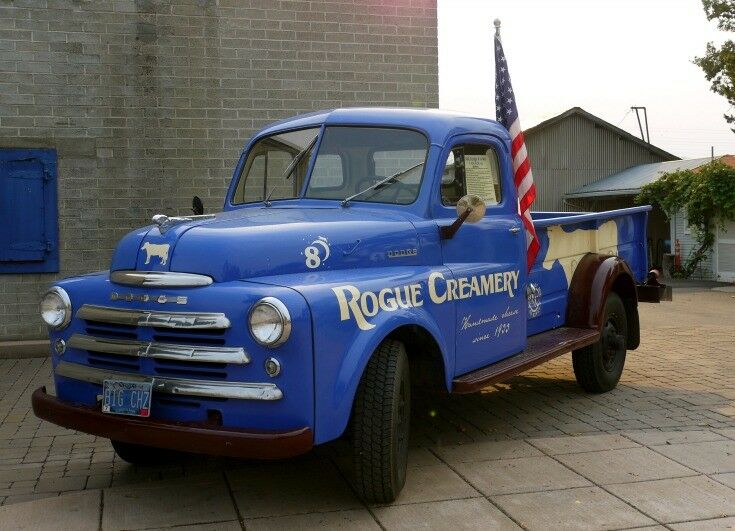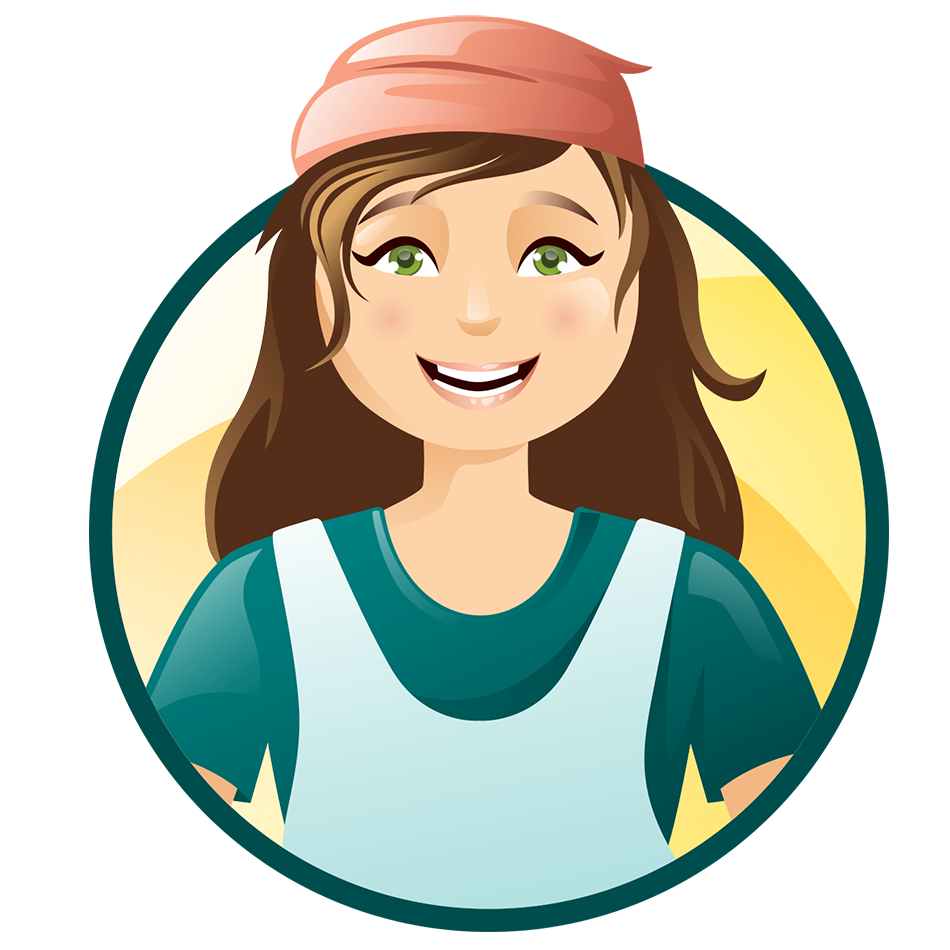 Oregon's Rogue Valley is growing and thriving, and Mr B and I have simply fallen in love with it. Read more about our favorite Southern Oregon discoveries on the Applegate Valley Wine Trail, and in Jacksonville and Ashland.
24 Delectable Blue Cheese Recipes
Blue Cheese is an amazingly versatile cheese; equally perfect on a fruit and cheese plate or as a stand-out ingredient in your next meal.
Thank you for visiting the Good Hearted Woman. Remember to bookmark this site, and come back soon!