A visit to The Country Music Hall of Fame & Museum may change how you think about American music – in all its forms – forever.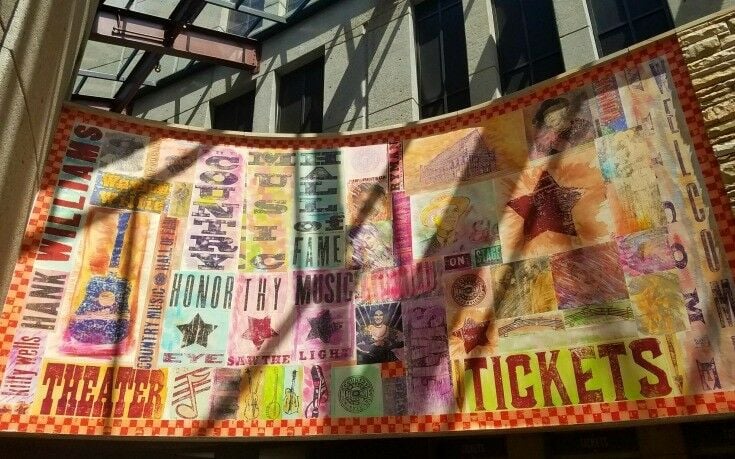 This post may contain affiliate links, but don't worry – they won't bite.
I'll be honest: initially, Mr B was way more excited about visiting The Country Music Hall of Fame & Museum in Nashville than I was. It makes sense; his country musical roots run deep, even back to the old-timey music of a bygone era; while mine lean more toward folk, rock, and blues. What I didn't understand before our Tennessee trip was how profoundly his music has influenced my music (and vice versa) over time.
The Country Music Museum
Chartered in 1964, the museum portion of The Country Music Hall of Fame & Museum has compiled one of the world's most extensive musical collections, including images and photographs, oral histories, digital archives, and a priceless collection of musical instruments.
The heart of the museum is Sing Me Back Home: A Journey Through Country Music, a permanent exhibition that immerses visitors in the story of country music, as revealed through artifacts, photographs, vintage video and recordings, and interactive touchscreens.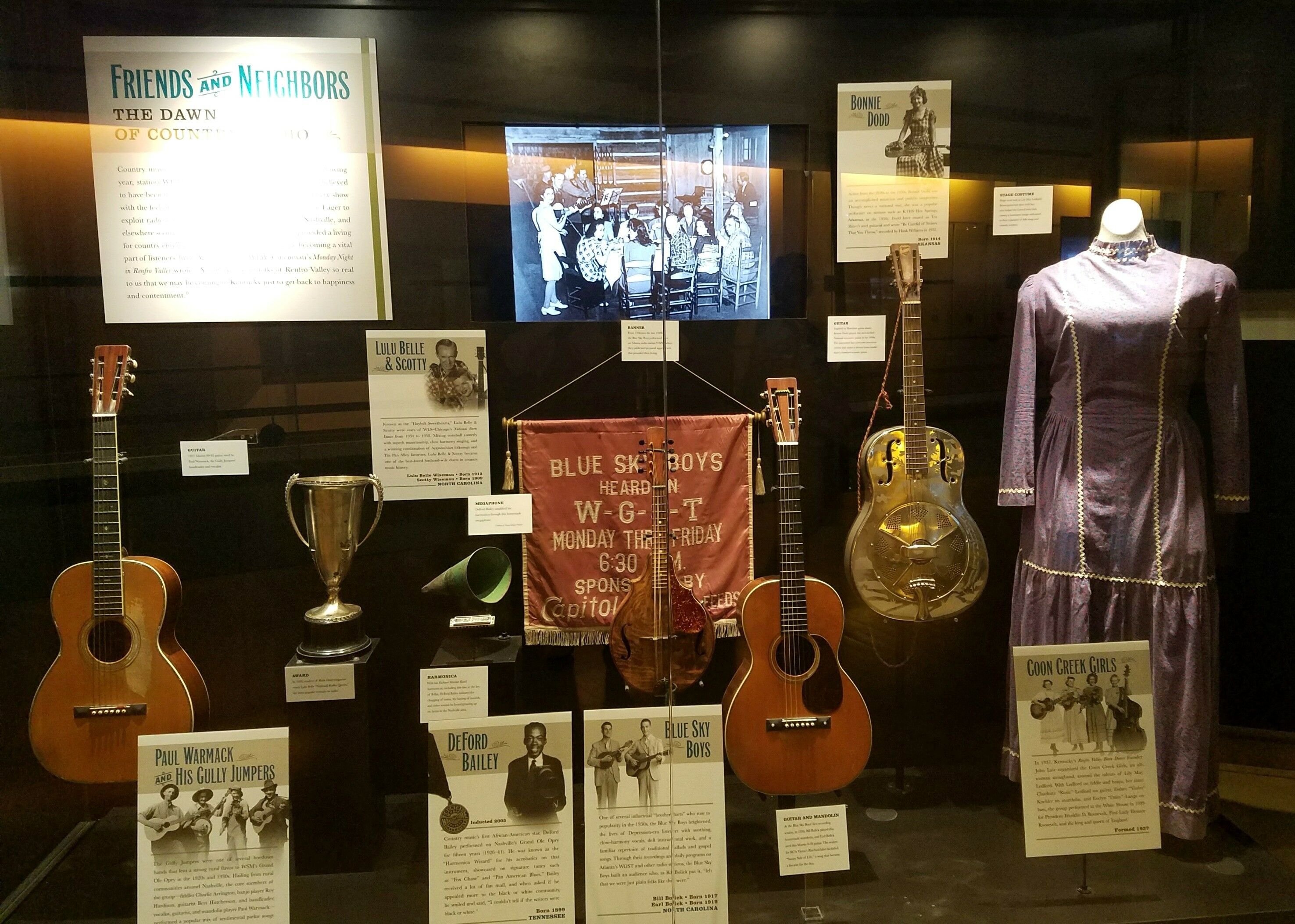 The first thing that hit me as we wandered through the Sing Me Back Home exhibit was how closely our music history is tied to our cultural history in this country. Mr B and I were both particularly moved by some of the instruments on display from the early pioneers of country music. It is awe-inspiring to consider the hands that played these instruments, and their contributions to music, and how those contributions continue to influence the music we listen to today.
All those iconic instruments got me thinking… Over the years, how many people listened to Sara Carter play her autoharp as part of America's first commercial rural country music group? How many skirts swirled across a wooden floor to the sound of Bill Monroe's mandolin?
In addition to Sing Me Back Home and its other permanent exhibits, the museum hosts a number of temporary featured exhibits. At the time of our visit, one of these exhibits in particular made a lasting impact on me – Dylan, Cash, and the Nashville Cats.
Dylan, Cash, and the Nashville Cats
Musically, I've always been captivated by unlikely collaborations. (Led Zepplin's Robert Plant and bluegrass queen Allison Krauss' amazing collab on Raising Sand immediately comes to mind.) But our visit to the museum made it clear that the impact of these cross-genre partnerships can be deep and long-lasting, impacting long-term music culture in a myriad of ways.
Take, for example, the collaboration of Bob Dylan and Johnny Cash. (Surprised? I was!) Dylan, as you hopefully may know, is a musician associated far more closely with 60's counter-culture, flower children, folk music, and the singer-songwriter enclave than traditional Country Music. And yet, there he was on the second floor of the The Country Music Hall of Fame & Museum, standing right next to Johnny Cash (or rather one of Johnny's black suits).
It turns out that, in 1966, against the advice and wishes of his record label executives, Bob Dylan came to Nashville to record his classic album Blonde on Blonde. In doing so, he inspired a string of folk and rock musicians to follow his lead, and this following became known as the Nashville Cats.
Dylan, Cash, and the Nashville Cats: A New Music City, currently a featured exhibit at the museum, highlights this iconic musical pairing. Recalling the Nashville music scene in the late '60s and early '70s, it illustrates clearly how this unlikely association continues to influence the music, and energize fans and musicians alike.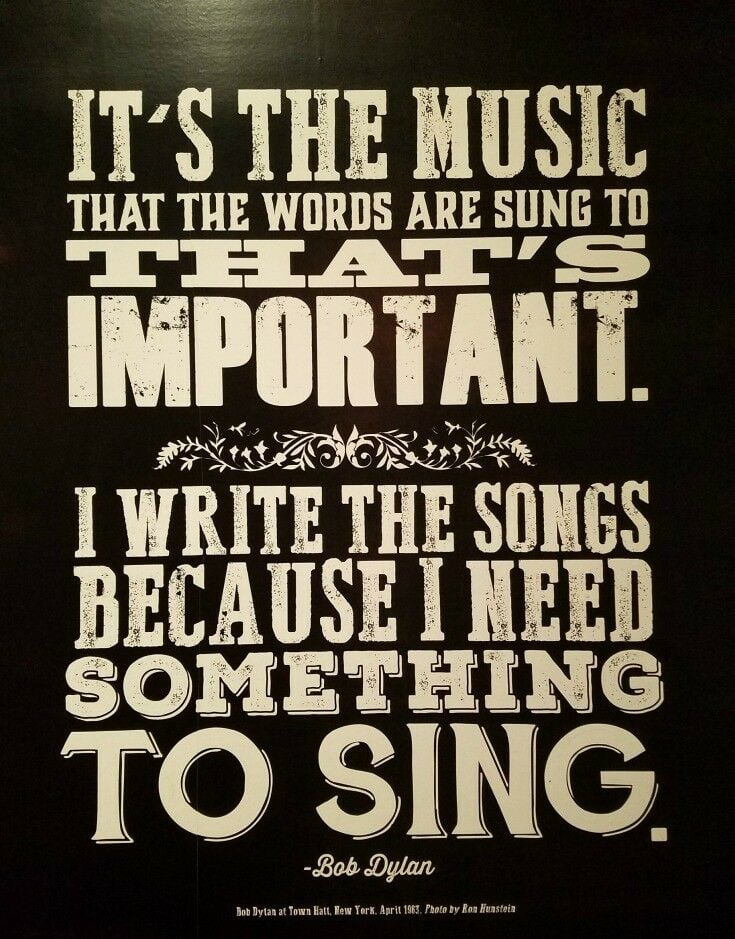 Other exhibits in The Country Music Hall of Fame & Museum showcase contemporary artists, including those who have made a significant impact on country music in recent years. At the time of our visit, these included Jason Aldean, Shania Twain, Taylor Swift, and many others.
The Country Music Hall of Fame
In addition to providing a home for its amazing musical museum, this building is also home to The Country Music Hall of Fame. Membership in the Hall of Fame is the highest honor a country music professional can receive.  Performers, songwriters, broadcasters, musicians, and executives in the industry are inducted in recognition of their contributions to the development of country music.
The building itself is filled with musical images and symbolism. For example, from the air, the building forms a massive bass clef, and the building's front windows are built to resemble piano keys.
If you are visiting Nashville, be sure to plan a visit to The Country Music Hall of Fame and Museum. Whether you are a lifelong country music fan or simply curious, it may very well change how you think about country music forever.
Click here for more information about visiting The Country Music Hall of Fame and Museum.
Disclosure: We were compensated for this post. Thanks to the Country Music Hall of Fame for giving us complementary tour tickets. As always, all opinions and photos (except as noted) are our own. This post may contain affiliate links, which means we may receive a commission if you click a link and purchase something that we have recommended. While clicking these links won't cost you any extra money, they will help us keep this site up and running – and (relatively) ad-free!! Please check out our disclosure policy for more details. Thank you for your support!