RCA Studio B is the oldest surviving recording studio in Nashville. Here, 1000 hits were brought to life and American music history was made.

This post may contain affiliate links, but don't worry - they won't bite.
It's just a small blue X taped out at the intersection of four old-school linoleum tiles. All by itself, it doesn't look like much at all. Right?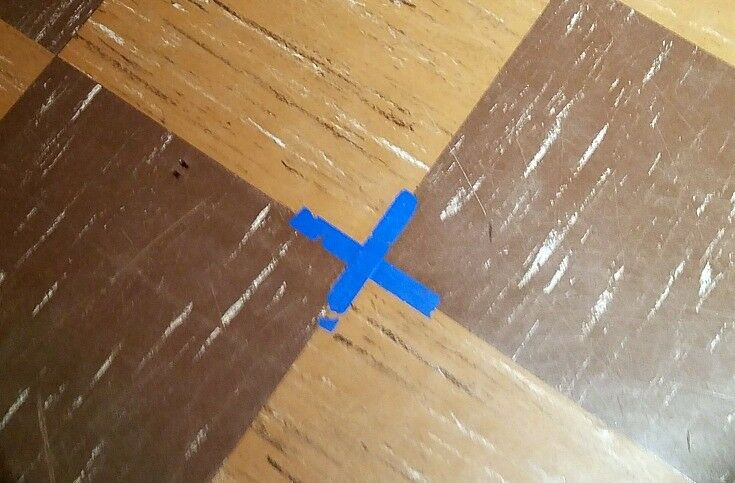 Sometimes, appearances are deceiving: that blue X is the Sweet Spot at the historic RCA Studio B - a distinct point in the universe where countless artists have stood to create musical history.
Here, 1000 hits were brought to life. Stand on this spot, close your eyes, and you can't help but feel a little chill of excitement in the connection.
Built in 1957, this unassuming little building on Nashville's famous Music Row became a cradle for what became known as the Nashville Sound. A distinct departure from the "honky-tonk" country music of the time, the Nashville Sound was characterized by smooth strings, sophisticated background vocals, and crooning lead vocals.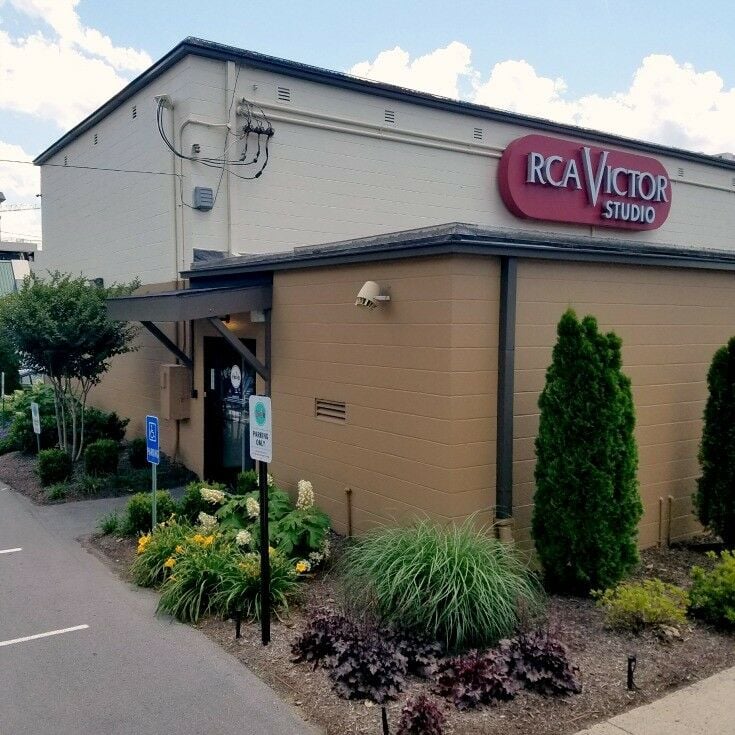 Tours of RCA Studio B are arranged through The Country Music Hall of Fame. When our tour group arrived, we were ushered into an anteroom lined on three sides with pictures of musicians past and present. The fourth wall was devoted to Elvis' recordings. We had plenty of time to scan the walls as our guide played recordings of a wide variety of artists and told us some interesting stories about them.
Mr B should be a Nashville tour guide. (Seriously, Mr B should be a Nashville star, but that's another story for another day.) Anyway, he grew up on the old-timey country music, and as we looked around the room, he excitedly pointed out singers to me that I'd never even heard of and told me stories about them like they were second cousins.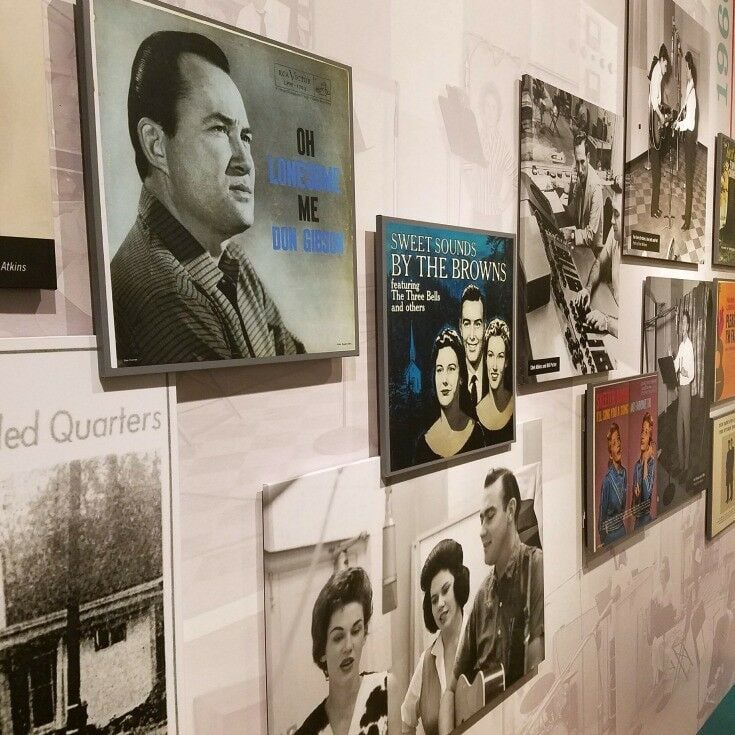 More than 35,000 songs were recorded at Studio B during the golden age of the Nashville Sound (1957 to 1977) including more than 1,000 American hits, 40 millions-selling singles, and over 200 Elvis Presley recordings. But this place is so much more than numbers, or hit records, or even Elvis. (OK, that last one is probably debatable.)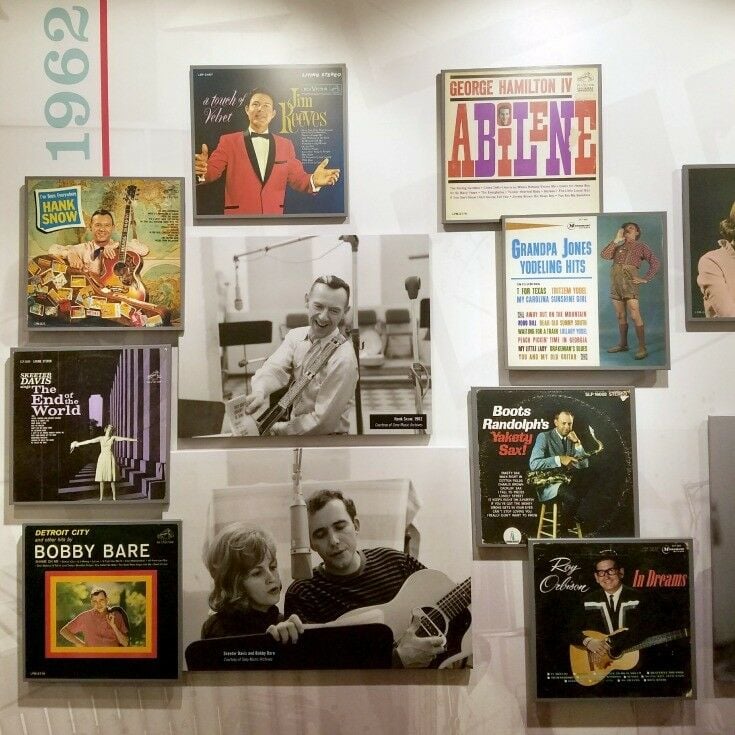 Elvis is, of course, a big draw for many to Studio B. He recorded over 200 songs here, including Are You Lonesome Tonight, and How Great Thou Art for which he won a Grammy. (Fun fact: All three of Elvis' Grammys were awarded for Gospel recordings.)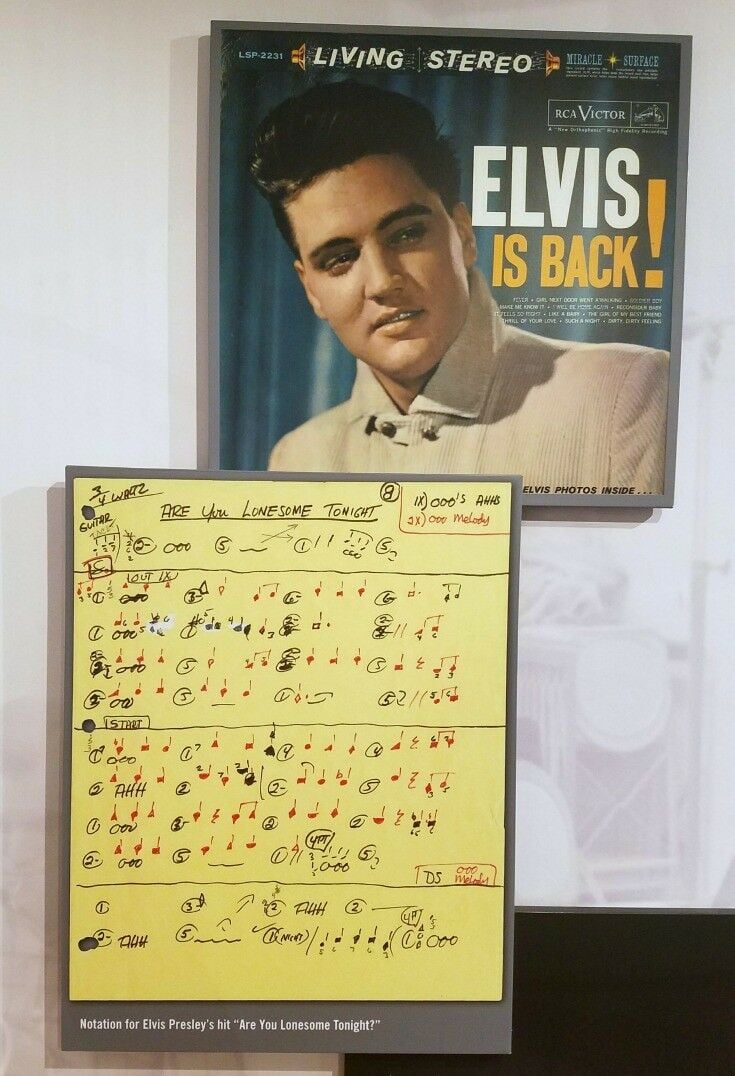 This Steinway, the centerpiece of RCA Studio B's instrument collection, is known as the "Elvis Steinway Piano." It is generally considered to be Elvis' favorite piano, and was the one he used to rehearse before recording some of his greatest hits.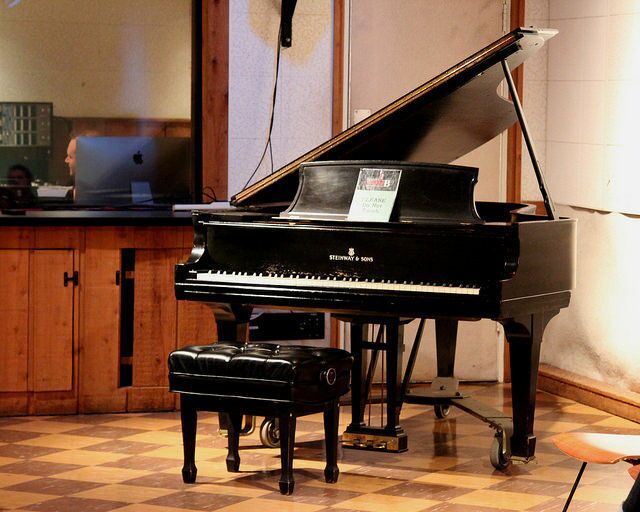 So many famous fingers have flown across those keys, and you can hear it being played in countless songs recorded at Studio B. (This piano is so famous that it has its very own Facebook page!) It made Mr B and I both wonder at the stories behind all those scratches and dings above the black keys.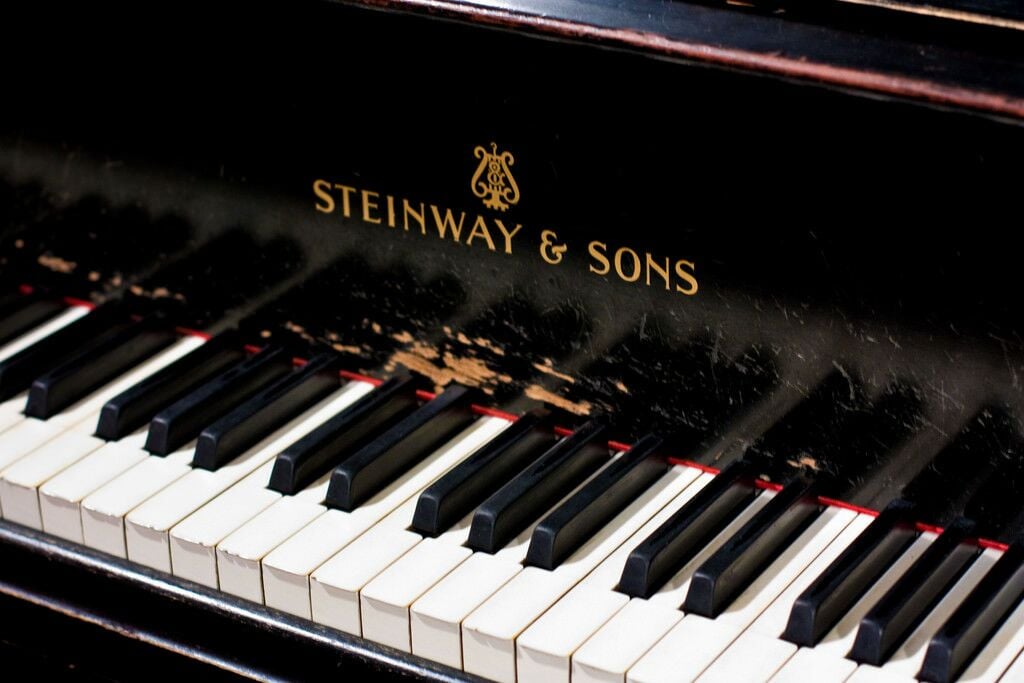 Mr B is a diehard Elvis fan, but The Everly Brothers were my personal favorite in the amazing Studio B lineup. (Those harmonies!) One of their signature recordings, All I Have to Do is Dream, is the song Mr B and I always use to warm up when we sing together, and standing in the space where they first recorded it was deeply moving to both of us.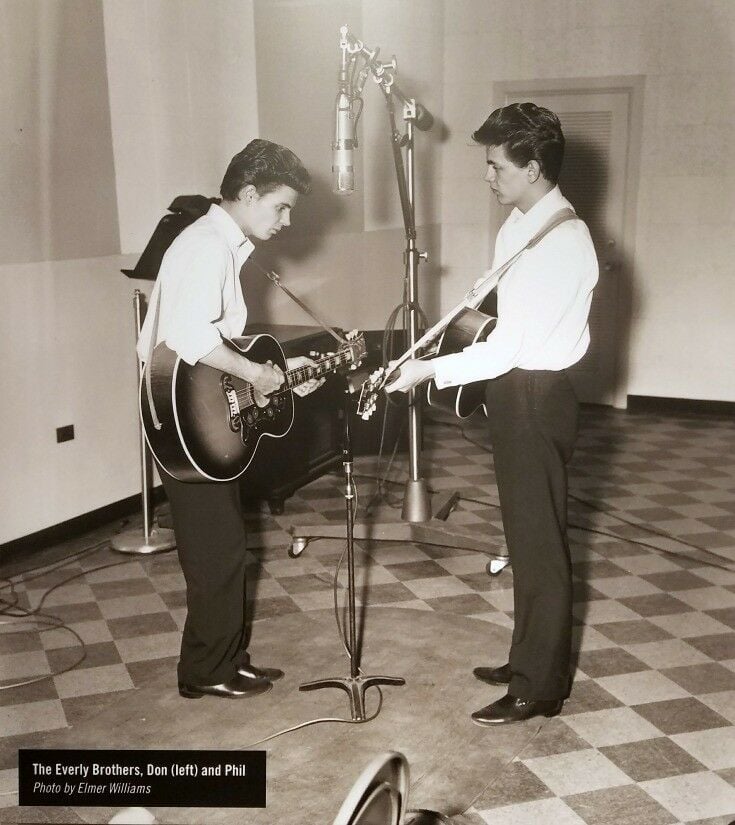 It was during our tour of Studio B that I first became fascinated with the intricate web of musical influence that reaches up from the South to weave its way into American musical history. (I'll be sharing more about this in future posts.)
Learning about the scope and caliber of the music created in this space took my breath away. (I have to admit, that happened a lot on our Tennessee adventure.) Here's just a sampling musicians who recorded here:
Roy Orbision recorded two of his biggest hits, Only the Lonely and Crying.
Dolly Parton wrote her mega-hits Jolene and I Will Always Love You on the same day and recorded both here, as she did Coat of Many Colors, her beautiful tribute to her life in Appalachia.
Waylon Jennings recorded, among others, Only Daddy That'll Walk the Line, That's The Chance I'll Have To Take, and Stop The World (And Let Me Off) - years before Outlaw Country was even a flicker.
Charlie Pride recorded Kiss an Angel Good Morning and Is Anybody Going To San Antone here. (My Dad used to sing Charlie Pride while he mowed the lawn. Mr B sings his songs to me now.
Studio B is still a working recording studio, and modern-day artists like Carrie Underwood, Martina McBride, Wynonna, and many others have followed their legendary predecessors into this amazing space. In terms of the evolution of American music, the impact of RCA Studio B and the artists who recorded there cannot be overemphasized; moreover, regardless of your musical tastes, they have unquestionably influenced the music you listen to today.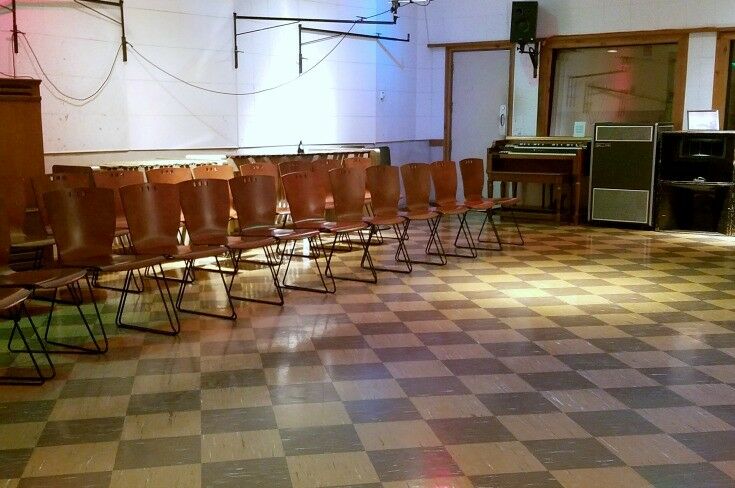 Take the RCA Studio B Tour!
If you are planning to visit Nashville, RCA Studio B needs to be on your itinerary. Tours are available for a relatively small additional fee (currently about $11) to anyone who purchases admission to The Country Music Hall of Fame & Museum. Start to finish, the tour lasts about one hour, and transportation is included.

THANK YOU so much for being a faithful reader and supporter
of The Good Hearted Woman. ? Be sure to PIN this post!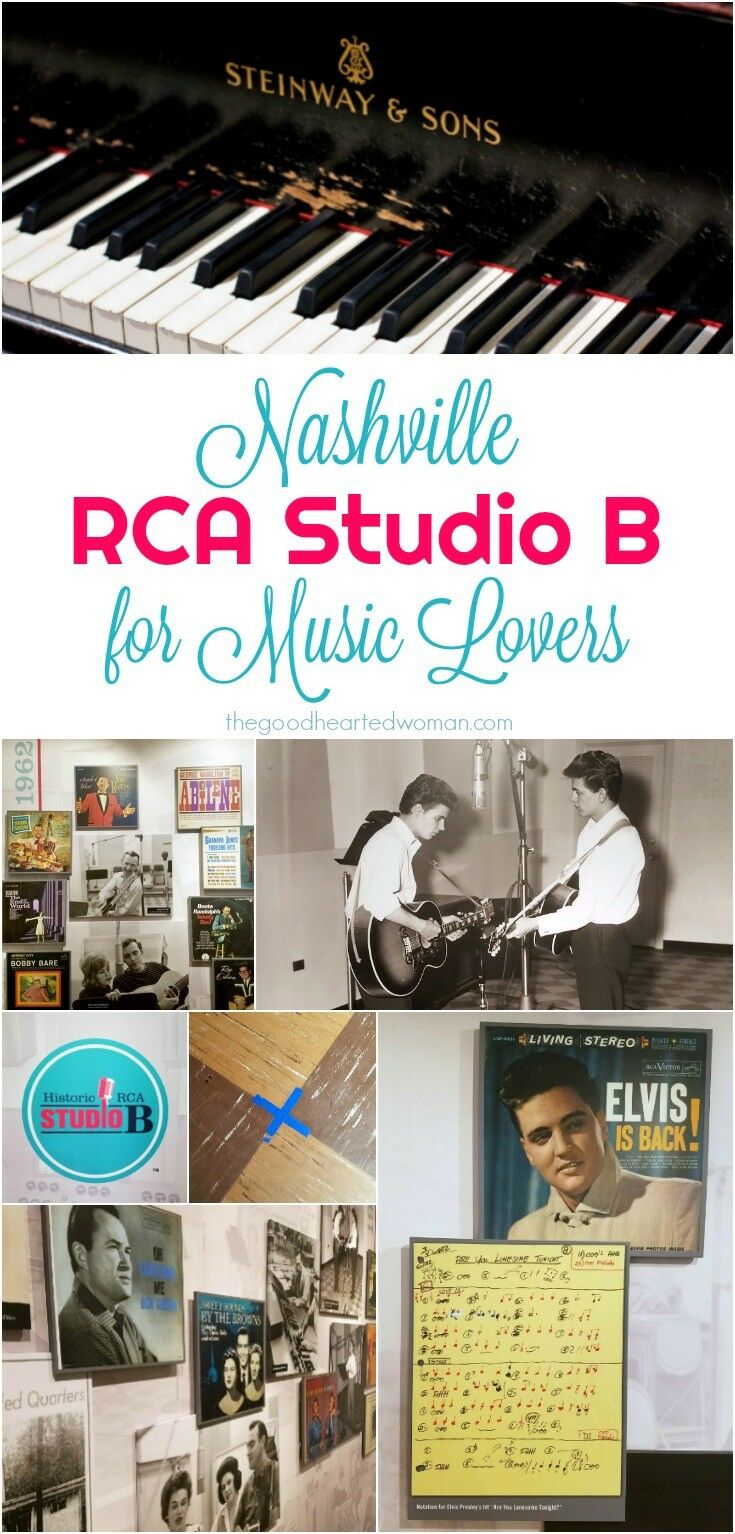 Disclosure: Many thanks to the Country Music Hall of Fame for providing us with complementary tour tickets. This post may contain affiliate links, including Amazon affiliate links, which means we may receive a commission if you click a link and purchase something that we have recommended. While clicking these links won't cost you any extra money, they do help keep this site up and running. As always, all opinions and images are my own. Please check out our disclosure policy for more details. Thank you for your support!
Tennessee & Music Travel from GHW