I'm fine with being a Tourist.  I have Inner Peace with it.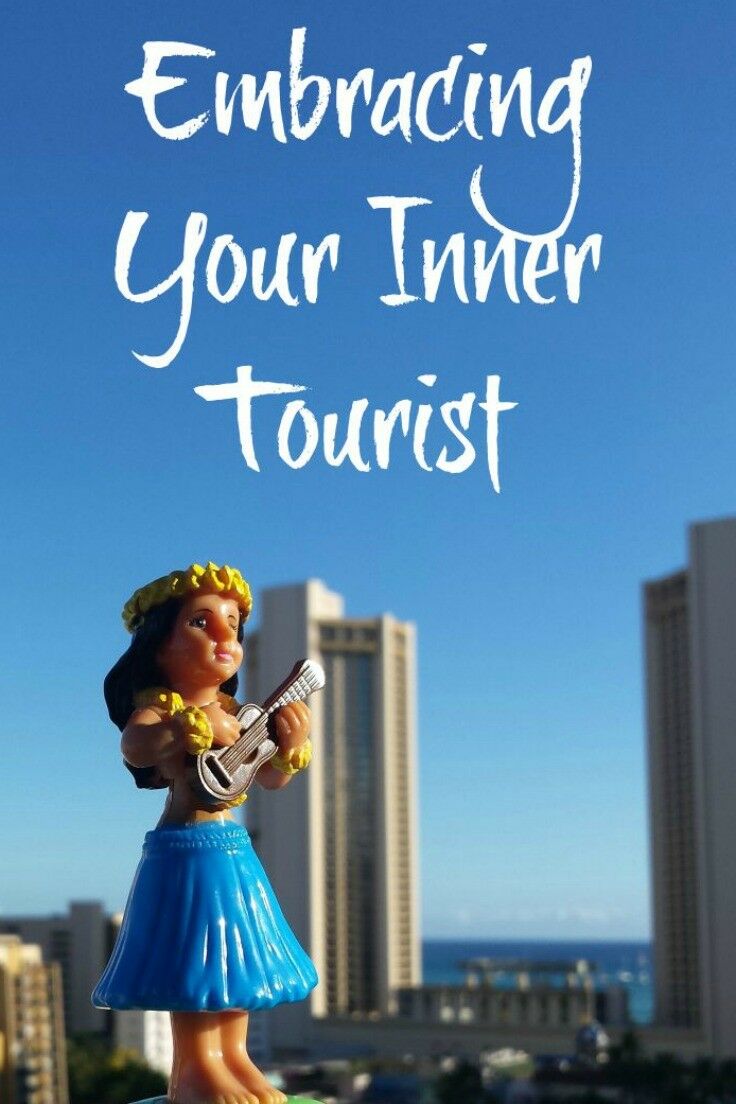 This post contains affiliate links, but don't worry – they won't bite.
Because his work takes him there often, Mr. B has spent a lot of time in Hawaii, but our vacation this summer was my first trip there. Before we left, many people asked me, "What island are you going to?" and when I replied that we would be staying on Oahu the whole time, nearly every one looked down and said, almost apologetically, "Oh, it's really touristy there. You know that, right?"
Well, of course I know. I am the Vacation Planner of all Vacation Planners.  So Yes.  I know. And guess what!?!
→ * → First time Hawaii Visitor ← * ← right here!!
I'm good with it.
Usually when I mentioned that we would have a car, and there was an audible sigh of relief, as if they were saying, "Whew. OK, I can let you go to Hawaii with my blessing now because you have a way to escape the city." Having been there, I get that too.  I would never want to go back (we are going back, right, Mr. B?!) if downtown Waikiki was my entire Hawaiian experience. But long before we went, I decided that for my first visit, I was going to embrace my inner tourist with gusto!
And I did.
For the first few days after I arrived on Oahu, Mr. B was still working, so I occupied my time by taking an all-day excursion around the island, a half-day tour of Pearl Harbor, and a fabulous sunrise photography tour.  ↓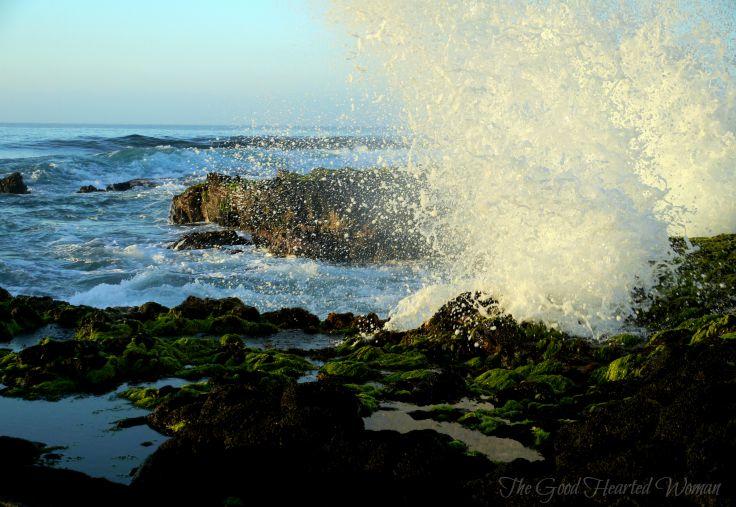 After his vacation officially started, Mr. B and I dedicated a whole day to touring the Pearl Harbor Memorial, so I ended up spending a total of a day and a half there. Which was fine, because Mr. B is a former sailor and my Dad was stationed at Pearl Harbor during The War, so we both feel a deep personal connection.
The majority of our time, however, was spent exploring the sights, sounds, and tastes on the coastline north of Honolulu. We went kayaking and snorkeling, hiking and sightseeing, and had a great time everywhere we went, from the colorful beaches of the North Shore to bustling streets of Waikiki. We even booked ourselves onto a cheesy sunset dinner cruise, which turned out to be one of the highlights of our trip. [You'll be reading more about all of our adventures as the month goes on.]
In the process, we made a few quick stops at some very touristy and (mostly) fun destinations.  I thought I'd share a couple of those with you today.
Anyone who has ever been to Oahu will tell you (or at least they all told me…many, many, many times) that no visit is complete without a visit to the Polynesian Cultural Center (PCC).
In all honesty, the PCC felt a lot like Epcot Islands to us; however, it probably would have been a lot more awesome had it not been blisteringly hot the day we attended.
The PCC is set up as a string of Islands, representing island groups from six Pacific cultures – Tonga, Samoa, Aotearoa, Figi, Hawaii, and Tahiti. You can stroll through the "Village Experience," mingle with natives from those islands, and watch demonstrations that reflect island life, both modern and historical. Each Island also offers shows, scheduled throughout the day, and that provide an in-depth, entertaining look at unique aspects of  Polynesian cultures. We got there later in the afternoon and so we didn't catch all of the shows, but those we did attend were very well presented. We especially enjoyed the Tongan show. (I mean, who doesn't love a guy with serious leg tattoos twirling Fire!?!)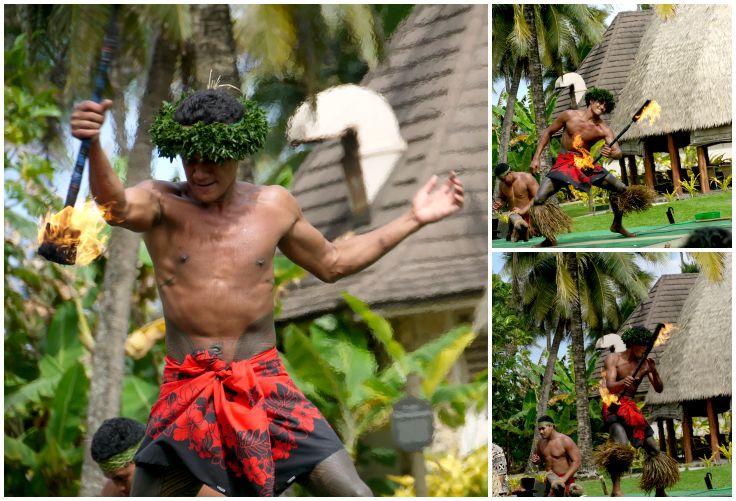 Figi was also very entertaining. Their show began with each performer standing under a carved lodge-pole representing one of their ancestors and giving a brief overview of their lineage. I know nothing about authentic Figi culture, so I can't say if this family-history focus is really a big deal in the Figi islands, or if the presentation was influenced more by the LDS Church, who owns and operates the PCC. (The BYU Hawaii campus is right next door the the PCC, and most of the performers are students there.) In any case, it was pretty of cool, and the performers themselves very talented.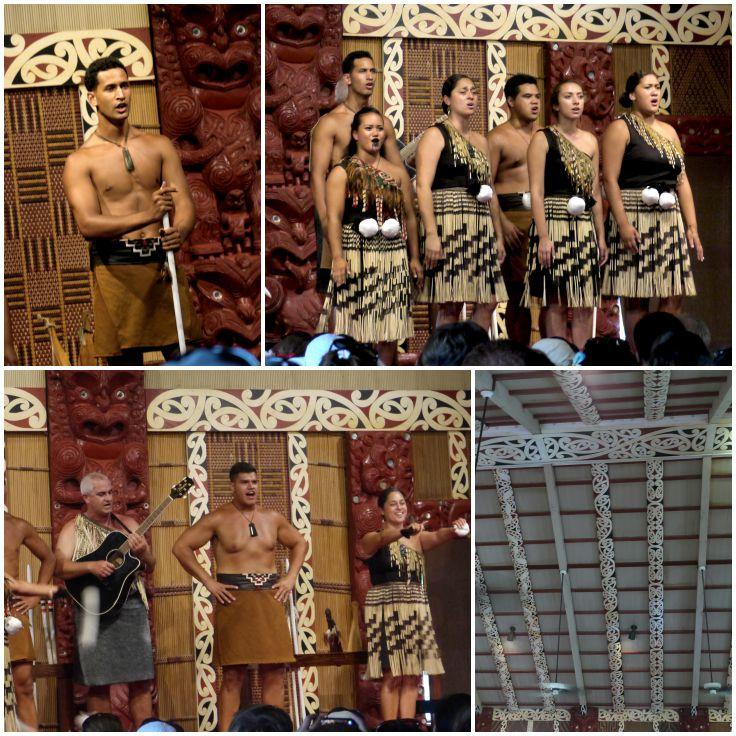 The PCC also puts on a canoe pageant each day, as well as cooking demonstrations, food tasting (yum!), and a Broadway-worthy evening show known as Hā: Breath of Life – an epic adventure told through traditional song and dance and fire-filled performances.
(It even comes complete with requisite luau!)
I'm not gonna lie – I went back here twice, because we ate up all the macadamia nuts I purchased on my first visit in one day! SO good. (Do not even comment to tell me how many calories are in one macadamia nut. I know. But they are nuts, so they are probably super -good for you, right? And that makes it totally OK to eat a couple of handfuls every night when you are on vacation, right?) This family owned place has a nice vibe, there are many varieties of nuts, as well as natural cosmetics and other fun stuff, and the prices are very reasonable.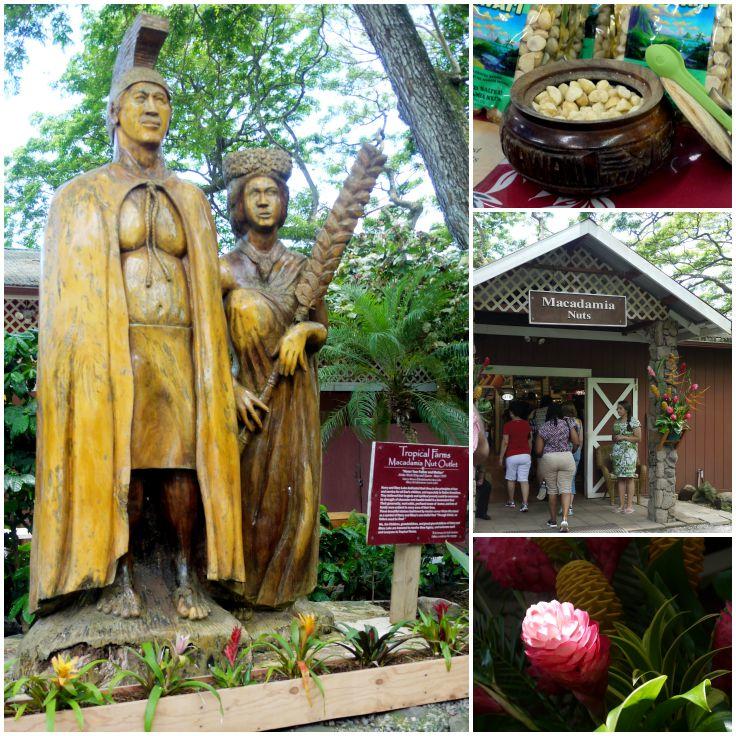 Mr. B and I made a decision some time ago that when we go on a vacation, we would avoid throwing our money at cheap, kitchy stuff that will eventually be thrown away (dashboard hulu girls excepted) and use our money instead to purchase one nice something that reminds us of our trip. Preferably something musical.
Hmm… Musical + Hawaii = ???
Ukulele!!
There are plenty of toys that have strings in Hawaii, and we weren't interested in those. We wanted a musical instrument – one that with a rich tone that would stand up to years of playing. After researching things out, we drove up to Haleiwa on Oahu's North Shore to meet the very talented Noah Campbell at The Ukulele Site shop.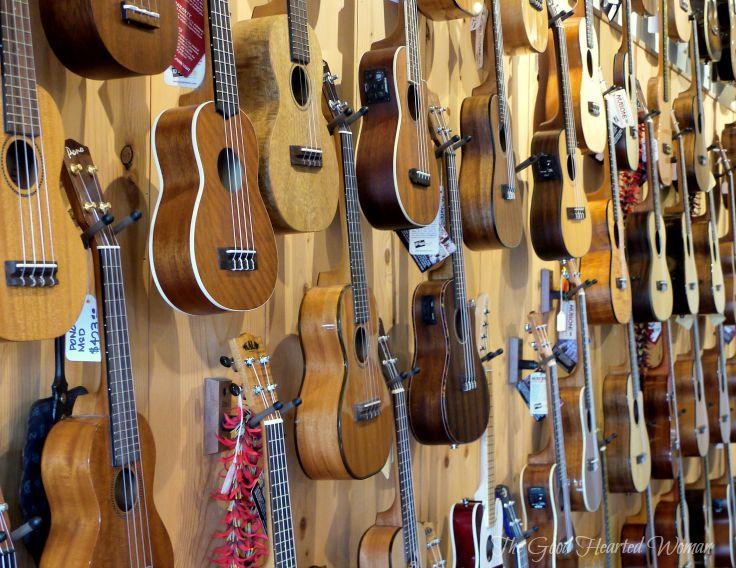 We already knew we wanted a Concert-size ukulele. (One step bigger than the small soprano variety seen in every single tourist shop window in Hawaii.) Noah helped us find one that met our needs in our price-range – a Pono MC-Mahogany Concert (with a pick-up!) – and since neither Mr. B nor I are ukulele players of any skill yet, he played it a little for us so that we could hear its tone and true potential. Great guy, great store.
We capped off our visit to Haleiwa with some shave ice at Matsumoto's.  Billed by locals and tour guides alike as the best shave ice on the island, Matsumoto's Shave Ice is the Voodoo Donuts of the North Shore.
Mamoru and Helen Matsumoto opened their small grocery store in 1951, and expanded it to include shave ice after the birth of their three children. They boomed in the 60s as waves of surfers from across the globe came to the island's famed North Shore. Today, tourists flock here in droves to stand in line for an hour just for a chance at a sweet treat.
We ordered the "Hawaiian" – Coconut, Pineapple & Banana – with condensed milk, which (by Hawaii's tourist prices) was a steal at $3.50, with plenty for both of us to share. And in case you are wondering, the answer is Yes, it was the Best Shave Ice I've ever had. The addition of condensed milk – Brilliant! – makes it takes like fresh, light ice cream, only better!
The point of this whole post is, if you want to do the tourist thing, embrace it! Pull on those Bermudas and that Hila Hattie shirt; slap that hula girl on the dashboard of your rental car and Go For It!
I know how much I love to see visitors discover my world here in the PNW for the first time, and I'm sure that people elsewhere feel the same way about sharing theirs. I know that the Hawaiians that I met did!  Oahu was the first place I've ever visited where the locals were (almost) as open and friendly as the folks on the streets back in my hometown.
So friendly, in fact, that it almost felt like Portland – with palm trees. And sunshine.


Disclosure: This post contains affiliate links, which means we may receive a commission if you click a link and purchase something that we have recommended. (Rest assured though, we will NEVER recommend anything we don't believe in just to make a buck. We like to sleep at night.) Anywho, while clicking these links won't cost you any extra money, they will help us keep this site up and running! Please check out our disclosure policy for more details. Thank you for your support!
Be sure to check out our Ultimate Oahu Vacation Guide for LOTS more info!