A visit to Historic Downtown Anacortes is a great way to start a vacation in the beautiful San Juan Islands.
Mr B and I had a number of options of how to get there when we set out for Orcas Island. Visitors can reach Orcas (or any of the beautiful San Juan Islands) by private boat, airplane, or seaplane, depending on the season. No matter how you get here, the scenery is spectacular and getting here is half the fun!
Most people, however, take a Washington State Ferry departing out of Anacortes, Washington. Anacortes, located on Fidalgo Island, is the most accessible island in the San Juan archipelago, with easy access via bridge from the mainland.
If you are driving in from points south, you will have to brave the unpredictable Seattle traffic to get there. With clear roads and little traffic, it's roughly a four and a half hour drive from Portland to Anacortes. Be sure to give yourself extra time if you are making both car and ferry trip in one day.
Things to Do in Historic Downtown Anacortes
Mr B and I had no desire to stress ourselves out at the beginning of our getaway, so we drove north and stayed the night in Mt. Vernon, a small farming community about thirty minutes outside of Anacortes. That way, we didn't have to worry about rushing to the ferry, plus it gave us the chance to stroll through Historic Downtown Anacortes before lining up at the ferry dock.
Enjoy the Anacortes Mural Project
Take a stroll down Commercial Avenue or the nearby waterfront and one of the first things you will notice is an abundance of colorful life-size murals on the sides of buildings all over town. These murals aren't painted directly onto the buildings, but rather are wood cutouts attached to the walls.
Based on photographs depicting life in early Anacortes history, the brightly painted woodcuts include a wildly diverse group of local characters, including musicians, shopkeepers, sports heroes, brewmasters, mail carriers, gas jockeys, and train conductors.
These murals make up what is known as the Anacortes Mural Project and are created by artist and historian Bill Mitchell, a lifelong Anacortes resident. Confined to a wheelchair, Mitchell began painting murals in 1984, and the count now numbers more than 150.
Along Commercial Avenue and down on the waterfront, you will also see a number of colorful cans featuring historic salmon label art from the Puget Sound fishing and canning industry. The salmon can project is the result of a city and community effort inspired by... Guess who? That's right - the aforementioned artist, Bill Mitchell! It seems that Historic Anacortes owes a great deal to this talented and dedicated artist.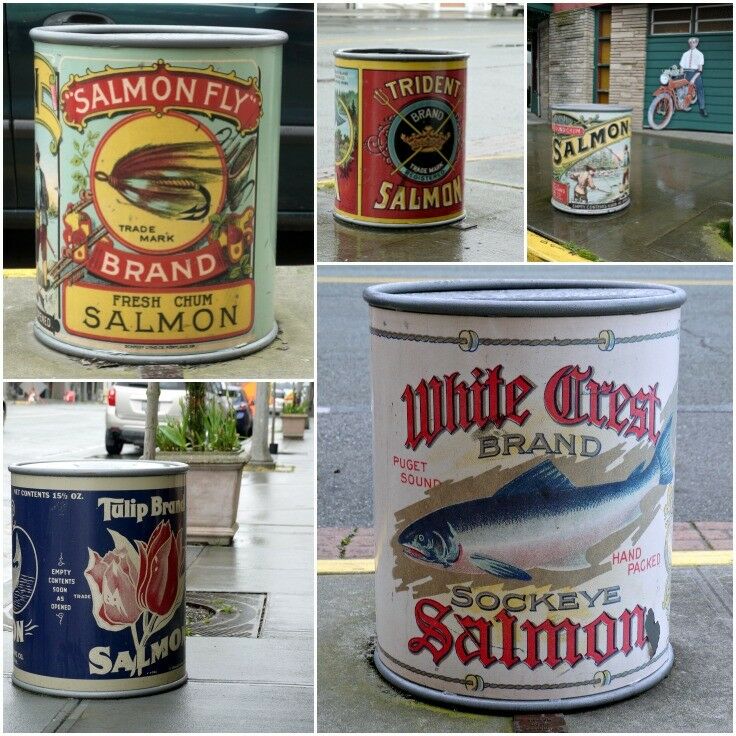 The sidewalk salmon cans recall Anacortes incredible fish-packing past. The first cannery in Anacortes opened in 1893 and by 1915, eleven canneries were operating in town. Most canneries packed salmon, but cod, tuna, clams, oysters, crab and even fruit and vegetables were also canned there.
Shop for Unique Gifts
There are a number of wonderful shops in Anacortes, including a a well-stocked quilt shop, an amazing historical marine supply store, and one of my personal favorites, Elisabeth's Cottage by the Sea.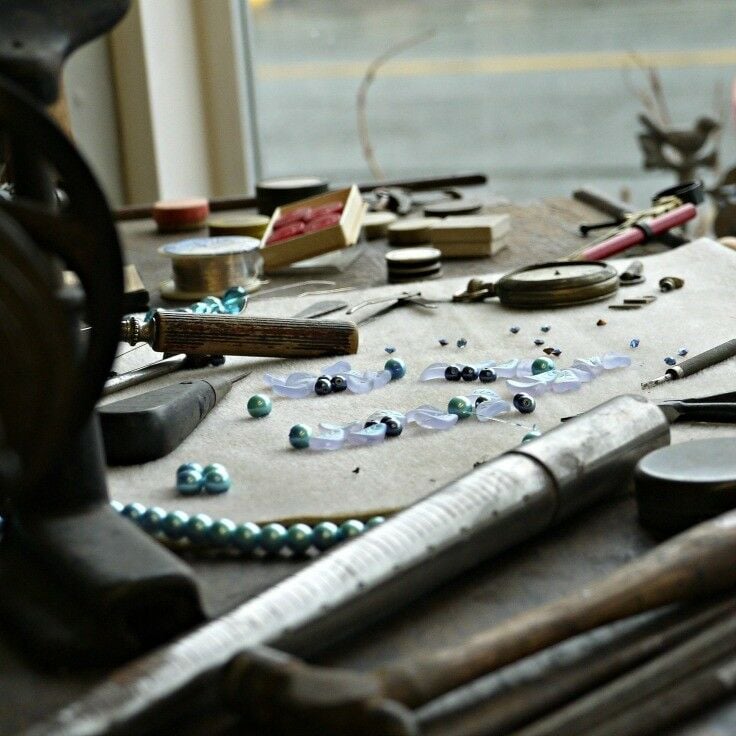 It was this window display – and Audrey Hepburn – that drew me in, but we soon found out that there was much more to Elisabeth's besides beading supplies.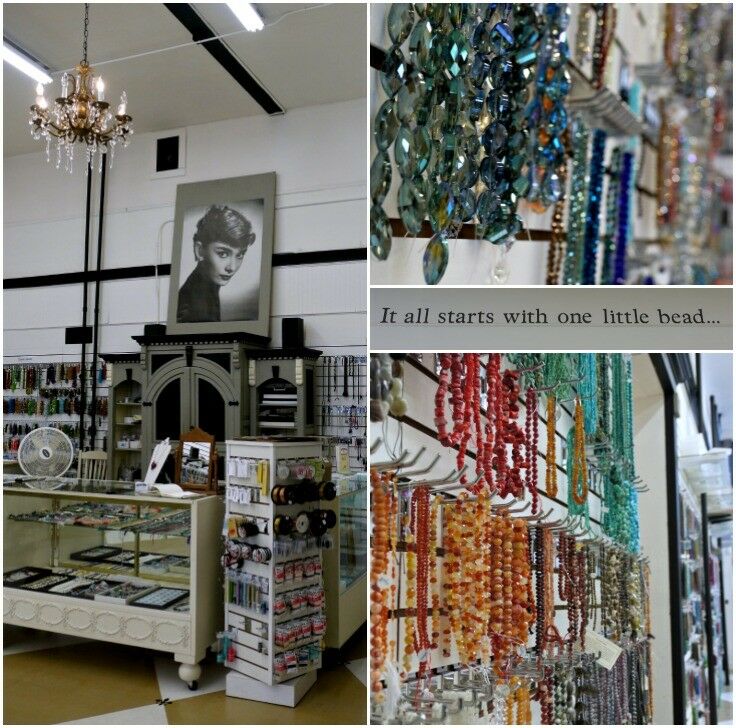 A visit to Elisabeth's Cottage by the Sea is a little like a treasure hunt. You will find a myriad of remarkable items, including jewelry (both vintage and new), antiques, nautical items, and cabin décor. They also offer jewelry making classes, including silversmithing, stone-cutting, inlay, and soldering.
Did I mention that they also house the largest turquoise carving in the world?
Valued at $1,800,000, this 121 pound turquoise carving is the largest of its kind in the world.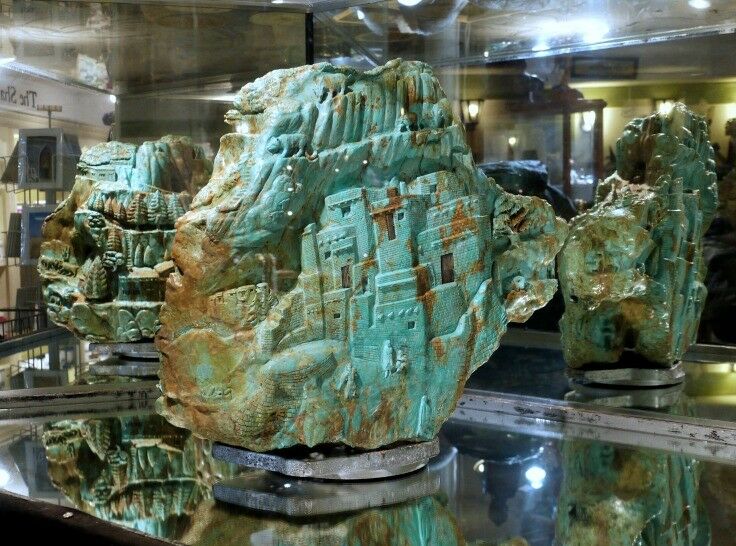 Grab a Bite to Eat
Before catching the ferry, we stopped at Adrift for a bite to eat. Adrift's menu features locally sourced meats, seafood and produce, and the place was packed midday Sunday, with every plate that passed by smelling marvelous. I believe they may also have the best tag-line for a restaurant that I've seen so far: ADRIFT - Swell Food for Salty Dogs. Love it!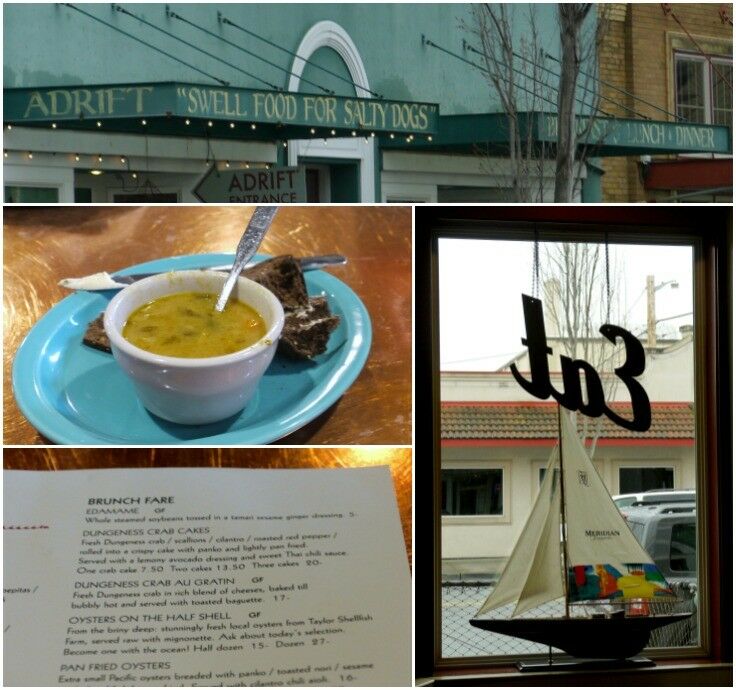 We cut ourselves a little short on time, so we had to forego ordering off their brunch menu (which looked Amazing, by the way! ) and went with simple a cup of soup and homemade dark rye bread. Both my Moroccan chickpea soup and Mr B's tomato bisque were deliciously hearty, well-seasoned, and very satisfying, and the soft, pillowy bread arrived warm from the oven.
How to Get to Orcas Island via Washington State Ferry
The Washington State Ferry bound for Orcas Island departs a number of times each day from Anacortes. Washington State Ferries offer more than a dozen sailings to the San Juan Islands each day, but not every ferry stops at every island, so pay careful attention to the ferry schedule, which changes seasonally.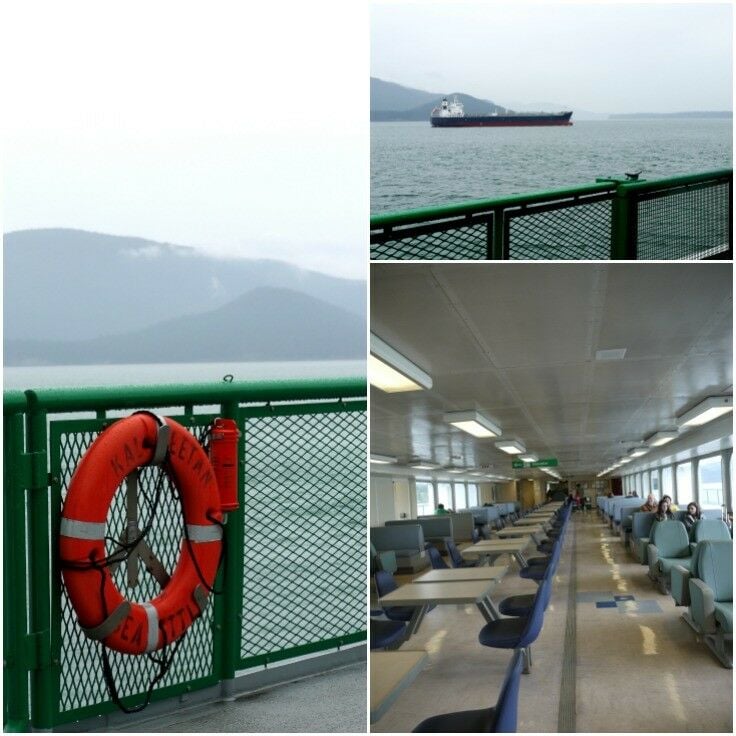 If you plan to bring your car on the ferry, it is strongly recommended that you make a reservation for both your trip to Orcas and your return to Anacortes. (Walk-on passengers don't require reservations.) There is no charge to make a reservation, although if you don't show up, you will incur a small penalty charge.
The ferry trip takes about an hour and twenty minutes, and there is plenty to see along the way. (I like to pretend that we're on a mini-cruise!) You can often find puzzles out on one of the decks, and travelers can pass time piecing them together. Mr B and I have done this many times, but we have yet to be the ones to "finish" the puzzle.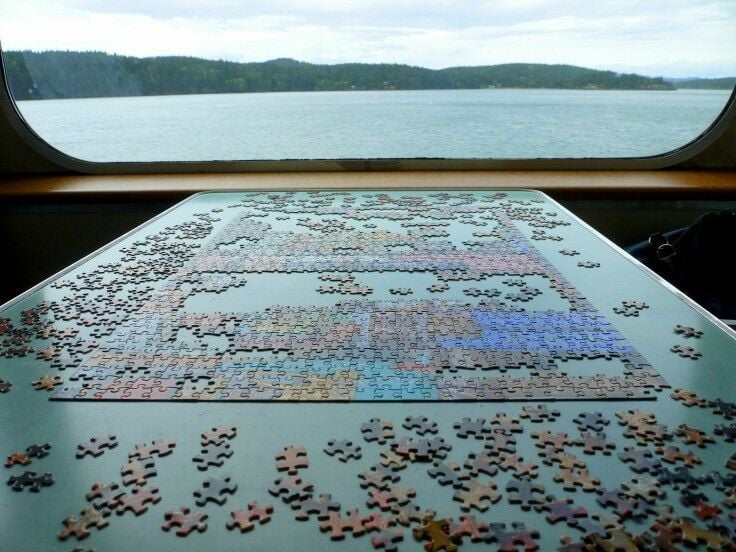 Once you arrive on Orcas Island, the ferry unloads very quickly, and you are ready for the next leg in your island adventure!
Traveling to Orcas Island? Check these out!
PLEASE NOTE: This post was originally written Spring 2016. Some of the businesses mentioned here may be temporarily or permanently closed due to the COVID pandemic, so be sure to call ahead first!
Disclosure: This post may contain affiliate links, including Amazon affiliate links, which means we may receive a commission if you click a link and purchase something that we have recommended. While clicking these links won't cost you any extra money, they do help keep this site up and running. As always, all opinions and images are my own. Please check out our disclosure policy for more details. Thank you for your support!