Thick, meaty Bolognese sauce makes these Stuffed Eggplant Boats a hearty, satisfying meal –
easy enough for a busy weeknight and fancy enough for company.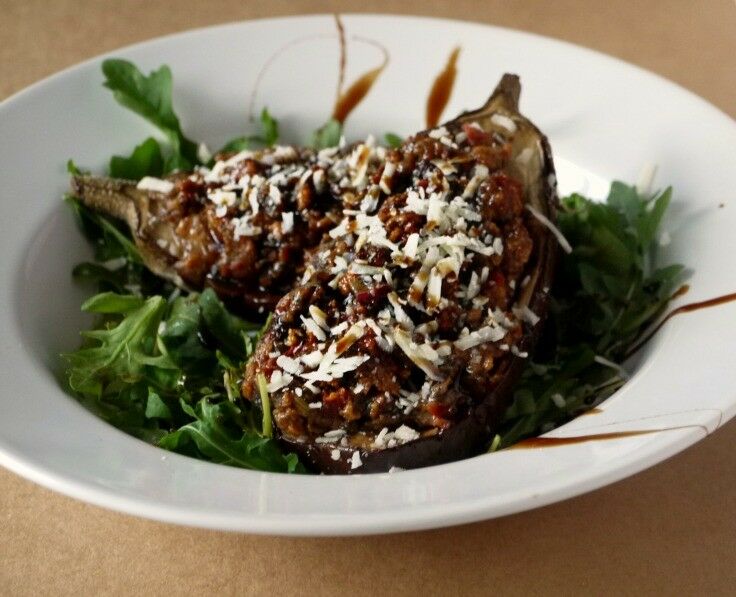 This post may contain affiliate links, but don't worry - they won't bite.
A Pinch of This and a Handful of That
Or, How to Remember Your Culinary Creations When You are a "Pinch & Toss" Cook
When I was six years old, Mrs Obinger from across the street taught me how to measure salt in the palm of my hand. First, she showed me a teaspoon and let me practice a little. Then we moved on to half-teaspoons, and finally quarter-teaspoons. (Cooking and teaching fractions go together so nicely, don't you think?) It didn't take long before I was a palm-measuring pro.
"See there, dear, now you'll never need a measuring spoon again!" I remember Mrs Obinger telling me. Then we made a batch of her wonderful coconut cookies.
I've been measuring in my palm and guestimating amounts ever since.
The problem about being a "Pinch & Toss" kind of cook is, on those days when you hit it out of the park and make something amazing – something you want to make again and again – and possibly even Share – sometimes it's difficult to remember just exactly what went into it in the first place, and how much, and when, and at what temperature, for how long… anyway, you get the idea.
I solve this problem with my phone's voice recorder app. I just hit record whenever I'm feeling a little culinary inspiration; and while I erased far more recipes than I keep, the habit is starting to pay off.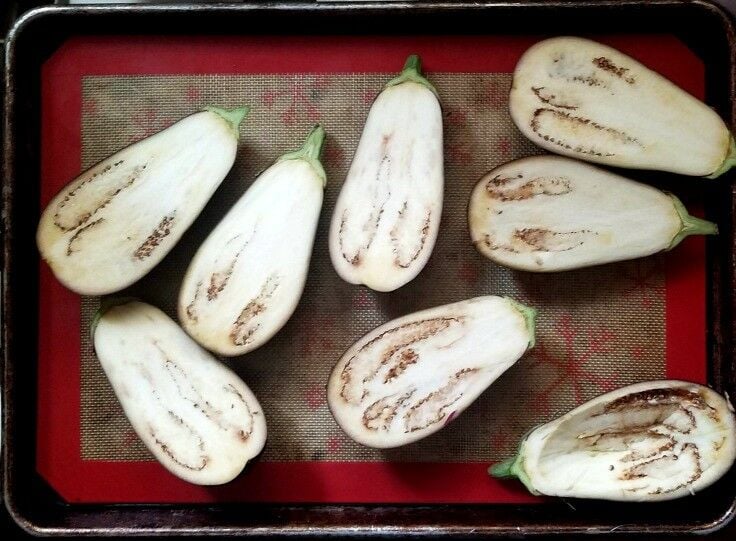 This recipe for Bolognese Stuffed Eggplant Boats is the first one for which my new "recipe recording" system proved its worth. I would have been hard pressed to make it a second time if I hadn't recorded myself while I was making it. It's a real keeper, too!
Thick, meaty bolognese sauce makes these Bolognese Stuffed Eggplant Boats a hearty, deeply satisfying meal without being heavy or weighing you down.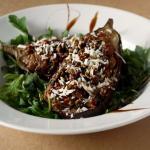 Bolognese Stuffed Eggplant Boats
Print Recipe
Pin Recipe
Ingredients
4

small eggplants

[1 ¾ - 2 pounds total]

1

large onion

chopped

1

pound

mushrooms

chopped

2

teaspoons

olive oil

2

cloves

garlic

minced

1

pound

mild Italian sausage

[I use Iserno Mild Italian Chicken sausage]

1-2

teaspoons

Kosher salt

See note

1 ½

teaspoon

dried basil

1 ½

teaspoon

dried oregano

½

teaspoon

freshly ground pepper

1

teaspoon

hot sauce [optional]

1

14 oz. can

finely diced tomatoes

½

cup

dried Italian bread crumb

[or ¾ cup fresh bread crumbs]

2

ounces

grated Romano cheese

plus more for garnish

Balsamic Glaze

recipe below

baby arugula

[optional]
Balsamic Glaze
½

cup

balsamic vinegar

3

tablespoons

brown sugar

[or honey]
Instructions
Eggplant Prep
Slice each eggplant in half, lengthwise from stem to blossom end. Using a spoon, hollow out eggplants, leaving about a ½-inch-thick border around skin to create a boat.

Line a heavy baking sheet with foil, parchment paper, or a silicone mat.

Set aside the scooped-out eggplant for us in the filling.

Transfer eggplant boats to transfer to prepared baking sheet.
Bolognese-style Eggplant Filling
In a large skillet over medium-high heat, sauté chopped onions and mushrooms in 2 teaspoons olive oil until they are soft and the onions are translucent.

Reduce heat to medium. Add minced garlic and chopped eggplant from the Eggplant Prep and cook, stirring frequently, until eggplant is almost fully cooked.

Push eggplant mixture to the sides of skillet and add the mild Italian sausage to the center. Cook sausage, breaking up as you go, until it is fully cooked.

Reduce heat to medium-low. Add Kosher salt, dried basil and oregano, pepper, hot sauce (optional) and diced tomatoes. Bring mixture to a simmer and cook, stirring occasionally, until mixture has reduced and no watery liquid remains in the pan when you pull the mixture away. Remove skillet from heat.

To the mixture in skillet, add ½ cup bread crumbs and 2 ounces of grated Romano cheese. Give it one good stir to incorporate everything together.

Using a large spoon, evenly divide the filling between the eggplant halves. Bake uncovered for 30-35 minutes.

Serve on a bed of baby arugula. Finish with a generous drizzle of balsamic glaze and a sprinkling of Romano.
Balsamic Glaze
Mix balsamic vinegar and brown sugar a small saucepan over medium heat. Heat until the mixture begins to boil.

Reduce heat to medium-low. Simmer, stirring occasionally, until mixture has reduced by half; 10-12 minutes. Remove from the heat and set aside to cool.
Notes
SALT: If you use regular table salt in place of Kosher salt, it will <em>dramatically reduce</em> the amount of salt you need. The amount of salt also depends on whether you use fresh bread crumbs or dried, and the amount of seasonings in the Italian sausage you use. In each case, reduce the amount of salt you use by ½ teaspoon (or more), depending on your personal tastes. 
Weight Watchers SmartPoints [2018] 
½ eggplant with stuffing = 4 pts
1 whole eggplant with stuffing = 7 pts.
Balsamic Glaze = 1 pt / Tbls 
(Points were calculated using Iserno ground chicken mild Italian sausage.) 
This website provides approximate nutrition information for convenience and as a courtesy only. You are solely responsible for ensuring that any nutritional information provided is accurate, complete, and useful.
You can easily make this a vegetarian meal by substituting a plant-based protein for the Italian sausage.
Bolognese Stuffed Eggplant Boats can be prepared up to two days ahead of time and thrown in the oven when you are ready to eat. Be sure to add five to seven minutes to the cooking time if you put them into the oven cold from the fridge.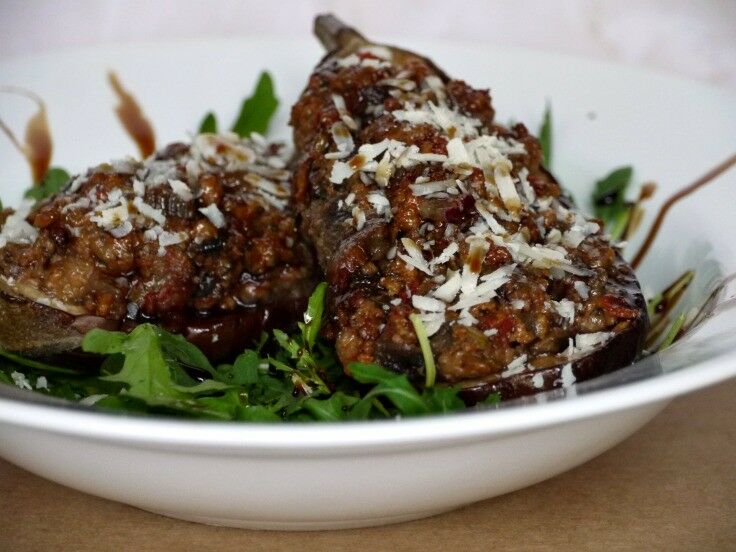 THANK YOU so much for being a faithful reader and supporter
of The Good Hearted Woman. ? Be sure to PIN this post!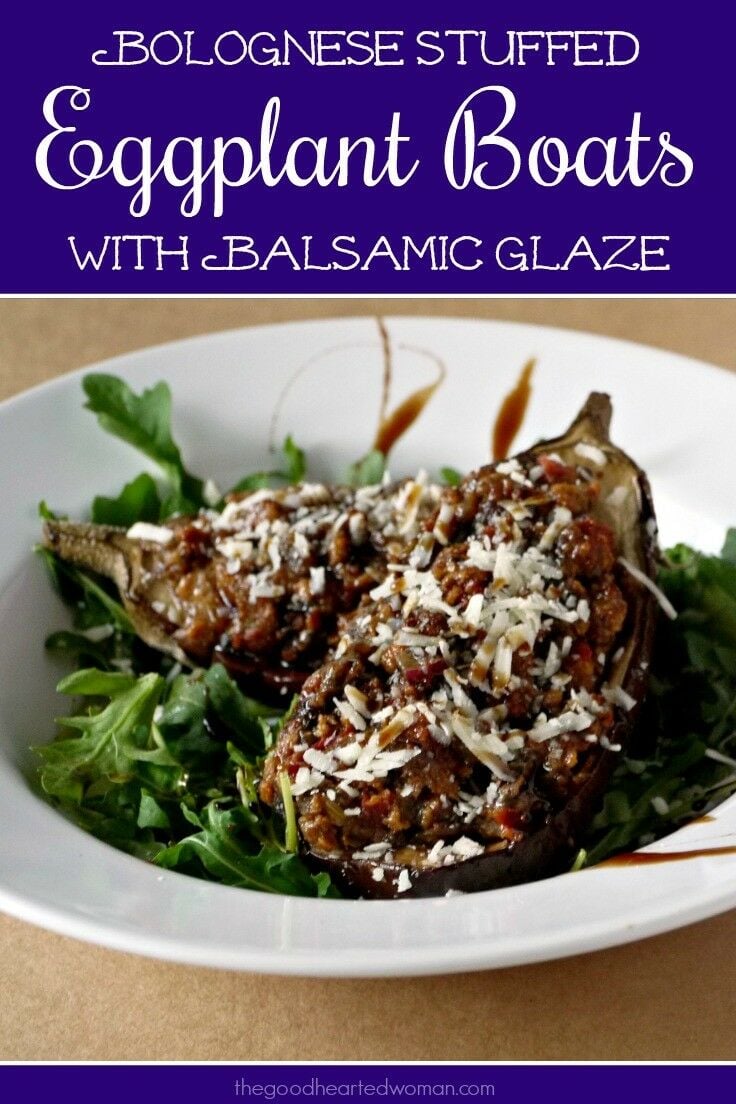 Disclosure: This post may contain affiliate links, which means we may receive a commission if you click a link and purchase something that we have recommended. While clicking these links won't cost you any extra money, they do help keep this site up and running. As always, all opinions and images are my own. Please check out our disclosure policy for more details. Thank you for your support!