Feta, caramelized onions, and grape-leaf walnut pesto create a savory bed for fresh cherry tomatoes in this beautiful Cherry Tomato Tart.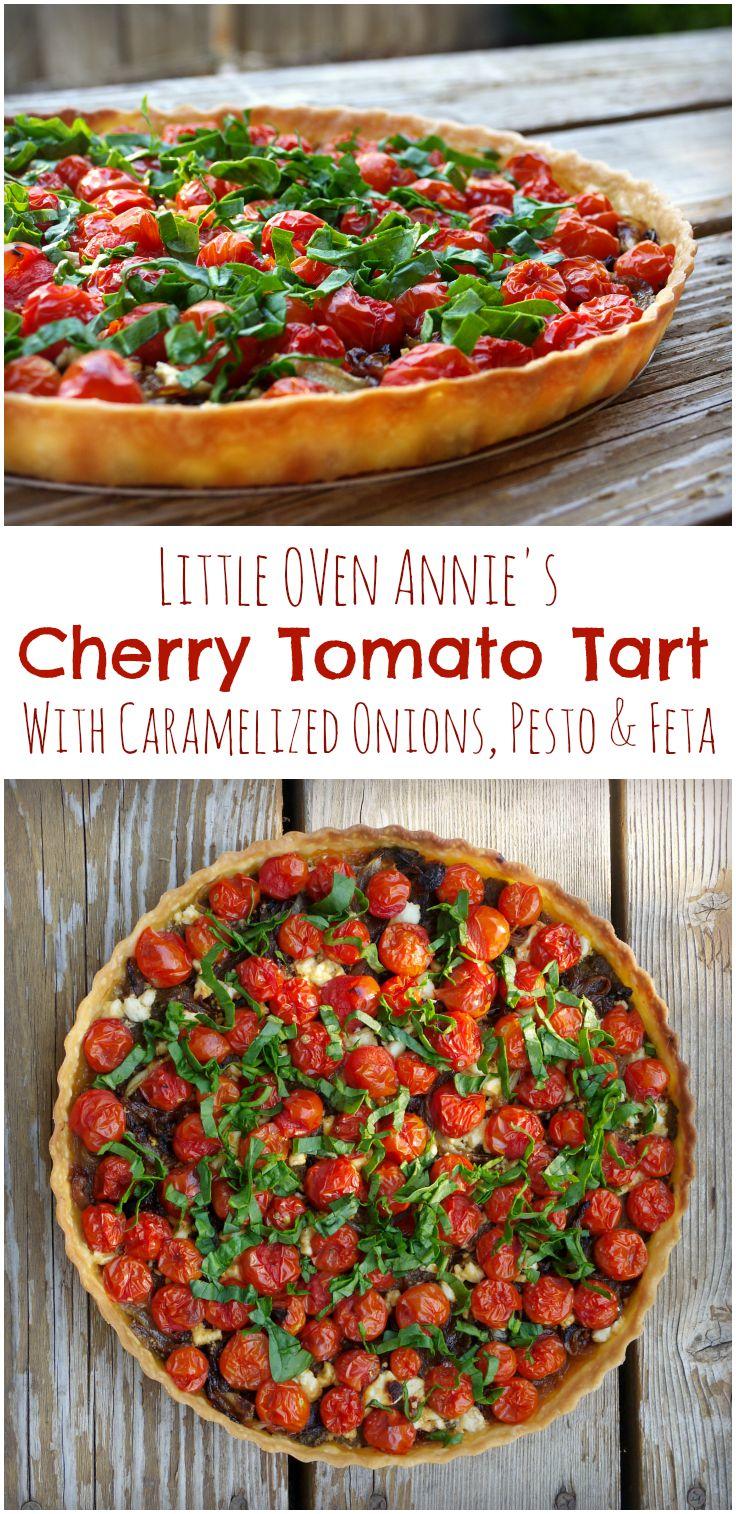 Our garden is yielding a bumper crop of cherry tomatoes right now, so I decided it was time to tackle something I've been putting off.  Last spring, when I met Sabrina, The Tomato Tart at Camp Blogaway, not only did I develop my first blogger-crush, but I also became intrigued with the idea of creating a real tomato tart.  However, even after spending some significant time cruising Pinterest for inspiration, everything I could up with sounded Blahh. Or had already been done… twice. So I put the idea on the back burner – until last week when I was standing in my kitchen staring at a bowl full of freshly picked cherry-tomatoes, when it hit me like a pizza stone. Wouldn't you know it, just like Dorothy and those darn shoes, the answer had been right there in front of me all the time.
My sister introduced me to Leonardo's Pizzaria in Vancouver [WA] some years ago, and it's probably a good thing that's it's an hours drive away; otherwise, I might be twice my size by now. Leonardo's creates Amazing pizza. Whenever Gael and I are over that way together, it's our first choice (and possibly our second and third too). Our favorite pizza there is the Little Oven Annie, a savory sweet fusion of caramelized onions, feta, spinach and a unique Grape Leaf Walnut Pesto – the perfect base for a tomato tart that will set your taste-buds dancing.

Cherry Tomato Tart
Author:
Renée B. ♥ The Good Hearted Woman
Ingredients
1 lb. fresh cherry tomatoes
1 large pie crust, homemade or store-bought
1 batch Caramelized Onions (Instructions below)
3 tablespoons Grape Leaf Walnut Pesto (Recipe follows; or you can just use regular pesto)
2 ounces crumbled feta cheese
¼ cup packed fresh spinach, chiffonade
Caramelized Onions
2 tablespoons salted butter
1 large onion, halved and sliced thin, end-to-end
Instructions
Caramelized Onions
In a large skillet over medium high, cooked sliced onions in butter, stirring occasionally for about 20 minutes, or until onions are soft and deep golden brown (The edges of some, but not all, of the onions should be very dark brown).
Assembling the Tart
Preheat oven to 450°F. (Or 425° F for glass pie plates and some anodized aluminum baking pans.)
Lay the pie crust into a shallow pie dish or tart pan. Crimp or trim edges.
Spread pesto over the bottom of the pastry.
Layer on caramelized onions, and then feta.
Cover the entire tart with cherry tomatoes.
Bake for 20 minutes, checking crust edges after 15 minutes: if they are getting too brown, cover with a strip of aluminum foil or a pie shield.
The tart is done when the cherry tomatoes begin to burst and the crust is a light gold brown.
Remove from oven and allow to rest 10 minutes. Sprinkle with a chiffonade of fresh spinach.
Grape Leaf & Walnut Pesto
Author:
Renée B. ♥ The Good Hearted Woman
Ingredients
2 ounces coarsely chopped fresh grape leaves, stems removed (About 2 cups packed)
3 cloves garlic
¼ cup Parmesan cheese
½-3/4 cup olive oil
¼ cup walnuts
1 ounce fresh basil (about ¾ cup packed)
Instructions
Blanch grape leaves by placing them in a pan and covering with boiling water. Let sit for 3-5 minutes.
Heat the walnuts in a small frying pan over medium heat, stirring frequently, until they smell "toasty." (Do not let them burn.)
Combine blanched grape leaves, basil, garlic, Parmesan, olive oil, and toasted walnuts in the bowl of a food processor. (If you use a blender, start with about half the grape leaves and add the others after the first half has been pureed.) Blend to a smooth paste.
The most time-consuming part of this dish is making the caramelized onions, so start them first. Otherwise, it's a piece of cake… or tart.