If you're craving some delicious, locally-sourced ocean-to-table cuisine, prepared with care and served up with a panoramic view of the Pacific Ocean, then head to Meridian at Headlands Coastal Lodge in Pacific City, Oregon.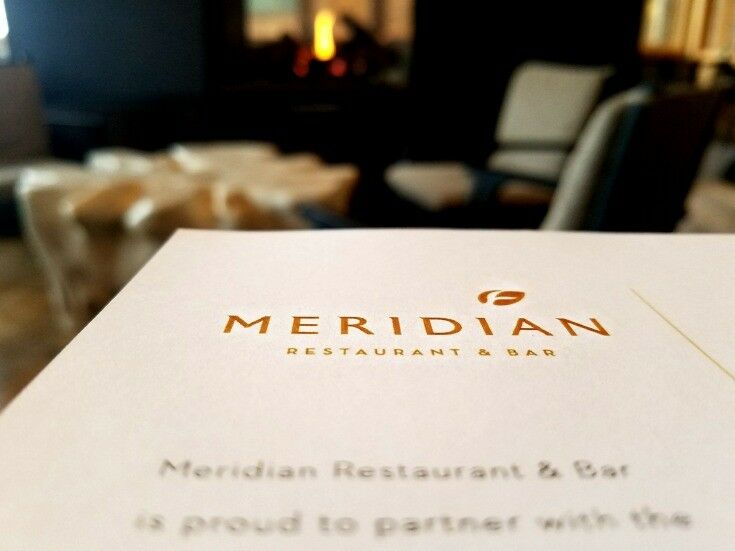 Many thanks to the Headlands Coastal Lodge & Spa for hosting our stay and for providing our complimentary brunch.
Before I get started, let's just take a moment to appreciate this beautiful plate of lox that Mr B had for brunch at Meridian when we stayed at Headlands Coastal Lodge & Spa last month.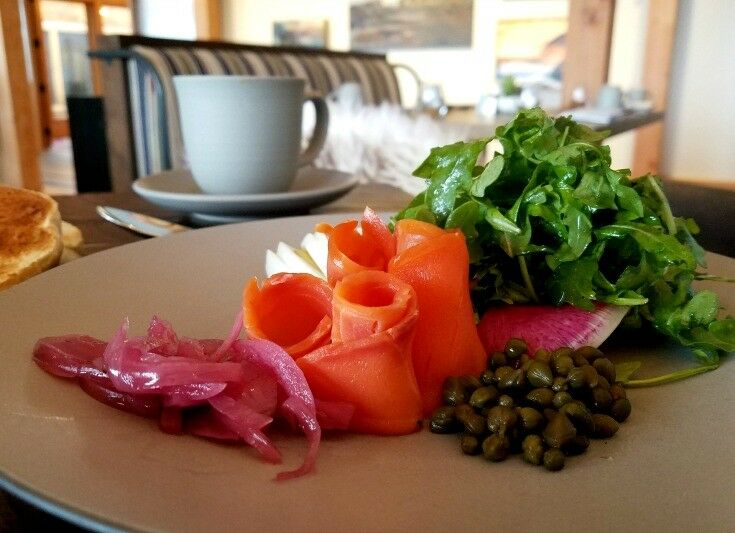 OK, now that we've gotten that out of the way, let me tell you a little about Meridian.
Casual Dining Elegance on the Oregon Coast
We Oregonians are not known for our fussiness. Dressing up for a night out or a business meeting often just means wearing socks and putting on your "good jeans." So it's no surprised that Meridian, the newest upscale eatery on the Oregon coast, is all about casual elegance. Wear your (nice) jeans, your high-class heels, your fancy pants, or your little black dress – it's all good.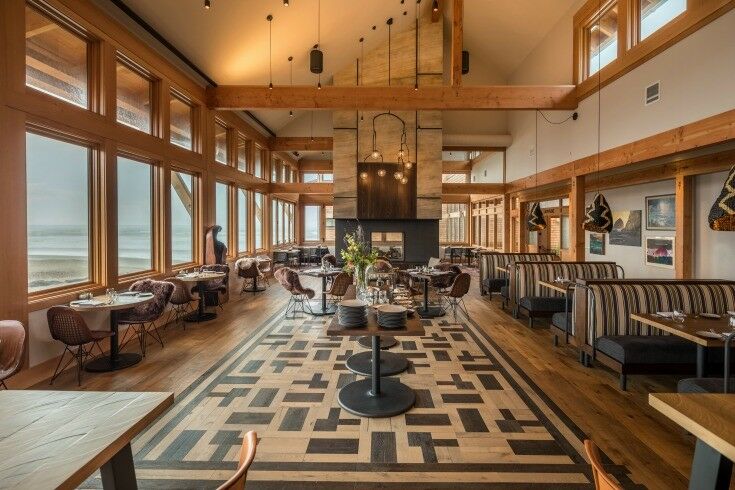 When you walk into Meridian at Headlands Coastal Lodge, one of the first things that impresses is the natural beauty of the space. Exposed beams frame the vaulted ceiling, Oregon hardwoods cover the floors, and light streams in from the sky-high windows that open to a panoramic ocean view on two sides of the dining room.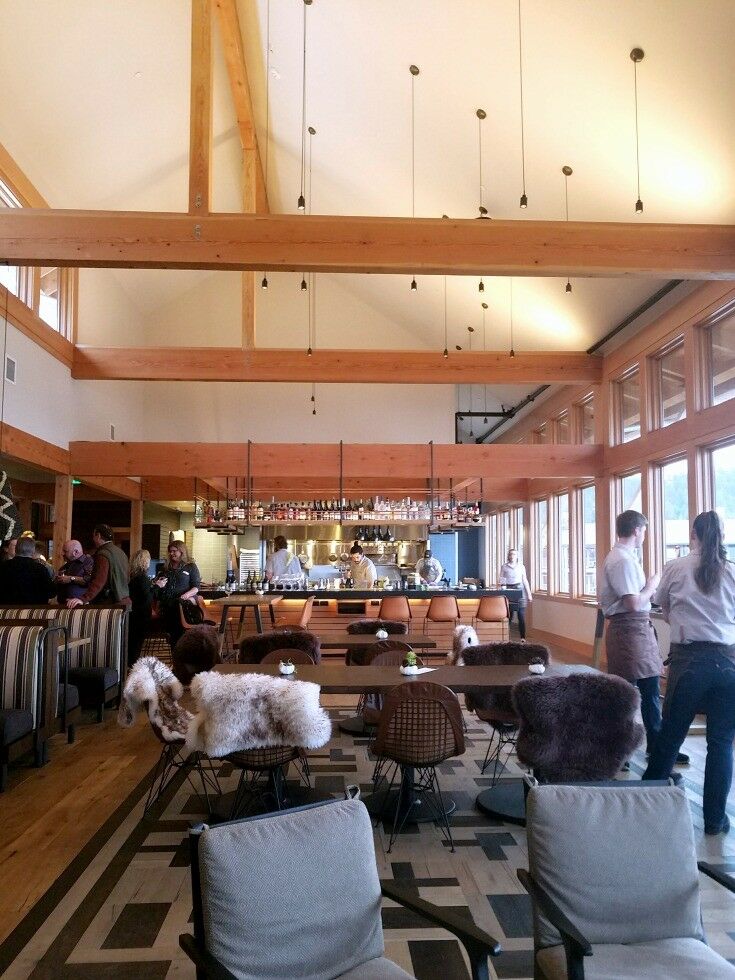 Meridian's seating options include window-side tables with gorgeous views of the Pacific and cozy tables by the double-sided glass fireplace. At the far end of the dining room, a lovely indoor patio lounge overlooks the ocean, with accordion-style windows that open completely when warmer weather blows in.
In the evening, and particularly on weekends, you can often enjoy live music at Meridian. The night we were there, Kevin Welsh and Lucas Cook of Satellite Blooms kept us well-entertained with both with their original "soul-folk" tunes and solid covers of everyone from Cash to Cole to Radiohead.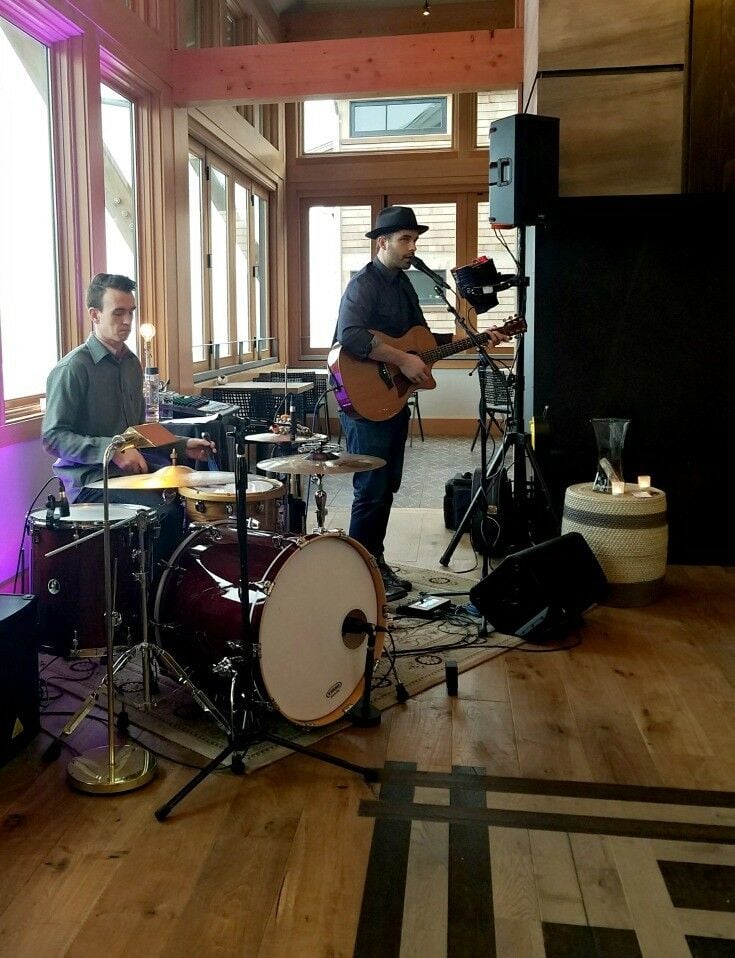 During our stay at Headlands Coastal Lodge, Mr B and I had the opportunity to talk with Meridian's Executive Chef Andrew Garrison, who shared with us his passion for connecting with local sources to provide the freshest ingredients he can find.
From wild caught fish to locally farmed meats to forest-foraged greens, Chef Andrew and his culinary team proudly partner with Oregon and Pacific NW producers, growers and artisans to create a menu that joyfully celebrates the region's bounty.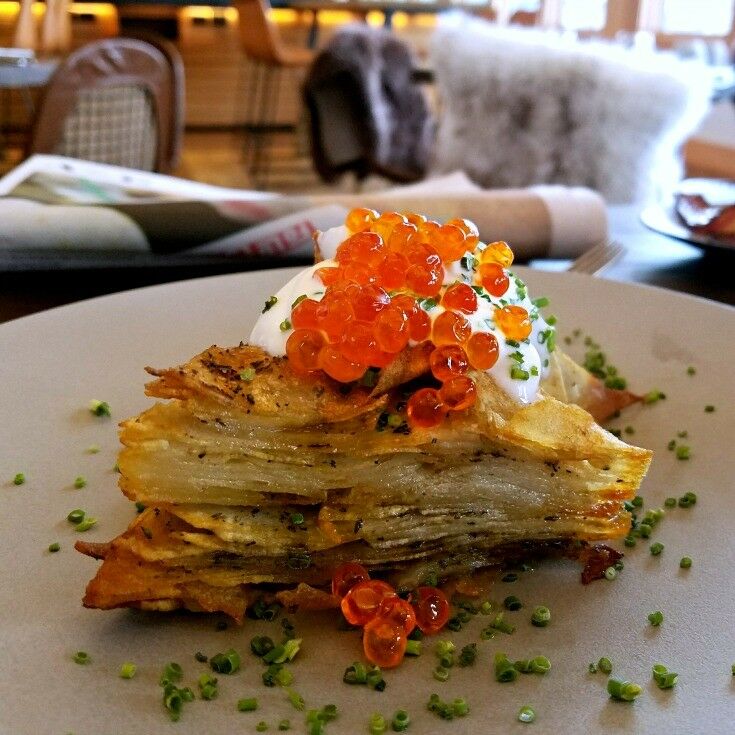 As I mentioned at the top of the post, Mr B and I enjoyed a wonderful brunch at Meridian. Our server was attentive, knowledgable, and friendly, and she gave us good insights about our menu selections.
Our food arrived promptly, fresh and beautifully plated. We found the actual number of items on the menu somewhat limited (there were only about six or seven main choices on the brunch menu) but the quality of the dishes offered more than made up for any shortage of choices. We did not go hungry by any stretch, and I highly recommend both the lox and the Benedict.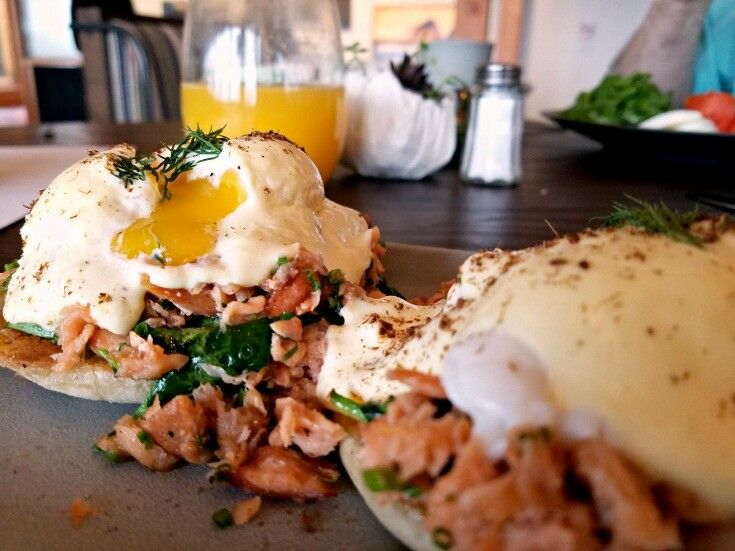 Meridian at Headlands Coastal Lodge & Spa
33000 Cape Kiwanda Dr Pacific City, OR 97135-8011
HOURS: Open daily with menu availability below.
Brunch/Lunch: 8:00 am – 3:00 pm
Dinner: 5:00 pm – 9:00 pm
Bar: 8:00 am – Close with extended hours seasonally
Phone: 503.483.3000
Note that while reservations are not required, they will will help the Meridian staff prepare your table and service for your upcoming visit. Also, if you have a special occasion coming up, they will make sure you have an ocean view, serve a private meal in one of the lodge dining rooms, or cater your outdoor gathering right on the beach.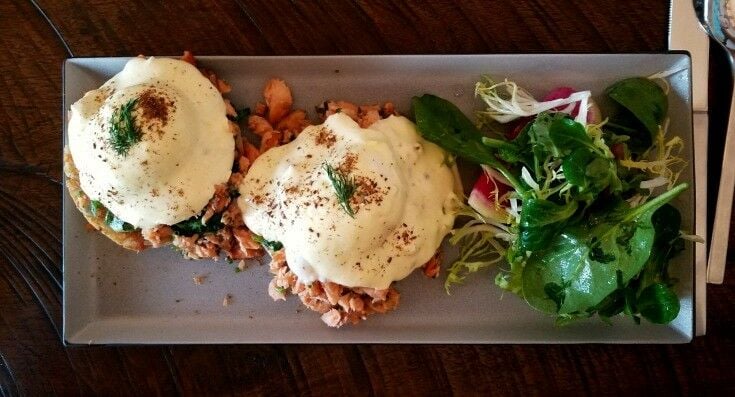 While enjoying our stay at the Headlands, we had the opportunity take a group cooking class from Chef Andrew Garrison, Executive Chef at the Lodges' restaurant, Meridian.
You can make this delicious Pan-Seared Sturgeon with Chanterelles & Baby Yukons at home! Check out our recipe, plus all the tricks and tips we learned from Chef Andrew. Perfect for an anniversary or Valentines dinner, or whenever you want to make something truly special!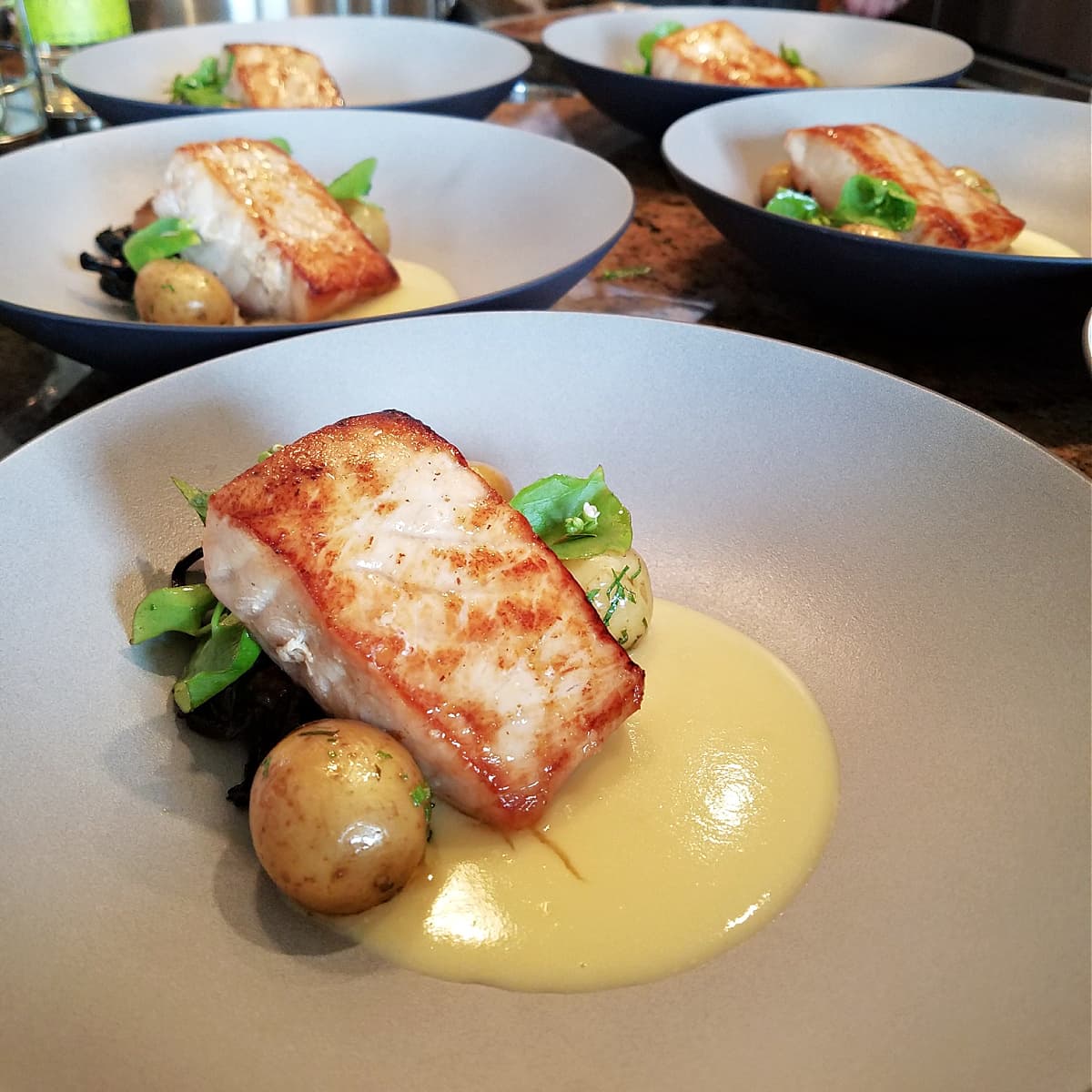 Disclosure: Our thanks to the Headlands Coastal Lodge & Spa for hosting our stay and for providing our complimentary brunch at Meridian. As always, all opinions and photos (except as noted) are our own. This post may contain affiliate links, which means we may receive a commission if you click a link and purchase something that we have recommended. While clicking these links won't cost you any extra money, they will help us keep this site up and running. Please check out our disclosure policy for more details. Thank you for your support!