From first impression to last, the vibe at The Guest House at Graceland is a fusion of classic elegance and modern luxury - welcoming, refined, and unique as Elvis himself.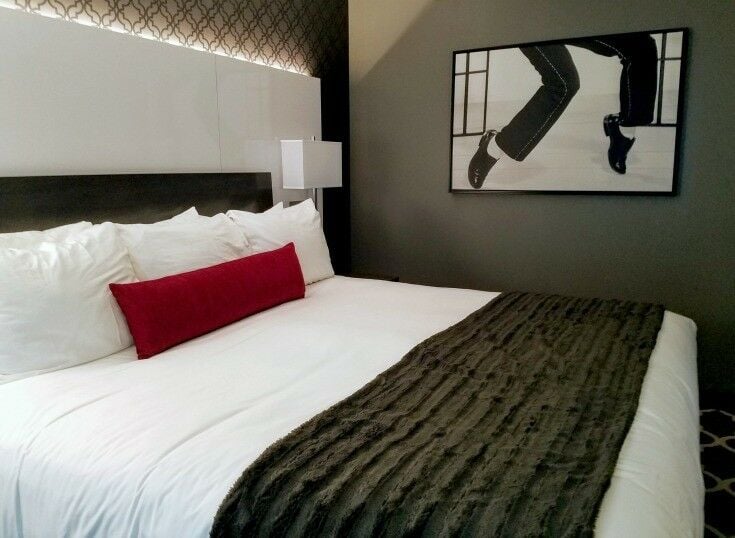 Many thanks to the The Guest House at Graceland for hosting our stay. As always, all opinions and photos (except as noted) are our own.
Our Stay at The Guest House at Graceland
Mr B was over the moon when I told him that I had arranged for us to stay at The Guest House at Graceland. "You mean, we're going to stay on Elvis' property?" he asked.
"Yep. Just a block down and right across the street from Graceland Mansion." He beamed. Almost glowed. I've known this man since I was fifteen years old, and I knew that just visiting Graceland was already overflowing his bucket big-time – he'd never even considered that he might get to stay there.
As for me, I wasn't so sure... secretly, I didn't know if I could endure (what I imagined would be) all those rhinestones and black velvet paintings in one place, even for Mr B. As it turned out, we were both in for a refreshing surprise.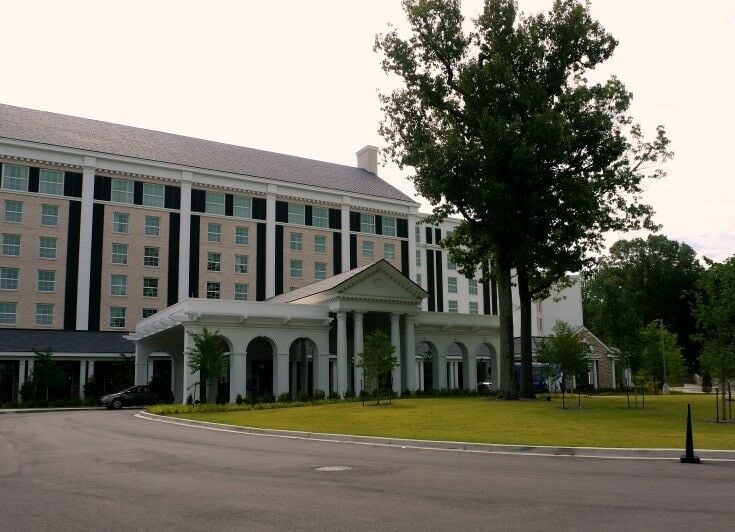 Guest House Style
Driving through the security gates at The Guest House at Graceland, all of my preconceived notions about the place just sort of fell away. From first impression to last, The Guest House is a classic, dignified celebration of Elvis Presley and his legacy.
When Elvis had friends and family visit Graceland, he would have them stay at a hotel down the street. He would have been thrilled to have had his own guest house where they could stay so close by. Lisa and I, and our entire family, are excited that visitors from around the world can now experience our unique resort hotel — The Guest House at Graceland.

– Priscilla Presley
With much of the design overseen by Priscilla Presley herself, Memphis' newest luxury hotel reflects Elvis' personal style. The vibe at The Guest House at Graceland is one of classic elegance and modern luxury - welcoming, refined, and unique as Elvis himself.
And not a single velvet painting in sight. I fell in love with the symmetry of The Guest House halls: I found them to be very calming and reassuring.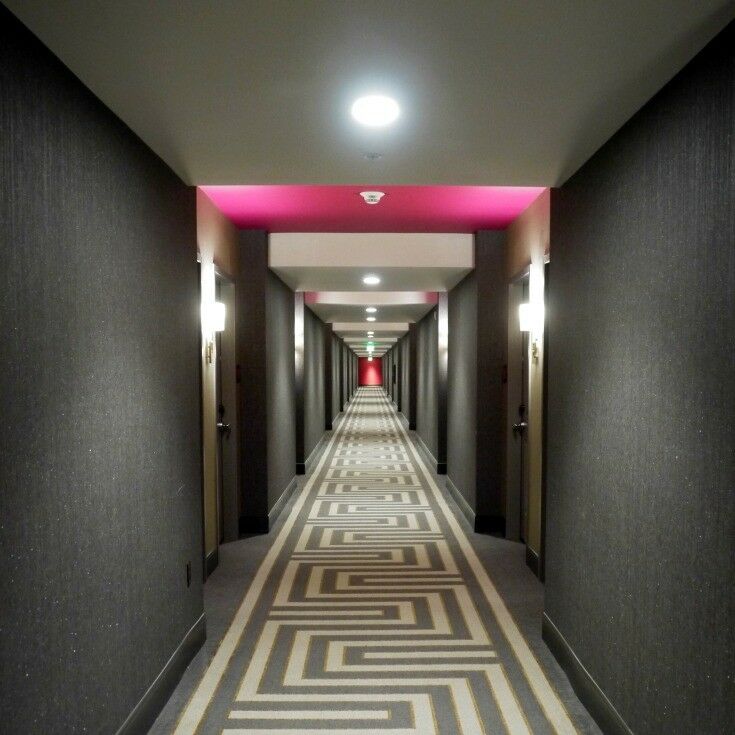 The lobby is stunning, filled with instantly recognizable close-up images that evoke the spirit of Elvis: cuffs, sunglasses, popped collars. Note the high-backed lobby seats, specifically designed to echo those iconic Elvis collars!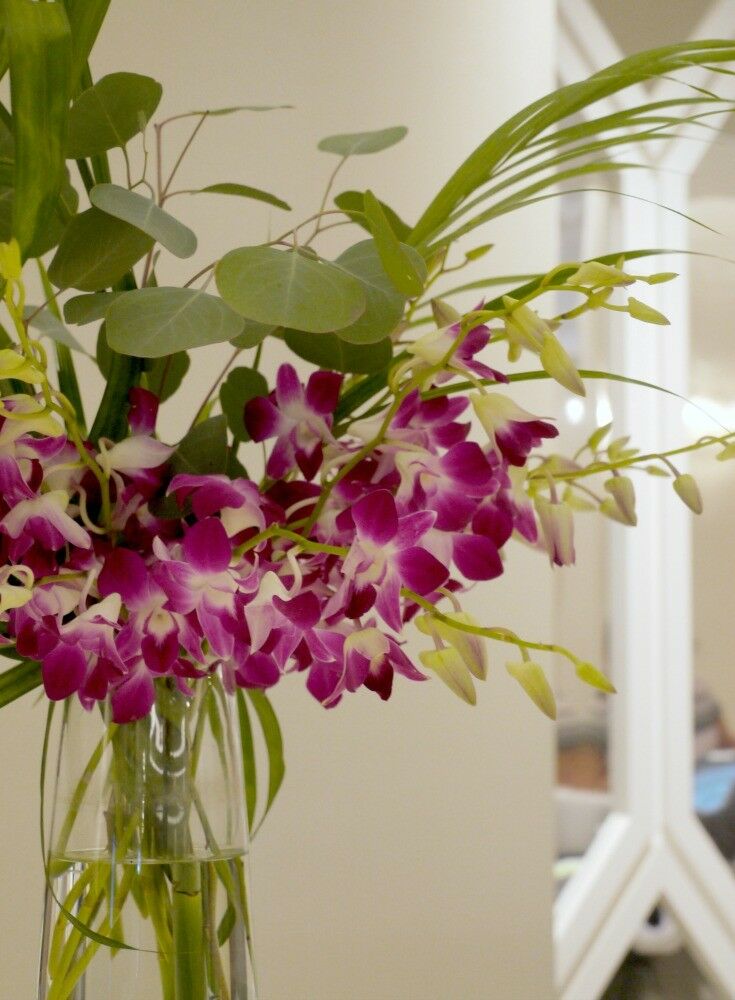 There are subtle touches of Elvis everywhere, from the understated "EP" wall sconces that line the halls to the close-up jumpsuit details of the wall art. Even the signs that tell you what floor you're on are iconically Elvis.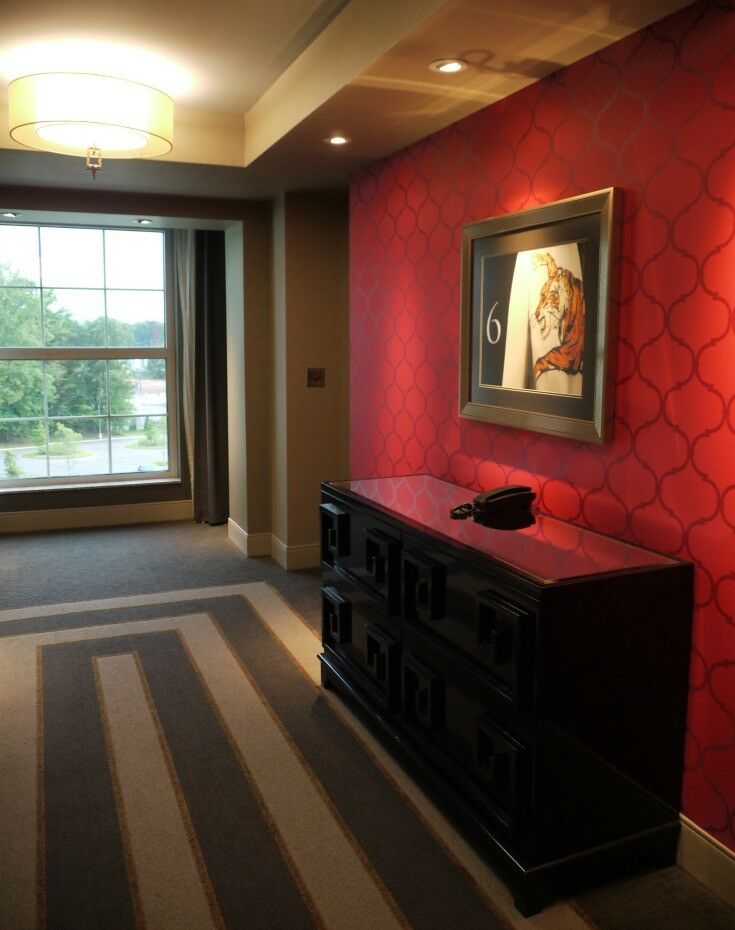 Room Amenities
The Guest House at Graceland has 450 guest rooms on six floors, as well as a number of uniquely-themed VIP suites. (Lamentably, Mr B and I did not get to stay in one of the VIP suites. Maybe next time ?)
Our room was clean, comfortable, surprisingly spacious - and notably not overly "Elvisy." (I personally LOVED the Jail House Rock image on our wall!) The bed was extremely comfortable, with luxury linens and a kitten-soft throw blanket that practically dared me to stop petting it.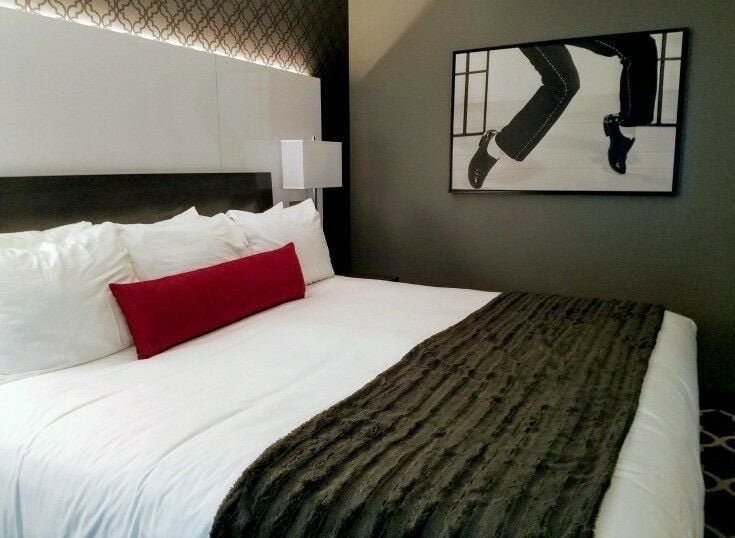 Elvis movies, concert footage, and specials are available on room TVs at all times, as well as a 24-hour live-stream of the entrance to Graceland. Free Wi-fi, free airport shuttle service, and shuttle service to Graceland Mansion and the newly opened Elvis Presley's Memphis Entertainment Complex is also included in your stay (or you can make the five minute walk on foot). They provide free shuttle service to Downtown Memphis/Beale Street as well.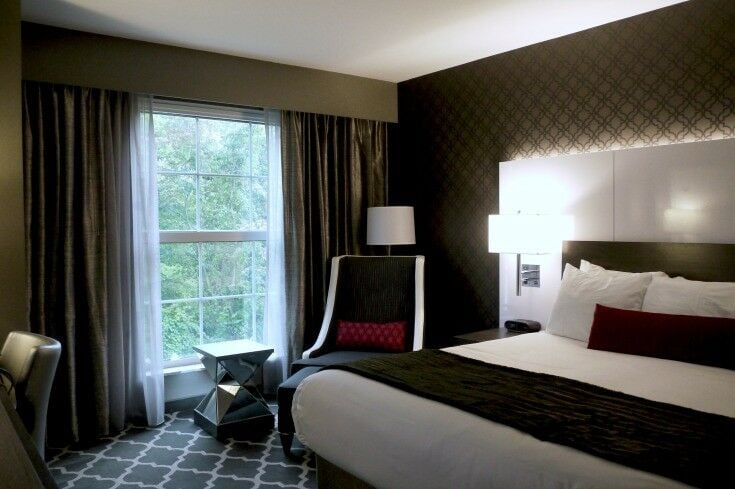 But as nice as it is to have soft sheets and free shuttle service, we all know that sometimes it's the little things that really elevate a hotel experience. Some of the amenities that Mr B and I particularly appreciated include the in-room Keurig (Mr B has got to have his coffee!) and the larger-than-average naturally-sourced luxury bath products. (You can buy full-size items in the hotel gift store.) The dual-head rainfall shower was a big plus too.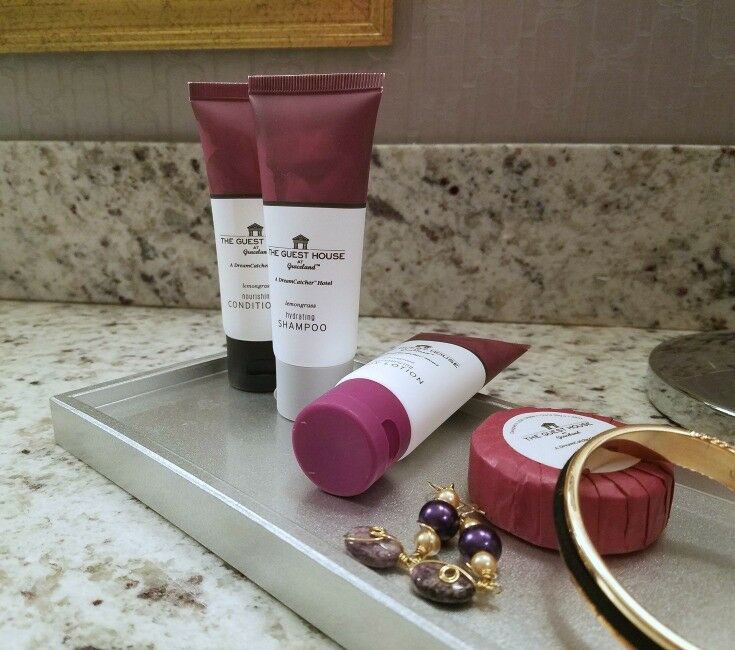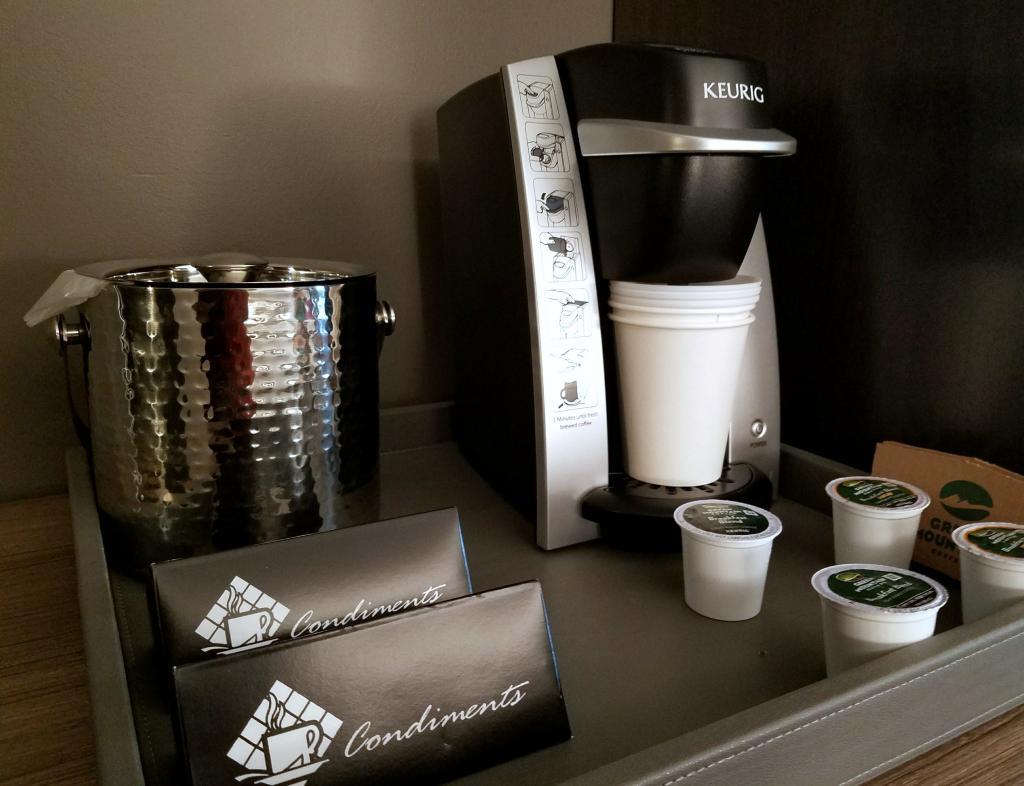 Clearly, great consideration was taken in designing and appointing The Guest House at Graceland, from the carefully chosen color scheme to the cushions in the guest rooms.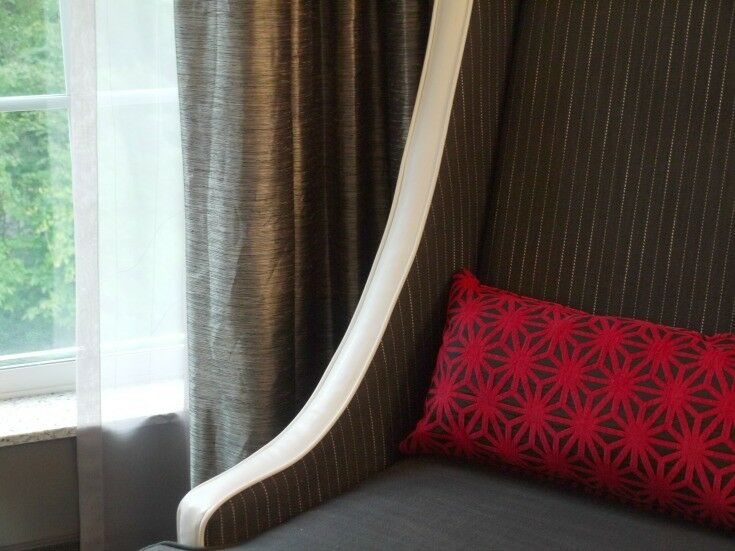 I'm one of those people who touches everything, and with all the textures on the The Guest House walls, I was in heaven.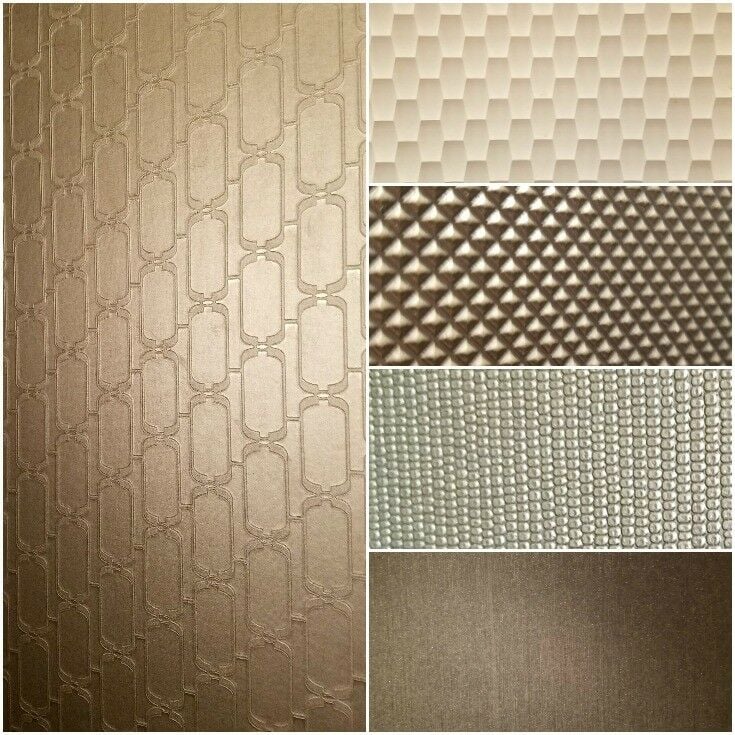 The Guest House at Graceland has been open less than a year and from our experience, they still have a few minor kinks to smooth out. For example, during our stay a system glitch set fire alarms off all over the hotel at about 1:15am. (Never a good thing, especially for bone-weary travelers.) But... Life. Plus, it gave us a good story. Overall our stay was pleasant, relaxing, and truly memorable.
Gracious Service
The service we received at The Guest House was, in all cases, first-rate. We were especially impressed with our hotel attendant, Aramis. (Yes, like the Musketeer 😉 )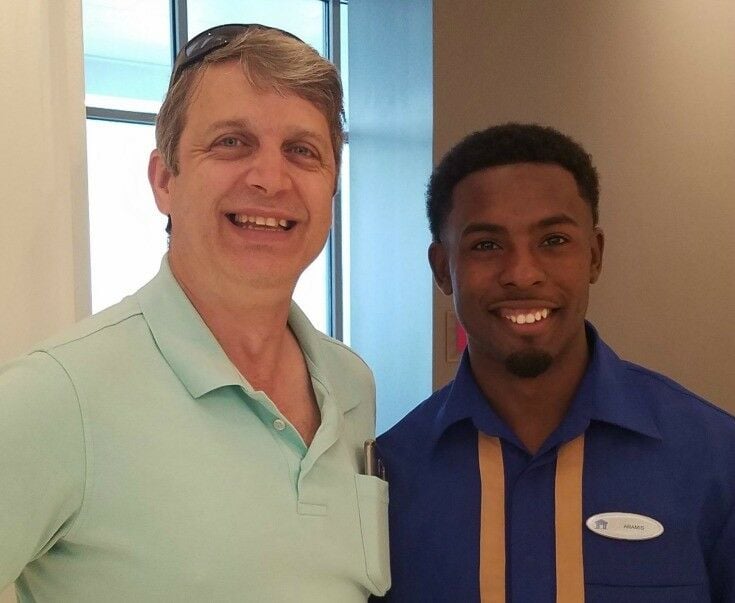 I don't know what Aramis' actual title at the hotel is. I asked him once, and he replied, "Everything. I do everything." And apparently, he does. When we first arrived at The Guest House at Graceland, it was Aramis who carried our luggage to our room and introduced us to its amenities. He likewise acted as our concierge during our stay, and directed us to some great local blues and barbecue destinations. At one point, he even served as our shuttle driver.
In every instance, Aramis was gracious, amiable, and proficient. (And if by chance our review has any weight with hotel administration/powers-that-be, we encourage them to give this young man a raise and a promotion: he is an both an exceptional representative of The Guest House and a true ambassador of Memphis hospitality.)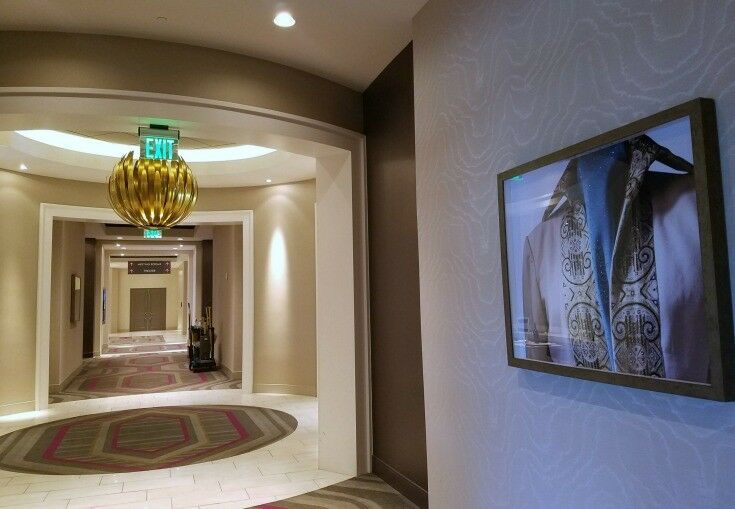 The hotel throughout is, in a word, elegant. There are a number of lovely common areas, as well as a ball room, meeting rooms, and other large event spaces.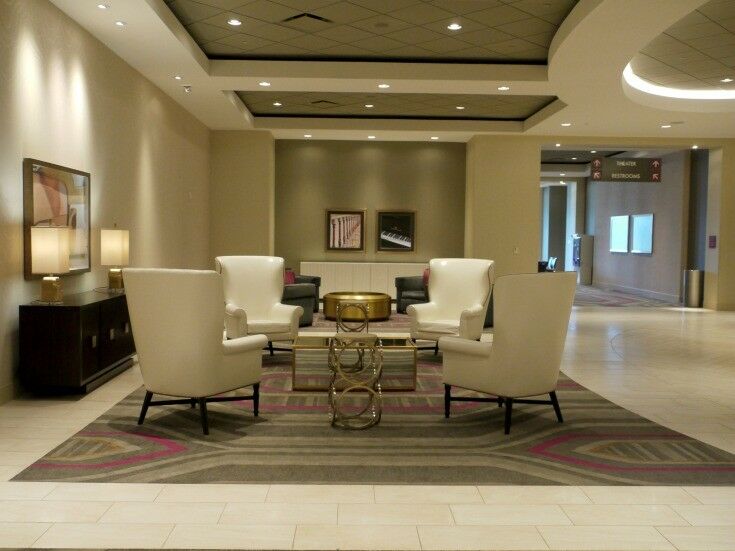 Highlights
One of the highlights for Elvis fans at The Guest House at Graceland is the full-scale replica of the Grand Staircase at Graceland, complete with the blue curtain at the top of the stairs, the mirrored wall and the chandelier, just like at the entrance foyer of Graceland.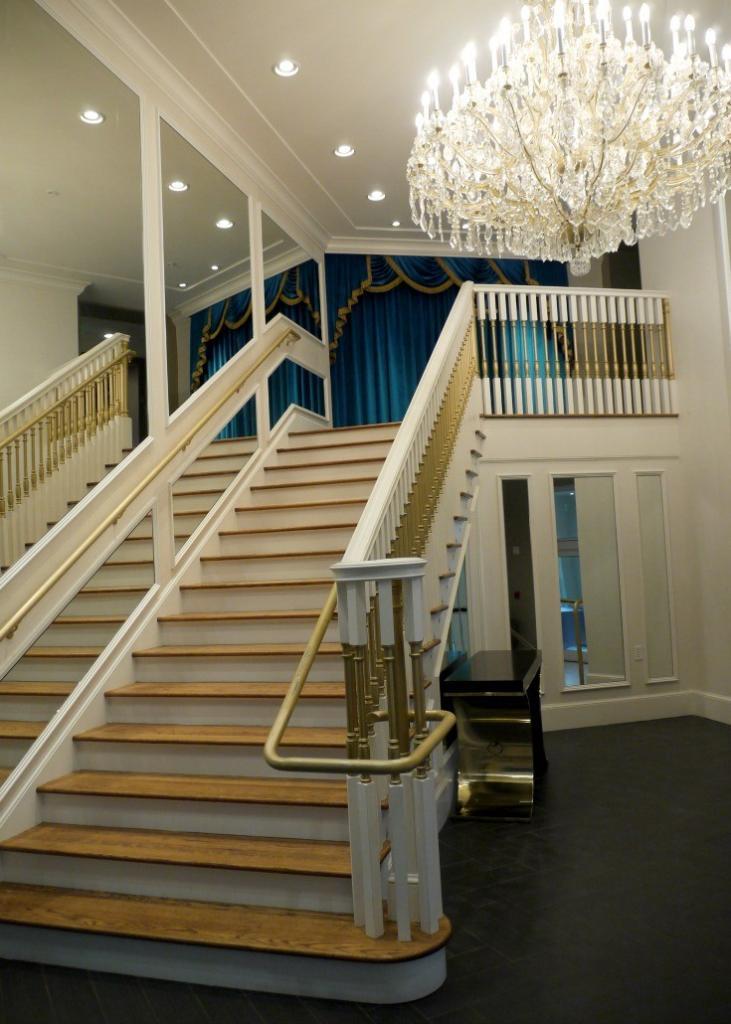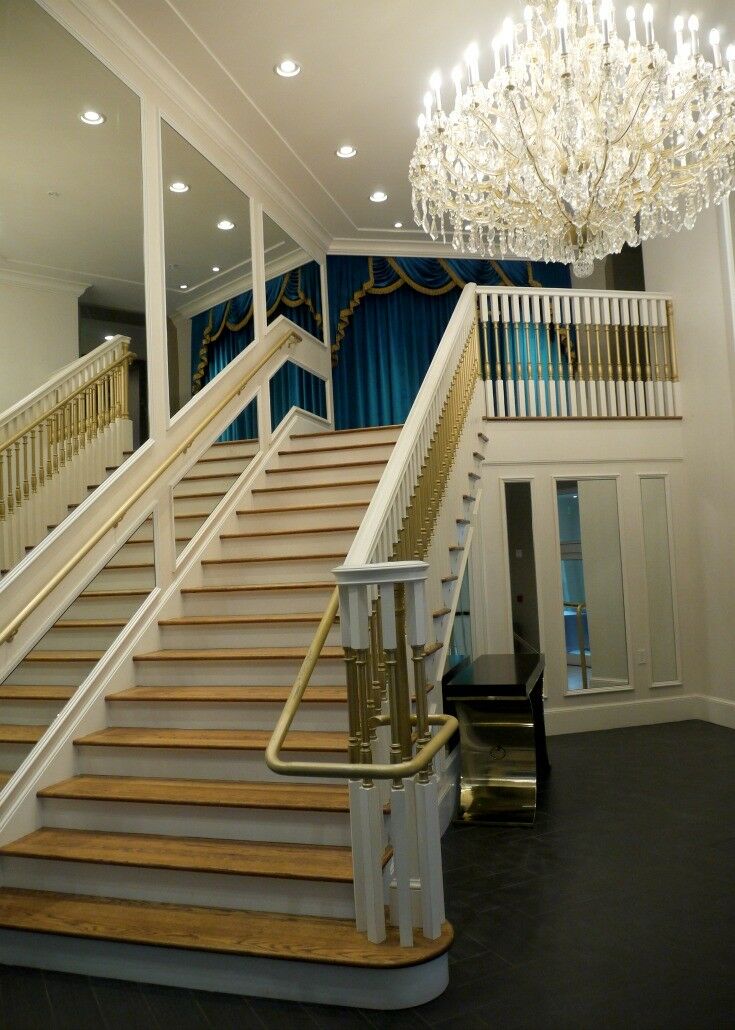 Guest House Dining
As part of our all-inclusive Elvis Presley's Memphis Celebration Package, we were treated to a wonderful breakfast each morning at Delta's Kitchen, one of the two full-service restaurants at the hotel. (Note that breakfast is not included with the regular room rate at this time.)
Delta's Kitchen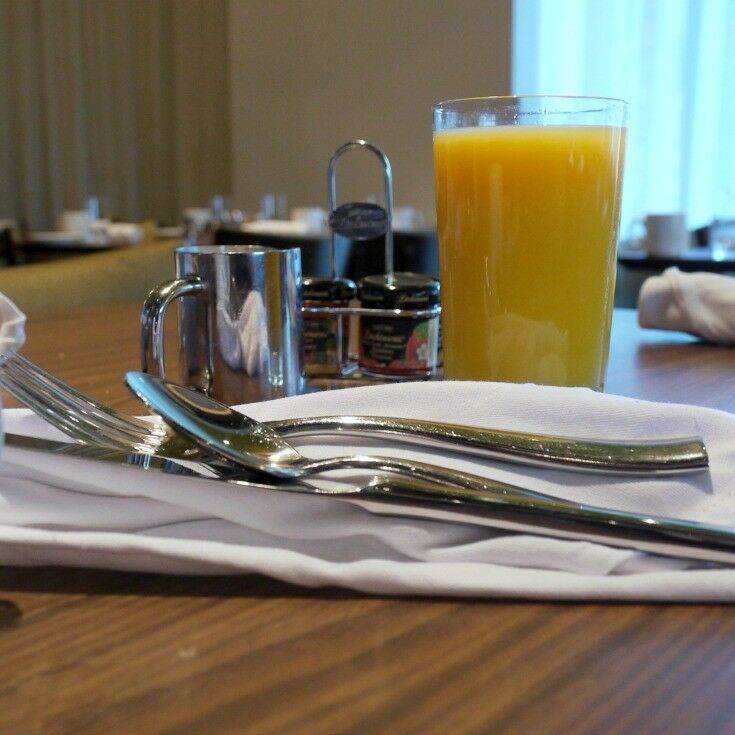 The service at Delta's Kitchen was friendly and efficient, and the food was all tasty and satisfying. The breakfast buffet offered a broad variety of choices, from fresh fruit to homemade biscuits and gravy to the biggest tray of bacon I've ever seen. Made-to-order omelets were also available upon request.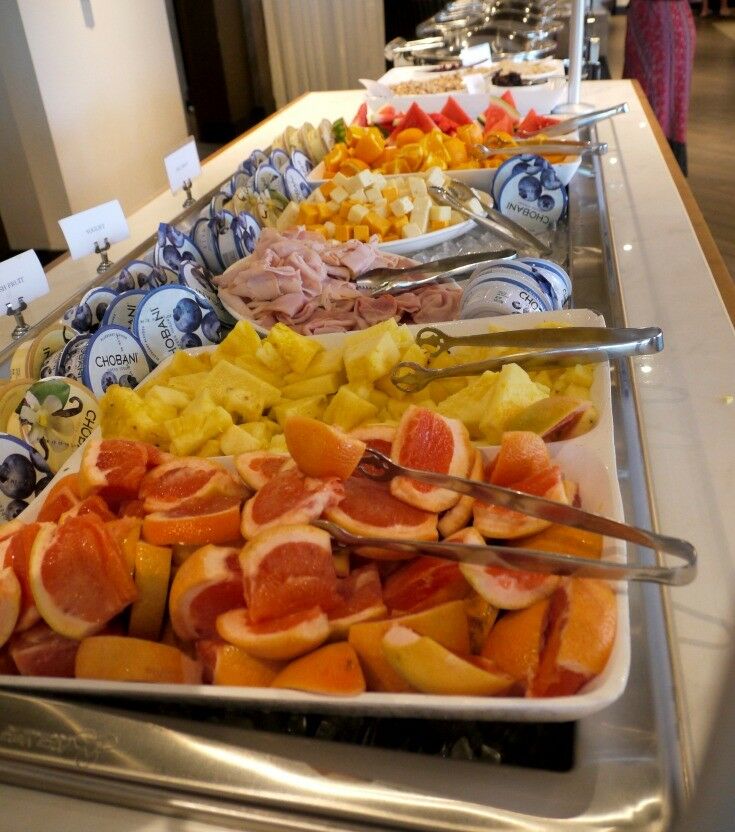 Lobby Lounge
In addition to Delta's Kitchen, The Guest House at Graceland offers a number of other fine and casual dining choices. The Lobby Lounge is a great place to kick back and relax with your favorite beverage while you nosh on selections from their a la carte light dining menu.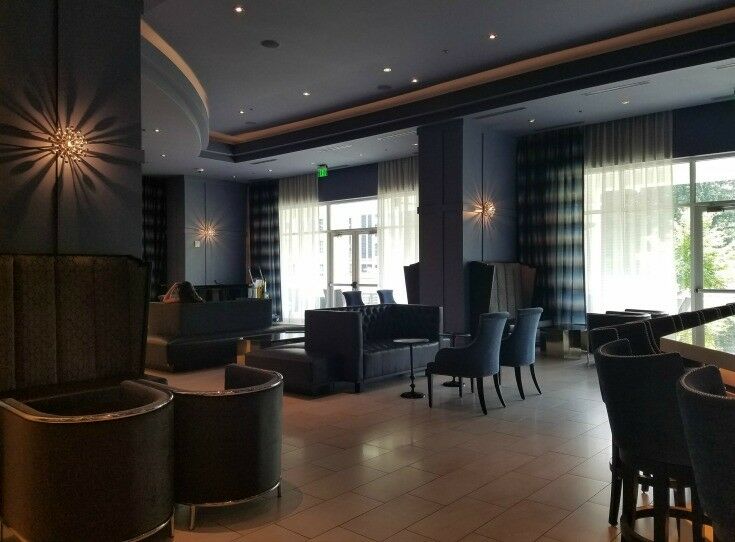 Happy Hour specials are available daily from 4pm until 6pm at the Lobby Lounge.
EP's Bar & Grill
EP's Bar & Grill, a Memphis-inspired setting with lots of Southern flair, serves contemporary interpretations of Elvis' favorite food and beverages.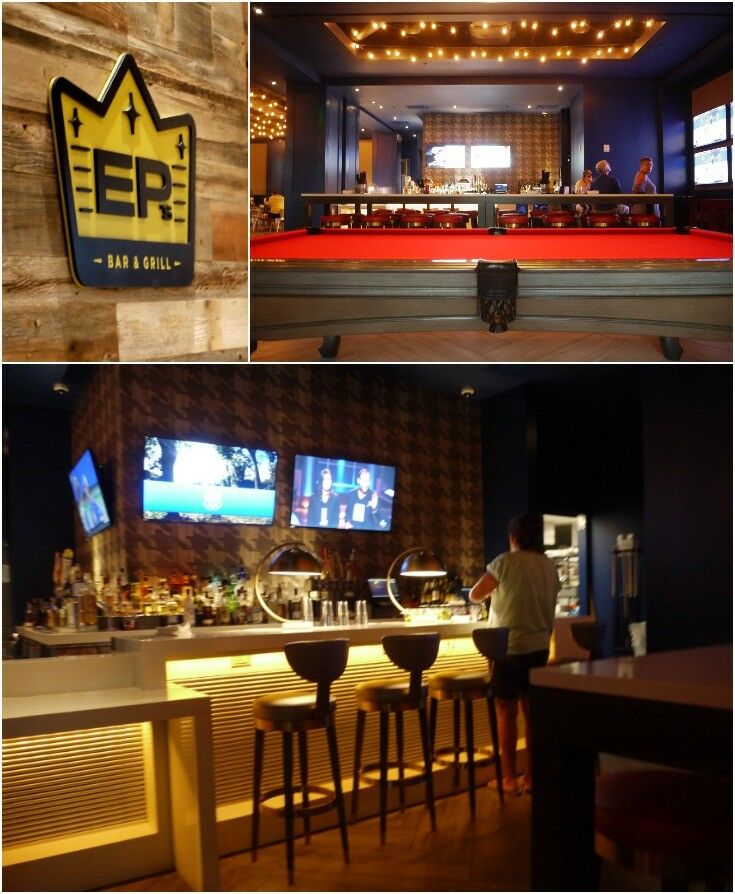 Shake Rattle & Go
If you're not up for a sit-down meal, the Shake Rattle & Go offers grab-&-go favorites to get your day started, including coffee, espresso and delicious baked treats. Open all day, it also features freshly made sandwiches, salads, and snacks.
Hotel Entertainment Options
On-site entertainment options include everything from foosball by the pool to daily showings of Elvis' movies in the hotel's full-size, 464-seat movie theater.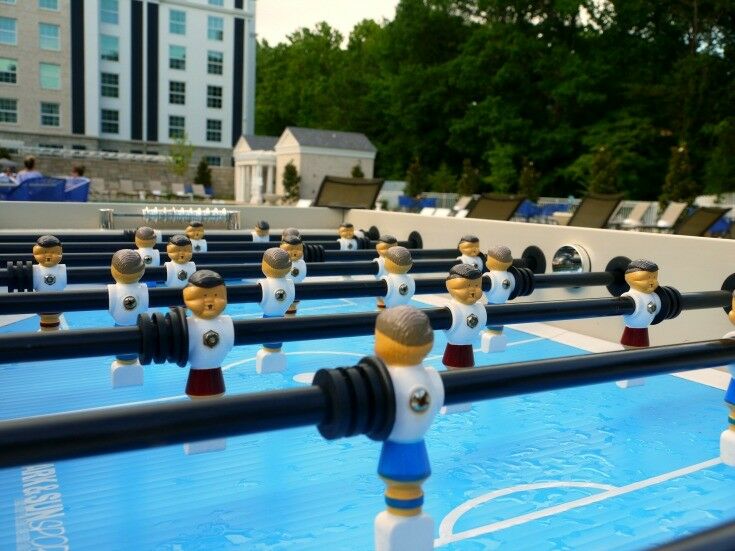 The outdoor pool and hot tub are open seasonally. The hotel also offers a 24-hour access fitness room.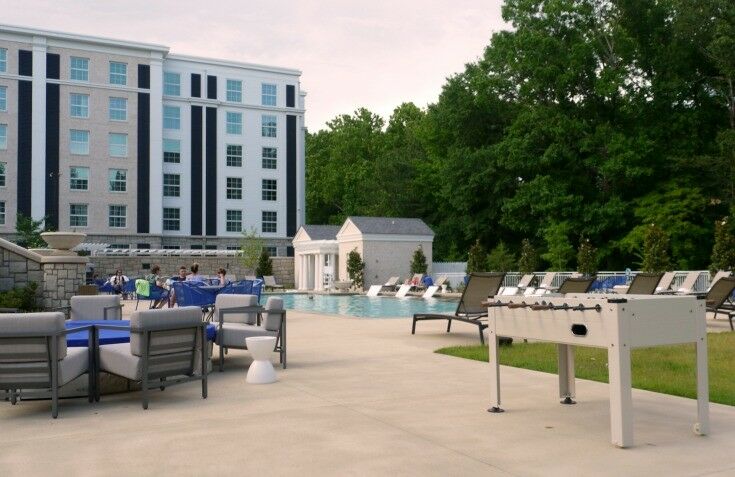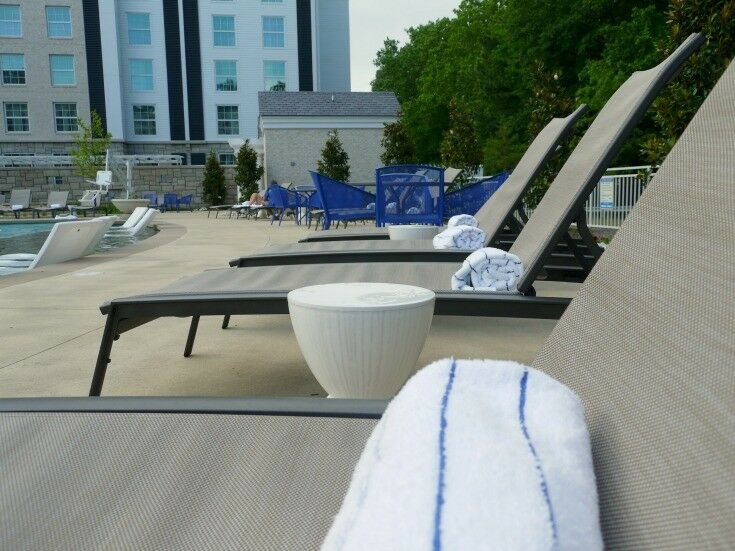 The area surrounding The Guest House feels as though it could use some serious renovation, but once inside hotel security gates, the grounds are beautifully attended, and safety and security abounds.
Parking was included with our stay in our Celebration Package, and the entrance gate and all parking areas are manned 24/7 by security attendants. (Without the package, self-parking currently costs $10 per day, with valet parking available for an additional fee.)
Reservations & Rates
If you are an Elvis fan heading to Memphis, this is the place to stay - no question; and even if you're not a big Elvis devotee, if you're heading to Memphis and plan to go to Graceland, this is a beautiful, memorable destination.
Guest room rates are very reasonable for a luxury hotel of this caliber, varying between approximately $127 (2017, TripAdvisor) to $249 a night for standard rooms, depending on the night and the season.
The Guest House at Graceland
3600 Elvis Presley Blvd
Memphis, Tennessee 38116
901.443.3000
For more about Graceland, read A New Era at Graceland: Elvis Presley's Memphis, all about the Elvis Presley's Memphis Entertainment Complex.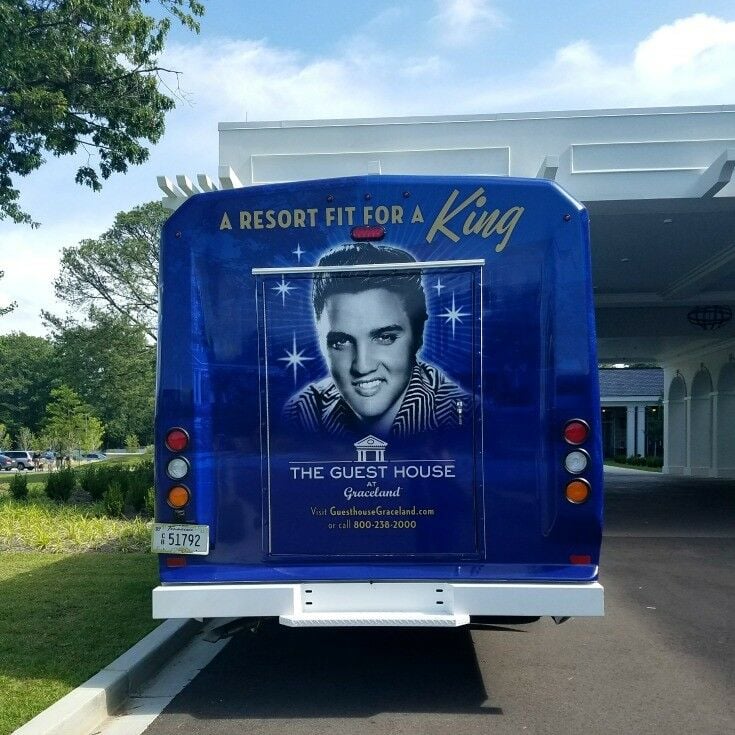 More Tennessee Travel
Southern Cooking & Recipes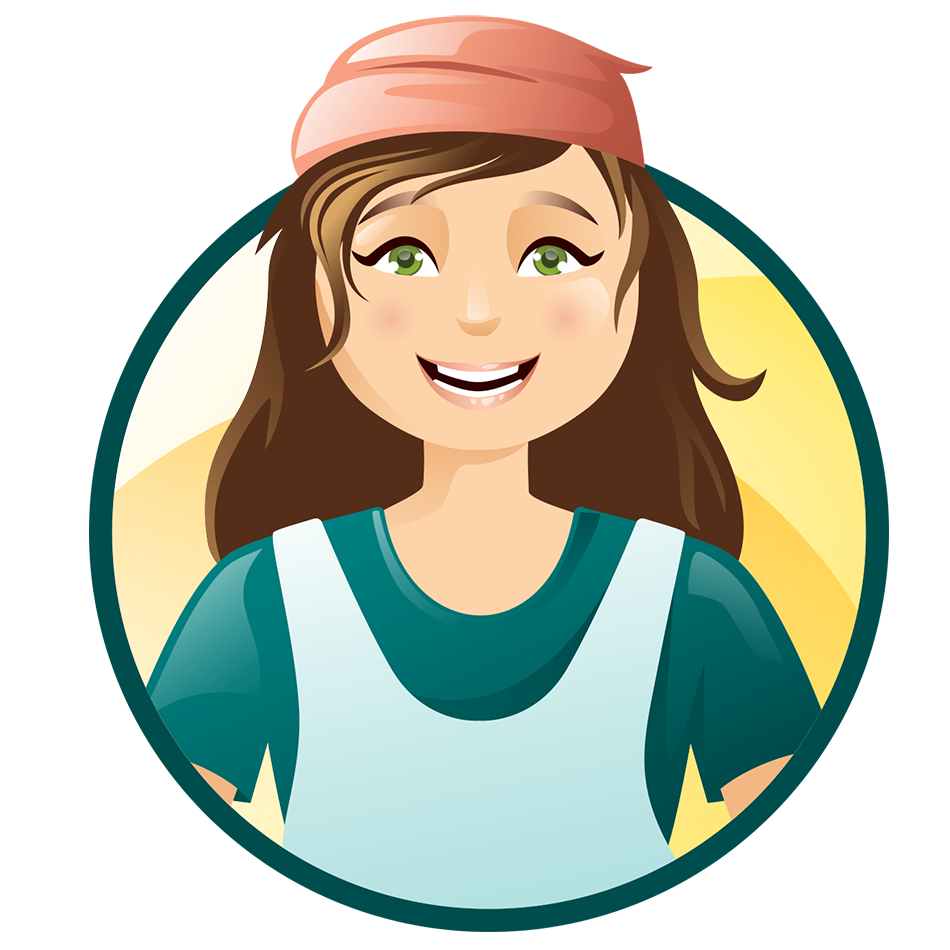 Thank you for visiting the Good Hearted Woman. Remember to bookmark this site, and come back soon!