Capturing adventure in a Blurb photo book is simple, easy, and so worth the effort!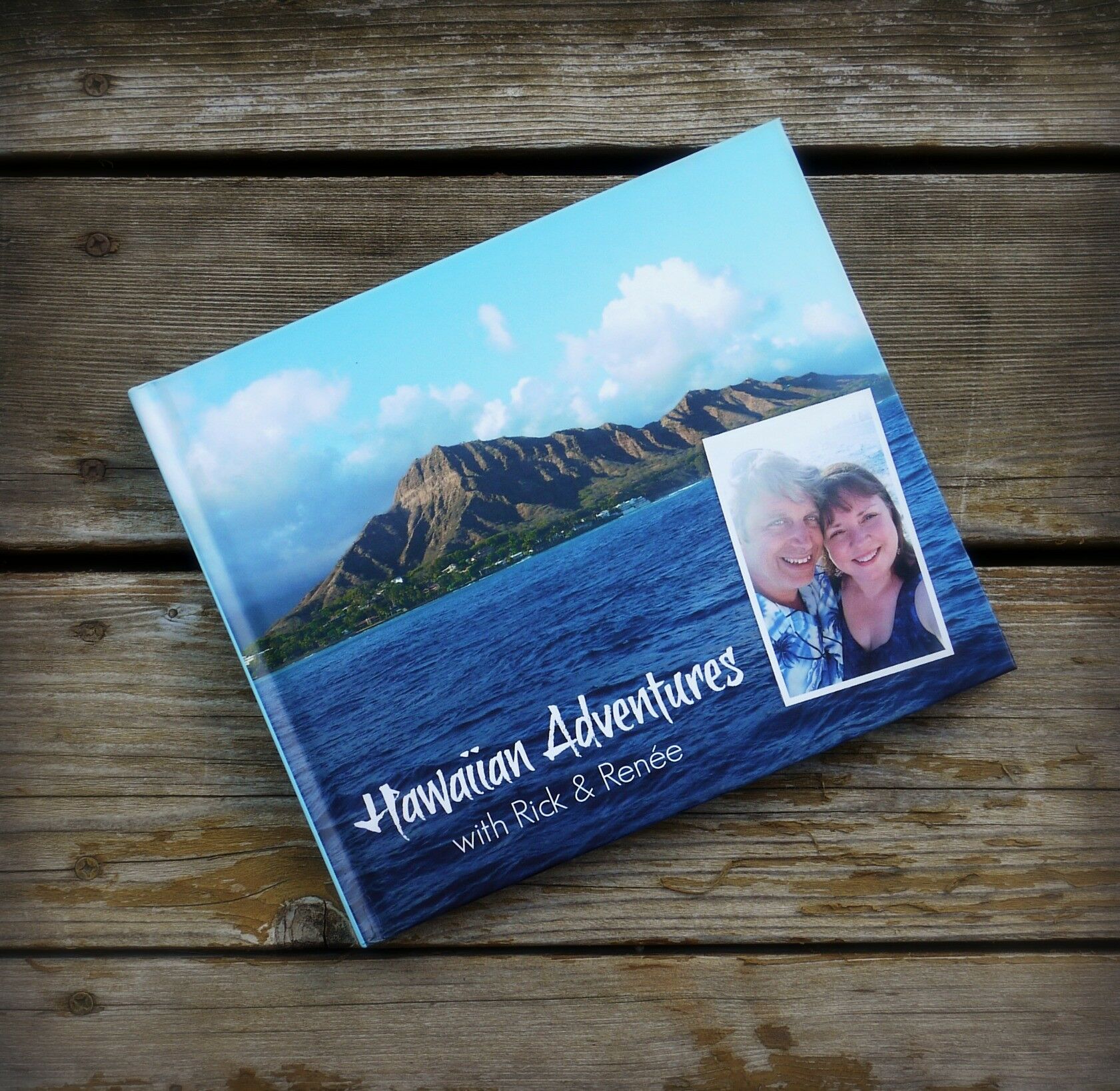 Preserving memories in book form is a passion of mine. Since my preteen years, I've been an avid scrapbooker, adhering images and ephemera between the pages of weighty albums with everything from old-fashion black photo corners to high-end archival-approved adhesives.
Keeping those images accessible and leafing through them from time to time with the people I love brings our experiences back with vivid clarity, and gives us all a chance to enjoy the memories together once again.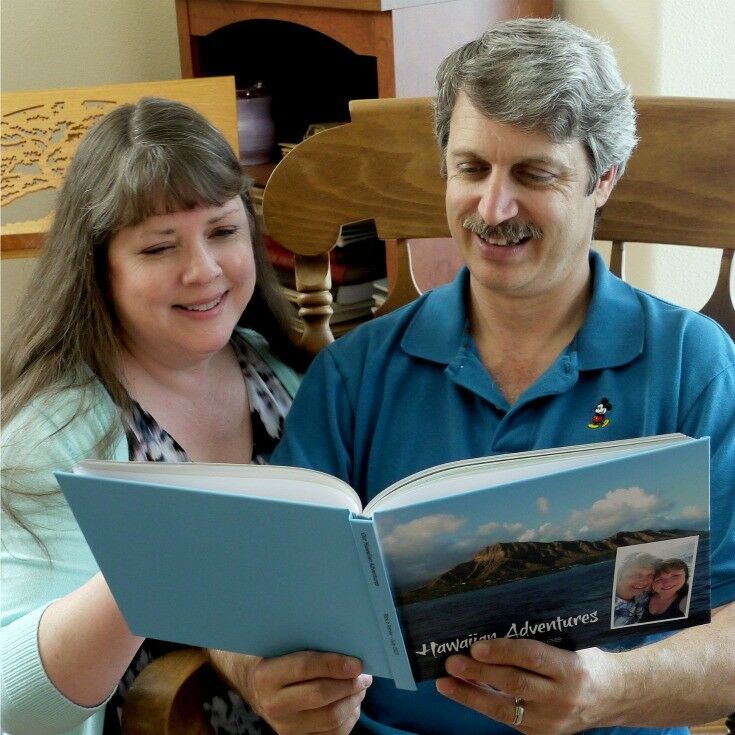 About fifteen years ago, I made the conversion to digital scrapbooking and never looked back. The end products of my efforts are now high-quality hardback books, printed through one of a handful of dependable self-printing book services.
My most recent scrapbook project focuses on the trip Mr B and I took to Hawaii last July. We were on Oahu for ten days, and while we were there, I took well over a thousand pictures.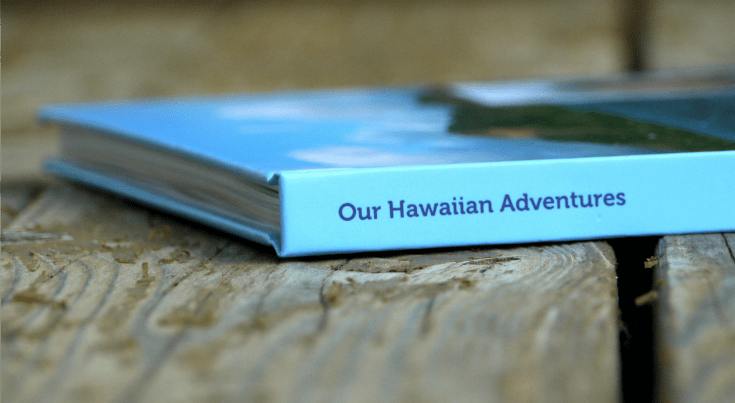 Our adventures in Hawaii were a perfect subject for a stand-alone memory book, and this time I chose to print it through Blurb, a well-renowned print-on-demand company that I have used a couple of times in the past.
Blurb offers a number of both online and print formats, but for this review, I'll be focusing on printing photo books.

Printed photo books are available in three formats: soft cover, image-wrapped [hard-cover], or dust jacket [hard cover]. (My preference for photo books is nearly always image-wrapped hard-cover.)
Blurb offers three options for shape and size, ranging from a small 7" x 7" square book to a large 13" x 11" in portrait or landscape. I chose a moderate 8" x 10" landscape book for our Hawaii album.
There are also five paper options, with varying weights and/or textures; everything from the standard semi-matte up to Premium semi-gloss or Proline pearl. Blurb's basic, standard weight is 80 lb. paper, (about the same as good-quality printer paper), but it cost very little to upgrade to the 100 lb. Premium paper. I strongly encourage that you upgrade too, especially for a book with a lot of images. (I went with 100 lb. semi-gloss paper for Our Hawaiian Adventures.) You can print up to 440 pages in one book: our Hawaiian Adventures came in at 114 pages!
Now, let's get to the two things we all really care about when it comes to making photo books online: Ease of use and quality of final product.
Ease of Use
This is where the rubber meets the road when it comes to online photo book creation. Some photo book printing sites are a little intimidating, but Blurb is not one of them.
One of the things I like best about Blurb is the wide variety of options that they offer for content creation, and the ease at which a book can be completed. Whether you are a professional digital Creative or can barely turn on your computer, there is an option for you.
Make Your Book Online
Make your book quickly and easily without downloading anything. You can pull in images directly from Facebook or Instagram, or upload them from your computer and use Blurb's templates and layouts to create a beautiful photo book quickly and easily.
Adobe InDesign Plug-in
If you have Adobe experience, this may be just the thing for you. Blurb's Adobe InDesign Plug-In is free to download, and lets you create and lay out books directly within InDesign, with output options for both print and digital formats. You can also work on your book within Adobe Photoshop Lightroom.
Upload PDF to make your book
If you prefer, you can use Blurb's specifications calculator to fine-tune your PDF to a Blurb-friendly book size.
I've used all of these options at one time or another, but for this project, I wanted a fast, simple method that would give me complete control over my layouts - and I needed to be able to do in while I was on the road and away from my primary computer. With that in mind, I decided to go with my all-time favorite online photo editor, PicMonkey.
3-Step Photo Book Creation Process
Step 1 - Create individual pages on PicMonkey. Save as high-resolution JPGs.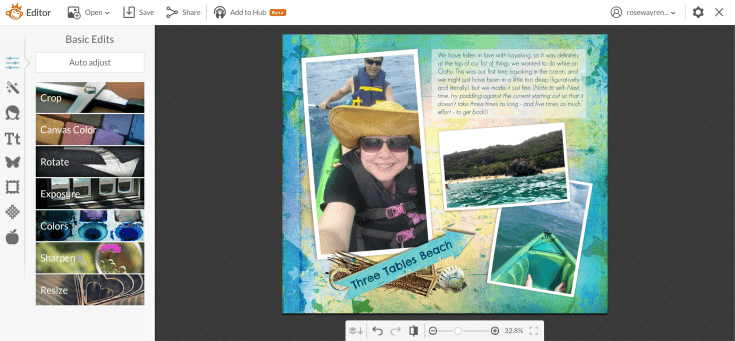 I created all of my pages in PicMonkey, saved them as high-resolution JPGs, and then uploaded them to Blurb. Then all I had to do was drag them onto the pages as full-bleed images. After that, I just proof-read everything about 100 times (but that's just me), and then ordered my book. That's all there was to it.
Step 2 - Upload Full-page images to Blurb. Drag and drop.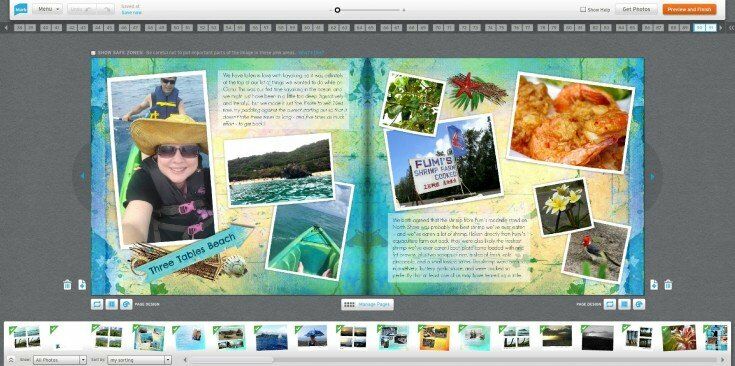 Step 3 - Proofread, proofread, proofread. Then proofread one more time, and order book. 🙂
Product Quality
As far as I'm concerned, Quality is the online photo book creation endgame. I expect my photo books to Pop! with bright, true-to-life colors, clean, clear printing, and solid, well-crafted construction. Anything less is unacceptable. Blurb did not disappoint.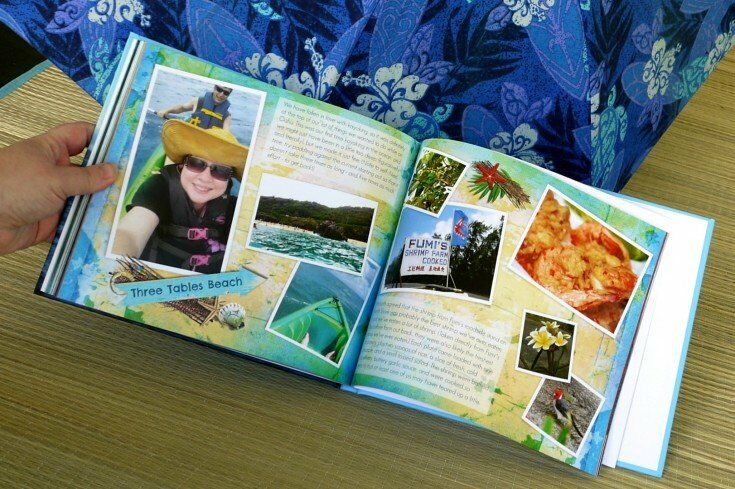 Overall, the quality of our Hawaiian Adventures book is excellent. The cover is solid, smooth, and semi-matte, which discourages fingerprints, and the cover image is clear and vivid. The printed images inside the book are sharp and clear, and the resolution is good to excellent. The colors are vivid and true to the digital preview. I do think that paper selection makes a significant difference here, so once again, I strongly encourage you to upgrade to Premium or Proline paper.
Bottom Line
Mr B and I could not be happier with our newest photo book. Flipping through those pages is like reliving our adventure all over again (yes, fellow grammar divas, I know), which makes all the time and effort it took to create totally worth it, and the book itself priceless.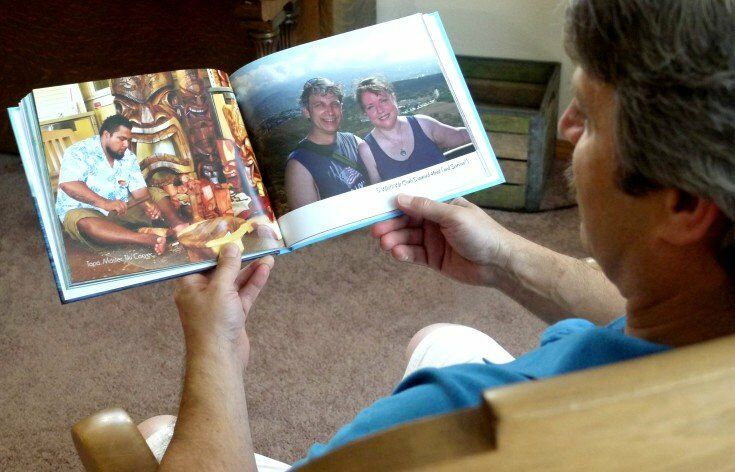 Disclosure: This post may contain affiliate links, including Amazon affiliate links, which means we may receive a commission if you click a link and purchase something that we have recommended. While clicking these links won't cost you any extra money, they do help keep this site up and running. As always, all opinions and images are my own. Please check out our disclosure policy for more details. Thank you for your support!