The only thing better than the warm, spicy scent of these Sourdough Pumpkin Spice Scones baking is taking a bite of one fresh from the oven.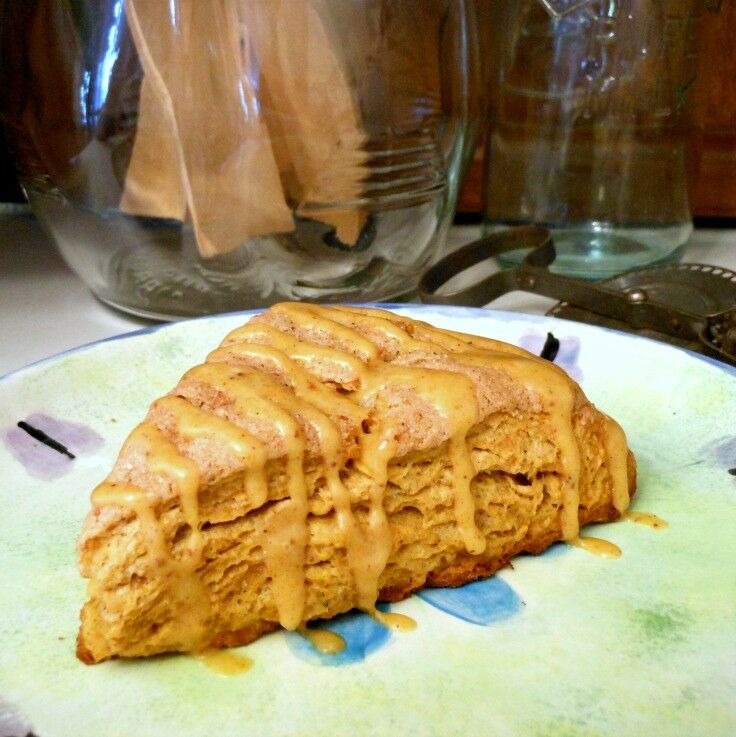 This post may contain affiliate links, but don't worry – they won't bite.
National Pumpkin Spice Day happens every year on October 1st, unofficially ushering in what has become known as Pumpkin Spice Season, or the period of time that stretches from the moment the first leaf falls each autumn until crack of dawn on Black Friday.
🍂 For a list of all things weird, wonderful, AND Pumpkin Spice,
scroll to the bottom of this post. 🍁
To be honest, while I appreciate a good pumpkin spice latte as much as the next person, I'm usually just not that into the pumpkin spice seasonal frenzy. I mean, I know it's delicious and all, and makes you feel all cozy like you're visiting your favorite Gramma and she has fresh, warm cookies waiting for you when you get there. I get that. But do we really need Pumpkin Spice Pringles? Or Pumpkin Spice Pet Cologne? I don't know.
You know what Pumpkin Spicy thing you do need though? You need these Sourdough Pumpkin Spice Scones. Because they are Super-Delicious. Plus, while they're baking, your house will smell warm and cozy and utterly spectacular.
Kind of like visiting your favorite Gramma.
Sourdough Pumpkin Spice Scones
Print Recipe
Pin Recipe
Ingredients
Follow The Good Hearted Woman on Pinterest for more great recipes!
Scones
2 ½

cup

flour

½

cup

brown sugar

1

tsp.

pumpkin pie spice

1

tsp.

cream of tartar

1

tsp.

baking soda

½

tsp.

salt

½

cup

cold butter

1

cup

100% hydration sourdough starter

fed & active

½

cup

canned pumpkin**

1

tbs.

molasses

2

tsp.

vanilla

2

tablespoons

milk

only as needed
Spiced Sugar Topping
2

tbs.

white sugar

½

tsp.

pumpkin pie spice
Pumpkin Spiced Glaze
1

cup

powdered sugar

1

tbs.

canned pumpkin

1

tsp.

pumpkin pie spice

2

tbs.

milk
Instructions
Line a baking sheet with parchment and set aside.

Stir together flour, brown sugar, pumpkin pie spice, cream of tartar, baking soda, and salt in a mixing bowl. Cut the butter into ¼ cubes and blend into dry mixture with your fingertips or a pastry blender. It should look like very coarse crumbs with a few bigger pieces of butter distributed throughout.

In a separate bowl, mix sourdough starter, pumpkin, molasses and vanilla.

Stir wet mixture into dry mixture. This may seem a little dry at first. Mix thoroughly before you decide to add the milk. The dough should soft like a biscuit dough. Don't play with the dough too much – the less you work with it, the tenderer your scones will turn out.

Form a 9-inch wheel of dough. With a long knife, cut it into eight pieces, like a pizza. Brush the top of the wheel with milk.

In a small bowl, combine the white sugar with ½ teaspoon of pumpkin pie spice and sprinkle this mixture over the top of the scone-wheel, using your fingers to smooth it evenly.

Cut the wheel into eight pieces, like a pizza and transfer them to the prepared baking sheet. Place them so that they are about ½ inch away from one another. Put the scones on the baking sheet in the freezer, and set your oven to 400° F.

When the oven is heated, take the scones out of the freezer, put them into the oven, and bake for 20-25 minutes.

Cool on wire rack and drizzle with Pumpkin Spiced Glaze.
Notes
**You can use home-cooked pumpkin, but you may need to add a little milk or extra flour to the mix to adjust for the difference in moisture content.
The only thing better than the warm, spicy scent of these 🍂 Sourdough Pumpkin Spice #Scones baking is taking a bite of one fresh from the oven. 😋 https://buff.ly/2RGvScZ #pumpkinspice #sourdough #baking
Click To Tweet
A Short List of Wonderful & Weird Pumpkin Spice Items That Actually Exist
This time of year, you can't throw scarecrow without hitting a someone drinking a Pumpkin Spice Latte or Pumpkin Spice Chia or some other PS beverage. However, if you find yourself wistfully wishing that you had even more Pumpkin Spice goodness in your life, here are a few things to consider adding to your list (plus a few that you should probably avoid!):
Thank you so much for being a faithful reader and supporter of The Good Hearted Woman.

❤

Be sure to Pin and print this recipe!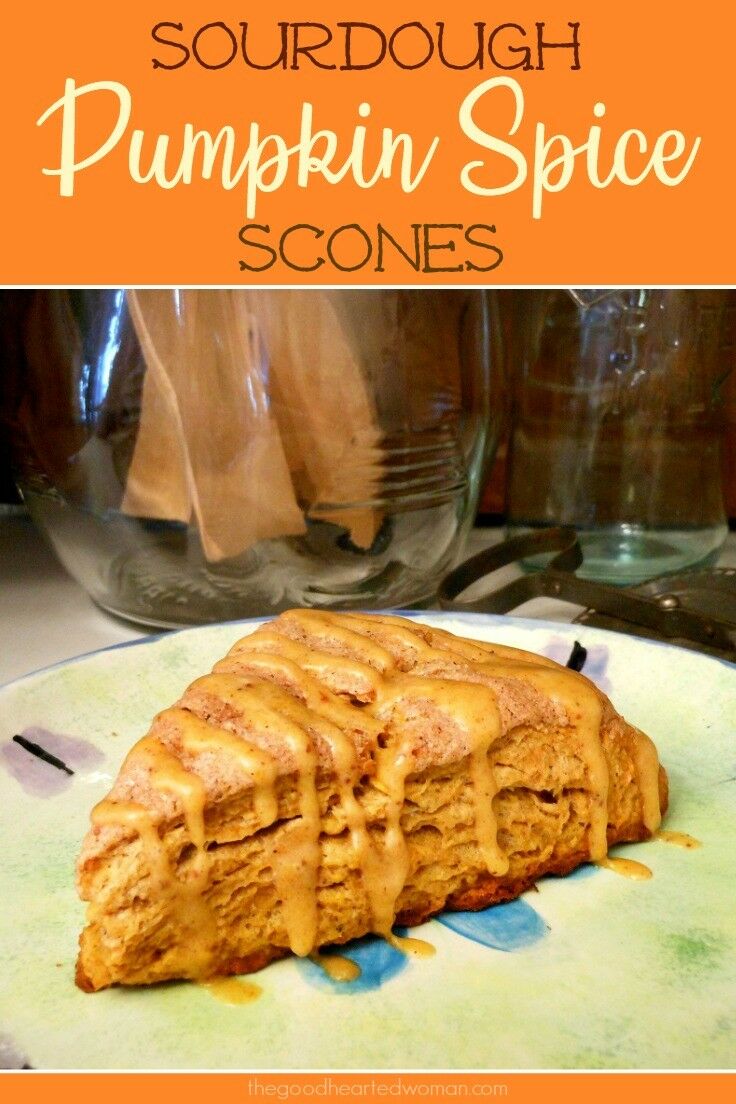 Disclosure: This post may contain affiliate links, which means we may receive a commission if you click a link and purchase something that we have recommended. While clicking these links won't cost you any extra money, they do help keep this site up and running. As always, all opinions and images are my own. Please check out our disclosure policy for more details. Thank you for your support!