This Easy Sourdough Bread recipe is perfect for beginning bakers and old sourdoughs alike! (Recipe makes a long-rise dough, and requires only sourdough starter: no added yeast.)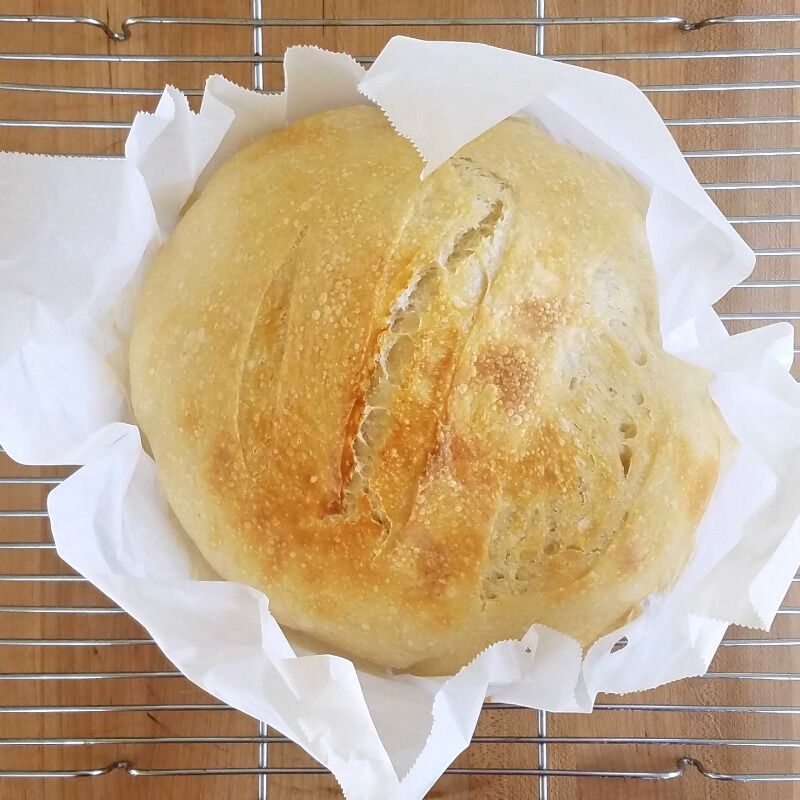 This post may contain affiliate links, but don't worry – they won't bite.
Some years ago, I embarked on a new adventure – I started growing a sourdough starter and learning how to use it. After lots of research and careful thought, I made my very first loaf of sourdough bread.
I'm not great at following much of anything to the letter, so I didn't use one particular recipe – instead I studied a few that were recommended for beginners and put something together that made sense to me. And it turned out wonderfully! My little loaf of bread was gone so fast that I barely had time to take a picture!
Sourdough bread is more than just delicious and pretty though. In fact, that was the idea that compelled me to start investigating Sourdough.
One study using sourdough bread made with specific strains of bacteria found that it could reduce gluten intolerance in people sensitive to wheat gluten. While that doesn't mean that people diagnosed with gluten intolerance can eat sourdough bread with impunity, it does suggest that the bread is more easily digested than other breads made with wheat flour. (Reader's Digest)
Need Sourdough Starter? Rye Sourdough Starter is, by far, the easiest starter to start!

POST UPDATE: March 30, 2020

[Originally published September 17, 2013]
This post has been so popular over the years that, with the recently renewed interest in sourdough baking (in particular sour dough that does not require any additional yeast), I decided it was long overdue for a complete overhaul.
For longtime readers: The recipe is still exactly the same, but I've added some new information, as well as images for each step of the process.

Why Sourdough Bread MAY Be the Answer for Some Gluten-Sensitive People
On average, it takes about 10 hours – start to finish – to make this Easy Sourdough Bread. However, depending on weather and other conditions, I have occasionally allowed it to rise for up to 24 hours. (Some folks let their sourdough bread to rise for up to 36 hours!)
It is this Long Rise – during which the wild yeast and bacteria in a sourdough starter break down some of the carbohydrates and proteins in the flour – that helps make true sourdough bread (one that does not rely on the addition of any added yeast) tolerable for folks with gluten sensitivity.
Want to make someone feel really special? Want to feel great yourself? Give a loaf of Homemade Sourdough Bread!!
I do have some real-life experience with the aforementioned Sourdough Bread Gluten-Intolerance Miracle. As I mentioned in an my post about reactivating Sourdough Starter from dehydrated flakes, my BFF Jenny asked me to give sourdough a go in the hopes that it will benefit her daughter. Kaylen is a beautiful young woman with some serious digestive issues, and gluten is not at all her friend. But she misses bread – real bread that does not "taste like sand" (Kaylen's words) – a lot.
I've known Kaylen since she was six and love her like my own daughter: of course I'm going to bake her bread. I made a loaf of this sourdough, using a minimum 14-hour rise and not adding any additional flour (during folding) after Hour 4. After I dropped off the first loaf to her, here's what I found on Facebook when I got home:
Made me cry. You just don't get a better feeling than that, you know?

Over the years, I've had an on again, off again relationship with my sourdough starter. Sometimes I treat it like the Queen at High Tea, sticking to a precise schedule and attending to its every bubbling need. Other times, I completely ignore it: I once forgot it in the back of the fridge for almost six months. Still, it persists.
My skill level as a sourdough baker barely scratches the surface. That's probably one of the reasons I keep going back to this recipe over and over again. It is an easy and straightforward, and it consistently bears excellent results, even when I forget it for an extra hour or two. Moreover, the bite is amazing: chewy and tender, with a mild, pleasant sourdough tanginess. It's one of the best all-round breads I've ever made.
Once you get the rhythm and flow of the sourdough baking process, you'll be able to throw together a loaf of this bread together with only about 20 minutes of actual hands-on time. The rest of the time, you just waiting around for it to do its thing.
Below you will find my recipe for Easy Sourdough Bread. The links I used for guidance can be found at the bottom of the post. You may find them helpful as well.
Besides being an incredibly easy bread to make, one thing that sets this recipe apart from others is that it requires no added traditional yeast. It relies solely upon the natural yeast in the Sourdough Starter.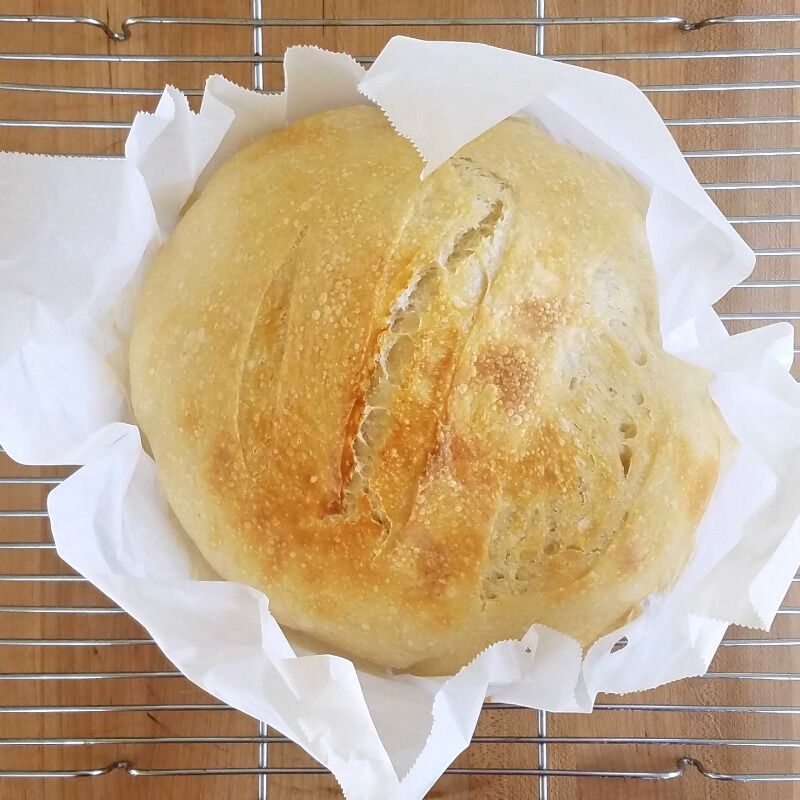 Basic Sourdough Bread
Super-basic. No bells, no whistles - just bread.
Print Recipe
Pin Recipe
Equipment
Large Bowl

Cast Iron Dutch Oven

Wooden Spoon
Ingredients
Sourdough Bread Dough
3/4

cup

Sourdough Starter (about 6.5 - 7 ounces)

100% Hydration | Unfed & Room Temperature** (You can feed it up to 12 hours before using, but no less.)

1 1/4

cups

lukewarm water

105-110°F / 40-44°C**

3

cups

unbleached all-purpose flour

1

tablespoon

maple syrup

or honey

1 1/2

teaspoons

kosher salt
Additional Ingredients
4 - 6

tablespoons

extra-light olive oil

or other neutral cooking oil, for oiling bowl
Instructions
In a stand-mixer, mix Bread Dough ingredients together with bread hook until just combined. (You can also do this step with a wooden spoon.)

Measuring the Starter: The vigor of your Starter will affect its density. Stir Starter down before measuring, especially if use a measuring cup. I find it easier to use a kitchen scale to get consistent results.

If dough seems way too loose, you can add a little extra of flour, but don't go crazy: you will add a little flour each time you fold it.

Let rest for 10-20 minutes.

While dough is resting, lightly coat a medium-sized bowl with olive oil. The bowl needs to be a big enough to allow the dough to double in size.

I use about two tablespoons of oil to coat the bowl the first time.

Knead dough with bread hook 5-10 minutes.

You can also knead by hand, for about 10 minutes.

NOTE: This normally is a very sticky, soft dough. However, depending on the actual hydration of your starter, you may find that you need to add a little more flour to get things started. I often end up adding an extra 1/2 cup during the mixing step. (Do not add more than 1/2 cup, though, or you may overwhelm your Starter. You can work in a little more flour during the folding process if you need to.)

Remove dough from mixer, place on a well floured board, knead by hand a couple of times, and shape into ball.

After you form the ball, it should kind of slowly settle onto the board, like an old man into a lounge chair. It won't hold its shape for a long time, but it also shouldn't just melt into a puddle. You need to find a happy medium. 

Put dough ball into the oiled bowl, smooth-side down first. Then flip it smooth-side up so that all sides of the dough are covered with oil.

Cover bowl with plastic wrap and set in a warm place.

Allow dough rise at least 6 hours, folding twice during that time.

To fold, turn dough out onto a floured surface and pat down to remove most of the air bubbles. Fold as illustrated and return to bowl, smooth side up.

Cover and proceed with the rising process.

Allow the dough to double (approximately) in size each time after folding. This may take more or less time, depending on the vitality of your starter.

Re-oil the bowl with a tablespoon or two of oil each time you fold the dough.

[See How (and Why) to Fold Sourdough Bread Dough below the recipe card for more information]

After the second fold-and-rise is complete, form bread into a boule (a round loaf) and place it on a square of parchment paper. Place the dough, parchment and all, back into the bowl.

With a wet, serrated knife, cut a couple of slashes on the top. (I often forget to do this step, and everything still turns out just fine.)

Cover loosely with a damp towel and allow to rise for 1 1/2- 2 hours, or until it has doubled.

In the last 30 or 40 minutes of the last rise, move your oven rack to the bottom third of oven.

Put an empty cast iron Dutch oven with lid in the cold oven and preheat to 450°F for 30 minutes.

Remove the lid from the Dutch oven and put the boule in by picking up the corners of the parchment and gently setting it in.

Be very careful - the Dutch oven and lid are very hot!NOTE: If you don't have a cast iron Dutch oven, you can use a baking stone. If you use a baking stone, cover the boule with a big roaster lid or something like that. The idea is to create some steam for the first part of the baking process- this is what gives it that awesome chewy crust.

Bake at 450°F for 12-13 minutes with the lid ON.

[Image: After first 12-minute baking time]

Remove the lid and bake for another 12-13 minutes with the lid OFF.

Using the parchment corners, carefully remove bread from the Dutch oven and place on a wire rack to cool for 30 minutes.

DO NOT slice the bread until it has set for 30 minutes - this resting time is part of the baking process.
Notes
*
UNFED Starter [as called for in this recipe] is Starter that is due to be fed right before you begin making the bread. Unfed Starter is mature, active, and hungry for food.
For comparison,

FED Starter is Sourdough Starter that has been fed recently compared to when you begin making the bread recipe (usually the night before). It isn't as hungry. 
---
**WATER: You may need more or less water, depending on your Starter's hydration. The Sourdough Starter I use is an 100% hydration starter. 
---
Lazy Starter: If your sourdough starter is lazy (or not as hungry as it could be) you may need to allow your dough to rise substantially longer. (I often allow my sourdough bread to rise overnight.)
In this case, you may need to fold a couple of extra times during the process, but if you fold it more than twice, do so directly in the bowl. Do not introduce additional flour to your dough after the second folding or your bread may become too tough. 
---
1 cup all-purpose flour = 120 grams | 3 cups all-purpose flour = 360 grams
1 cup bread flour = 127 grams | 3 cups bread flour = 381 grams
Nutrition
Serving:
1
slice
|
Calories:
131
kcal
|
Carbohydrates:
21.9
g
|
Protein:
2.9
g
|
Fat:
3.4
g
|
Saturated Fat:
0.5
g
|
Sodium:
194
mg
|
Potassium:
32
mg
|
Fiber:
0.8
g
|
Sugar:
0.7
g
|
Calcium:
5
mg
|
Iron:
1
mg
If you are curious about why this recipe uses UNFED Starter instead of FED Starter, you might find this conversation on The Fresh Loaf helpful.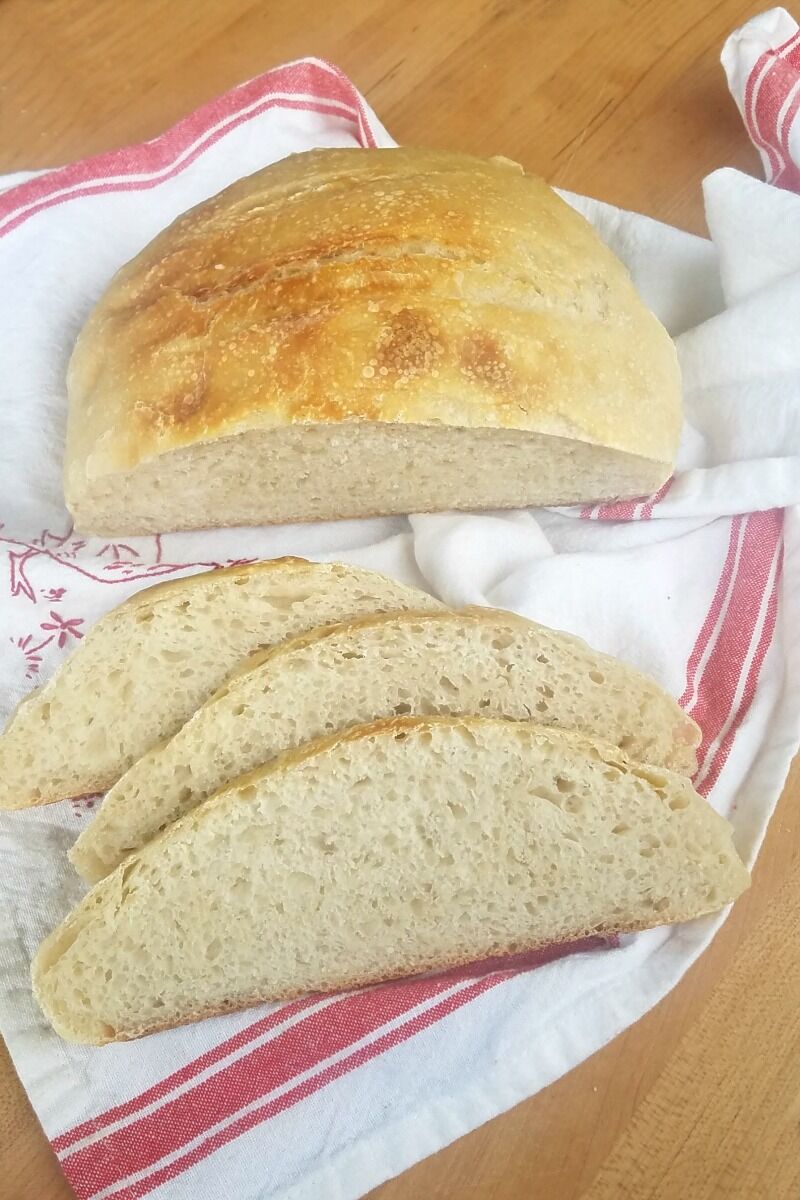 How (and Why) to Fold Sourdough Bread Dough
Many (if not most) bread recipes call for you to punch down the dough after rising. Punching down the dough does a number of things. Most importantly, it removes some of the gas bubbles from the dough and redistributes the yeast cells, sugars, and moisture so that they can ferment and rise again during the proofing stage.
Folding yields similar results: it too expels the carbon dioxide produced during fermentation, strengthens the dough by stretching the gluten strands, and redistributes cells, sugars, moisture and heat spots in the dough to even out the rising.
Punching dough down will result in a fine crumb, which is desirable when making sandwich breads or pastries. Folding, on the other hand, will give you a loftier rise and a looser crumb – resulting in all those lovely little air pockets in our sourdough and artisan breads that we love so much.
Folding dough is a relatively easy process:

References for this recipe include:
The Art of Baking with Natural Yeast: Breads, Pancakes, Waffles, Cinnamon Rolls and Muffins, by Caleb Warnock & Melissa Richardson
If you have additional questions about the recipe, just leave a comment and I'll reply asap. Be sure to check out the comments below, too. We've had so many people share their sourdough knowledge here, and there is a lot to be learned from their experience. Like most of us, I'm here to learn, too.

THANK YOU so much for being a faithful reader and supporter
of The Good Hearted Woman. 🌻 Be sure to PIN this post!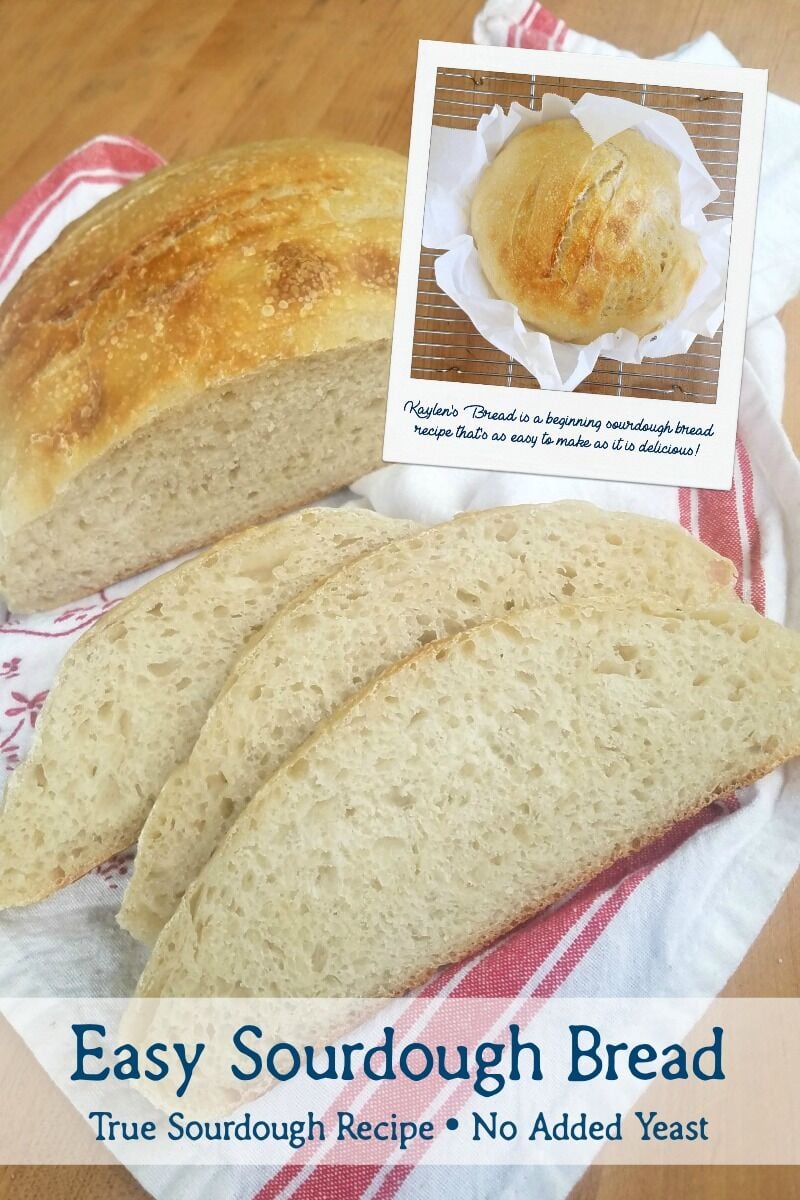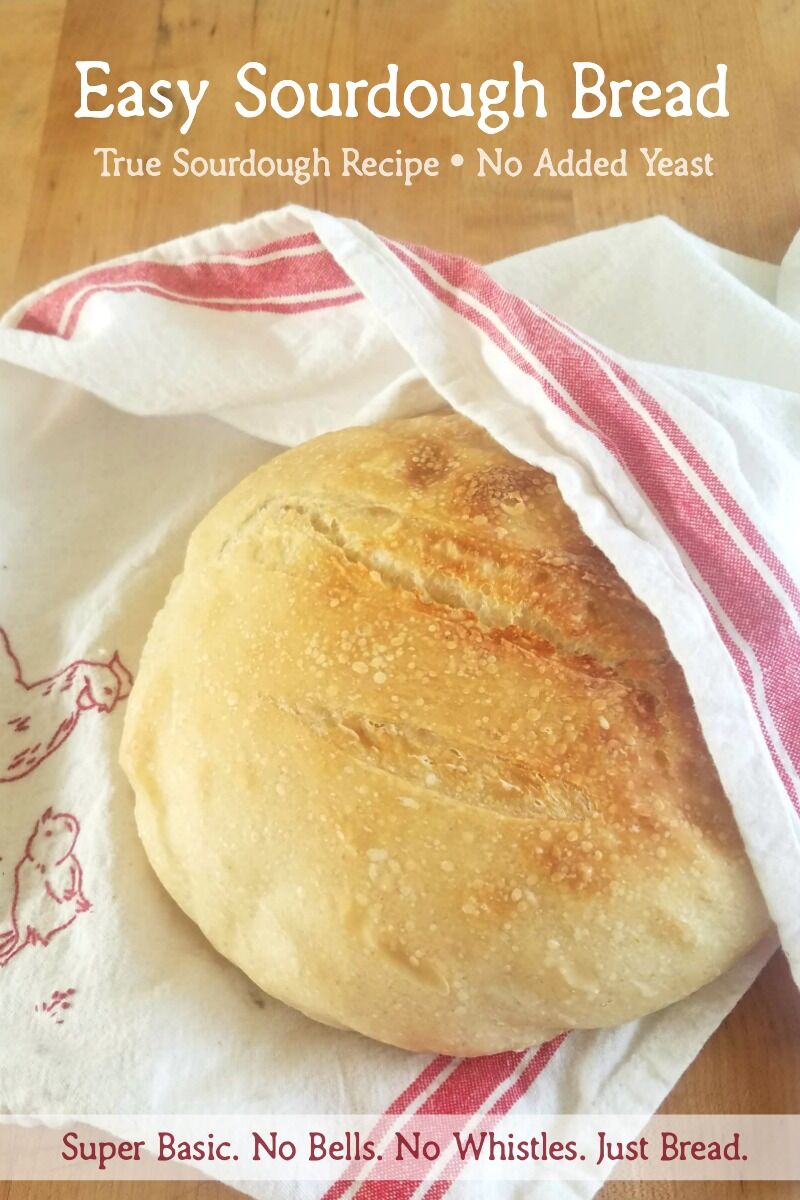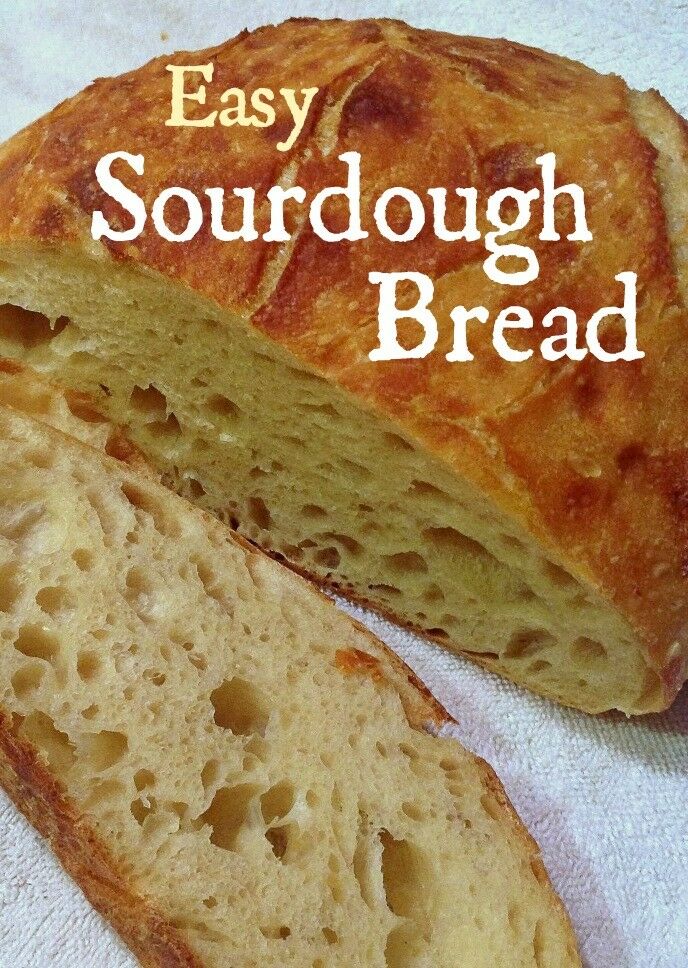 Easy Sourdough Recipes & Advice for Beginners
Disclosure: This post may contain affiliate links, including Amazon affiliate links, which means we may receive a commission if you click a link and purchase something that we have recommended. While clicking these links won't cost you any extra money, they do help keep this site up and running. As always, all opinions and images are my own. Please check out our disclosure policy for more details. Thank you for your support!